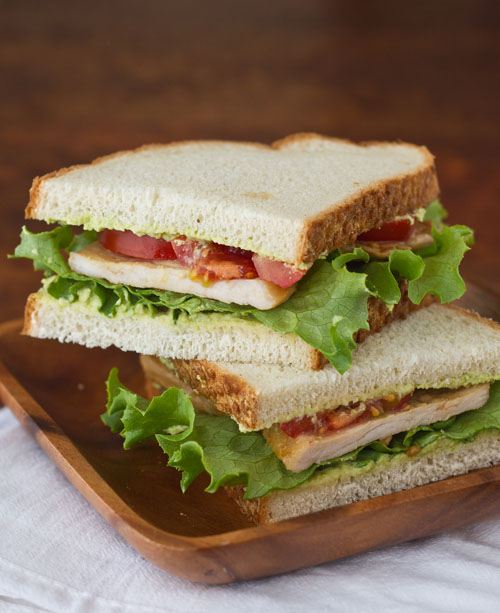 My recipe for shogayaki sando, a sandwich filled with thin pan-fried slices of pork marinated in a ginger soy sauce marinade, has been a while in the making.  When I visited my friend Nancy, at her home in Kamikawa, Japan this summer, she greeted me with a freshly-made shogayaki sando in her farmhouse kitchen.  It's hard to beat such a delicious welcome.  Ever since my visit, I've been craving one of Nancy's delicious sandwiches.
Then, a few weeks ago I was asked to make my edamame dip for a photographer who was coming to my house to photograph me for a story in the New York Times.  (A big thank you to Julia Moskin for a fabulous article and Axel Koester for such a fun photoshoot!)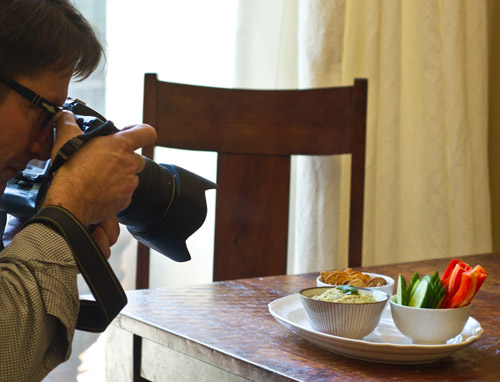 It had been a while since I'd made that particular dip, and it got me thinking about other ways to use it.  Then the thought occurred to me that with a few tweaks, the dip would make a terrific sandwich spread.  This led me to thinking about what kind of sandwich I would want to put it on, and then I thought again of Nancy's wonderful sandwich, and the circle was complete.  Not only was the edamame spread a perfect addition to a shogayaki sando, but it was also the perfect accompaniment to my memories of Nancy's version of the sandwich.  One of the other things I ate while I was with her and her family, was fresh edamame grown on their farm.  I also bought a packet of edamame seeds after getting advice from her husband on the best variety to buy, which my girls and I enjoyed growing and harvesting over this past summer and fall.  Now, when I think of edamame, I can't help but remember my friend.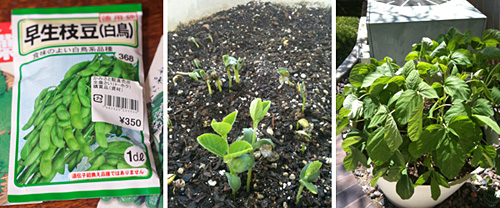 Buta no shogayaki, fried ginger pork, is a very popular pork dish in Japan.  "Shoga" means ginger and "yaki" means fried or grilled.  Other meat can be used, but the pork version is so popular that "shogayaki" is used generally to refer to the pork version.  It's wonderfully easy to make. Thin slices of pork are briefly marinated then pan-fried until cooked through.  For my marinade I used a fabulous soy sauce made by Bourbon Barrel Foods, that I recently received to try.  The soy sauce which has a slight smoky flavor to it, is made with whole Kentucky grown Non-GMO soybeans and brewed and aged in re-purposed bourbon barrels.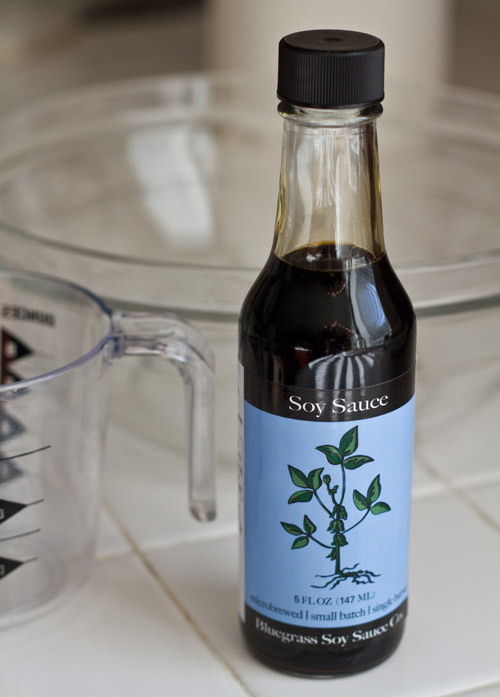 Once the edamame spread has been made and the pork has been cooked, all that's left to do is assemble the sandwiches!  I used soft shepherd's bread, and added fresh green lettuce and sliced tomatoes to round out our sandwiches.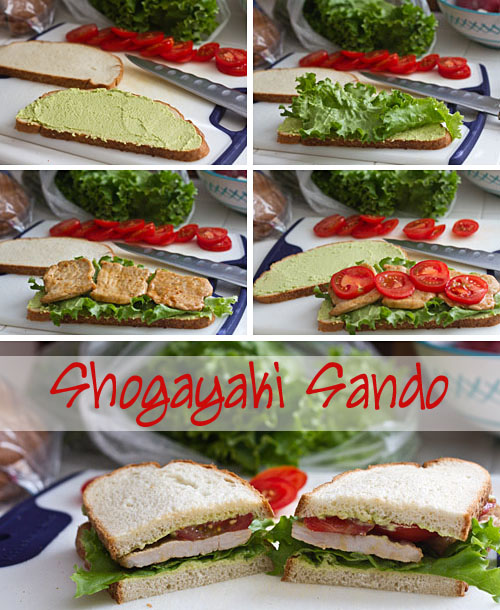 You would have thought that Bug had just won the lottery with her pleased reaction!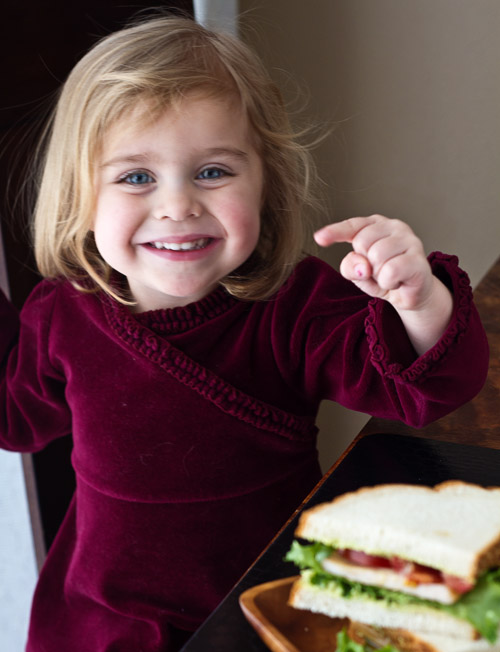 Food memories can be a powerful thing.  This sandwich is a little homage to the wonderful Nancy and the food memories she has given me.  I hope that you're able to make some of your own with this sandwich!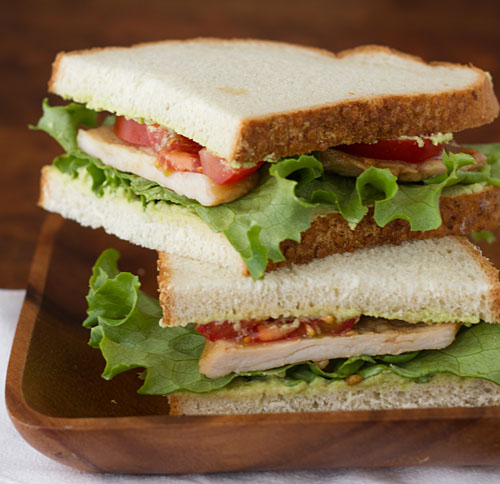 Print This Recipe
Shogayaki Sando (Ginger Pork Sandwiches)
Makes 4 sandwiches
For the Edamame Spread:
8 ounces shelled edamame, fresh or frozen
2 cloves garlic
3 tablespoons olive oil
3 tablespoons rice vinegar
1 teaspoon sriracha
Salt and pepper to taste
For the Ginger Pork:
1 pound pork loin, very thinly sliced
1/4 cup soy sauce
3 tablespoons mirin
2 garlic cloves, minced
2 tablespoons fresh grated ginger
1 teaspoon granulated sugar
1 tablespoon vegetable oil
8 slices bread
4 leaves green lettuce
2 medium tomatoes, sliced
1. Make the Edamame Spread: Bring two quarts of water to a boil. Add the edamame. When the water returns to a simmer, cook the edamame for 5 minutes. Drain, reserving the cooking water.
2. Combine the edamame with the garlic, olive oil, rice vinegar, and sriracha in a food processor, and pulse until smooth. If the spread is too thick, add some of the reserved cooking water until the desired consistency is reached. Taste and season accordingly with salt and pepper. Cover and refrigerate until ready to use.
3. Make the Ginger Pork: Combine the soy sauce, mirin, garlic, ginger, and sugar to make the marinade for the pork. Put the pork in a shallow bowl and pour the marinade over it, making sure all of the pieces are covered. Let the pork sit at room temperature for 15 minutes.
4. Heat the vegetable oil in a large saute pan over medium-high heat, then add the pork. Brown the pieces on one side, flip them over, then lower the heat to medium. Cook until the pork is cooked through (cooking time will depend on the thickness of the pork being used). Remove from the heat.
5. Assemble the sandwiches: For each sandwich, spread some edamame spread on a slice of bread, then layer lettuce ginger pork, and tomato on top of the bread. Top with another slice of bread, spread with additional edamame spread, and serve.