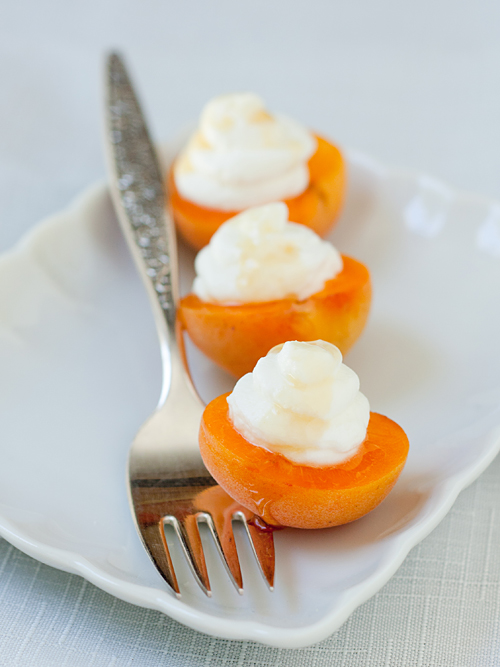 If you walk to the back edge of my parents' backyard and look down, you will see a steep hill that extends out and down to a street below.  The hill is covered in a variety of palms, ground cover, and fruit trees, and there are rough dirt pathways that zig zag down the hill.  That hill is the bane of my parents' existence, a never ending source of frustration.  In short, it's a pain in the neck.  It's difficult to keep up with, with its steep incline—making irrigation tricky and weeding a nightmare.  Harvesting fruit is a tricky process of balancing and reaching, usually while sweating buckets, because of course most of the fruit is ripe for picking in the middle of Southern California's hot summer.  Growing up, however, I loved that hill.  I remember one particular summer when my mom sent me and a friend down to pick peaches for her.  We carefully climbed down the precarious slope with plastic shopping bags in hand, ready to unburden the trees whose branches were bowed down with copious amounts of fruit.  I'm not sure how many peaches we actually went back to the house with though, because I have fond memories of my friend and I standing there in the hot sun, gorging ourselves on the ripe juicy fruit, our hands and faces sticky from the juices.  I still look forward to the treasures of "the hill" (as it's known in our family) ripening.  Granted, I'm not the one who has to deal with the headache of its upkeep, but boy do I love the hill!  A few weeks ago, my mom let me know that the apricots were ready and asked if I wanted any.  Despite the fact that I was leaving to go to Japan in only 2 days, I said "YES!"  Apricots are one of my favorites.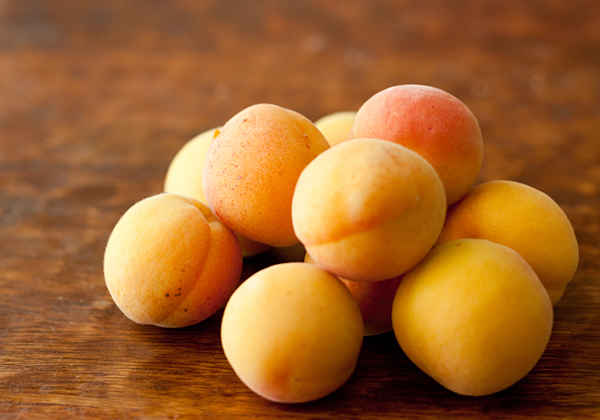 I took home a bag of small apricots, the first pick of the season.  Most of the apricots were still on the green side, forcing me not to take more than I could consume.  On the drive home, thoughts of what I was going to do with the apricots filled my head.  Ultimately I decided I needed to do something simple.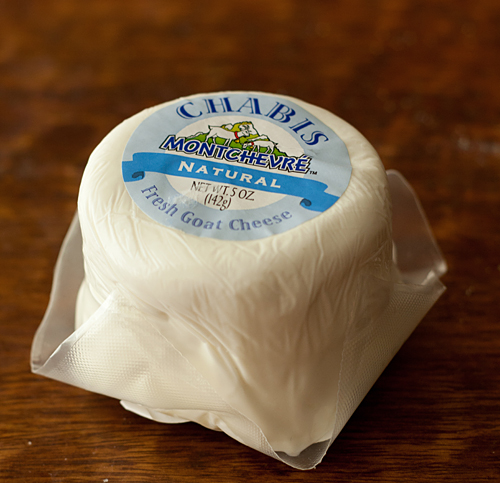 Then I remembered a package of goat cheese sitting uneaten in the refrigerator, and I knew exactly what I was going to do.  The result was so ridiculously simple, yet one of my new favorite desserts: fresh apricot halves filled with a sweet, rich and creamy goat cheese mousse, drizzled with honey.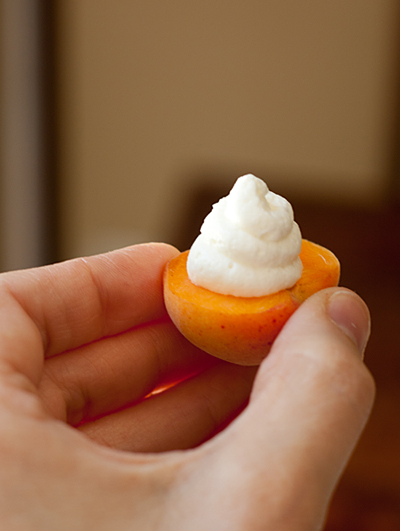 The mousse uses only a few ingredients and takes less than five minutes to whip up.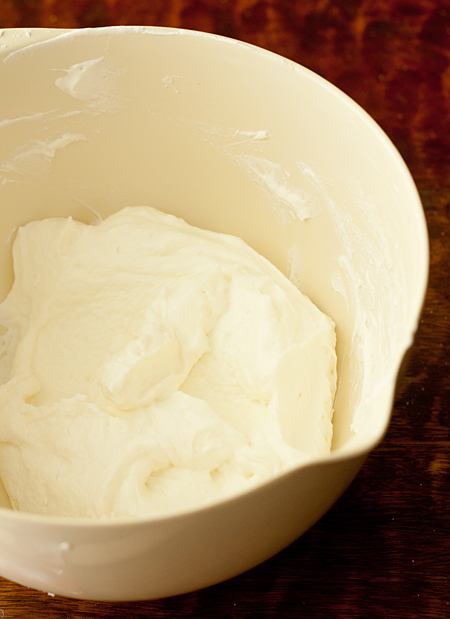 Then all that's left to do is to halve and pit the apricots, pipe the mousse into them, and drizzle a bit of honey over the tops.  The number of apricots needed will depend on their size.  Since the apricots I used were so small, I used a lot.  You could also use a different kind of stone fruit, like peaches, if you wish!  Be forewarned: this stuff is ADDICTIVE.  So addictive that I can't seem to think about anything else lately. My parents are coming over in a week for a big goat dinner I'm making as a belated birthday present for my dad, and to celebrate Goaterie . . . I think this is going on the menu . . . how convenient . . . .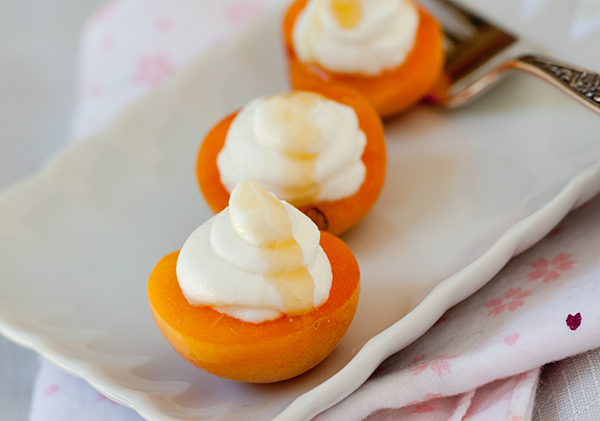 Print This Recipe
Fresh Apricots with Goat Cheese Mousse
Makes approximately 6 servings
Fresh apricots, sliced in half and pitted
5 ounces mild, creamy goat cheese
2/3 cup powdered sugar
1 teaspoon pure almond extract
Pinch of salt
3/4 cup chilled heavy whipping cream
Honey, for drizzling
1. Beat together the goat cheese, powdered sugar, almond extract, and salt until blended and creamy.
2. In a separate bowl, beat the whipping cream using an electric mixer until stiff peaks form.
3. Add 1/3 of the whipped cream to the goat cheese mixture and beat until smooth. Add the remaining whipped cream and fold into the cheese mixture. Chill the finished mousse in the refrigerator for 10 to 15 minutes.
4. Using a pastry bag, pipe the chilled mousse into the apricot halves, drizzle with a bit of honey and serve. (I used truffle honey and it was FABULOUS!)