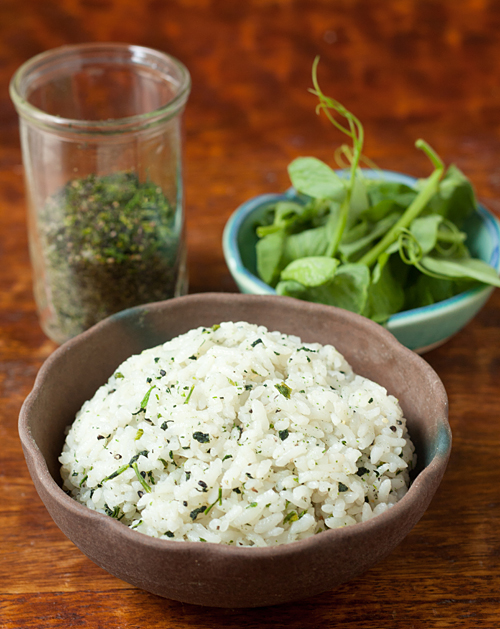 The Asian cultures do some amazing things with greens.  Living in Japan and traveling through Asia opened me up to a world of possibilities that went way beyond many of the things we might normally think of when preparing greens, like salad or steamed spinach.  The Asian cultures have also been using a wide variety of greens that many of us have never heard of, but are now showing up in the produce sections of our supermarkets.  If you have a copy of Peko Peko: A Cookbook to Support Japan's Recovery, you might have noticed some of the different ways that greens are incorporated into dishes, from Edamame Spinach Dip to Tangy Mustard Stir Fry and Peko Peko Udon to Kale Chips with Gomashio.  (And if you don't have a copy yet, what are you waiting for?!?)  I've found that the more I branch out and try different methods of incorporating greens into our family meals, the more I find that my children don't hesitate in eating them up.  Forget that nasty pureed spinach that is sold in baby food jars, no wonder so many kids won't eat their greens!  There are so many flavorful and delicious ways to prepare them, why wouldn't my kids want to eat them?  A friend of mine recently introduced me to a fabulous resource for Asian greens here in the US.  If you've ever bought a bag of pre-washed/chopped greens like kale or collard greens, it's likely they were from Cut 'n Clean Greens from San Miguel Produce.  Well San Miguel Produce added a new line of fresh Asian produce to their products, called Jade.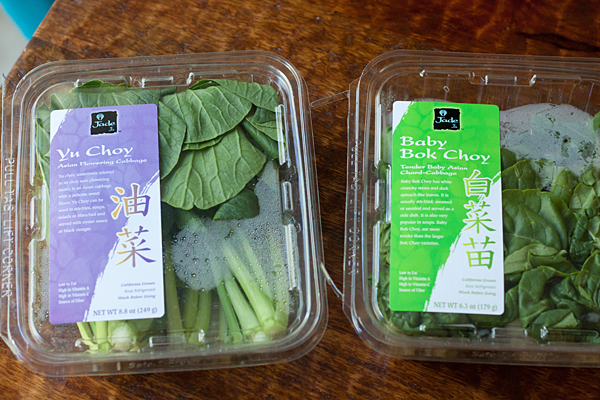 San Miguel Produce sent me a box of greens to play around with, and boy were my girls happy!  Two of the family favorites were simple sauteed greens that I served with some slow cooker kalua pork, and na meshi, steamed rice mixed with homemade furikake made with greens instead of nori (seaweed).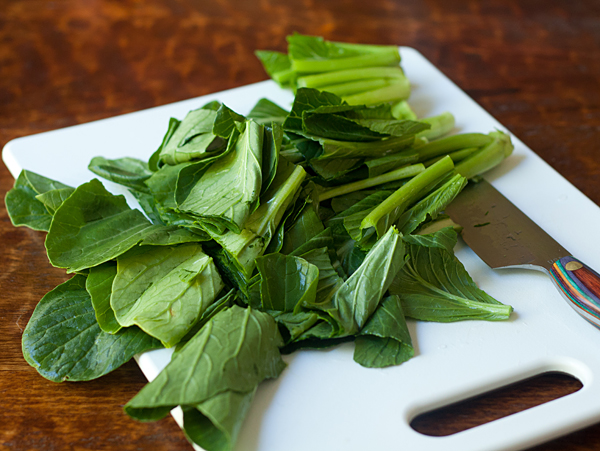 I don't know if you can even call the stir-fried greens a recipe, but I'll share with you what I did!  I used 9 ounces of yu choy (washed and cut into 3-inch lengths) and 6 ounces of baby bok choy (washed and sliced in 1/2).  I heated a wok over high heat and added about 1 1/2 tablespoons of toasted sesame oil.  Then I added 5 finely chopped garlic cloves and the greens and stir-fried them together for about 2 or 3 minutes until the greens had softened and wilted.  Then I pulled the wok off the heat, sprinkled everything with a generous pinch of salt and served them immediately.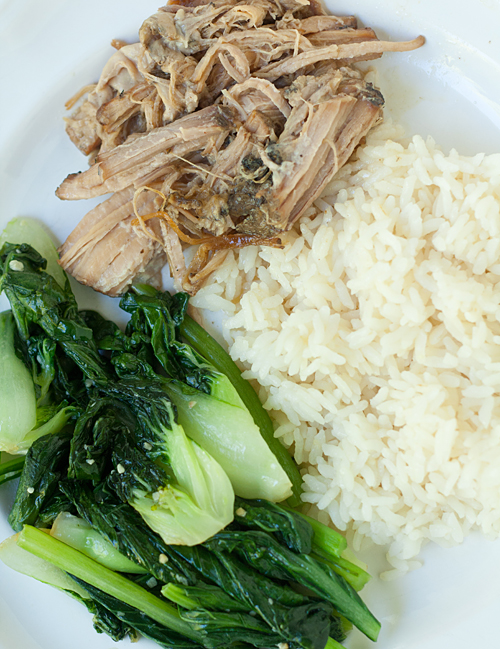 Na Meshi means "Leafy Rice."  My na meshi was inspired by a recipe in Elizabeth Andoh's newest cookbook, KANSHA.  Andoh uses daikon radish greens in her rice, but I went with dau miu, one of my favorite greens.  Dau miu are snow pea shoots that are delicate and lightly sweet, tasting like a cross between peas and spinach.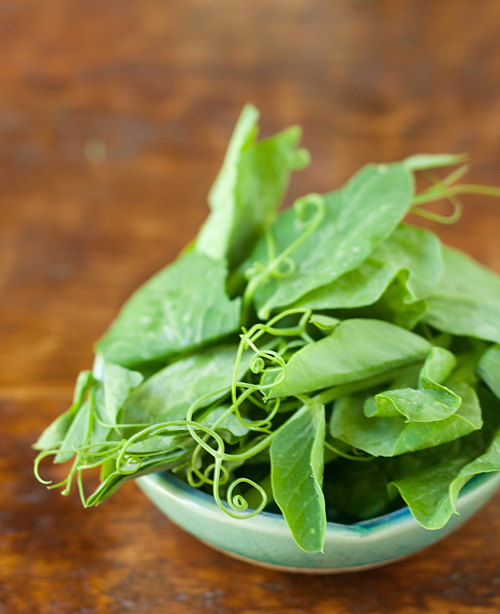 After rinsing and briefly blanching the dau miu to preserve the beautiful green color, I minced it finely and then put it in the oven at a very low heat and let it dry out until the dau miu was dry and brittle.  I combined the dried dau miu with some toasted sesame seeds, salt, and sugar to make a simple furikake, then gently folded the furikake into freshly steamed rice.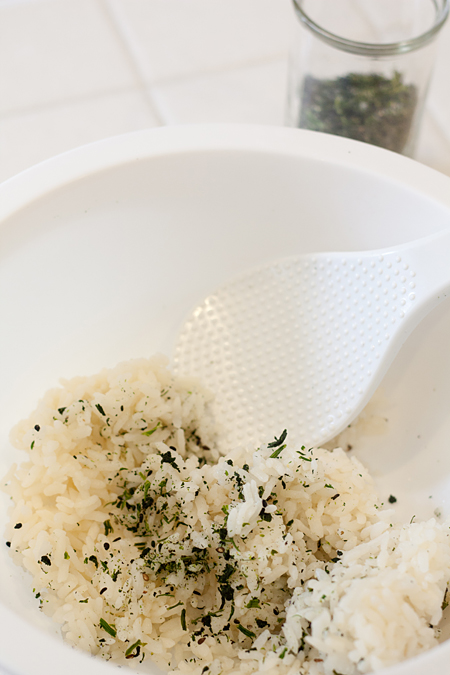 Na meshi makes a wonderful accompaniment to a meat or fish dish, or you can do what I did with half of ours and make onigiri!  The heat of the rice brings out the natural sweetness of the dau miu and the nuttiness of the toasted sesame seeds.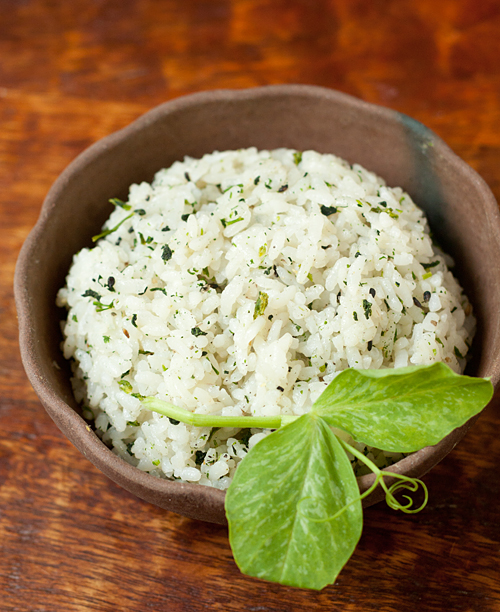 Print This Recipe
Dau Miu Na Meshi
Recipe inspired by Na Meshi recipe in KANSHA, by Elizabeth Andoh
Makes 3 cups of rice
5 ounces dau miu
1/4 teaspoon salt
2 tablespoons toasted black or white sesame seeds
1 teaspoon coarse sea salt
1 teaspoon sugar
3 cups steamed white rice, freshly made and still warm
1. Dry the dau miu: Preheat the oven to 200 degrees Fahrenheit (or the lowest temperature setting your oven has). Line a baking sheet with aluminum foil or parchment paper. Rinse the dau miu.
2. Bring 2 quarts of water to a rolling boil in a large pot, add the salt, then quickly blanch the dau miu until the color brightens, about 10 seconds. Drain immediately and transfer to a bowl of cold water to stop the dau miu from continuing to cook. Drain and squeeze out any excess moisture.
3. Wrap the dau miu up in a kitchen towel (or paper towel) to blot up any additional moisture. Using a sharp knife, chop the dau miu coarsely, then finely mince it. Spread the minced greens out on the prepared baking sheet.
4. Place the baking sheet in the preheated oven and oven-dry the dau miu until they become dry and brittle. This will take anywhere from 20 minutes to 1 hour and a half, depending on how finely your greens are chopped. Remove the greens from the oven and let them cool slightly, then rub them between your hands to break up any clusters into finer pieces.
5. Make the furikake: Combine 1 tablespoon of the sesame seeds, and all of the salt and sugar and grind them together in a mortar and pestle. Add the dau miu and remaining 1 tablespoon of sesame seeds and lightly mix.
6. Set aside 1 or 2 tablespoons of the furikake to add to the steamed rice. Let the remainder cool completely, then store it in a tightly sealed glass jar in the refrigerator for up to 1 month.
7. Make the na meshi: Sprinkle the furikake over the hot rice, then use a rice paddle or spatula and gently fold the furikake into the rice, distributing it evenly. The heat and moisture of the rice will rehydrate the greens. Serve piping hot, or allow to cool to room temperature.
===================================================
* Legal Disclosure: San Miguel Produce sent me a box of greens, but the opinions expressed in this post are mine.