Sponsored by RW Garcia.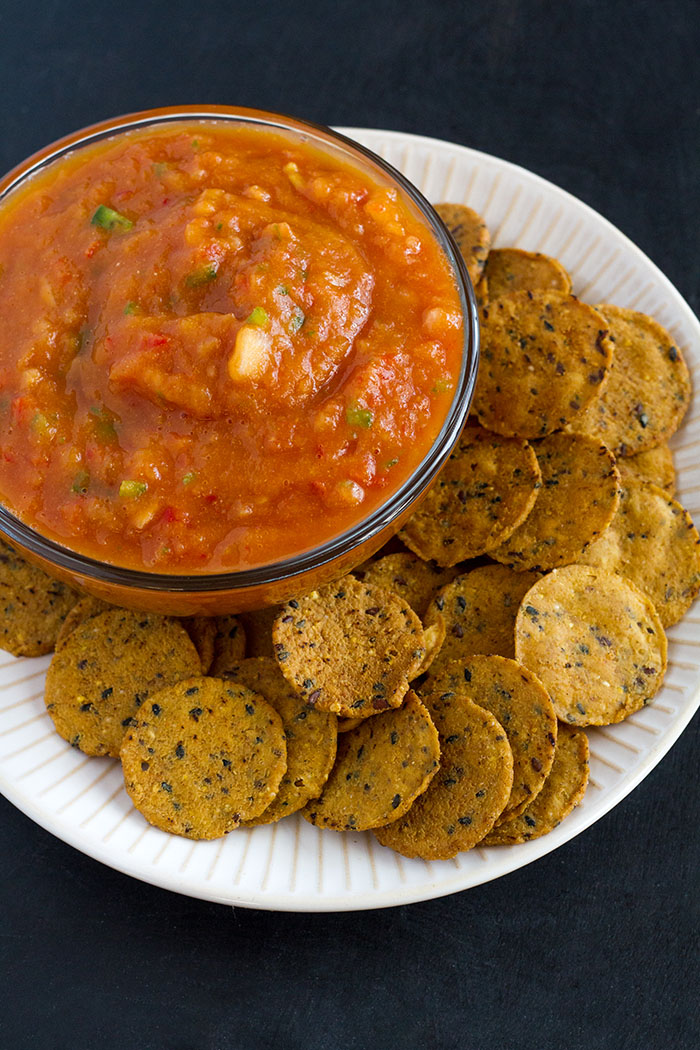 It's falllll!!!!  Some of my favorite flavors are in season, like pumpkin, sweet potato, and apple, so you know that I can't help myself and am putting those ingredients in everything.  I have partnered up with RW Garcia, makers of my favorite crackers, to whip up something fall-inspired for you.  I dreamed up a salsa to pair with their 3 Seed Sweet Potato Crackers, my absolute favorite flavor of their crackers. (I know I've said this before, but just in case you didn't believe me the first time . . . .)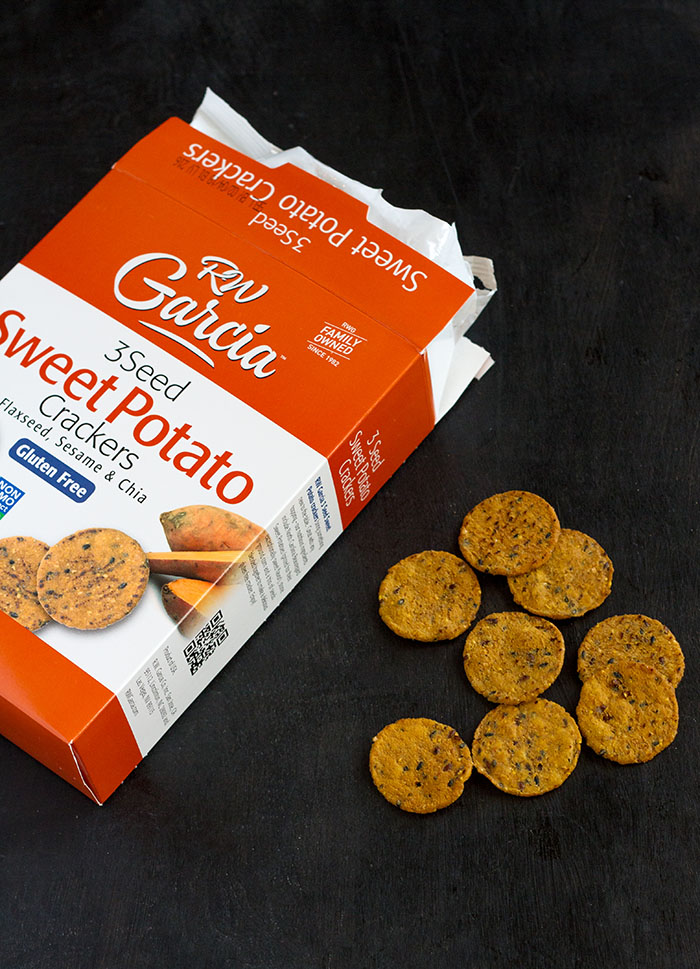 I recently bought a jar of fall-inspired salsa, but it wasn't my favorite.  The idea got me thinking however, so I took the opportunity to come up with my own version.  I used canned pureed pumpkin (but you could use homemade . . . I just haven't made any yet this year!) and a fresh Fuji apple to bring in my favorite fall flavors. (*Note: I suggest using organic pumpkin puree for this recipe.  I have found that organic pumpkin puree tends to have a better color than regular pumpkin puree, which makes for a more visually appealing salsa!)  The rest of my ingredients are more traditional: tomatoes, onion, bell pepper, jalapeno peppers, garlic, cumin, salt, cilantro, and lime juice…plus a tiny bit of maple syrup thrown in for sweetness to balance out the other flavors.  You start out by blending most of the ingredients together in a blender to make a thick base, then add minced red bell pepper, white onion, and jalapeno pepper and pulse to combine.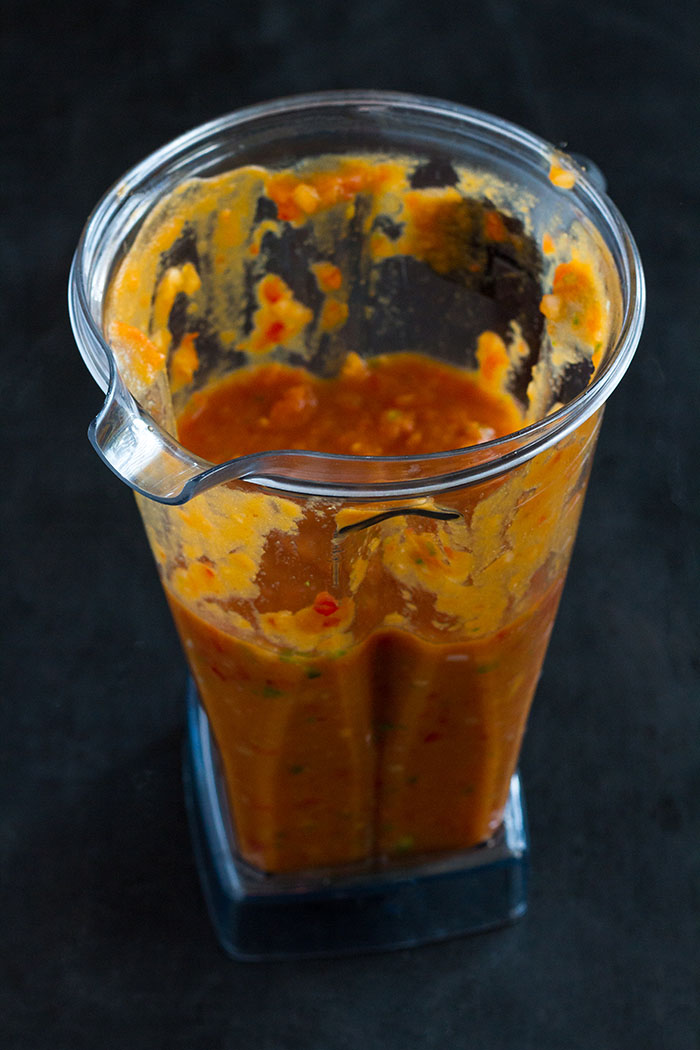 The end result is so much better than I had hoped that I've already had several batches of the salsa disappear quicker than you can say "Trick or treat!"  Served with RW Garcia's 3 Seed Sweet Potato Crackers, this would be the perfect snack or appetizer for a fall party, an afternoon snack, or part of a Thanksgiving appetizer lineup.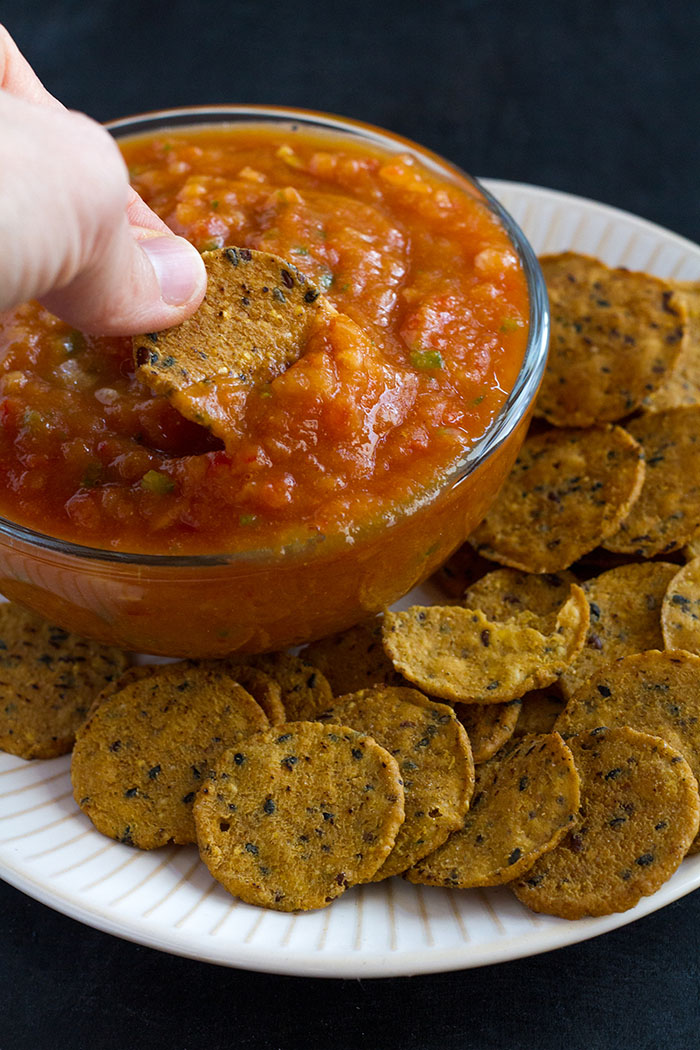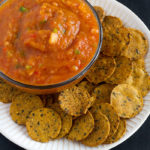 Harvest Salsa
This salsa is inspired by fall, using pumpkin puree to add richness, and apple to add sweetness. It is delicious at any time of year though!
Ingredients
1

14.5 ounce can

diced tomatoes in juice

1

cup

organic pumpkin puree

1/2

Fuji apple, peeled and cored

3

cloves

garlic, minced

1 1/2

teaspoons

ground cumin

1

teaspoon

fine grain sea salt

2

tablespoons

freshly squeezed lime juice, plus more to taste

1

teaspoon

maple syrup

1

small red bell pepper, seeded and minced

1/2

large white onion, minced

2

jalapeno peppers, seeded and minced
Instructions
Add half of the canned diced tomatoes and juice (reserve second half for step 2), pumpkin puree, Fuji apple half, garlic, ground cumin, sea salt, lime juice, and maple syrup to a blender. Blend until relatively smooth. Taste the salsa base and adjust the seasoning as necessary.

Add the remaining canned diced tomatoes and juice, red bell pepper, white onion, and jalapeno peppers and pulse once or twice to combine.

Transfer the salt to an airtight container and let it chill in the refrigerator for a couple of hours to allow the flavors to develop. Serve with RW Garcia 3 Seed Sweet Potato Crackers.
*Disclosure: This post is sponsored by RW Garcia.  They provided crackers for me to complete recipe development and are compensating me for my time spent in recipe development, photography, and writing this post.  All experiences and opinions are my own!