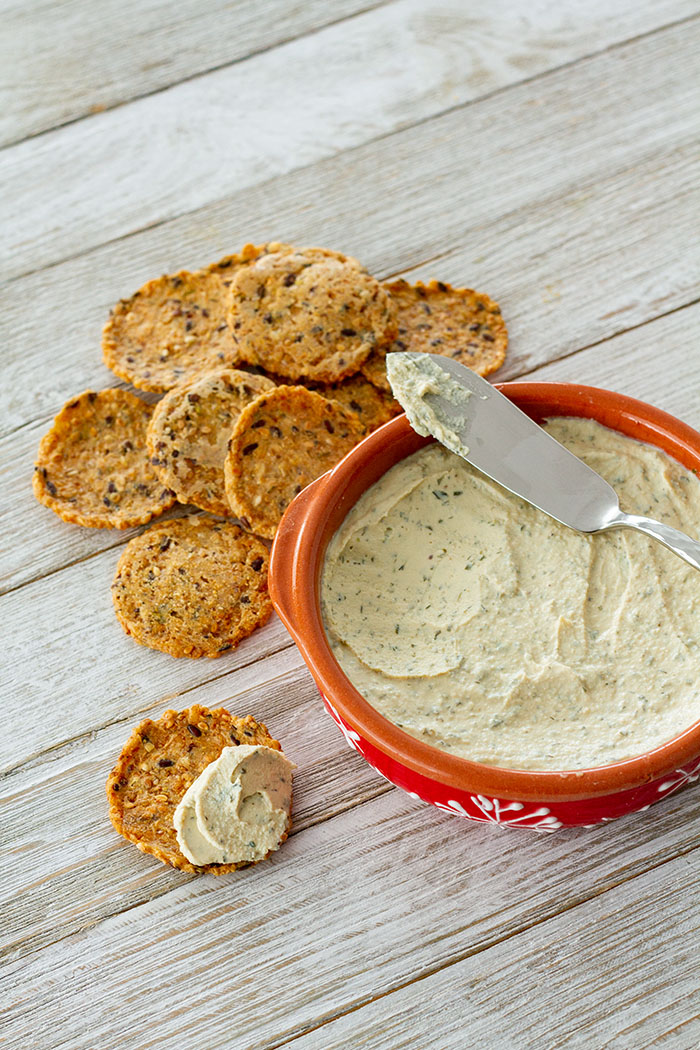 Happy Wednesday Fuji friends!  How is your January shaping up so far?  Ours has been cold, so I've been hibernating a bit.  I did get out for a long run this past Saturday, since the sun was actually going to be out, but by the end of the run I was so frozen that it took me over an hour to warm up after I got home.  Needless to say, I have gone back to treadmill runs this week.  One of the things I've been snacking on lately is the cheese spread that I made for New Years Eve for my fruicuterie platter.  It is addictive.  I've been spreading it on crackers, celery, carrot sticks, broccoli florets . . . you name it.  It would also be a delicious addition to a bento, packed with some crackers or fresh vegetables.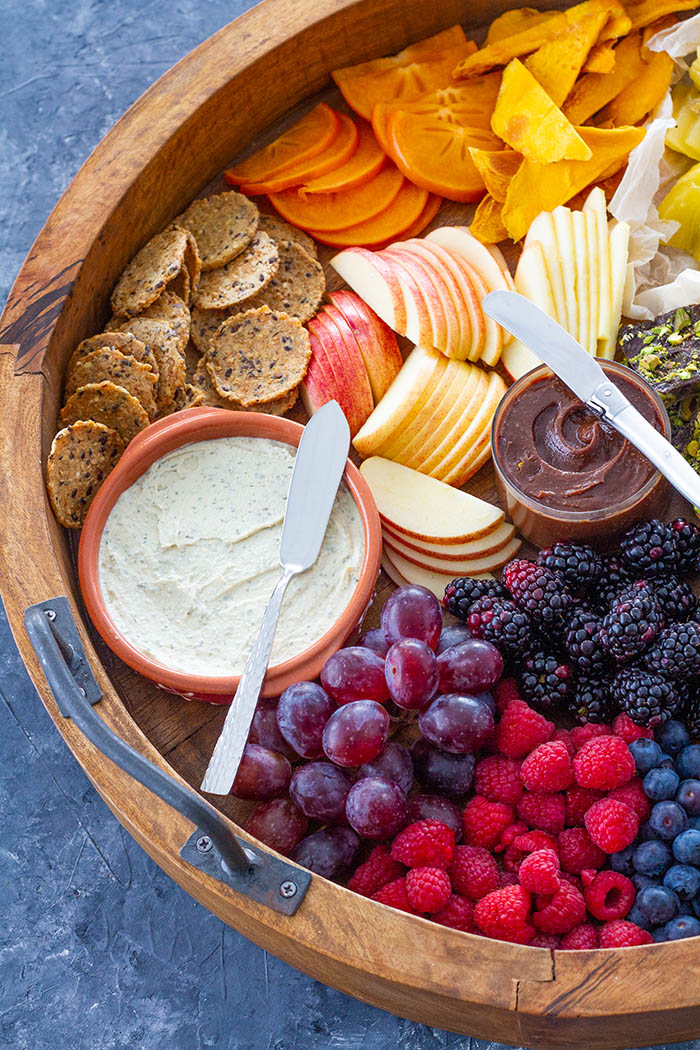 It's kind of like a veganized Boursin-style cashew cheese spread and it's super easy to make.  You need to plan ahead a bit, because you need to soak some raw cashews ahead of time so that when you make the cheese in a food processor (or high-powered blender), they will have a super creamy consistency.  You also need to leave the spread time to chill in the refrigerator after you make it, as this allows the flavors to blend and develop.  Other than that, it only takes a few minutes to throw all of the ingredients together and process them until they are smooth and creamy.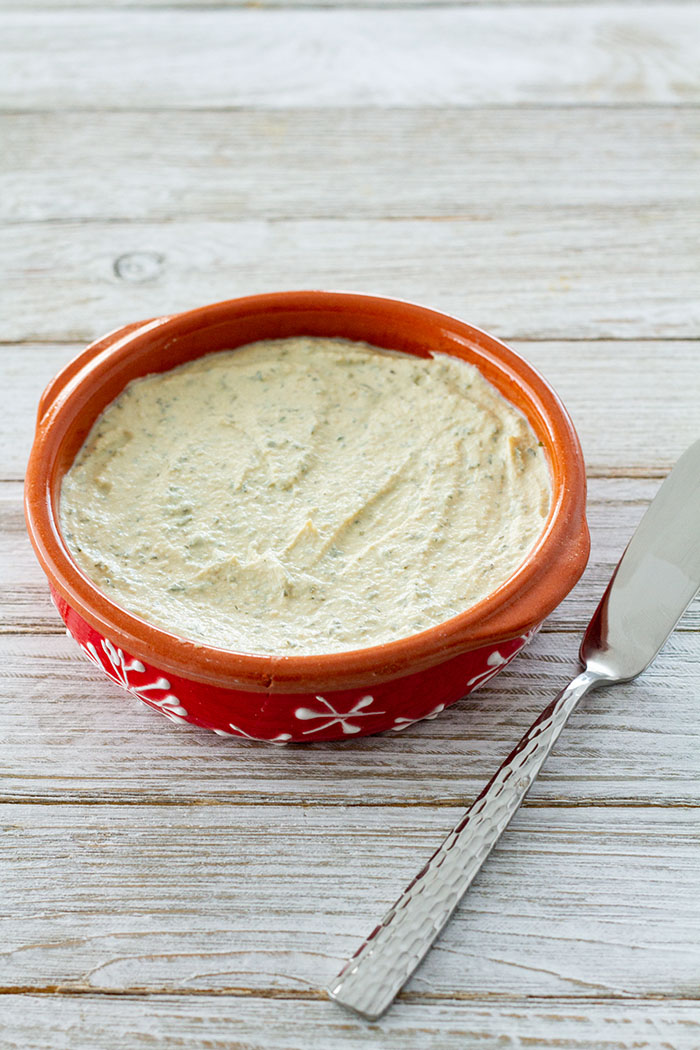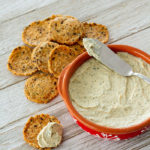 Herb Cashew Cheese Spread
Makes 1 1/2 cups
This cheese spread is like a veganized version of a Boursin-style cheese. A creamy, spreadable cheese filled with herbs and flavor. Perfect for serving with crackers, raw vegetables, or spread on a bagel or slice of baguette. It would also be a fantastic addition to a bento.
Ingredients
1/3

cup

raw cashews

7

ounces

extra firm tofu

2

tablespoons

water

1

tablespoon

freshly squeezed lemon juice

1 1/2

teaspoons

apple cider vinegar

3/4

teaspoon

fine grain sea salt

1/2

teaspoon

maple syrup

2

tablespoons

nutritional yeast

1 1/2

teaspoons

dried parsley

1/2

teaspoon

dried dill

1/4

teaspoon

garlic powder

1/4

teaspoon

dried marjoram

1/4

teaspoon

dried basil

1/4

teaspoon

dried chives

1/4

teaspoon

freshly ground black pepper

1/8

teaspoon

dried thyme
Instructions
Put the raw cashews in a bowl and cover with water (by about 2-inches). Let the cashews soak for at least 2 hours, or overnight. When you are ready to make the cheese spread, drain the cashews well.

Drain the tofu and pat it dry with a paper towel, then place it on a large plate lined with several layers of paper towel. Put several more layers of paper towel on top, then place a cutting board on top of that. Weight the cutting board down with something like several cans of food or a book and let the tofu press for at least 30 minutes.


Add the drained cashews, pressed tofu, 2 tablespoons water, lemon juice, apple cider vinegar, sea salt, maple syrup, and nutritional yeast to a food processor (or high-speed blender). Blend until smooth, stopping to scrape down the sides with a rubber spatula as needed. This is a thick mixture, so it will take some time to process it into a smooth and creamy consistency.

Once it is smooth, add the remaining ingredients and process briefly until the new ingredients are evenly incorporated. Store the cheese spread in an airtight container in the refrigerator. The spread will stay fresh for up to two weeks.