During the summer in Japan when the weather is hot and humid, you will see lots of chilled dishes on menus.  One of those dishes is chilled noodles served with a variety of toppings.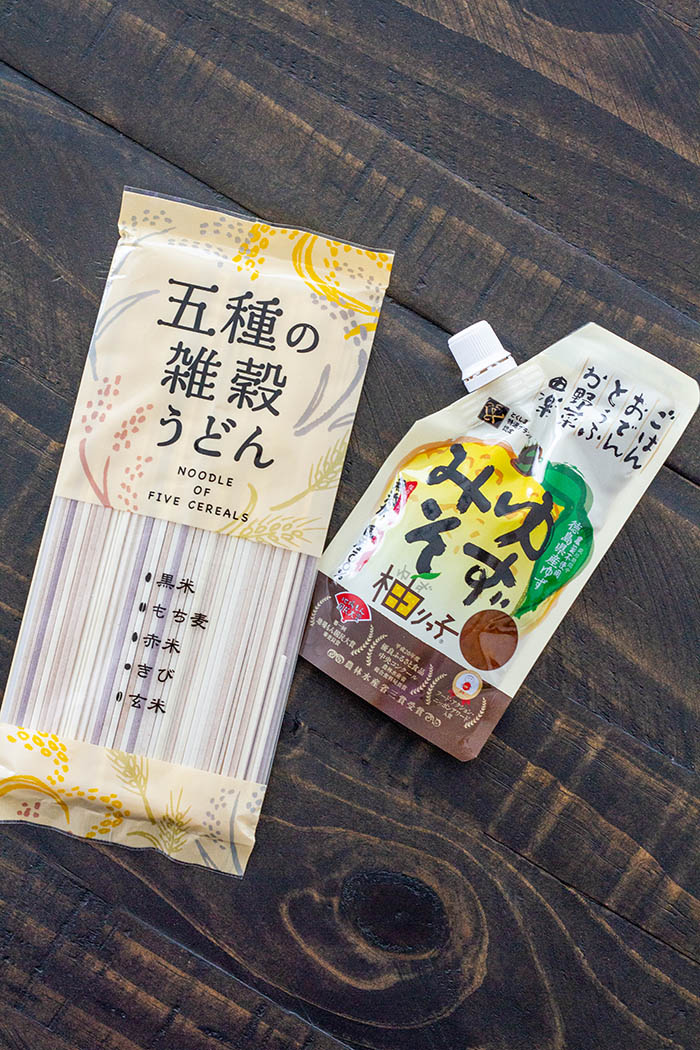 When I was trying to decide what to make with all of the fun items in my Kokoro Cares Package,  I decided to use the 5 grain udon and the yuzu miso to whip up a hiyashi miso udon, or chilled udon noodles with a miso sauce.  If you are looking for something refreshing and light, this is it!  The yuzu miso combines the flavors of yuzu (a fragrant variety of citrus in Japan that tastes like a mix of mandarin orange and lemon) and miso paste.  If you don't have access to yuzu miso, I have provided an alternative suggestion in the recipe.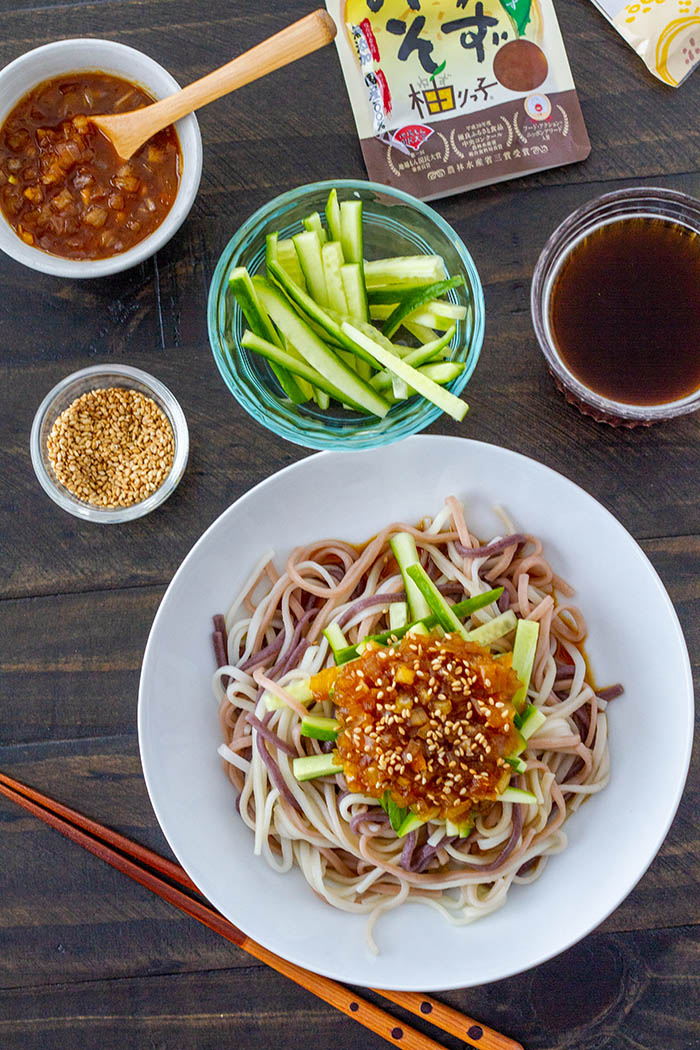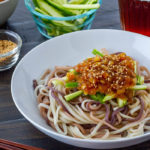 Hiyashi Miso Udon (Chilled Udon Noodles with Miso Sauce)
Chilled udon noodles topped with a sweet and savory miso sauce. Perfect for a hot summer afternoon or evening meal.
Ingredients
6

ounces

uncooked udon noodles (or gluten-free noodles, if needed)

1

cup

finely chopped yellow onion

1

tablespoon

freshly grated ginger

3

tablespoons

yuzu miso*

2

tablespoons

soy sauce (or gluten-free tamari)

2

tablespoons

mirin

2

teaspoons

maple syrup (add 1 additional teaspoon if you like a sweeter sauce)

1

small Japanese cucumber (or English cucumber with seeds removed), cut into matchsticks

toasted white sesame seeds (optional)
Instructions
Cook the udon noodles according to the package directions. Then drain the water and rinse the noodles to remove any extra starch. Put the noodles in a bowl of ice water to chill.

Mix the onion, ginger, yuzu miso, soy sauce, mirin, and maple syrup together in a small saucepan. Heat the sauce over medium heat. Just as the sauce beings to boil, reduce the heat to maintain a simmer and let the sauce cook for 4 minutes, stirring occasionally.

Drain the noodles completely and divide them between two plates/bowls. Top the noodles with cucumber matchsticks, then spoon the miso sauce over the top. Garnish with toasted white sesame seeds, if desired. Serve immediately.
Recipe Notes
*Yuzu Miso: If you do not have yuzu miso, you can substitute regular miso (white will be more mild and red/brown will be stronger) and add 1 tablespoon of marmalade to the sauce and a teaspoon of lemon zest.