*This post is brought to you in partnership with Nasoya.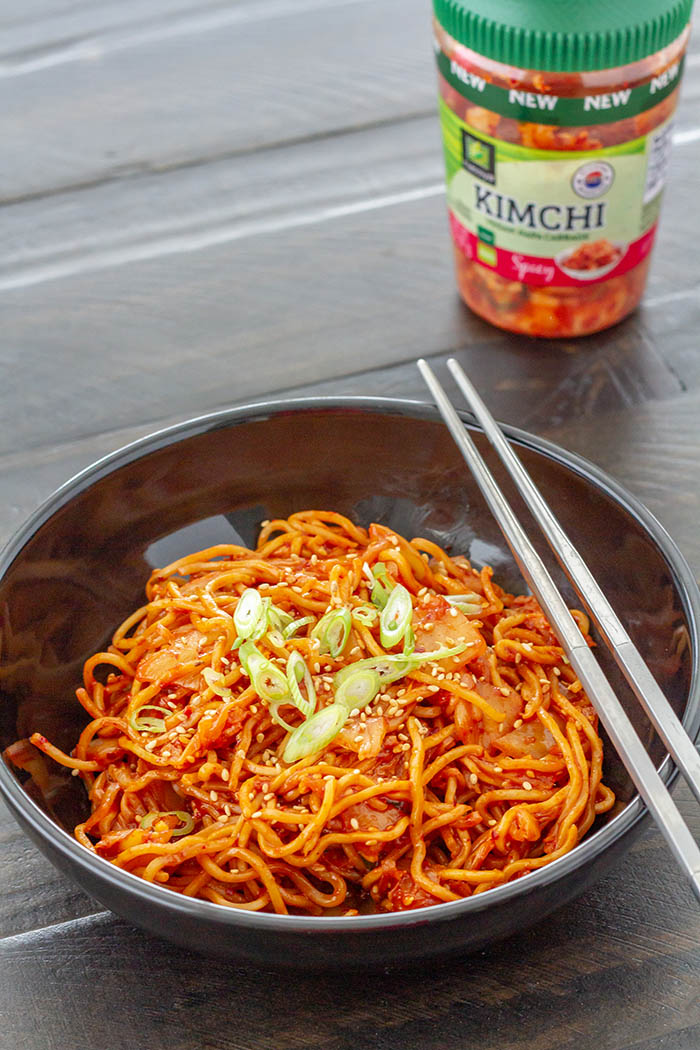 I'm a huge fan of fermented vegetables, whether it be dill pickles, sauerkraut, Japanese tsukemono, or Korean kimchi. Since going plant-based, I have had less to choose from in the kimchi department. The classic kimchi recipe includes some sort of salted seafood or fish sauce. There are a few vegan kimchi options, but there harder to find and often pricier, so when Nasoya reached out to let me know that they were launching a new vegan kimchi line, saying I was excited would be an understatement. Nasoya sent me a jar of each variety in the new line: Spicy Napa Cabbage, Mild Napa Cabbage, Mild White Napa Cabbage, and Mild Cubed Radish. The Napa Cabbage kimchi is the classic kimchi that most people think of. White kimchi is mild (no chilies/chili powder added) and light. Cubed radish kimchi is made with daikon radish as the star. They are all SO GOOD. I think I could sit down and eat a jar of any one of them by myself in one sitting.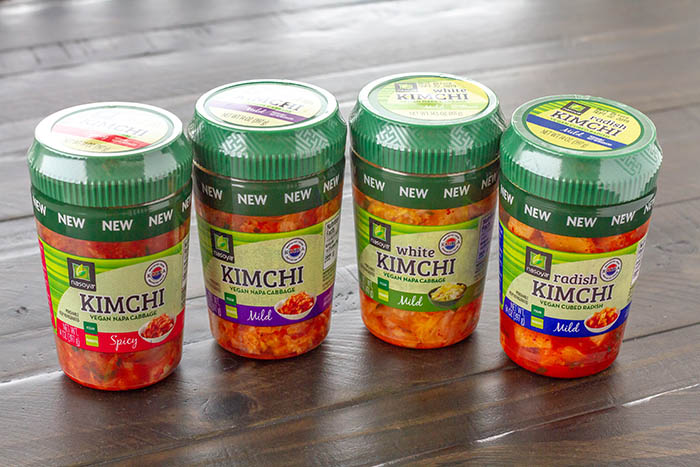 Nasoya challenged me to use the kimchi to create a summer recipe. I started brainstorming, and well, I'm on a noodle bender! There's something about summer that makes me crave noodles. It's probably because some of my favorite noodle dishes in Japan pop up during summer, like the chilled noodles I wrote about in my last post, or yakisoba—Japanese stir-fried noodles. Yakisoba is one of the foods that is sold by food stalls at matsuri, Japanese summer festivals. I shared a yakisoba recipe earlier this year that is a more classic version of the dish. But there are other variations that bring in different flavors. One of the variations I love is kimchi yakisoba. I went with Nasoya's Spicy Napa Cabbage Kimchi, because the spicier the better in my book. But you could also use the Mild Napa Cabbage Kimchi as well. I chopped it up . . . well actually cut it up. I use my Cutco kitchen shears when I want to chop up kimchi. I just put the kimchi in a bowl and go to town on it with the shears. It's way easier to clean up and then you don't have to scrub the pungent spices off of your cutting board or your fingers!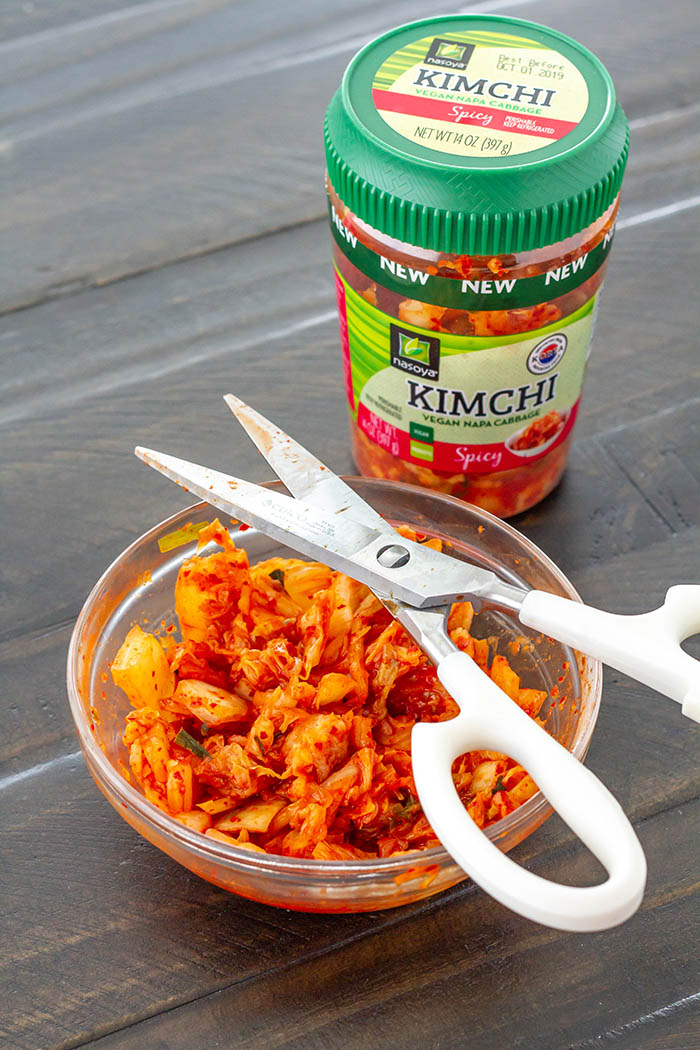 You will also need some yakisoba noodles for this recipe. You can find fresh ones in many supermarkets, or you can buy uncooked ramen noodles (chuka soba).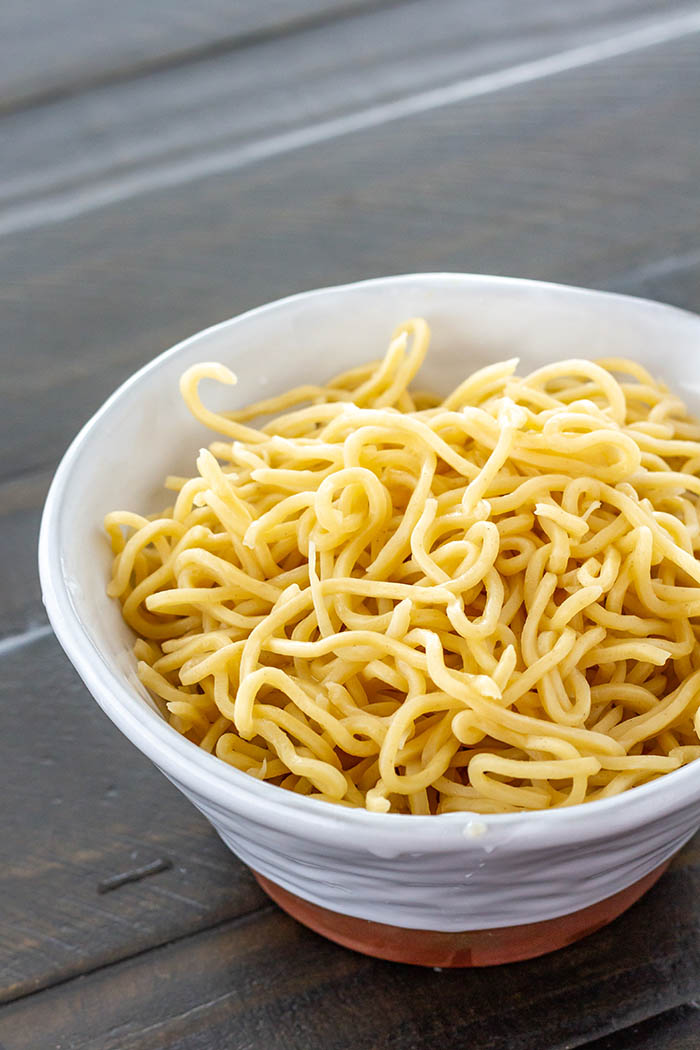 You will also need gochujang (<—affiliate link), a Korean red chili paste that adds color, heat, and lots of extra flavor to compliment the flavors of the kimchi and help make a sauce for the noodles. The rest of the ingredients are ingredients you are probably more familiar with, like soy sauce, coconut sugar (or your sweetener of choice), green onions, and toasted sesame seeds.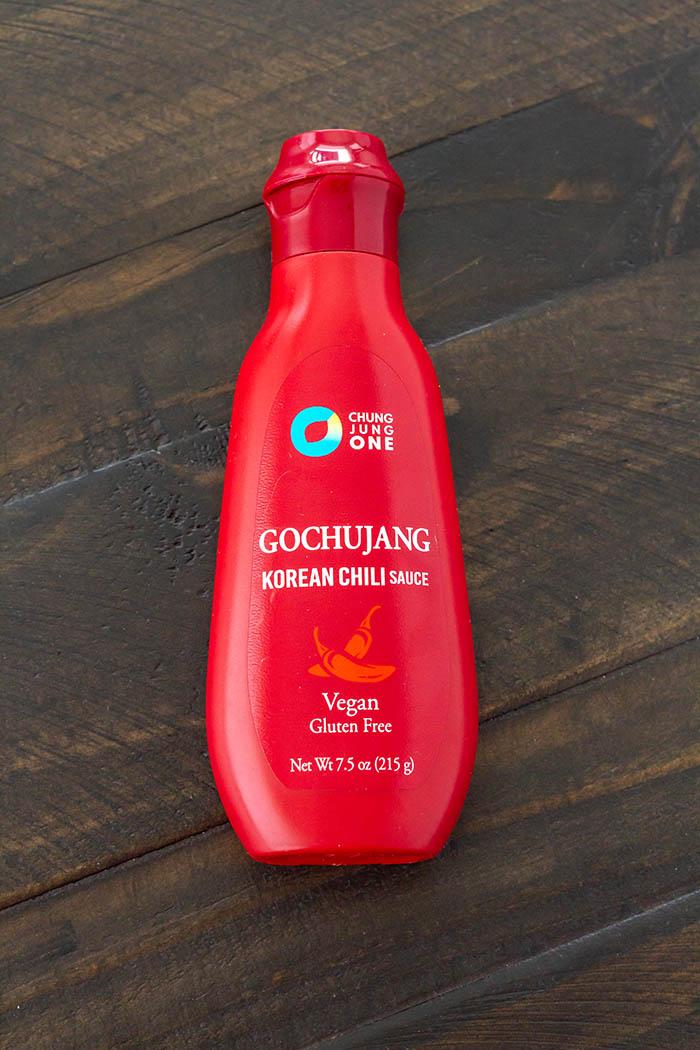 I hope you try some of the new kimchi from Nasoya and that you give this kimchi yakisoba a try as well!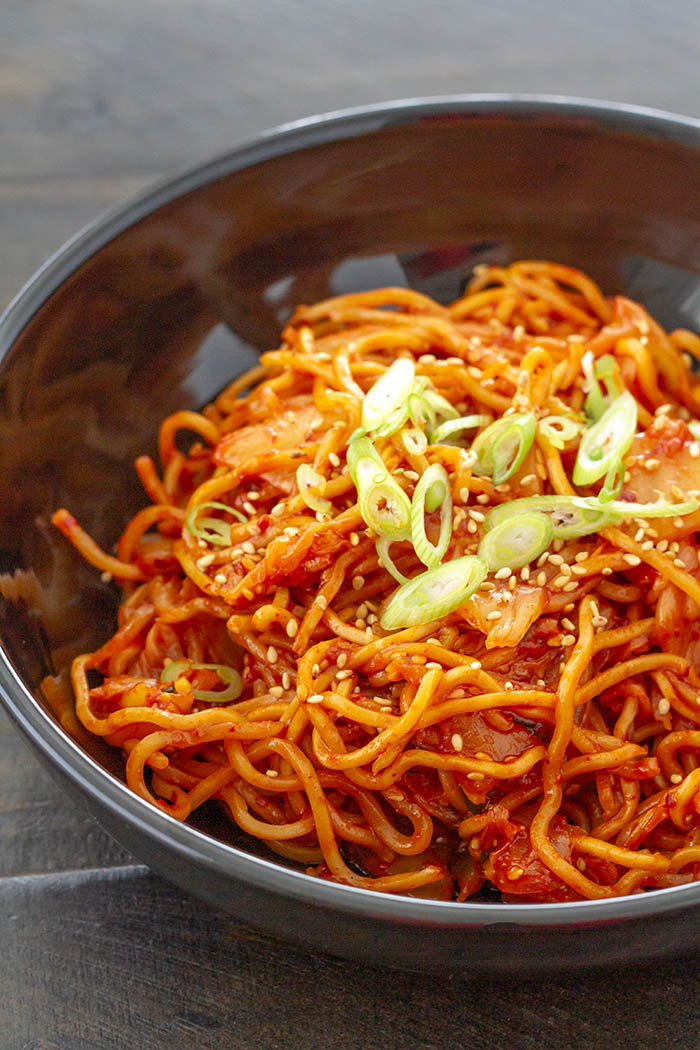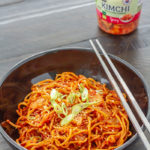 Kimchi Yakisoba
Japanese fried noodles with a spicy kimchi sauce.

Ingredients
7 -- 8

ounces

fresh yakisoba noodles (or about 3.5 ounces dry/uncooked noodles)

1

tablespoon

oil (I like using avocado oil)

5 -- 6

ounces

(or a heaping 2/3 cup) Nasoya Spicy Napa Cabbage Kimchi

1 1/2

tablespoons

gochujang

2

teaspoons

soy sauce

1

tablespoon

coconut sugar

2

teaspoons

toasted white sesame seeds

Garnish: thinly sliced green onions and additional toasted white sesame seeds
Instructions
If your noodles aren't cooked, cook according to the package directions until al dente. If they are fresh noodles, rinse the noodles under warm water to loosen them up.

Heat the oil in a frying pan or wok over medium heat. Add the kimchi and stir-fry for 1 minute. Then add the gochujang, soy sauce, coconut sugar, and 2 teaspoons of toasted white sesame seeds. Stir-fry for an additional 30 seconds.


Then add the gochujang, soy sauce, coconut sugar, and 2 teaspoons of toasted white sesame seeds. Stir-fry for an additional 30 seconds.


Add the prepared yakisoba noodles and toss with the kimchi mixture. Stir-fry to heat through, then serve immediately in bowls garnished with thinly sliced green onion and additional toasted white sesame seeds.

*Disclosure: I received product from Nasoya, at no cost to myself, to sample. I am being compensated for my work in developing this recipe, the photography, and writing of this post. All thoughts and experiences are my own.