*Disclosure: This post contains Amazon affiliate links that earn me a small commission, at no additional cost to you.  I only recommend products I personally use and love, or think my readers will find useful.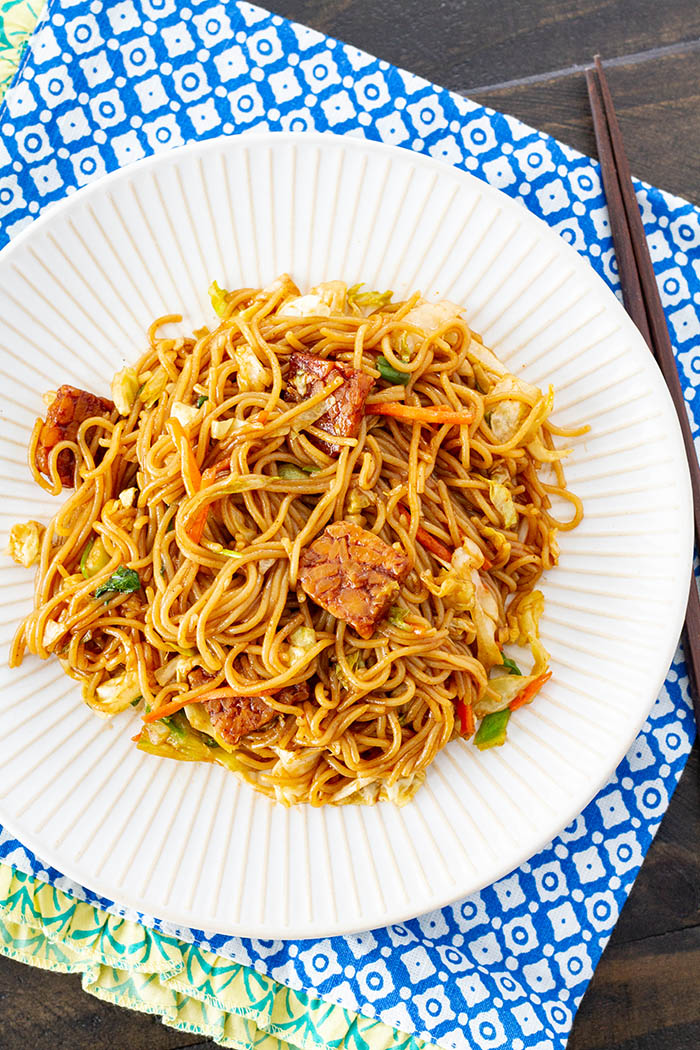 I have been finding some pretty strange things in the trash lately: silverware, cups, a My Little Pony, some magnets . . . Monkey really likes to help by throwing things away.  So yesterday, when I was trying to find the notes to my vegan yakisoba recipe so that I could post the recipe here on LFM, and I had spent 2 hours looking for them without any luck, I started to think that they had fallen victim to the overzealous Monkey.  When I found them randomly in the laundry room last night I felt a bit bad for thinking that Monkey was the culprit. (Though let's be honest here, there's a very good reason that my mind went there…)  Thankfully, now that I have the notes, I can share the recipe!  I've written about yakisoba before, but it was a while ago, before my plant-based days.  Yakisoba is a Japanese stir-fried noodle dish that I love.  I was recently contacted by OtaJoy, a company who sells Japanese sauces and food kits, asking if I wanted to try their sauces.  I was really excited, because I was familiar with their parent company, Otafuku Sauce, from living in Japan, and hadn't realized that they had a US company.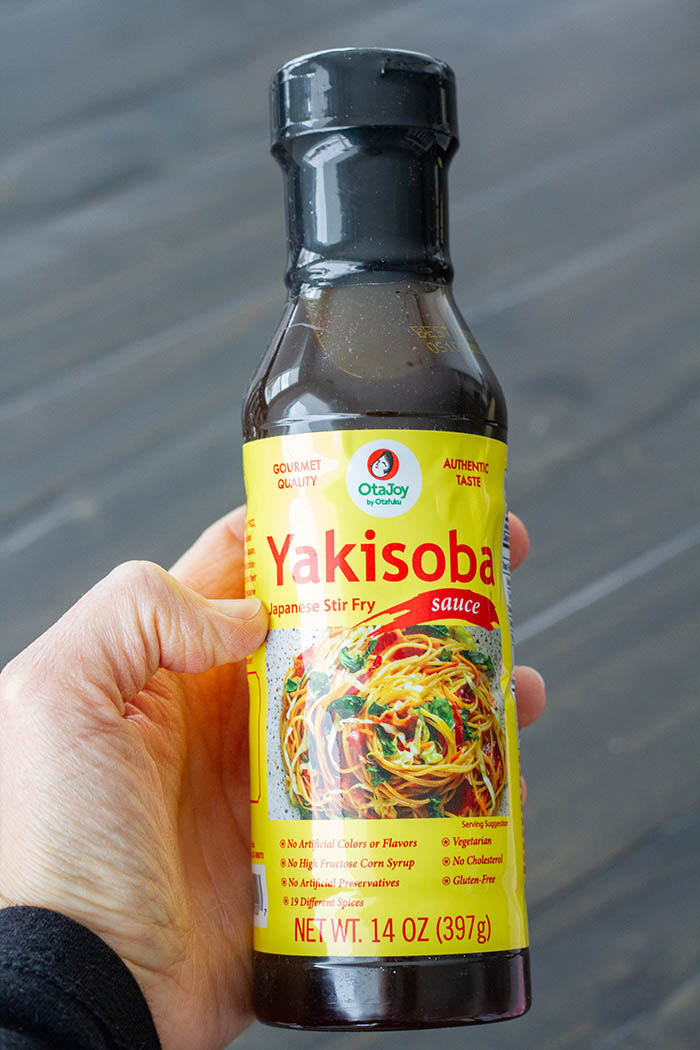 They sent me a variety of sauces, as well as one of their kits for making okonomiyaki and one for making yakisoba.  The girls LOVED the yakisoba, though I couldn't eat it because the noodles aren't gluten-free.  I decided to whip up a version that was, using their super simple approach from the box kit.  I used their sauce, my favorite Lotus Foods Millet & Brown Rice Ramen noodles, an Asian coleslaw salad mix, and some tempeh bacon (made using my favorite marinade from the Hot For Food cookbook).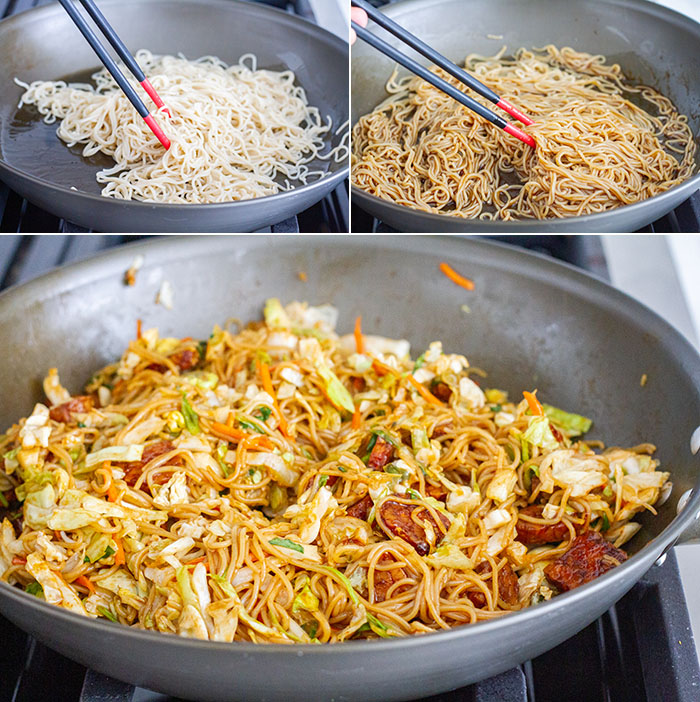 Stir-fried noodles for the win!  I hope you love them as much as I do.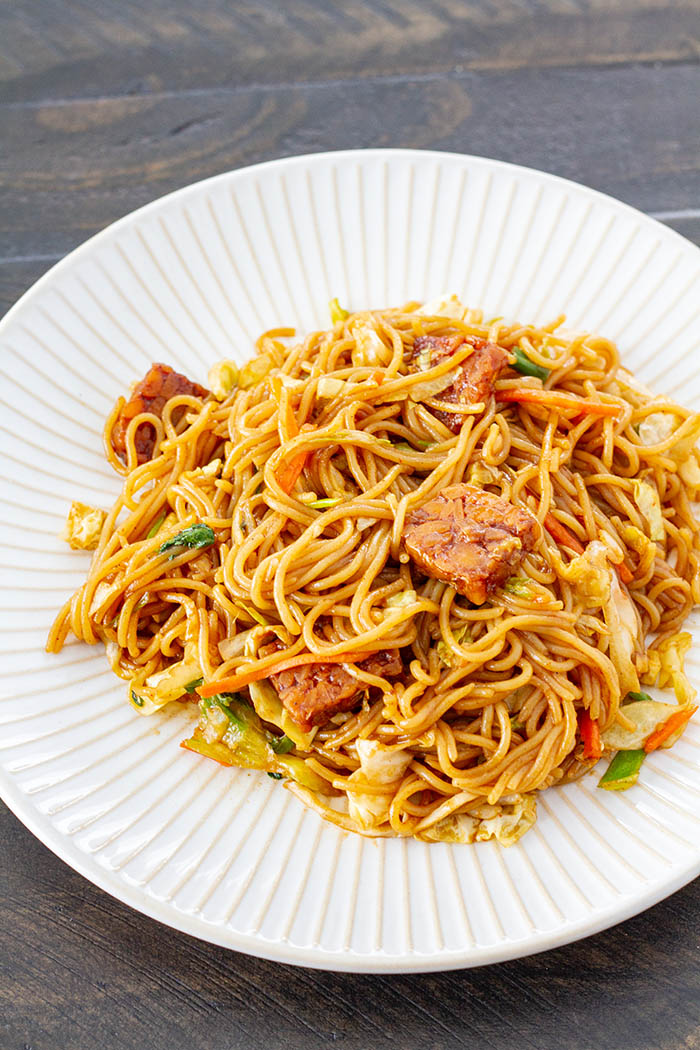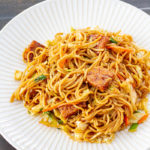 Vegan Yakisoba---Japanese Stir-Fried Noodles
Japanese stir-fried noodles with tempeh bacon.
Ingredients
4

ounces

tempeh, cut into small slices

1

recipe

Hot For Food "bacon" marinade

1 1/2

teaspoons

toasted sesame oil

6

ounces

yakisoba noodles*, cooked according to package instructions

1/3

cup

yakisoba sauce

10

ounces

pre-packaged salad mix (such as coleslaw mix)

Optional garnishes: ao nori, beni shoga
Instructions
Marinate the tempeh pieces in the bacon marinade for 10 minutes. Put the marinade and the tempeh in a skillet over medium heat. Bring the marinade for a simmmer, turn the heat to medium-low, and cook for 5 minutes, turning the pieces over occasionally. Remove the tempeh from the skillet and set aside.

In a large skillet, or wok, heat the 1 1/2 teaspoons of toasted sesame oil. Add the cooked yakisoba noodles and stir-fry for 1 minute. Add the 1/3 cup of yakisoba sauce and stir well until the sauce has been evenly mixed into the noodles.

Add the salad mix and bacon and cook for another minute or so, or until the salad mix is cooked to your liking.

Add any garnishes, if desired. Serve hot and enjoy.
Recipe Notes
*If you aren't gluten-free, sometimes you can find fresh yakisoba noodles in supermarkets.  If not, look in the Asian section of your supermarket and look for "chuka soba" noodles.  They aren't buckwheat noodles, despite the word soba being used.  If you can't find those, you can always substitute angel hair pasta in a pinch!