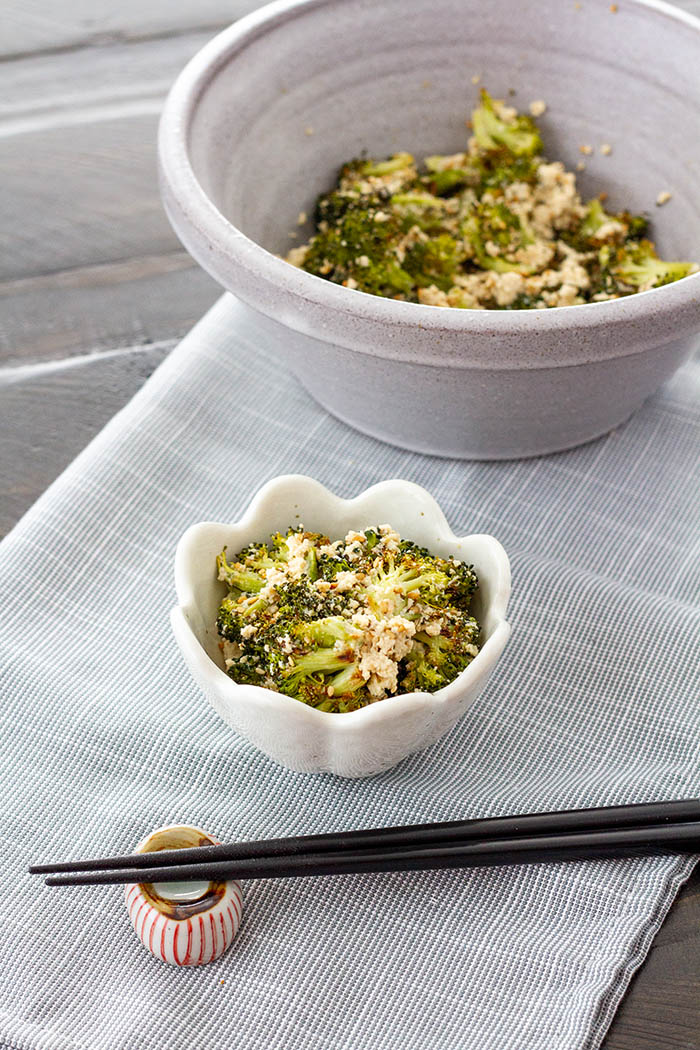 We are currently in Japan!  (I can't tell you how giddy that makes me to type that!)  Mr. Fuji had a 2-week business trip to Tokyo and about halfway through his trip he found a really good deal on tickets and booked a trip for the rest of us to fly out and meet up with him when he was done with work.  We arrived this past Saturday and are coming home this Saturday.  A quick trip, but we are so happy to be here!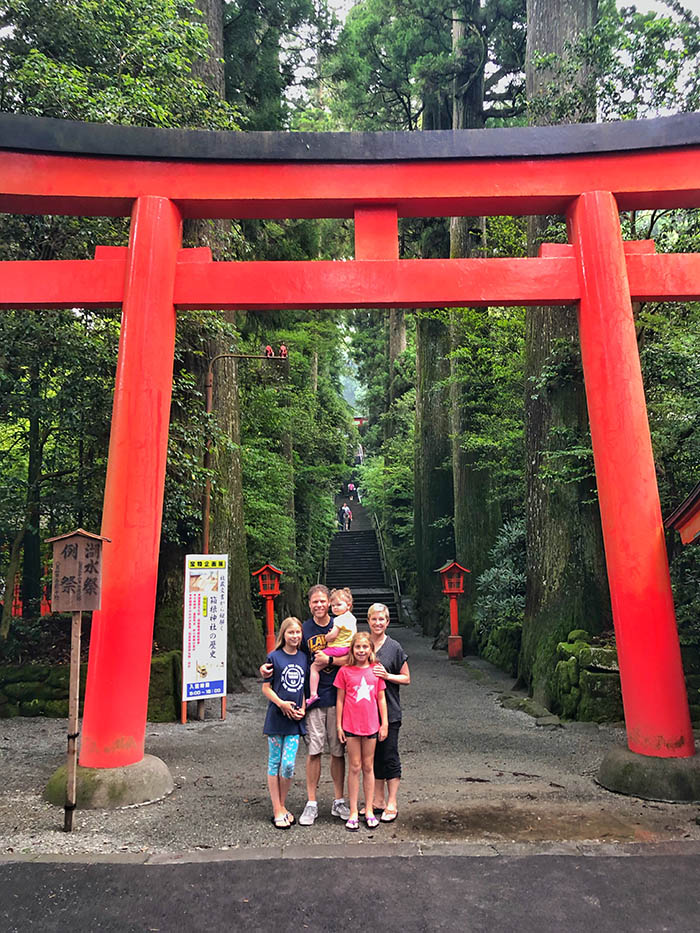 Being here in Japan, it feels perfect to share what I had lined up already for today—a type of Japanese salad/side dish called shira-ae.  Shira-ae, which means "dressed in white", actually refers to the dressing, which is a thick and creamy tofu sesame dressing.  Traditionally this dressing is mixed with things like carrot, chrysanthemum leaves, hijiki seaweed, and spinach, but I've seen lots of variations where the dressing is mixed with all sorts of vegetables, legumes, nuts, and even fruit.  I thought I would combine it with one of my favorite things—roasted broccoli.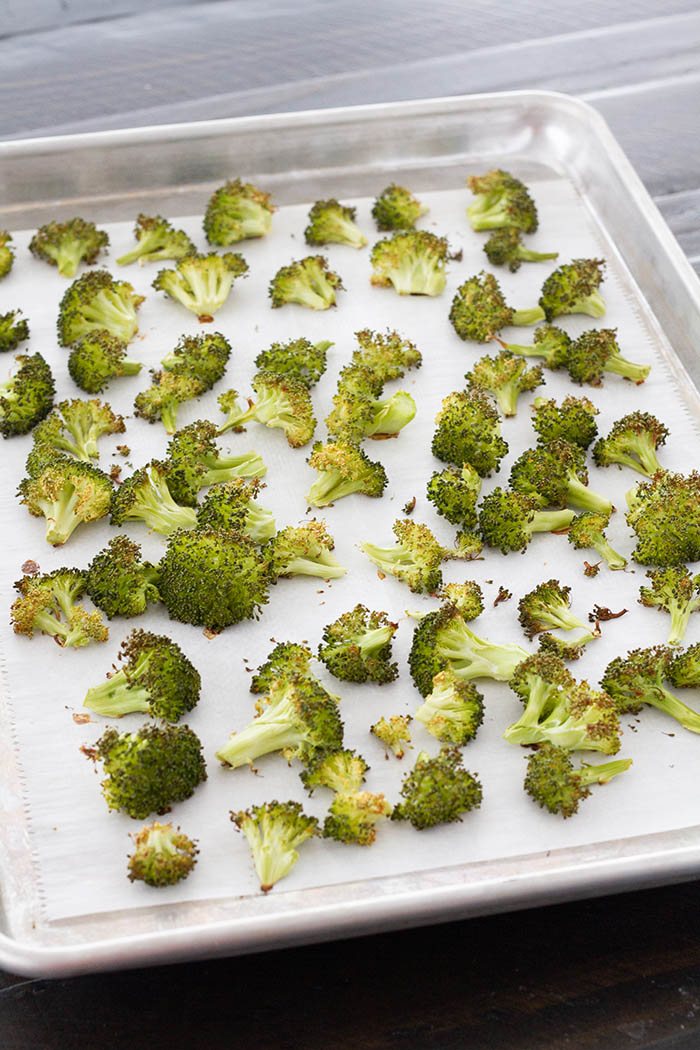 You can make the dressing ahead and then when you are preparing your meal, roast the broccoli, then toss it with the dressing, add some toasted white sesame seeds, and it is ready to serve!  Or you can do all of the cooking/prepping at the same time.  The dressing is usually made in a suribachi (a Japanese mortar), but you can use a regular mortar, like the one in this picture.  Or just make it in a bowl and mash it with a fork!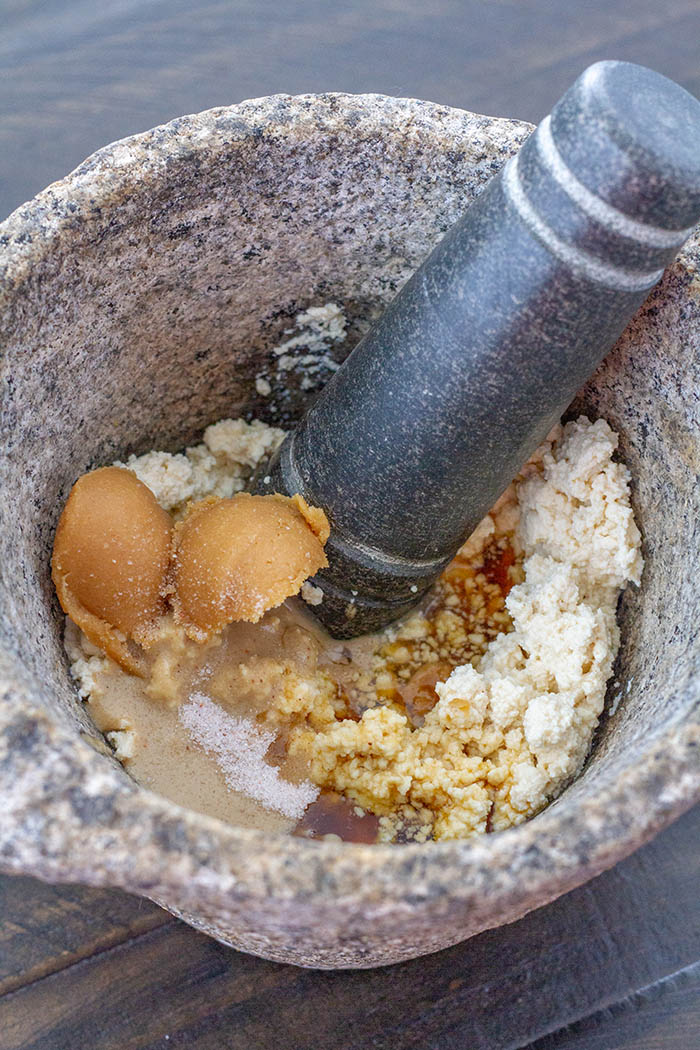 I hope you love this salad as much as I do.  It's delicious packed in a bento, as a side at dinner, or as a light afternoon snack.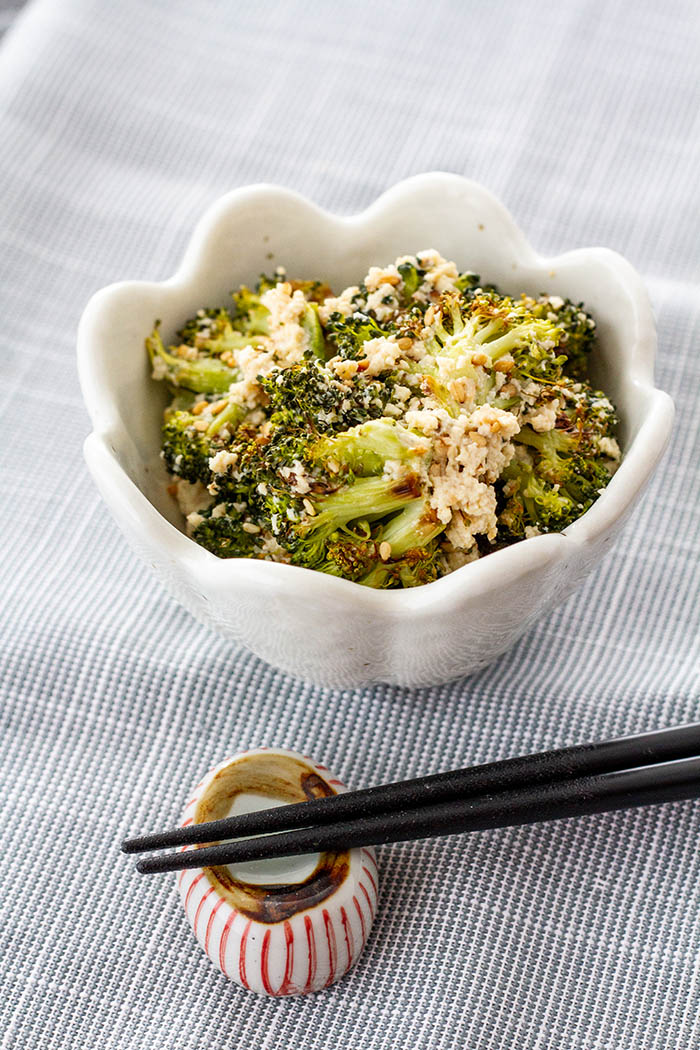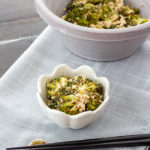 Roasted Broccoli Shira-ae ( Roasted Broccoli in Tofu Dressing)
A Japanese salad made with roasted broccoli in a creamy tofu sesame dressing.
Ingredients
1/2

pound

(8 ounces) broccoli florets

8

ounces

firm tofu

2

tablespoons

Japanese white sesame paste or tahini

1

tablespoon

maple syrup

2 -- 3

teaspoons

white miso

1

tablespoon

toasted white sesame seeds
Instructions
Preheat the oven to 425 degrees Fahrenheit.

Spread the broccoli florets out in an even layer on a baking sheet lined with parchment paper or a silicone baking mat. Roast the florets in the preheated oven for 25 minutes. Remove them from the oven and set them aside.


While the broccoli florets are roasting, drain the tofu. Wrap the tofu in paper towels and place it in between two plates or cutting boards. Leave it for 30 minutes to drain. Cover the tofu with fresh paper towels and squeeze it gently to press out a bit more water.

Crumble the pressed tofu into a suribachi (Japanese mortar), or a regular mortar (or in a bowl if you don't have a mortar). Add the sesame paste/tahini, maple syrup, and 2 teaspoons of white miso. Grind/mash everything together using a pestle (or fork if you don't have a pestle) until it is well mixed and creamy. Taste and add additional miso paste, if desired.

When you are ready to serve the salad, toss the broccoli with the tofu dressing, then add the 1 tablespoon of toasted white sesame seeds and toss again. Serve the salad in small individual bowls.