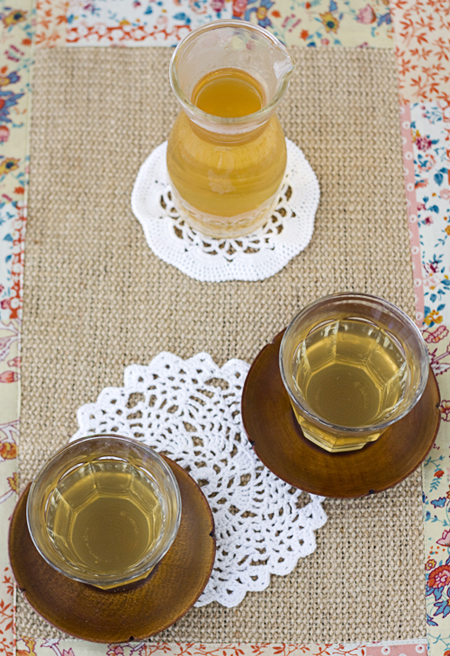 When I started dating Mr. Fuji, he introduced me to mugicha (pronounced "moo-gee-cha"), a Japanese "tea" made from roasted barley that is often served chilled.  Mr. Fuji had lived in Japan on two separate occasions by the time I met him, and so he was well acquainted with the drink, as it's a popular summertime beverage in Japan.  Its wonderful toasted grain flavor quickly grew on me, but it wasn't until we moved to Japan during the hot and humid summer of 2002 that I gained a true appreciation of its virtues.  Before living in Japan, I had never lived in a humid climate.  I grew up in dry Southern California and went to undergraduate school in dry Utah.  The pervasiveness of the humidity in Japan took me by surprise.  It wasn't like the dry heat that I was used to, where you could step into the shade and gain a bit of relief from the beating rays of the sun.  Humidity follows you wherever you go, constantly reminding you of its presence by making you feel as if a hot damp flannel blanket has been wrapped around your entire body.  Even once you step into an air-conditioned space, it takes quite a bit of time for your body to adjust and fully cool off.
I remember walking to the train station near our house one day on my way to work, about a week after we had moved to Tokyo, wishing I could start stripping off pieces of clothing and then douse myself in a bucket of ice water.  Even once I made it to the station and got onto the train, there was no relief to be found, as I was packed like a sardine into a train car with my fellow passengers, bodies pressed tightly against each other, each radiating too much body heat for anyone to ever be comfortable.  It was that day at work, that I remembered Mr. Fuji telling me that people say mugicha is more refreshing than water during the summer.  On my lunch break I went to the convenience store across the street, bought a cold bottle of mugicha, twisted open the lid, and took a sip.  That first sip tasted so divinely good that I took another, and another, until only a few drops were left at the bottom of the bottle.  I immediately went back inside the convenience store and bought two more bottles for the rest of the day.  I don't think I ever left the house after that day without a bottle of mugicha in my bag.  Though after that, I started brewing my own at home.  Since then we have almost always had a pitcher of mugicha sitting in our refrigerator.  Squirrel and Bug have grown up always having one of two things in their sippy cups: milk or mugicha.  Mr. Fuji was right—nothing is more refreshing than a glass of cold mugicha on a hot day.  I don't know what it is, but it cuts through my thirst quicker than any glass of water.  On top of being refreshingly delicious, it is naturally caffeine and calorie free and is said to be wonderful for indigestion and an overall system cleanser (not that I need any convincing to drink it).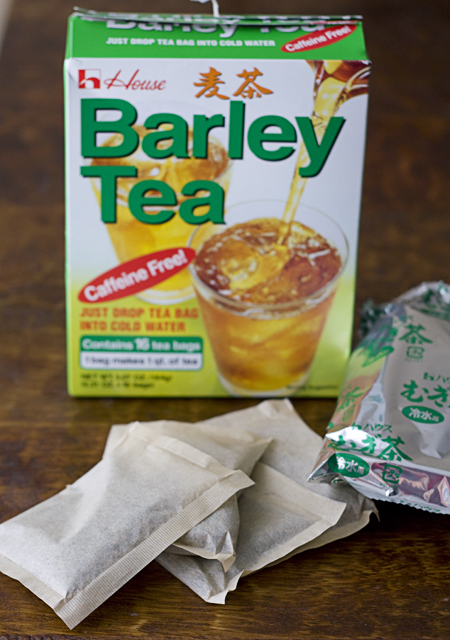 A few weeks ago as I pulled a tea bag out of my cupboard and put it in a pitcher of water to steep, I started to wonder about the process of actually roasting the barley.  I know that there are many people who may not have access to an Asian market, and so wouldn't be able to just pop over to the store to buy a box of mugicha.  I figured it couldn't be that difficult, considering it only contains one ingredient—grains of barley that have been roasted until they are dark and fragrant.  I cut open a tea bag to examine the contents and it didn't look much like the bags of pearl barley you find at the grocery store.  So I did some research and learned that the barley roasted to make mugicha is actually unhulled barley grains.  I couldn't find a store near me that carried unhulled barley, so I decided to experiment with regular old, easy to find pearl barley.  I bought a big bag of it in the bulk section of a local organic market for less than $2.00 (score!).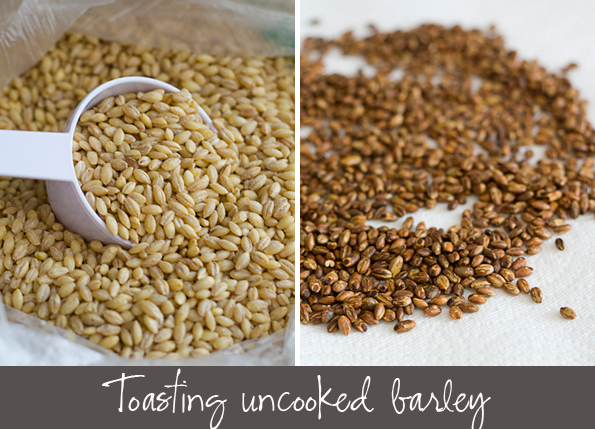 This past Sunday I was finally feeling well enough to spend a few minutes out of bed stretching my legs.  I thought a glass of mugicha would taste and feel wonderful on my raw healing throat, and so decided to give making it a go.  Toasting the barley was a quick and simple process.  All I did was cook some in a large dry skillet over medium heat, slowly toasting the grains until they turned a rich dark brown color.

Then I simmered the toasted barley in some boiling water over low heat for a while, and then removed it from the heat and let it continue to steep as it cooled slightly.  Finally, I strained out the barley, poured the mugicha into a pitcher, and put it in the fridge to chill.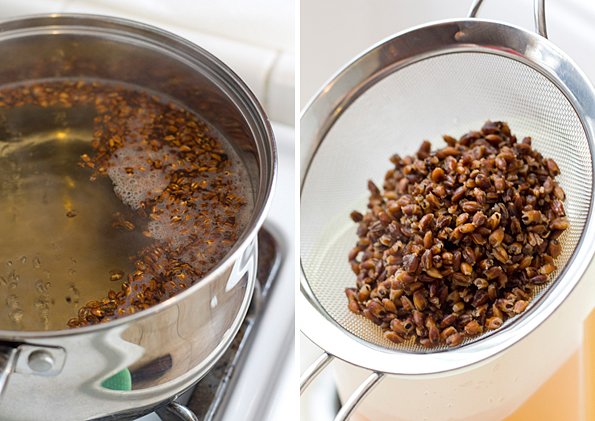 When it was finally chilled, I eagerly poured myself a glass.  The first thing I noticed was that it was a bit lighter in color than the mugicha I usually made from store bought tea bags and I thought that this would translate into a lack of flavor.  I took a sip and was pleasantly surprised by the wonderful taste of the liquid.  It definitely tasted like mugicha, but it was sweeter and had a slight floral note to it that isn't present in the mugicha I'm used to drinking.  Not only did it taste delicious, but it was like balm on my aching throat.  My family is just as enamored with it, especially my mom, who has been enjoying several glasses of it when she comes to help me with the girls.  Although fall officially starts in just a few days (September 22nd this year!), I don't think I'll be putting away the barley anytime soon.  We will continue drinking our mugicha year round.  And hey, during the winter when it's cold, it will feel good to stand next to the warm stove toasting the grains of barley.  I can hear it now . . . "Barley roasting on an open fire . . . ." (Yeah, I'm corny, I know.  I just couldn't help myself)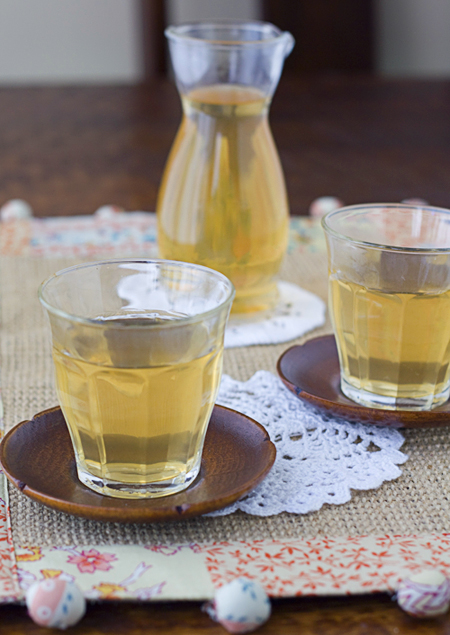 Print This Recipe
Homemade Mugicha (Japanese Roasted Barley Tea)
Makes 8 cups
1/3 cup uncooked pearl barley
8 cups water
1. Put the barley in a large dry skillet and toast over medium heat for about 10 minutes, stirring the grains and shaking the skillet occasionally so that they toast evenly, until the grains have turned a dark rich brown color.  Remove from the heat and pour out into a bowl or a paper towel to cool.
2. Bring the water to a boil in a pot, add the cooled toasted barley, and simmer over low heat for 20 minutes.  Remove from the heat and let the barley continue to steep as the mugicha cools, for about 5 minutes.
3. Strain out the barley, pour the mugicha into a pitcher and chill.
============================================
P.S. If anyone is trying to think of something to give me for Christmas this year, I think this
"Got Mugicha?"
bag would make a wonderful gift.  It's never too early to start preparing for the holidays.  Just sayin'.