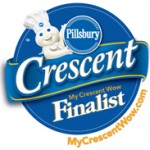 Have you voted yet today? You can vote once every day between now and December 31st!
Help me win the title of favorite Crescent Cook
and be entered for the chance to win $5,000! **Apparently you have to fill out the entire form below the pictures and set up an account for your vote to count. After registering the first time, you then have to log in for each subsequent vote (log in area is at the top of the page), hit the vote button, then scroll down and hit the "Enter Now" button. You'll know that your vote has been counted if you then get a screen that starts with, "Thank you for entering the My Crescent Wow Sweepstakes!" Thank you so much for your support!!
=============================================
I am still clawing my way back up the road of recovery, but I am definitely making progress!  Despite my frustration with still not being able to eat anything more solid than a milkshake, and not having enough energy to get into the kitchen and do any real cooking, I do love the chance it gives me to showcase the talent of some of my wonderful fellow bloggers!  Today I have the pleasure of introducing you to Lora, the talent behind Cake Duchess!
This girl has definitely earned her title—she'll have you drooling in 5 seconds flat because her food is so yummy!  She is sharing a fabulous fall recipe with us today.  When you are done wiping the drool off of your chin, hop on over to her site to see what other creations have been coming out of her kitchen lately.  I'm dying to make her Gelato alla Stracciatella, it looks wickedly good!
***********************************************************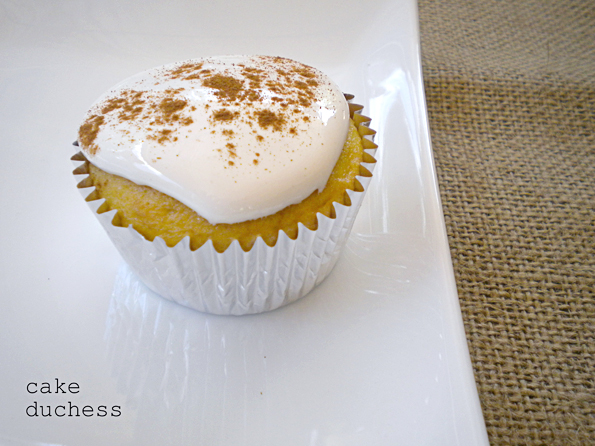 Hello dear readers of the fabulous La Fuji Mama. I am Lora from Cake Duchess. I came across La Fuji Mama this year and I was immediately intrigued by the diversity of her recipes. We met serendipitously via her Japanese Strawberry Shortcake recipe. I couldn't take my eyes off of its sweet and luscious strawberry layers. That led me to her Fig, Brie & Prosciutto Tarts, her Pumpkin Curry-licious, her Fudge & Banana Custard Pie…this mama can cook!
Fall has been on my mind lately. We don't really have the four specific seasons here in sunny South Florida. I find solace in fall's comforting recipes. I bake and cook what should be eaten if I were experiencing pretty leaves falling and the  refreshing temperature change.
Apple Cupcakes with a Marshmallow Cinnamon Frosting is a delicious dessert to ring in the cooler weather and is always a hit with my children. The cupcakes are moist from the grated apples and buttermilk. The marshmallow frosting adds the perfect amount of decadent sweetness. You will know it's fall when you smell the spices wafting through your kitchen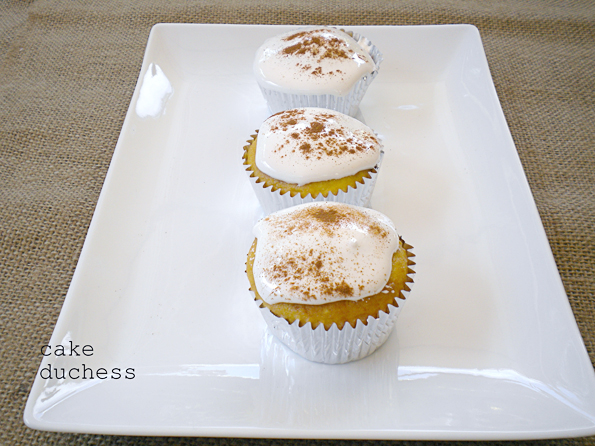 Print This Recipe
Apple Cupcakes with Marshmallow Cinnamon Frosting
Recipe from Lora of Cake Duchess
Makes 12 cupcakes
For the Apple Cupcakes:
1 ½ cups shredded peeled apples
1 cup all-purpose flour
1 cup cake flour
½ cup granulated sugar
1 teaspoon ground ginger
1 teaspoon ground cinnamon
1/8 teaspoon ground nutmeg
1 teaspoon baking soda
¼ teaspoon salt
2 large eggs
½ cup oil (you could use canola oil)
½ cup buttermilk
1 teaspoon vanilla extract
1. To prepare the cupcakes: Line 12  (1/2 cup) muffin cups with cupcake liners or coat with nonstick cooking spray and set aside. Preheat oven to 350 degrees Fahrenheit. Sift together the flour, baking soda, salt, ginger, nutmeg and cinnamon. Set aside.
2. With an electric mixer set at medium speed, combine the sugar, oil, eggs and vanilla; beat 2 minutes. With the mixer on low speed, alternately add the dry ingredients and buttermilk to the batter, starting and ending with dry ingredients. Scrape the sides of the bowl as needed. Fold in the grated apple. Divide the batter among the prepared muffin cups.
3. Transfer the batter to the prepared pan. Bake in the preheated oven for about 20-25 minutes, or until the cupcakes test done in the center. Cool in the pan 5 minutes before unmolding onto a rack. Let cool completely on a wire rack for about an hour before frosting.
For the Marshmallow Frosting:
1 cup granulated sugar
¼ cup water
2 egg whites
¼ teaspoon cream of tartar
pinch of salt
1 teaspoon vanilla extract
Put egg whites, sugar and cream of tartar in a metal bowl. Set over a saucepan of about 2 inches of simmering water. Whisk until sugar is dissolved and whites are warm (approximately 4 minutes).
Transfer the egg white mixture to a bowl. Beat until stiff glossy peaks form (about 7 minutes). Beat in vanilla and ½ teaspoon cinnamon. Spread or pipe the frosting onto the completely cooled cupcakes and sprinkle cinnamon on top.
*A quick tip: If you don't have a professional piping bag, make your own! Spoon the frosting into ziptop bag. Snip an opening off one tip and pipe topping onto each cupcake.