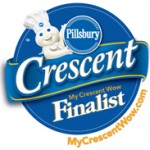 Have you voted yet today? You can vote once every day between now and December 31st! Help me win the title of favorite Crescent Cook and be entered for the chance to win $5,000!  **Apparently you have to fill out the entire form below the pictures and set up an account. I didn't know that, which means there have been a lot of votes that haven't counted.  After registering the first time, you then have to log in for each subsequent vote (log in area is at the top of the page), hit the vote button, then scroll down and hit the "Enter Now" button.  You'll know that your vote has been counted if you then get a screen that starts with, "Thank you for entering the My Crescent Wow Sweepstakes!"  Thank you so much for your support!!
=============================================
Today I've got a wonderful recipe to share with you for a roasted mushroom and kabocha squash dish over on The Mushroom Channel!  Kabocha makes the list (along with mushroom, of course!) as one of my favorite foods, and at this time of year it's at its prime!  This dish is delicious and nutritious and is a perfect addition to the dinner table.  To get the recipe, hop on over to my article on The Mushroom Channel: Roasted Mushrooms & Kabocha Squash by La Fuji Mama.