Today's post is from my friend Mardi, the talented author behind
eat. live. travel. write.
I had the pleasure of meeting her in person this past July when she was traveling through California.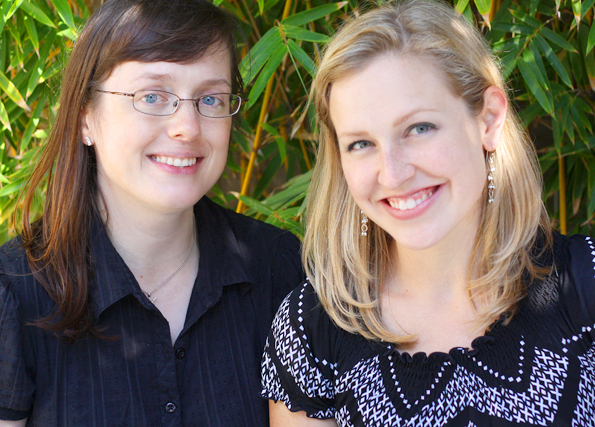 She was every bit as delightful and wonderful in person as I hoped she would be.  I hope you enjoy the deliciousness that she has cooked up for you today!  Quinoa, goat cheese, and mushrooms are three of my favorite things and this recipe looks absolutely to-die-for!
=============================================================
On my blog, eat. live. travel. write, I chronicle my culinary adventures near and far. I was first attracted to Rachael's blog because of her love for all things French and the wonderful way she combines cultures in her cooking, something I strive to do also.
One of my favourite things to do when I travel is discover new foods. I will often buy a cookbook or a recipe magazine so that I can attempt to recreate the flavours of my travels at home and share with my friends. This recipe is an adaptation of an amazing vegetarian dish discovered at the Hacienda Cusín in Ecuador (before I was blogging) that is so hearty even die-hard carnivores will forget it's meat-free! The crispy quinoa patties give way to a cheesy-mushroom center that literally melts in your mouth!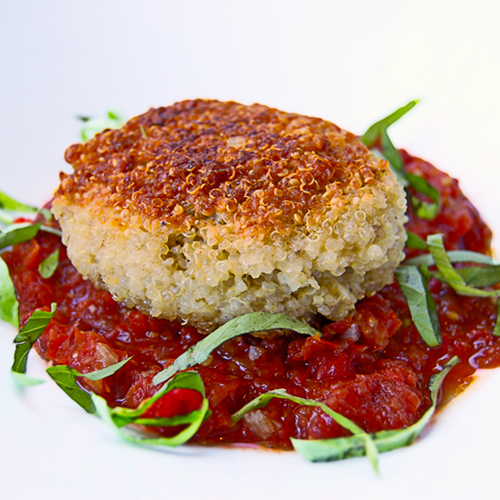 Print This Recipe
Quinoa patties stuffed with goat cheese and mushrooms
4 Servings
Prep: 30 min. Cook: 15 min.
Ingredients
For the patties:
2 cups cooked quinoa
2 eggs lightly beaten
1 cup panko breadcrumbs
3/4 cup whole wheat flour
1/4 cup Parmesan cheese, grated
1/2 teaspoon dried oregano
1/2 teaspoon dried thyme
1/2 cup dried porcini mushrooms, soaked in boiling water for 15 minutes drained and chopped into small pieces
OR
1/2 cup cooked portabello mushrooms, small dice
8 small cubes of hard goat cheese
vegetable oil for frying
For the sauce and garnish:
1 cup fresh cherry tomatoes pulsed in food processor with 2 cloves garlic simmered until it reached a runny sauce consistency.
about 10 fresh basil leaves finely sliced for garnish
Directions
Cook quinoa according to directions on package. Allow to cool.
Mix the eggs, panko and parmesan until lightly combined. Add the quinoa and mix thoroughly. Add the flour and herbs. The mixture will be quite sticky at this point.
Form small patties with your hands, slightly larger than golf balls. It should make about 16 patties. Flatten them slightly and make an indentation in 8 of the patties. Into this, place a cube of cheese and some pieces of mushroom. Place another patty on top of the filled ones and squeeze gently to form a ball. Once there are no "seams" visible, flatten slightly with the palm of your hand.
Heat the oil on high in a large frypan, turn the heat down slightly and fry the patties until golden in colour, on both sides about 12-15 minutes.
Drain the patties on paper towel.
Spoon some of the tomato sauce into a shallow dish. Place the patties on top of the sauce and garnish with basil. Yield: serves 4