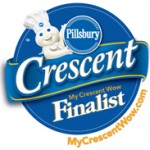 Have you voted yet today? You can vote once every day between now and December 31st!
Help me win the title of favorite Crescent Cook
and be entered for the chance to win $5,000! You have to fill out the entire form below the pictures and set up an account for your vote to count. After registering the first time, you then have to log in for each subsequent vote (log in area is at the top of the page), hit the vote button, then scroll down and hit the "Enter Now" button. You'll know that your vote has been counted if you then get a screen that starts with, "Thank you for entering the My Crescent Wow Sweepstakes!" Thank you so much for your support!!
=============================================
I got to a point last week where swallowing cold liquids was no longer soothing on my aching throat.  The scabs over my surgery sites had just come off (too much information, sorry!), and the tissue in those areas was raw and extremely painful.  I was really wanting to drink something soothing and on the warmer side.  I don't drink coffee, and I don't drink most teas, but I do drink herbal tea and love it.  When I lived in Paris, I got into the habit of sitting down and having a cup of herbal tea every evening with the family I was living with.  Even now, a cup of hot tea in the evenings transports me back to that living room in Paris and gives me warm fuzzies.  I needed some of those warm fuzzies, so I started thinking about what would be soothing and the least irritating on my throat.  Then I remembered that I still had a bit of my homemade mugicha (Japanese roasted barley tea) sitting in the refrigerator, and decided to make my own Japanese twist on the Indian masala chai tea (or "chai" as it is commonly known here in the US).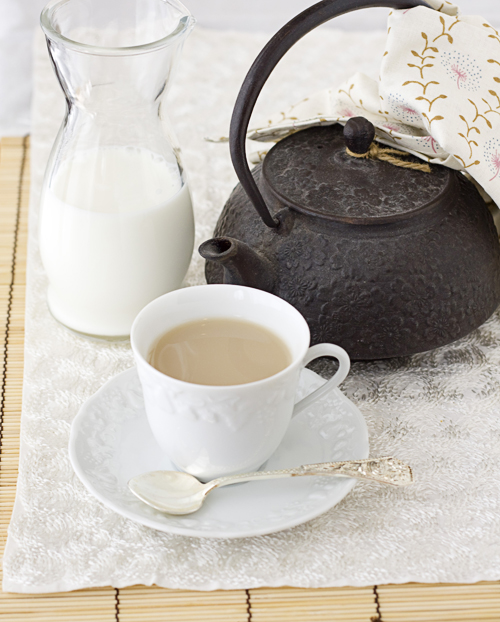 Masala chai ("spiced tea") can be made using a wide variety of variations, but the basic concept has four components: tea, spices, sweetener, and milk.  Each region has their own variation, but all of them use these same 4 basic components.  For example, most chai in India is made using strong black tea, but the Kashmiri region brews their chai with gunpowder tea.  The most common spices used are cardamom, cinnamon, ginger, fennel seeds, cloves, and peppercorns.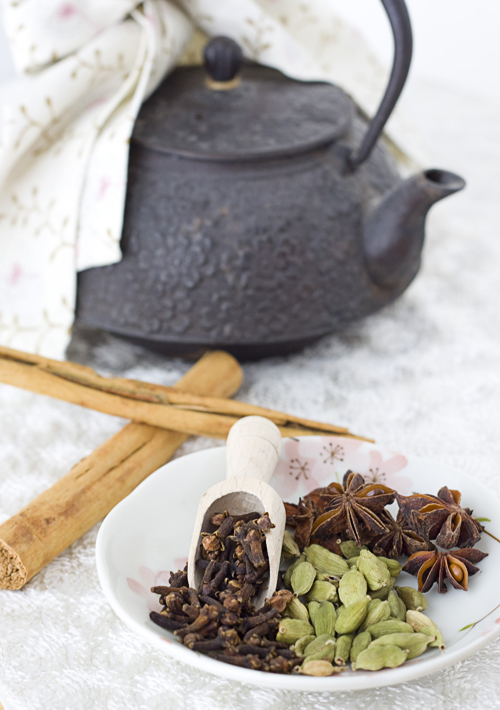 For my chai mix I used fresh ginger, cinnamon, green cardamom pods, cloves, and star anise.
I lightly crushed the cardamom pods with my suribachi (Japanese style mortar and pestle)
, so that the small black seeds inside weren't exposed and could release their wonderful sweet and spicy flavor into the tea.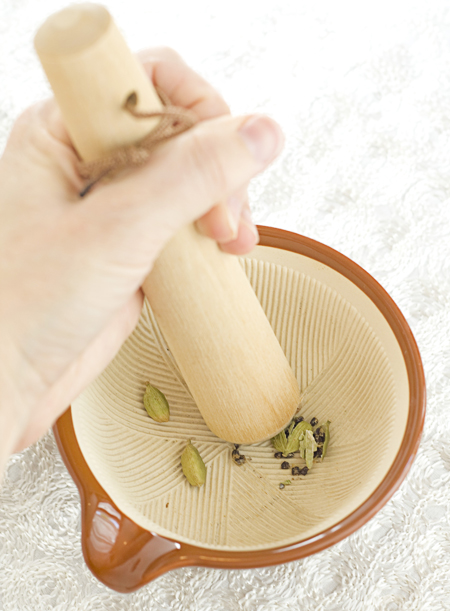 I put some mugicha in a small pot with all of the spices, brought it to a boil, then turned off the heat and let the tea steep for 15 minutes.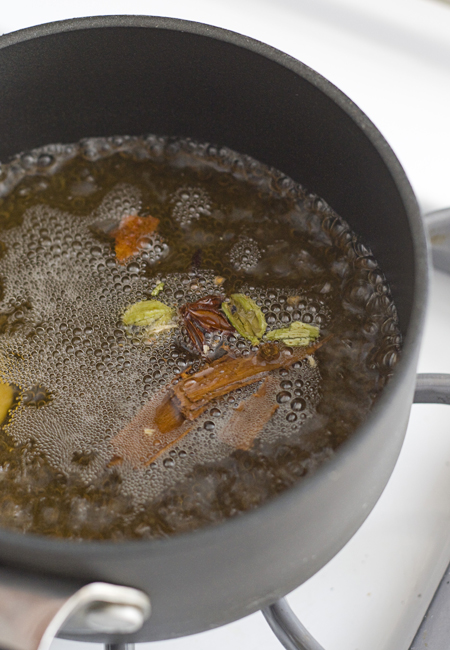 Then I stirred in some honey, my sweetener of choice (and perfect for a sore throat!), and then poured the tea through a fine mesh strainer into a tea pot to strain out the spices.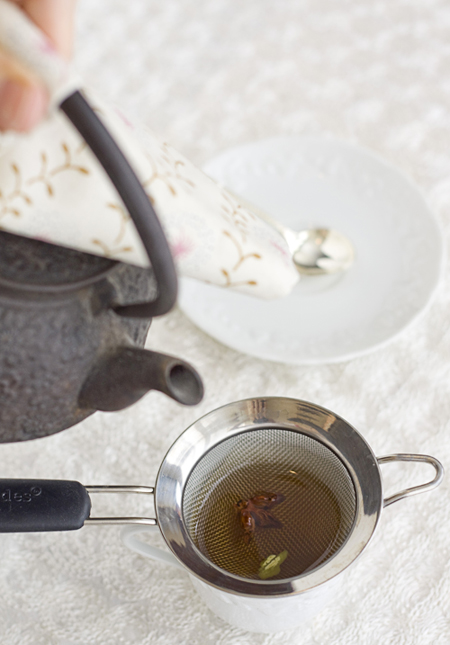 Then I poured myself a cup and added some milk so that it would be nice and creamy, and curled up on the couch, enjoying the wonderful aromatic steam rising out of my tea cup.  The chai was delicious—flavorful without being overpowering, with wonderful spicy and floral notes delivered by the different spices, and a hint of roasted barley flavor peeking through.  A bit of Japan and India in a cup, plus a comforting reminder of Paris, one of my favorite places in the entire world.  I call that a good cup of tea!

Print This Recipe
Mugi-Chai
Makes 8 – 10 servings
2 cups mugicha (brewed extra dark)
1 (1 1/2-inch) piece cinnamon stick
5 green cardamom pods, lightly smashed
6 whole cloves
1/2 star anise
3 quarter-sized coins fresh ginger
2 teaspoons honey, or more to taste
whole milk, to taste
1. In a medium saucepan, mix together the mugicha, cinnamon stick, cardamom, cloves, star anise, and ginger together.  Bring the mixture to a boil over medium heat.  Turn the heat off and allow it to steep for 15 minutes.
2. Stir in the honey.  Strain into a tea pot for serving, or straight into tea cups.  Add milk to taste.