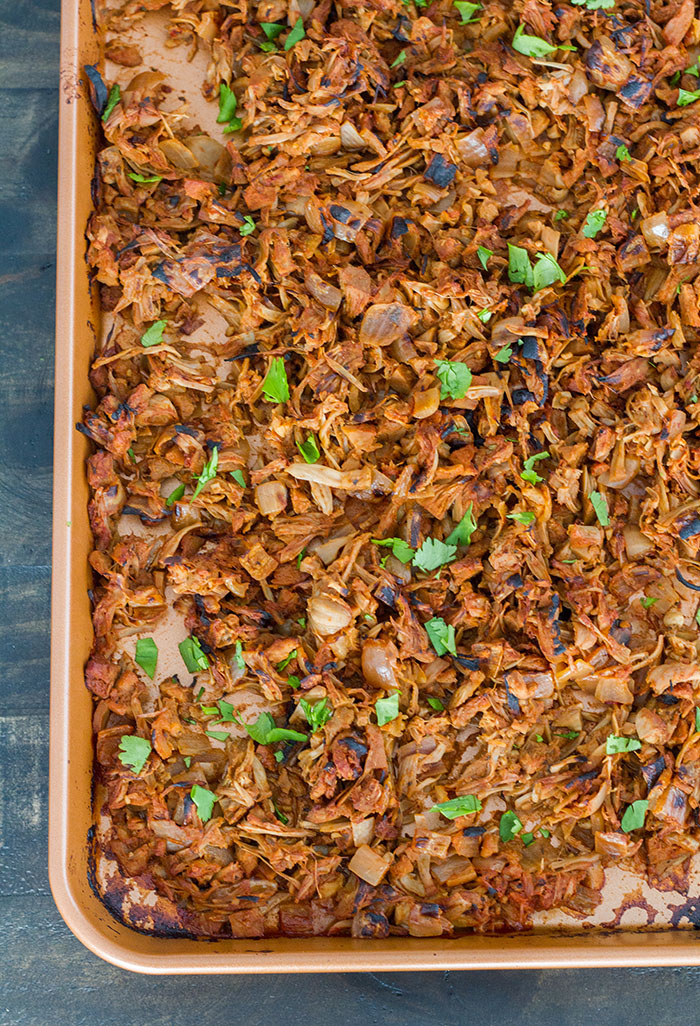 I love my Instant Pot.  My mom gave it to me for Christmas two years ago, but it took me a couple of months to finally use it.  I had wanted one for a long time, but when it got down to it, I found it a bit intimidating.  I finally got on YouTube and watched a bunch of videos on how to use it, and quickly found myself un-intimidated.  Now it gets used almost every day.  My newest creation to come out of my Instant Pot is something I've actually been working on since this past summer and I finally nailed the recipe down last week.  Jackfruit Carnitas!!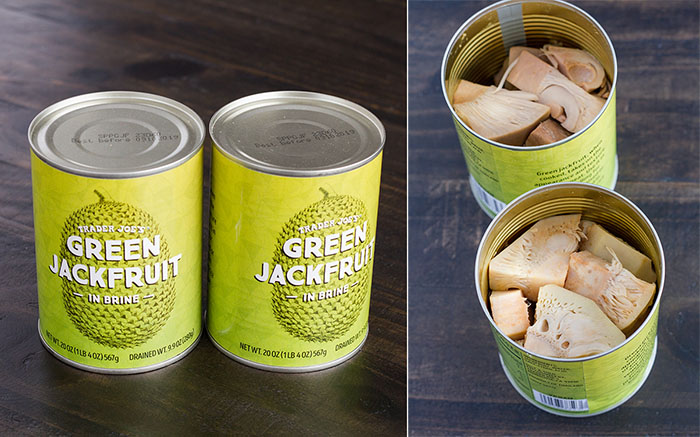 When you're buying your jackfruit, make sure you buy green jackfruit…when jackfruit ripens it is crazy sweet and orangey-yellow in color. (The flavor of Juicy Fruit gum was actually based on the flavor of ripe jackfruit!)  In the past I have cooked the jackfruit first and then shredded it.  But I have found that I prefer to shred it first before cooking.  This gives me a chance to tear up the core, which is a lot more dense, as well as the seeds.  Some people discard these, but they cook down to be nice and tender, so don't waste them!  If you'd rather just throw your jackfruit in whole, or roughly chop it, you can totally do that too.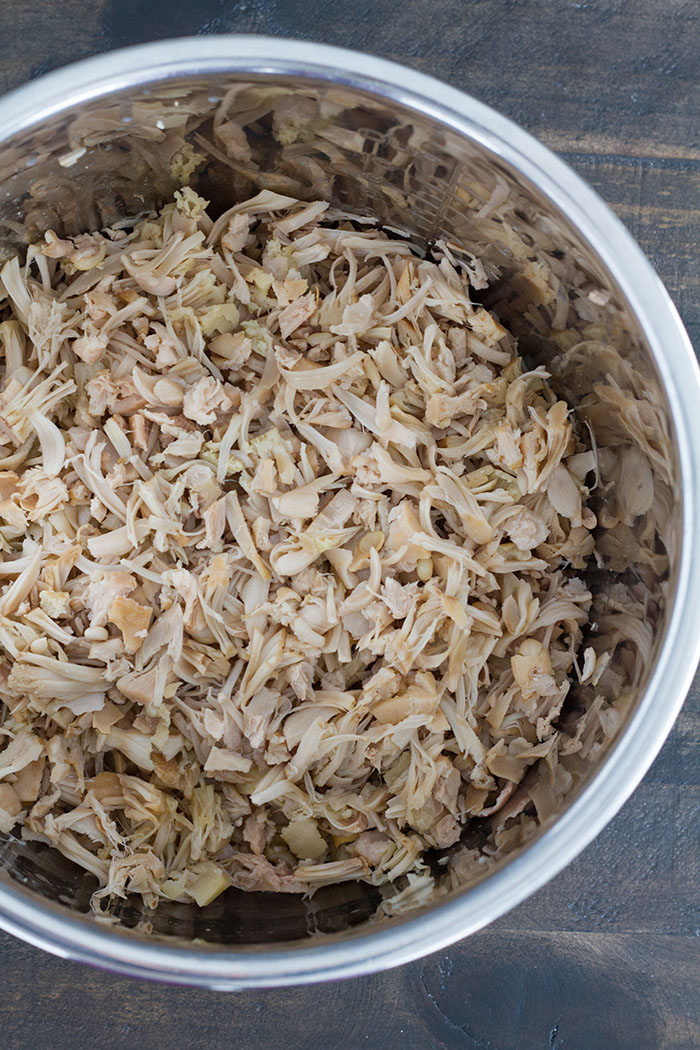 To make the carnitas, just put all of the ingredients into your Instant Pot and cook on high pressure for 4 minutes.  4 minutes, can you believe it?  You can also cook it in a pot on the stove, but you will need more liquid and it will take a lot longer to cook and get really tender.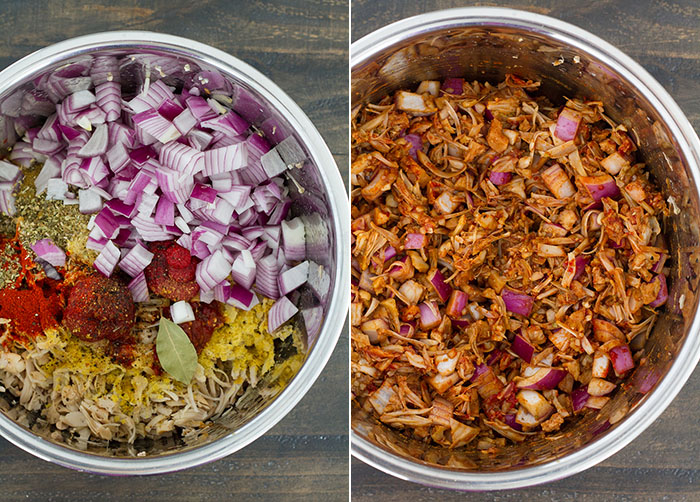 Once the jackfruit is done cooking, you can serve it as is, or if you want to take it one step further, spread it out on a baking sheet and cook it under the broiler for about 10 minutes, stirring it halfway through, so that the edges brown and crisp up, just like real carnitas!  I know this gives you one more item to clean, but I think it's worth it.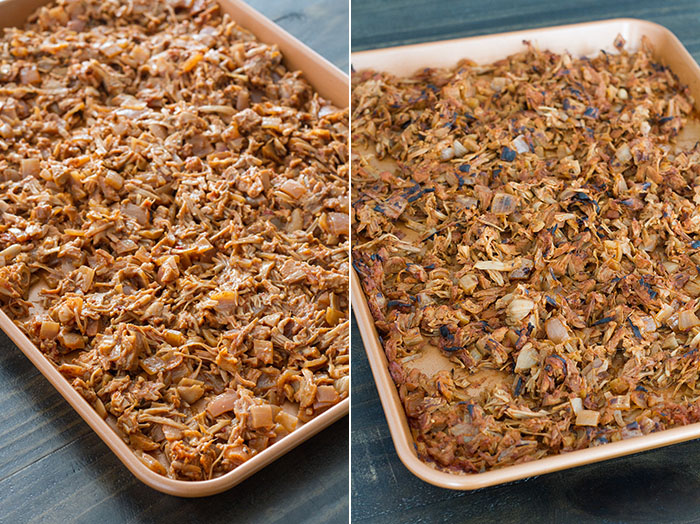 We've used jackfruit carnitas for so many things…tacos, taquitos, burrito bowls, burritos, sandwiches, nachos…use your imagination!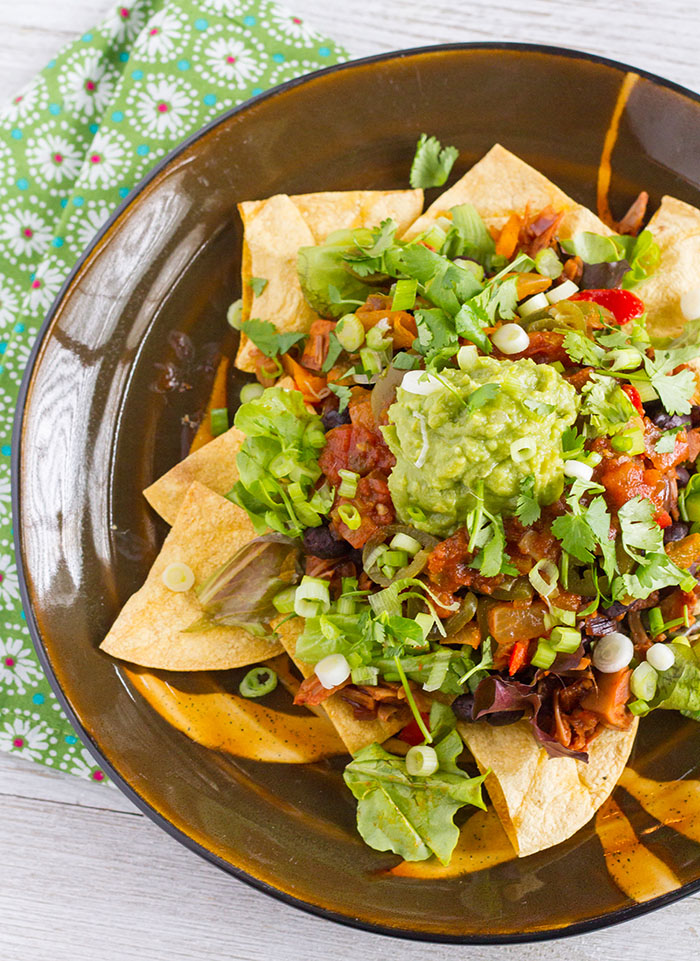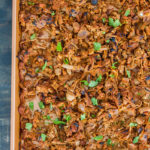 Instant Pot Jackfruit Carnitas
Ingredients
2 (20-ounce)

cans

green jackfruit, packed in water or brine

1

red onion, chopped

5

cloves of garlic, minced

1

tablespoon

ground cumin

1

tablespoon

nutritional yeast

1

tablespoon

smoked paprika

2

teaspoons

dried oregano

1/2

teaspoon

freshly ground black pepper

1

bay leaf

1/3

cup

orange juice

1/4

cup

lime juice

3

tablespoons

soy sauce (or gluten-free tamari)

2

tablespoons

tomato paste

1

tablespoon

liquid smoke

1

teaspoon

sambal oelek
Instructions
Rinse and drain the jackfruit, then use your fingers to pull the pieces apart so that it looks like shredded pork.

Add the shredded jackfruit, along with the rest of the ingredients to the Instant Pot and stir to combine. Secure the lid, close the pressure valve, and cook for 4 minutes at high pressure. Let the pressure release naturally for 10 minutes, then switch the valve to "venting" to quick release.

Give everything another stir and remove and discard the bay leaf. At this point you can serve the jackfruit carnitas or store it in an airtight container in the refrigerator for up to 7 days.
Recipe Notes
Some people discard the harder core and seeds of the jackfruit.  I do not.  I find that if you do your best to tear everything up, it all cooks up nicely and you won't even notice those parts.  Why waste?
If you want to crisp up the edges to be even more like carnitas, you can spread the jackfruit on a parchment lined baking sheet and put it under the broiler for 10 minutes, stirring it at the halfway mark.  The edges of the jackfruit will start to brown and crisp up.