March 11, 2012 marked the one year anniversary of the triple disaster in Japan.  Unimaginable devastation and hardship has occurred in the affected regions during the past year.  Despite the horrors that the past year has wrought, hope remains.  As Elizabeth Andoh writes in her newest book, KIBŌ ("Brimming with Hope"): Recipes & Stories from Japan's Tohoku (Ten Speed Press, February 2012), "Yet, as Japan struggled—continues to struggle—to rebuild in the aftermath of tragedy, the prevailing mood is one of dogged determination, imbued with hope."  Hope is a powerful tool.  Elizabeth chose the Japanese word "kibo," which means "brimming with hope" to embody this sentiment in her tribute to the culinary heritage of the people in the Tohoku region.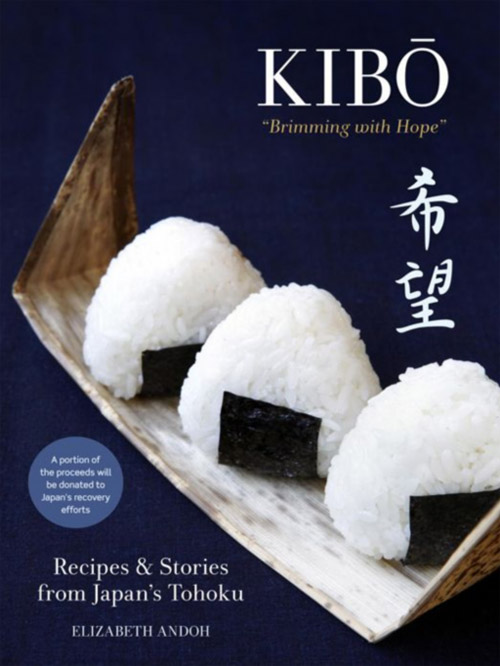 Elizabeth Andoh is one of my culinary idols.   To me, she is to Japanese cuisine what Julia Child is to French cuisine.  She is an American who went to Japan in 1966 to study Japanese, and went on to attend the Yanagihara Kinsaryu School of Traditional Japanese Cuisine, in Tokyo for six years.  Japan is now her home, and she works as a writer (she has written multiple books on Japanese cooking and was Gourmet magazine's correspondent in Japan for many years) and teacher, specializing in Japanese food and culture.  She is the only non-Japanese member of the prestigious Japan Food Journalists Association (JFJ).  She also runs A Taste of Culture, a culinary arts center in Tokyo.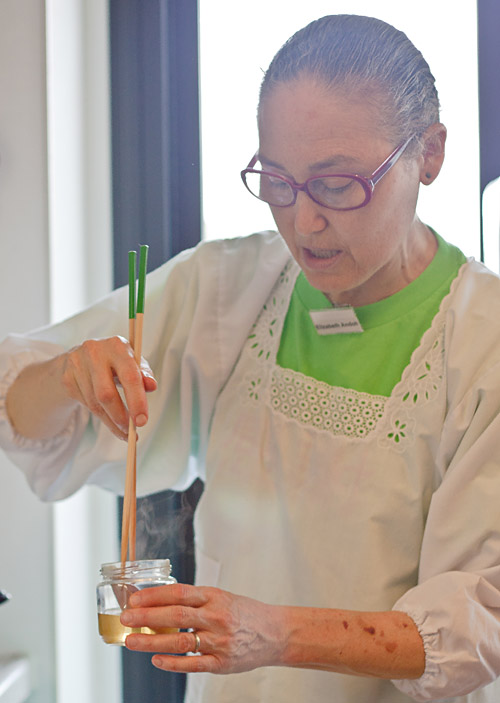 I've been a long time admirer of Elizabeth's work, and love her recipes (they always turn out and are super user-friendly).  Then during the summer of 2009 I started a project called Washoku Warriors, an on-line cooking group where members cooked their way through Elizabeth's cookbook, Washoku: Recipes from the Japanese Home Kitchen, in monthly challenges.  At the beginning of the project I contacted Elizabeth, just to tell her about what I was doing, but not expecting a response.  Imagine my surprise when not only did I receive a sweet response from Elizabeth, but we ended up speaking over the phone about the project and I received valuable advice and tips from her that I drew upon during the year of challenges that the Washoku Warriors worked on.  Elizabeth's next book, KANSHA, was published just as the Washoku Warrior project was coming to a close.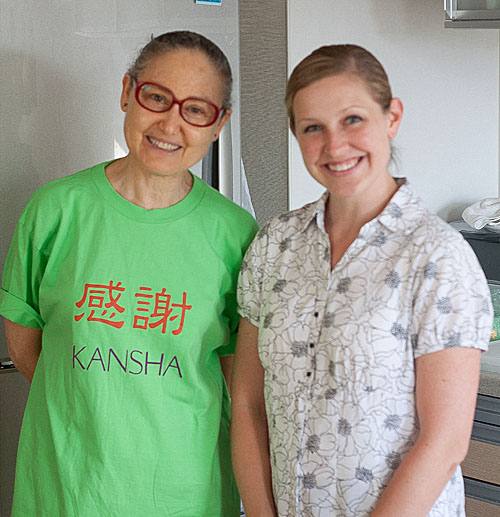 I finally had the chance to meet Elizabeth in person this past summer, during my most recent trip back to Japan.  She invited Mr. Fuji and I to be guests at a tsukemono (Japanese pickles) class she was teaching.  Elizabeth was just as delightful in person as I had expected, and we spent a wonderful day delving into the fascinating world of Japanese pickles.  After the class she invited us to stay for a meeting about her next project—a cookbook that would be a tribute to the food, traditions, and stories of the people of Japan's Tohoku region.
During the meeting, Elizabeth recounted her experience of the afternoon of March 11, 2011 when the Great Eastern-Japan Earthquake struck.  She had been standing in her kitchen when the quake struck, and she talked about watching a crane at a construction site across the street from her apartment topple over, an ominous sign of what was occurring elsewhere and foreshadowing of the events that were to come during the coming hours.  She told us about the damage her home sustained and showed us the crack in the concrete of her genkan (traditional Japanese entryway) that she and her husband had chosen not to repair, and leave as a reminder of what had happened.
In the days that followed, she wondered what she could do to help, and finally decided on doing what she does best: cooking and writing a cookbook.  During the meeting she talked to us about her ideas for what the book might look like.  During the months since, she has worked tirelessly to compile a record of stories, recipes, and techniques from the Tohoku region.  The result is her newest book, KIBŌ ("Brimming with Hope"): Recipes & Stories from Japan's Tohoku (Ten Speed Press, February 2012).  The book lives up to her usual high-quality work, and then some.  The $3.99 e-book contains 20 recipes that she hopes will enable readers to "recreate Tohoku food outside of the region," using ingredients that are locally available wherever they happen to live.
The Tohoku region is one that is rich in culinary tradition and history, and Kibo works to preserve that history, while also giving hope to the morale of the region's displaced residents.  In one of her newsletters she wrote, "I wanted to soothe survivors with comfort foods, help Tohoku residents prepare familiar dishes in unfamiliar places. By writing a book that celebrated the Tohoku's culinary culture I thought to help preserve the region's rich heritage while nourish the morale of displaced residents. By writing in English I could reach a wide, global readership enabling them to share in the pleasures of the Tohoku table while supporting recovery efforts through the purchase of KIBŌ."   Elizabeth and publisher Ten Speed Press are donating 50 percent of the profits from the book to GlobalGiving's Japan earthquake and tsunami relief and recovery projects, specifically Sponsor Fellows for Tohoku and Japan's Recovery, a project focused on creating jobs in the area devastated by the disaster and developing a new generation of business leaders in Japan.
The day the book was released I eagerly bought a copy and quickly read my way through it, and then read it again.  I was enchanted by the stories and excited by all of the new recipes to try.  Everything I have made has been equally delicious.
Although the Tohoku region has come a long ways during the past year, there is still so much ground to cover.  Purchase a copy of Elizabeth Andoh's wonderful book to send continued support to the region and bring a bit of the region's rich culinary history into your own kitchen!  I find it fitting to end this post the way Elizabeth ended her newsletter that announced the Kibo cookbook:
希望を持って、頑張ります
KIBŌ wo motte, gambarimasu
Brimming with hope, pushing forward…