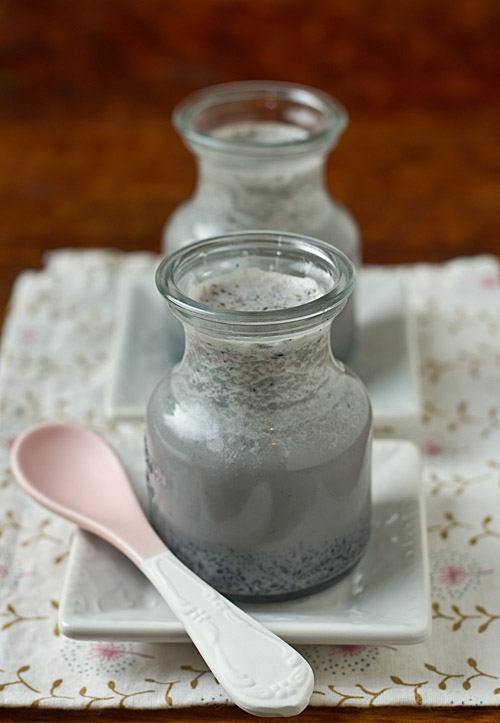 Black sesame pudding (Kuro Goma Purin, 黒ごまプリン) may sound a bit strange if you've never had sesame seeds in a dessert, but let me promise you that this pudding not only works, but it is divine.  Black sesame seeds are one of the ingredients that I fell in love with when we moved to Japan for the first time 10 years ago.  Think of how versatile peanuts are, easily switching from savory dishes to desserts—well sesame seeds are the same.  Black sesame seeds, especially after being toasted, are fragrant and nutty and wholly addictive.  It's not surprising that sesame seeds have been used for thousands of years in food preparation—they are delicious.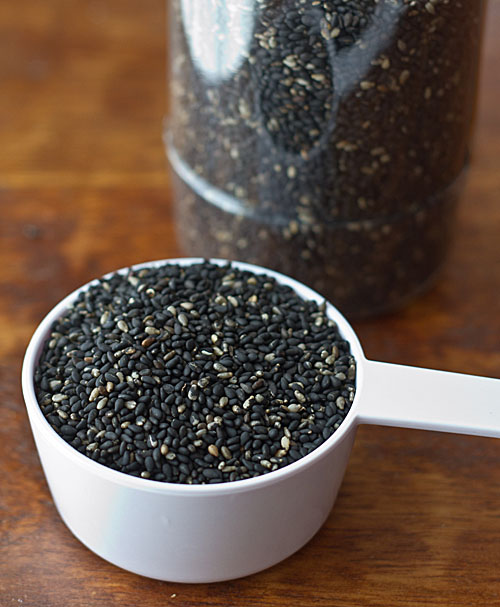 When Allison (Sushiday) and Son came over last month for our Hinamatsuri party, they brought me some black sesame pudding that they had purchased at a Japanese market on their way to my house.  Japanese "purin" (プリン) takes its name from the American word "pudding," but is more like a crème caramel in consistency.  Purin is extremely popular in Japan and can be found at any Japanese convenience store, usually in multiple varieties and from different companies.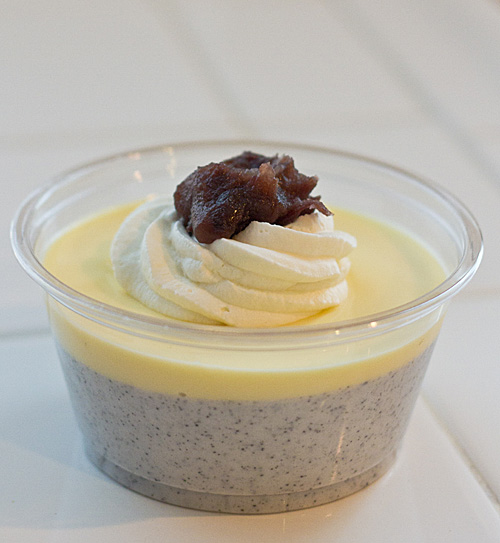 Allison and Son mentioned how much they loved the black sesame pudding and I offered to come up with a recipe so they could make it at home.  So began my quest to make a version of kuro goma purin that we all loved.  One of the issues with making this type of purin, is that all of the Japanese recipes I looked at called for "kuro neri goma" (black sesame seed paste), a paste made from toasted black sesame seeds (unlike tahini, which is made from untoasted white sesame seeds).  Neri goma (sesame seed paste) is a common ingredient on Japanese supermarket shelves, but a bit more difficult to find here in the US.  I decided that I wanted to come up with a recipe that would be approachable for anyone, which to me means not having to hunt down an ingredient that the regular American wouldn't have already in their pantry.  Granted, black sesame seeds may not be a regular part of your pantry repertoire, but I believe that they are much easier to find a use for in American cookery than the paste.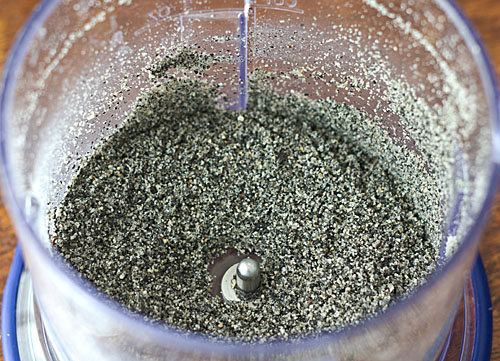 After lots of tweaking and several batches of imperfect purin, I finally came up with a version that I loved, and it couldn't be easier.  I solved my sesame paste problem by grinding toasted sesame seeds with a bit of granulated sugar in a food processor (the granulated sugar helps to more evenly process the sesame seeds).  This doesn't produce a paste, but achieves the same results in the finished purin.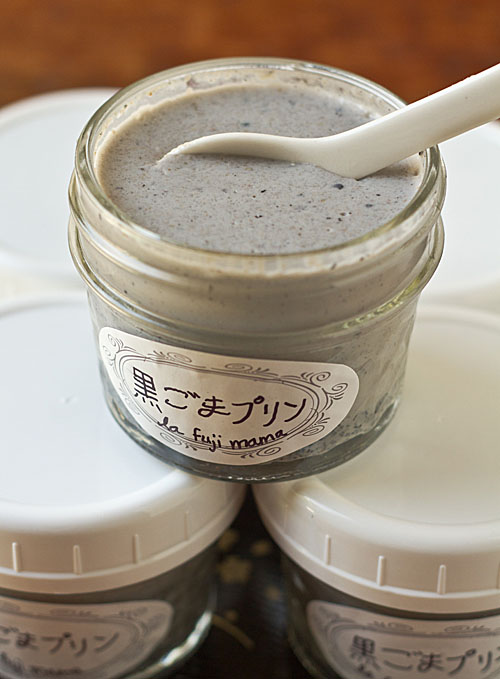 The purin is smooth and creamy, but not too thick, with lots of sweet, nutty, toasted black sesame flavor.  I saw Allison last week and was able to give her several jars to taste test for me.  The result turned into a mini Miso Hungry episode for you to listen to!  Now go make yourself a batch of black sesame pudding.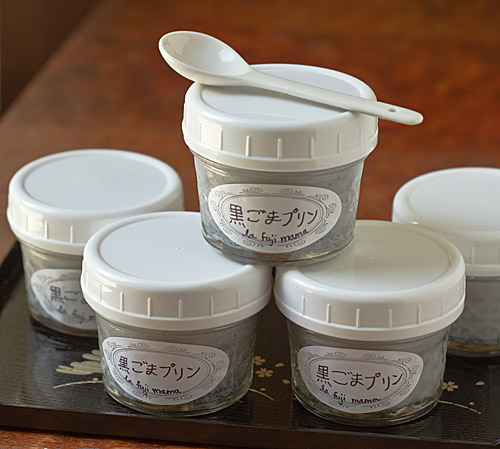 Print This Recipe
Black Sesame Pudding (Kuro Goma Purin, 黒ごまプリン)
Makes 8 servings
1 packet (.25 ounces) powdered gelatin
1 1/2 tablespoons cold water
1/3 cup toasted black sesame seeds
1 tablespoon granulated sugar
2 1/2 cups milk
1/2 cup granulated sugar
1 cup whipping cream
1. Soften the gelatin: Put the cold water in a medium-size bowl and sprinkle the gelatin over the top of the water and set aside to soften.
2. Grind the sesame seeds: Place the sesame seeds and 1 tablespoon of granulated sugar in a blender or food processor and grind until well ground.
3. Make the pudding: In a medium-size saucepan, mix the ground sesame seed mixture, milk, and 1/2 cup granulated sugar together. Heat over medium heat, stirring constantly to prevent the milk from burning. As soon as the mixture comes to a boil, add the softened gelatin and stir to melt and combine. Remove the saucepan from the heat and whisk in the cream.
4. Cool the pudding: Fill a large bowl halfway with ice, then cover the ice with cold water. Pour the pudding from the saucepan into a slightly smaller bowl, and carefully place the bowl into the ice water bowl, taking care not to spill water into the pudding bowl. Whisk the pudding briefly, then leave it to cool for 5 minutes.
5. While waiting for the milk mixture to cool, set out 8 clean containers to pour the pudding into.
5. After cooling, whip the pudding for about 5 minutes (this whisking will produce a lighter pudding), then equally divide the pudding between the prepared containers. Cover the containers and place in the refrigerator to set up for a minimum of 4 hours, or until firm. Serve cold, garnished with a bit of whipped cream or topping of choice.