* Find out how you can help to save the life of my friend's little boy, and be entered to win one of two great prizes. *
=================================================================
My mom is an amazing cook, and I was spoiled to grow up eating her food.  Although she can whip up an amazing roast or stir fry, I'd venture to say that her specialty is baking.  My mom is the kind of cook that doesn't understand why someone making a pie wouldn't make their pie crust from scratch, because as she says, "It's just so easy!"  If you watch her make a pie crust, it does look easy.  So many of my favorite desserts now, are things she made when I was a little girl—her deadly chocolate almond toffee, black bottom cupcakes, my favorite chocolate chip cookies, and her to-die-for Forgotten Cookies. Another cookie I remember her making often was Peanut Butter Kiss Cookies (often called Peanut Butter Blossoms)—the classic peanut butter cookie with a Hershey's Chocolate Kiss pressed into it while it is still warm.  With Mother's Day coming up, I thought I'd make these cookies, but with a little twist.  My "Kiss & Hug" cookies have a chocolate cookie base that hugs a milk chocolate kiss.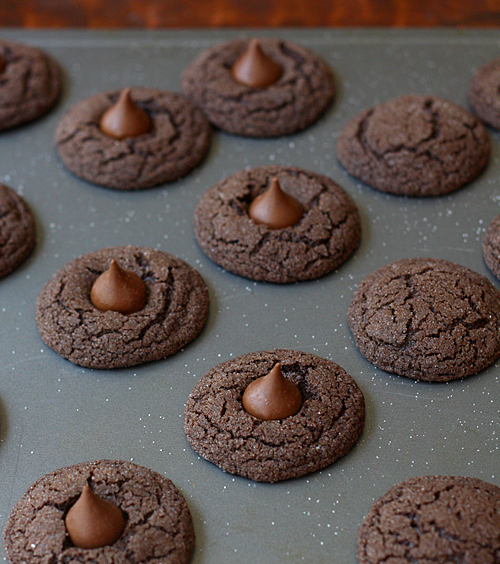 Squirrel loved helping me roll the balls of cookie dough in sugar,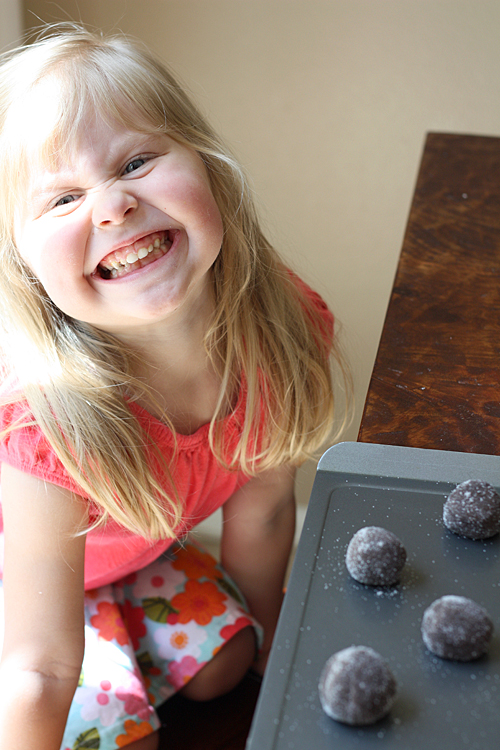 but loved taste testing the finished cookies even more.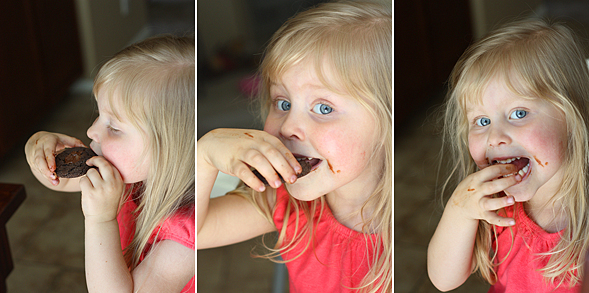 The chocolate cookie isn't overly sweet.  The flavor is reminiscent of an Oreo cookie, the cookie itself is firm and just the slightest bit chewy, and the milk chocolate kiss adds a wonderful creamy sweetness.  The cookies could be made without the chocolate kisses, and would make fabulous ice cream sandwiches, or homemade Oreos.  Because I can't give Daylon real hugs and kisses, I'm sending him these virtual ones instead!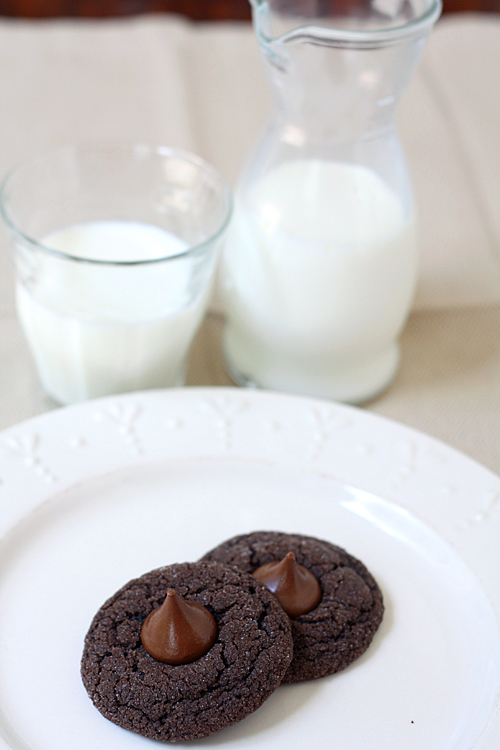 Print This Recipe
Kiss & Hug Cookies
Adapted from Hershey's Kisses Peanut Butter Blossoms
Makes about 4 dozen cookies
48 Hershey's Kisses Chocolates (pieces of milk chocolate can be substituted)
1/2 cup shortening
3/4 cup Nutella (chocolate hazelnut spread)
1/2 cup packed light brown sugar
1 egg
2 tablespoons milk
1 teaspoon vanilla extract
1 1/2 cups all-purpose flour
1/4 cup cocoa powder
1 teaspoon baking soda
1/2 teaspoon salt
Granulated sugar
1. Heat the oven to 375 degrees Fahrenheit.  Remove the foil wrapping from the Kisses chocolates.
2. Beat the shortening and the Nutella in a large bowl until it is well blended.  Add the brown sugar and beat until the mixture is fluffy.  Add the egg, milk, and vanilla and beat well. In a separate bowl, stir together the flour, cocoa powder, baking soda, and salt.  Gradually beat this mixture into the Nutella mixture.
3. Refrigerate the dough for at least one hour.  Shape the dough into 1-inch balls and then roll the balls in granulated sugar and place them on an ungreased cookie sheet.
4. Bake the cookies for 8 to 10 minutes.  Remove the cookies from the oven and immediately press a chocolate kiss into the center of each cookie (the cookies will crack around the edges).  Remove the cookies from the cookie sheet and place them on a wire rack to cool completely.