This time of year always finds me wishing I was still living in Japan.  If we were still in Japan, I'd be out everyday enjoying the new blooms on the trees.  First the plum blossoms, and then the much anticipated cherry blossoms.  During our last spring in Tokyo, Squirrel and I went out almost every afternoon to explore all of the wonders that the parks and gardens of the city had to offer.  Hours spent pushing the stroller over petal-strewn paths in the cold crisp early Spring air, soaking in sunshine, and enjoying the companionship of the elderly Tokyoites that were out amidst nature's bounty with us.  Most of the days I would pack a small picnic for us to eat under the blossoms (usually onigiri and thermoses of mugicha) or we would buy a treat from a vendor or local bakery to nibble on.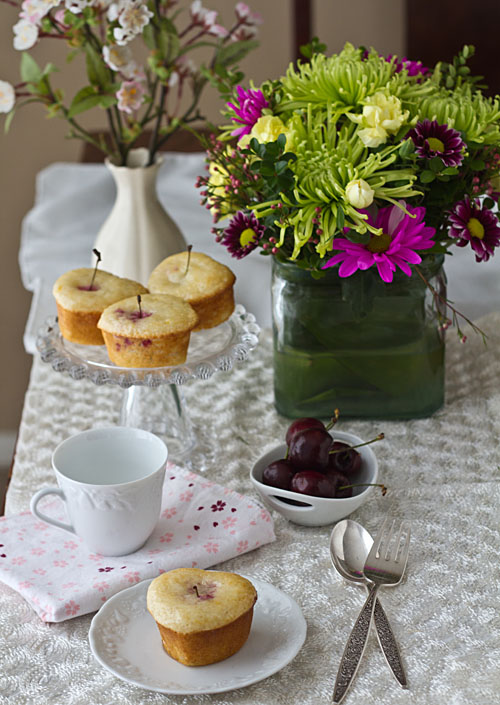 Maybe this explains why I start thinking of tea parties held out in the garden at this time of year.  This month my little friend Lucy is joining me in my tea party planning with her own little garden celebration.  For February I dreamed up some simple lemon tea cakes to serve at her tea party, and my dear friends Mike and Deb brought her tea party to life.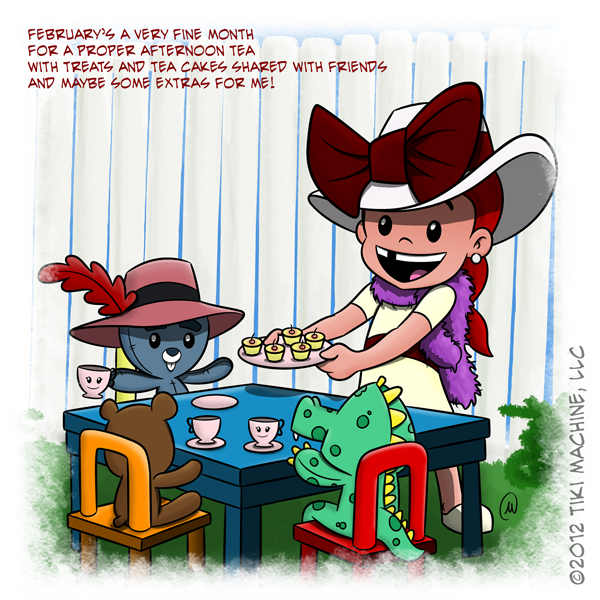 I made my little tea cakes in heart-shaped cupcake tins, but you could use any shape you like.  But these aren't ordinary lemon tea cakes, because Lucy is a spunky girl.  These are cherry-filled cakes—each cake holds an entire plump juicy cherry that tints the cake that it touches a lovely pink.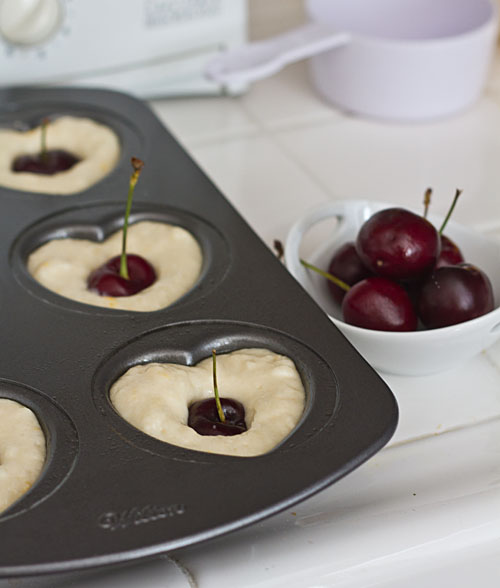 These cakes also contain a "secret ingredient"—a cup of sour cream makes these little treats moist, tender, and rich.  I've recently discovered a new sour cream, which may just be the end of me because it's so good that I'll admit I've eaten a few bites with a spoon.  Any sour cream will work, but if you want an extra treat, you need to try out Green Valley Organics Sour Cream. (Hey Green Valley Organics, if you decide you need a "Sour Cream Ambassador," just say the words and I'm your woman!)  Just sayin'.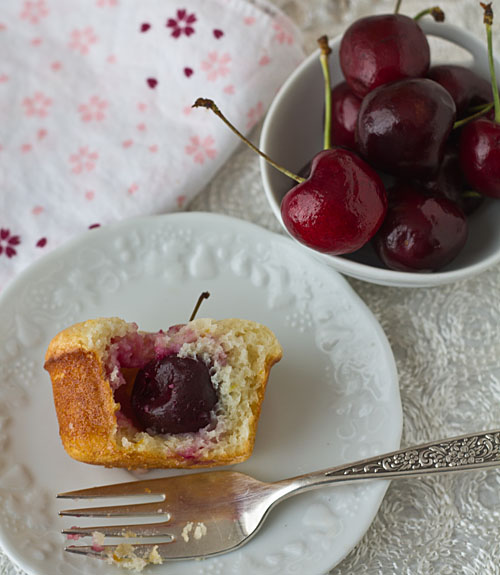 Lucy and I both think that surprises make life more enjoyable, and little lemon cakes topped with a tart lemon glaze and filled with a cherry surprise are just plain fun.  Lucy and I hope that you'll whip up a batch of tea cakes and head outside to enjoy the blossoms.  And hey, make sure you share with a friend!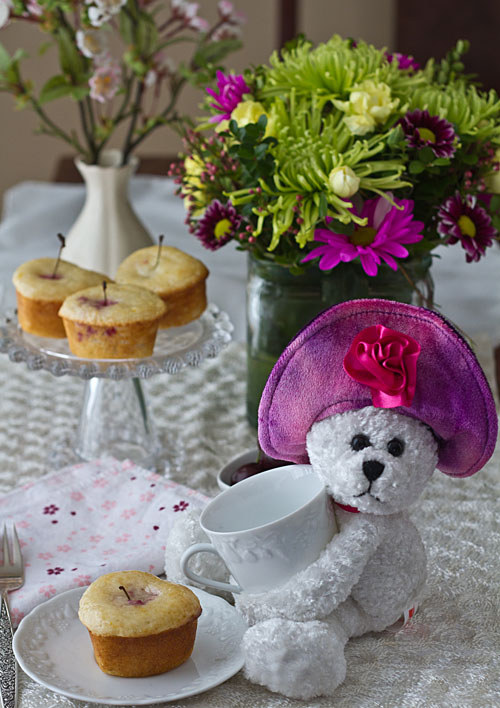 Print This Recipe
Lemon Cherry Tea Cakes
Makes 12
For the tea cake batter:
1 3/4 cup all-purpose flour
3/4 cup granulated sugar
2 1/2 teaspoons baking powder
1/4 teaspoon salt
1 cup sour cream
1/2 cup milk
2 tablespoons finely grated lemon zest
2 tablespoons fresh squeezed lemon juice
1 large egg, lightly beaten
12 whole cherries, with stems
For the glaze:
2 tablespoons fresh squeezed lemon juice
1/3 cup confectioners' sugar, plus more, if needed for thickening
1. Preheat the oven to 375 degrees Fahrenheit. Grease 12 muffin cups and set aside.
2. Make the tea cake batter: Combine the flour, sugar, baking powder, and salt in a large mixing bowl. Make a well in the center.
3. Combine the sour cream, milk, lemon zest, lemon juice, and egg in a separate bowl, and then pour into the well in the flour mixture. Stir together, just until moist.
4. Divide the batter among the prepared muffin cups. Gently push a cherry into the batter in each cup, with the stem pointing up. Bake for 16 minutes, or until a wooden pick inserted in the center comes out clean. Let the cakes cool for 5 minutes in the pan on a wire rack.
5. Make the glaze: While the cakes are cooling, combine the lemon juice and confectioners' sugar in a small bowl. Remove the cakes from the pan and drizzle the glaze over the warm cakes, using a pastry brush to evenly distribute it. Finish cooling on a wire rack.