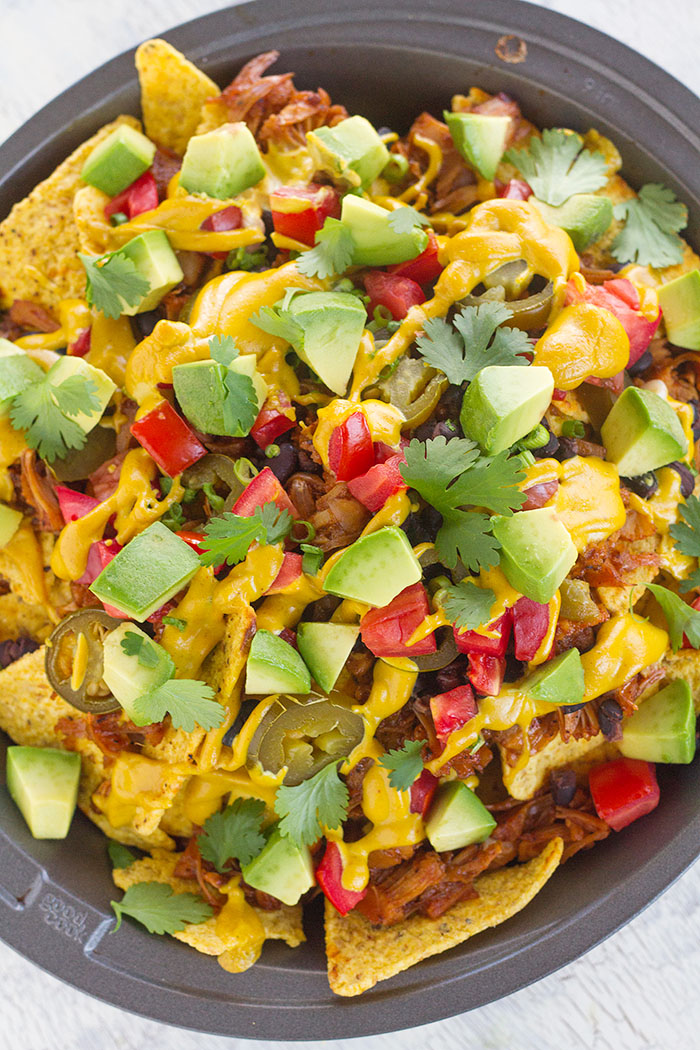 Is anyone else as excited as I am that it's Friday and we have a three day weekend ahead of us?  Mr. Fuji and I surprised the girls when they got home from school today with a little family trip to Idaho Falls.  We are looking forward to some family time to explore, have fun together, and destress.  What are you doing this weekend?  Speaking of the weekend…do you know what you're cooking on Monday for Labor Day?  If you don't, I've got a couple of ideas up my sleeve to share with you.  Today I've got the first one for you: nachos.  I personally welcome any sort of comfort food as part of a holiday lineup and I have a soft spot for nachos.
When we lived in Memphis, I fell in love with Memphis-style pulled pork nachos.  Tortilla chips topped with slow-roasted pulled pork topped with the classic Memphis-style tangy barbecue sauce, then drizzled with a cheese sauce made from cheese, cream, and black pepper.  Pretty hard to beat.  It's actually been a long time now since the last time I ate nachos, due to dietary changes I've made at the direction of my rheumatologist to manage inflammation.  But when I was challenged earlier this week to come up with a vegan junk food recipe I decided it was time to break my nacho fast!
I decided to take inspiration from those amazing pulled pork nachos and grabbed a can of green jackfruit.  If you're not familiar with jackfruit, it's a tree fruit (actually, the largest tree fruit in the world!) often eaten in tropical places like South Asia, Southeast Asia, and Brazil.  When the edible portions are unripe, they have a milk meat-like flavor and texture, which is why it is used in curries in some countries.
I used the jackfruit to make barbecue pulled jackfruit . . . which honestly looks almost identical to pulled pork and comes pretty darn close in texure and flavor.  When used in something like nachos, where there are lots of other ingredients, it's almost impossible to tell!  The best part is that it is way faster to make than traditional pulled pork.  (30 minutes versus 24 hours.  Huge difference, right?)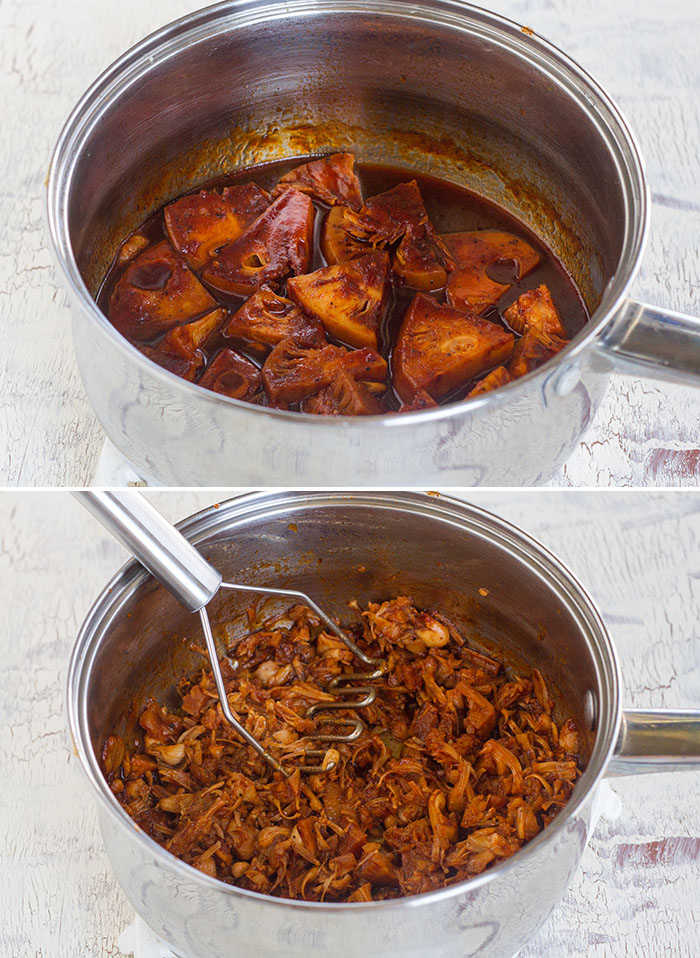 For the cheese sauce, I made a thick, creamy cashew nacho cheese sauce, which is as simple as soaking raw cashews in boiling water for 15 minutes, then putting them in a blender with a bunch of other ingredients like nutritional yeast and cumin and blending everything together.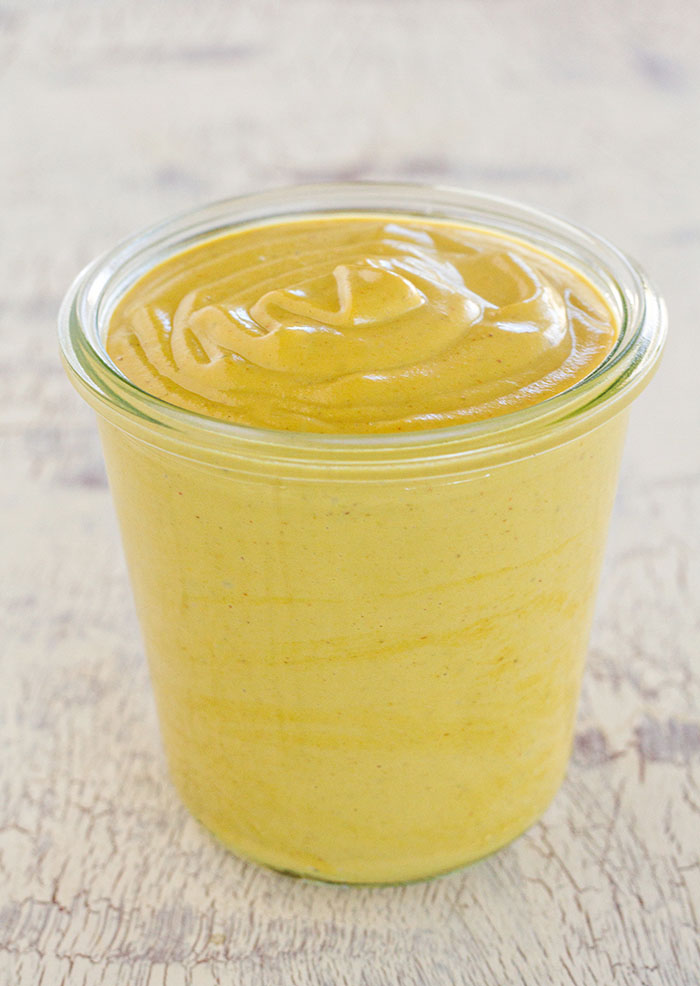 Once those two elements are finished, all that's left to do is assemble and bake your nachos!  I like to make my nachos in a pie plate.  I do a layer of tortilla chips, then top them with the jackfruit, black beans, chopped tomatoes, sliced green onions and pickled jalapenos, then drizzle the cashew nacho cheese sauce over the top.  Then I repeat that with a second layer and pop them in the oven for 5 minutes to warm everything up.  This also helps deepen the flavors and gives the cheese sauce a richer, golden color.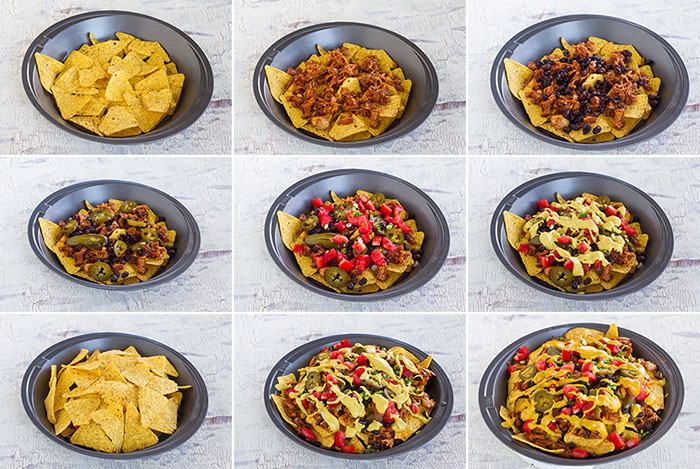 When they come out of the oven I top them with chopped avocado and fresh cilantro and then dig in!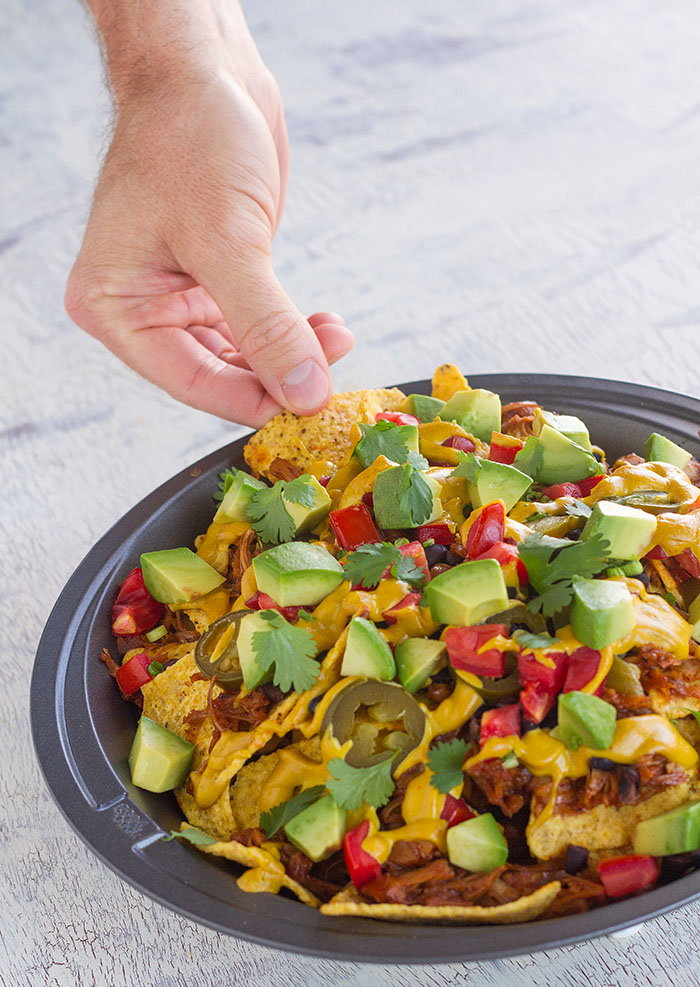 Print This Recipe
Loaded BBQ Pulled Jackfruit Nachos
Makes 4 servings
Ingredients:
About 6 ounces tortilla chips
1 recipe BBQ Pulled Jackfruit (recipe below)
1 (15-ounce) can black beans, drained
2 Roma tomatoes, seeded and chopped
1/4 cup pickled sliced jalapenos
2 green onions, thinly sliced
1 recipe Cashew Nacho Cheese Sauce (recipe below)
1 small avocado, chopped
Fresh cilantro leaves, to garnish
Directions:
1. Preheat the oven to 400 degrees Fahrenheit.
2. Spread half of the tortilla chips in the bottom of a 9-inch pie plate. Spread half of the jackfruit over the chips, followed by half of the black beans, jalapenos, tomatoes and green onions. Drizzle some of the cashew nacho cheese sauce over the top. Add a second layer of tortilla chips, then top the chips with more jackfruit, black beans, jalapenos, tomatoes and green onions. Drizzle more cheese sauce over the top.
3. Bake the nachos in the preheated oven for 5 minutes, then remove them from the oven and sprinkle with the chopped avocado and cilantro. Serve immediately.
==========
Cashew Nacho Cheese Sauce
Makes 1 3/4 cups sauce
Ingredients:
1 cup raw cashews
2 cups boiling water
3/4 cup warm water
1/4 cup nutritional yeast
1/2 teaspoon fine grain sea salt
1/2 teaspoon ground turmeric
1/4 teaspoon garlic powder
1/4 teaspoon onion powder
1/4 teaspoon smoked paprika
1/4 teaspoon ground cumin
1/4 teaspoon chili powder
Directions:
1. Put the raw cashews in a bowl and pour the two cups of boiling water over them. Set them aside to soak for at least 15 minutes.
2. Drain the cashews and put them into a blender with the rest of the ingredients and blend on high for about 5 minutes, scraping down the sides as needed, until the sauce is very smooth and creamy. Transfer whatever sauce you don't use on the nachos to an airtight container and store in the refrigerator for up to one week.
==========
BBQ Pulled Jackfruit
Ingredients:
1 (20-ounce) can jack fruit in brine
1 ½ teaspoon olive oil
2/3 cup vegan barbecue sauce
1/4 cup water
1/2 teaspoon liquid smoke
Directions:
1. Rinse the jackfruit in a colander then drain. Break the jackfruit pieces up into smaller pieces.
2. Heat the olive oil in a saucepan over medium heat. Once the oil is shimmering, add the jack fruit, barbecue sauce, water, and liquid smoke, then stir everything together to combine and to make sure the jackfruit is coated in the sauce. Cover the saucepan and let the jackfruit cook for 20 to 25 minutes, until it is tender and can be shredded. Check on the jackfruit several times during the cooking process to make sure the sauce isn't cooking down too quickly. If it is, turn the heat down slightly. You can also add a couple tablespoons of warm water to the pan, if it seems the sauce has cooked down too much.
3. Remove the saucepan from the heat and let the jackfruit cool slightly, then shred it with two forks. Set aside.