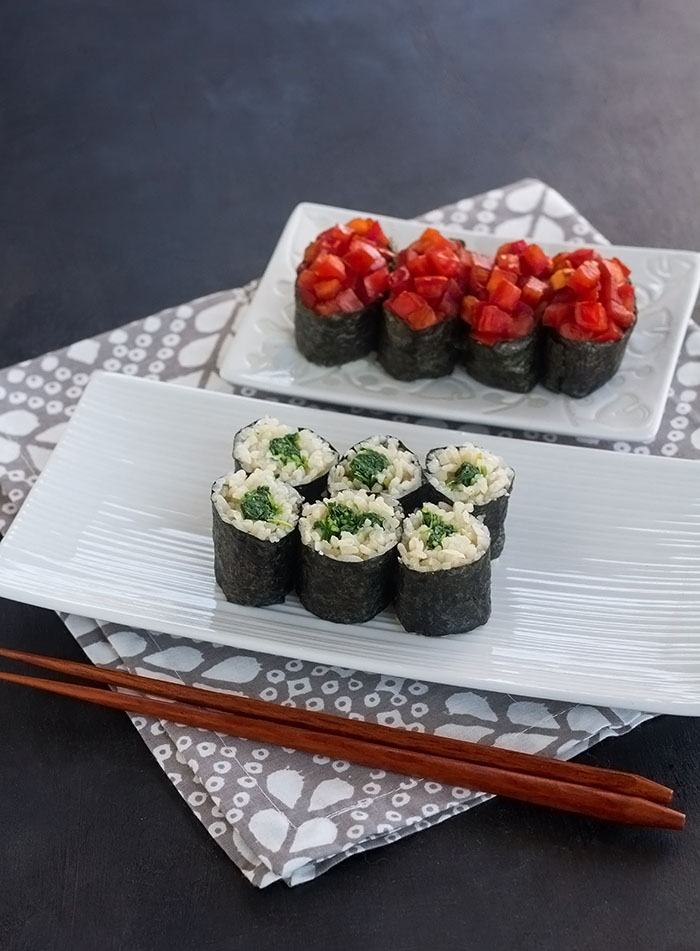 If you are a sushi lover like I am, and you like to cook, there's a new book out that you need!  It's called The Vegetable Sushi Cookbook by Izumi Shoji and it takes a different approach to sushi-making than you might be accustomed to!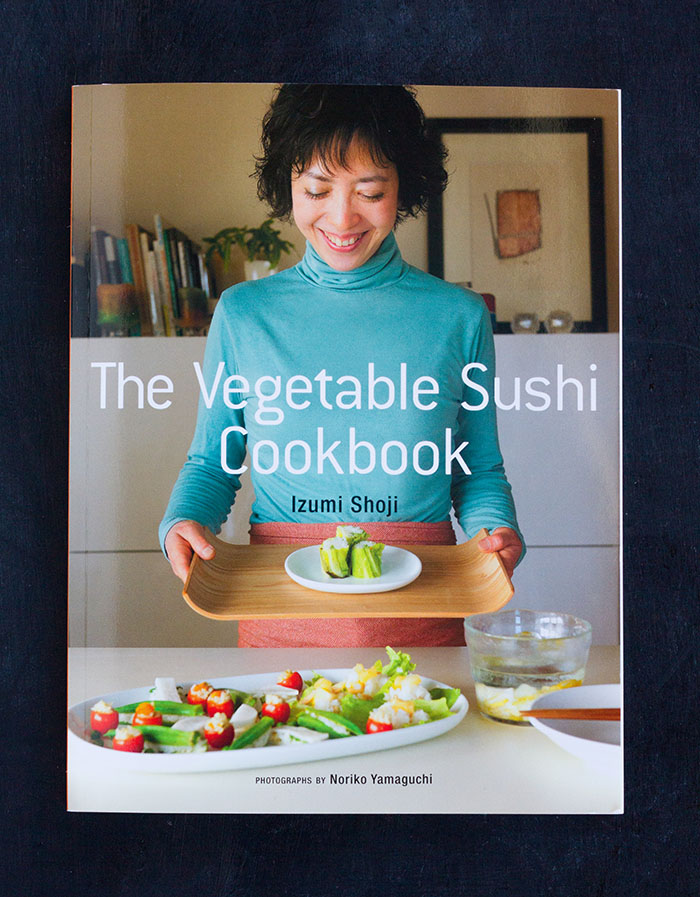 The book is filled with over 100 recipes for everything from maki-zushi (rolls) to chirashi-zushi (scattered sushi).  The book includes instructions on how to make sushi rice and the techniques needed to make each type of sushi.  What makes it different is that every recipe focuses on vegetables.  No raw fish, no deep fried soft-shell crab…instead there are carrots, tomatoes, eggplant, cucumbers, and more!  The recipes are fun, fresh, and delicious and will definitely expand your sushi world.  I recently made the Marmalade Watercress Maki-zushi and the Fresh Tomato Gunkan-maki.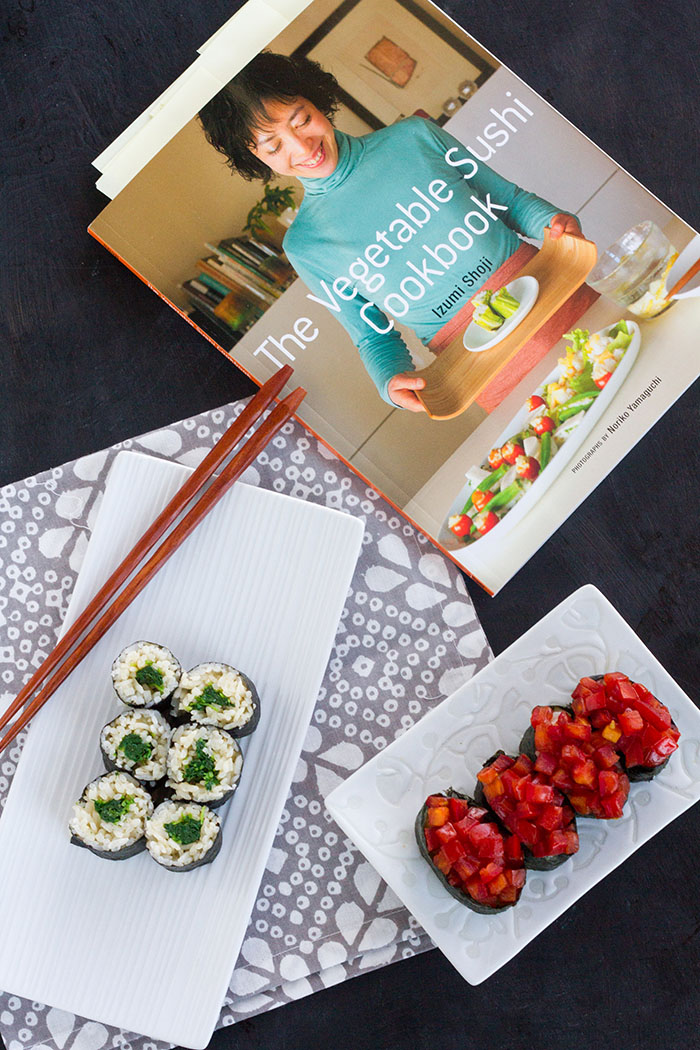 The Marmalade Watercress Maki-zushi is made by filling a sushi roll with blanched watercress tossed with a mixture of soy sauce and marmalade for a sweet, salty, bitter flavor combo.  Definitely fun.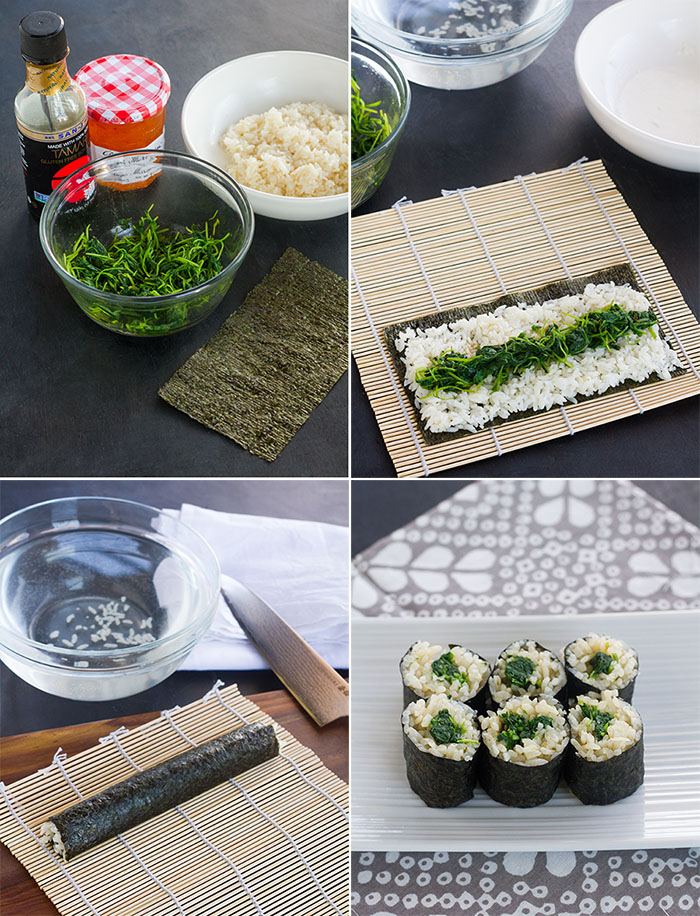 But it was the Fresh Tomato Gunkan-maki that really took me by surprise.  Gunkan-maki is made by wrapping an oval clump of rice with a strip of seaweed and then topped it with something…anything from sea urchin to fish eggs.  In this case it is topped with small chunks of tomato tossed with soy sauce.  Sounds simple, right?  It is, but the result is surprisingly complex.  The sweet juicy tomato combined with the briny soy sauce is reminiscent of the same sushi made with fresh fish.  It's delicious.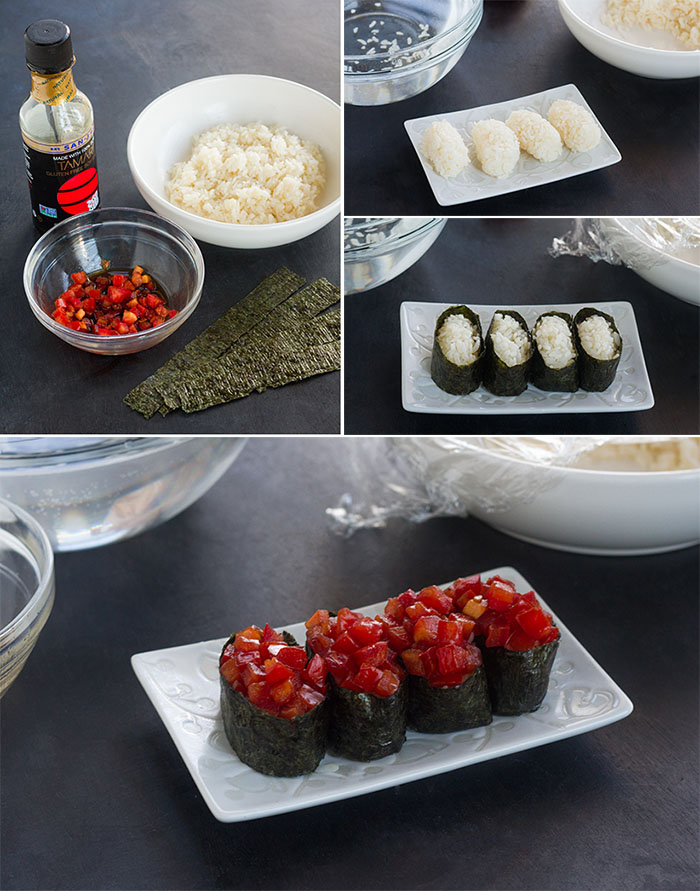 I'm sharing the recipe with you, but there are so any others to try in the book as well, so make sure you order a copy!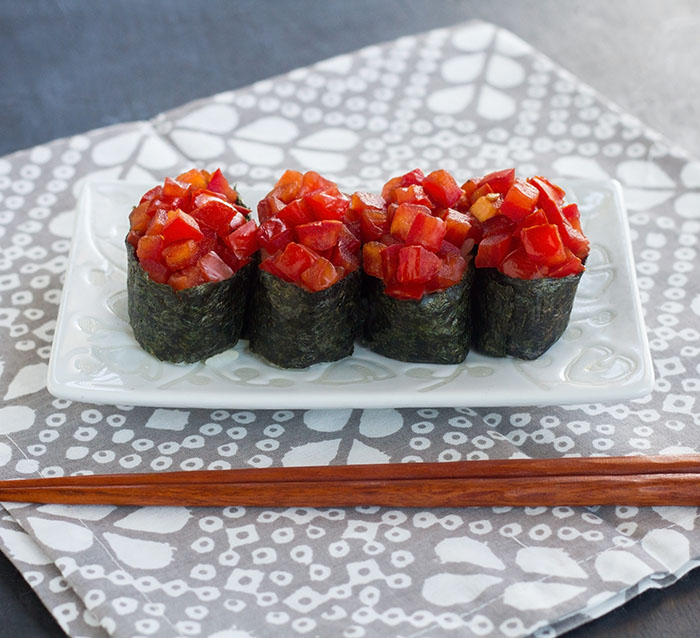 Print This Recipe
Fresh Tomato Gunkan-maki
Recipe from The Vegetable Sushi Cookbook © 2010 by Izumi Shoji
Makes 4 pieces
Ingredients:
1/2 small tomato (I used a Roma tomato)
1 1/2 teaspoons soy sauce
3 ounces (80 grams, or a scant 1/2 cup) prepared sushi rice
1/2 sheet nori, cut into four 7×1-inch (19×3.5 cm) strips
Directions:
1. Seed the tomato then cut it into 1/4-inch (7 mm) cubes. Place them in a small bowl, add the soy sauce, and mix well. Let them stand for 5 minutes.
2. Divide the sushi rice into 4 portions, then shape each portion into 4 pieces, by cupping the rice in your left hand and shaping it lightly with your right index and middle fingers.  Don't press it too hard—you want the rice to be light and fluffy when you eat it.  But if you use too little pressure, the rice will fall apart before it can be eaten. Wrap a strip of nori, shiny side out (rough side touching the rice), around the circumference of each piece, using a grain of rice to stick the ends together.  If the ends of the nori strip overlap by more than 1/2-inch, tri off the excess. Spoon the tomatoes on top of the rice on each piece, then arrange them on a serving dish.
————————————
*Disclosure: I was sent a review copy of The Vegetable Sushi Cookbook at no cost, however I was not required to write about the book after receiving it.  I received no other compensation for writing this post.  All experiences and opinions are my own.