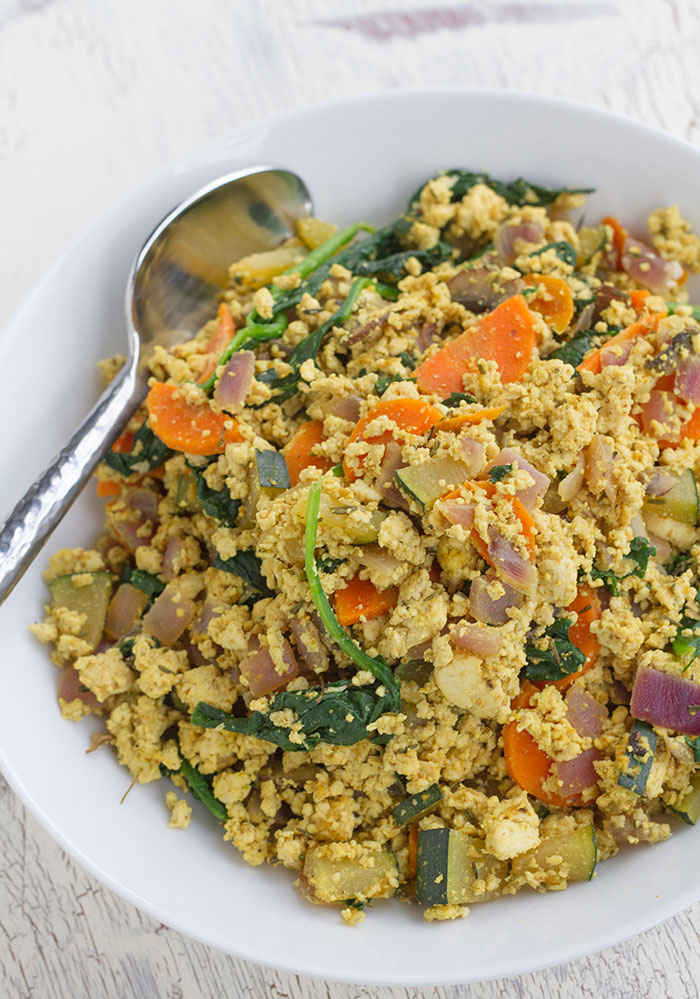 I'm a breakfast for dinner sort of girl, and a good tofu scramble definitely fits the bill!  A few weeks ago I whipped up this tofu scramble for dinner, throwing in spinach, carrots, mushrooms, red onion, garlic, and zucchini from the garden.  When I started cooking I had no intentions of posting the recipe.  But when it was done I decided I needed to, so I snapped a few pictures, and here we are!  Prep-wise, this is an easy recipe for a busy night.  All that you have to do is crumble a block of tofu and chop some vegetables.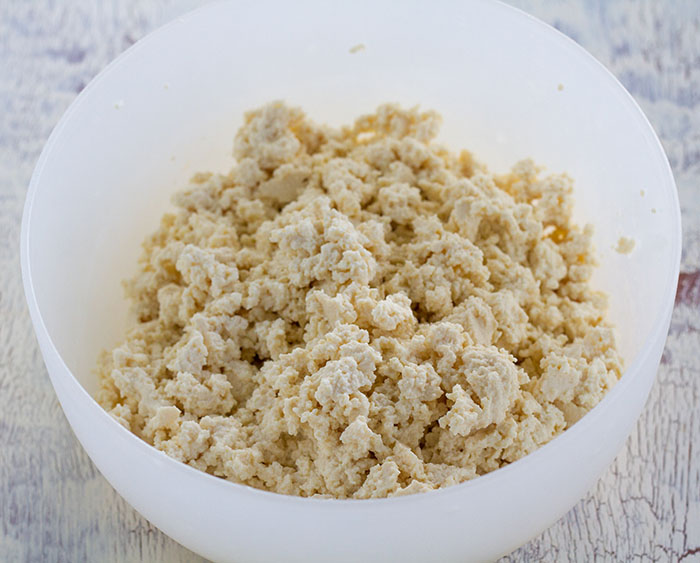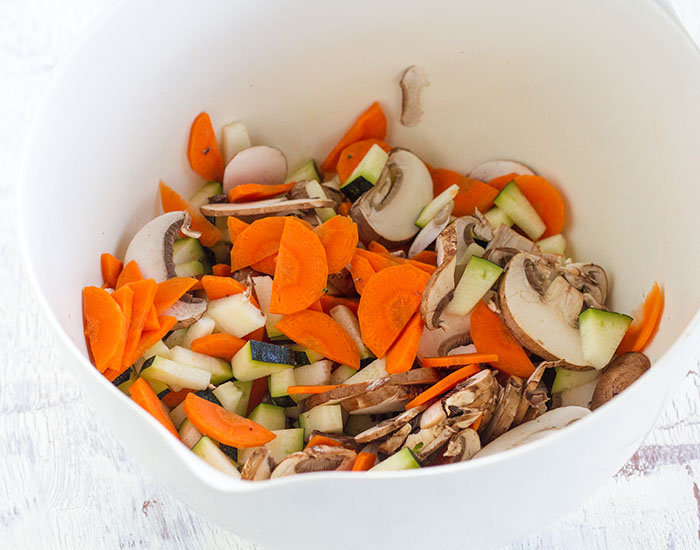 Then you saute your vegetables (starting with the ones the require the longest cooking time), add your tofu and some herbs and spices, and you're done!  This is a great way to add some extra veggies into your day.  If you don't love the veg that I chose, substitute your favorites.  One tip is to try and choose vegetables that are different colors.  This will make your scramble more visually appealing and help you include different nutrients.  You could also use this scramble as a filling for breakfast burritos…so good!  Happy Meatless Monday my friends!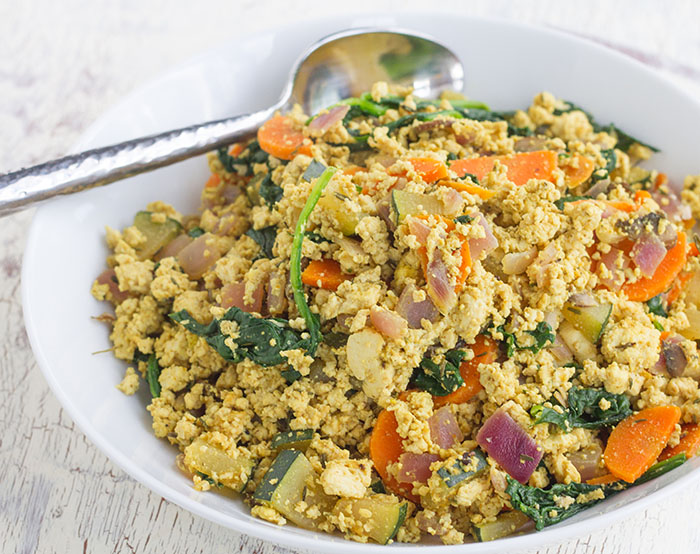 Print This Recipe
Tofu Scramble
Makes 4 servings
Ingredients:
2 tablespoons olive oil
1/2 red onion, chopped
1 small zucchini, chopped
1 cup thinly sliced Baby Bella mushrooms
1/2 carrot, peeled and sliced into thin half moons
4 cloves garlic
1 (14-ounce) block extra firm tofu, crumbled
2-4 cups spinach*
1 teaspoon dried thyme
3/4 teaspoon ground cumin
1/4 teaspoon ground turmeric
1/3 cup nutritional yeast
1 teaspoon fine grain sea salt
Directions:
1. Heat the oil in a large skillet over medium-high heat. Add the onion and cook, stirring occasionally, for about 5 minutes until they are softened. Add the zucchini, mushrooms, carrot, and garlic and continue to cook for an additional 3 minutes.
2. Stir in the tofu and spinach and cook, stirring constantly, for about 5 minutes, until the tofu has heated through and is slightly golden.
3. Stir in the thyme, cumin, and turmeric and cook for 2 to 3 minutes, until the spices are fragrant and most of the liquid has evaporated from the skillet.
4. Remove the skillet from the heat and stir in the nutritional yeast and salt. Serve immediately.
*Recipe Notes: If you are a spinach lover, use the full 4 cups!  The batch I made for the pictures uses 2 cups, but I personally love it with more!