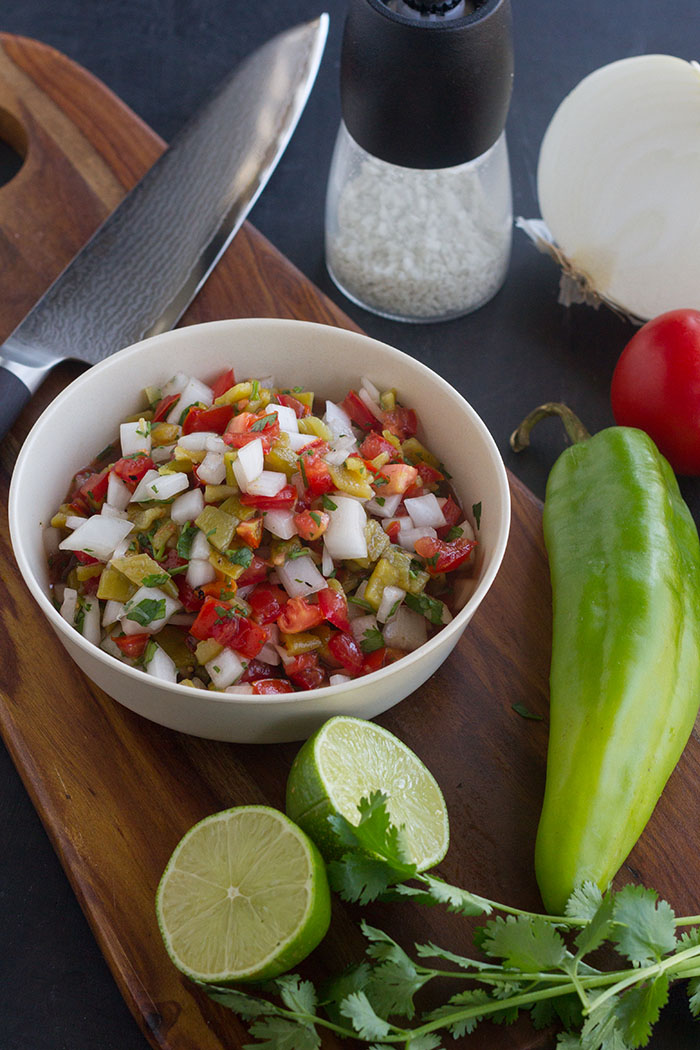 Happy National Knife Day everyone!  What? You've never heard of it? Well now you have, and I'm not just making it up!  It seems almost every type of food has its own holiday, so I think it's appropriate to stop and celebrate (or at least appreciate) knives, considering it's one of the most important, if not the most important, tool that we have in our kitchens.  A good knife will make cooking prep quicker, easier, and more enjoyable.  It will also help prevent injury if you keep it sharp.  (More on that in a minute.)  I recently received a new knife to try out from RYU Knives, the Gougiri, an 8-inch gyutou (Japanese-style chef's knife) with a 33-layer Damascus steel blade and a pakkawood handle, made in Seki city, Japan.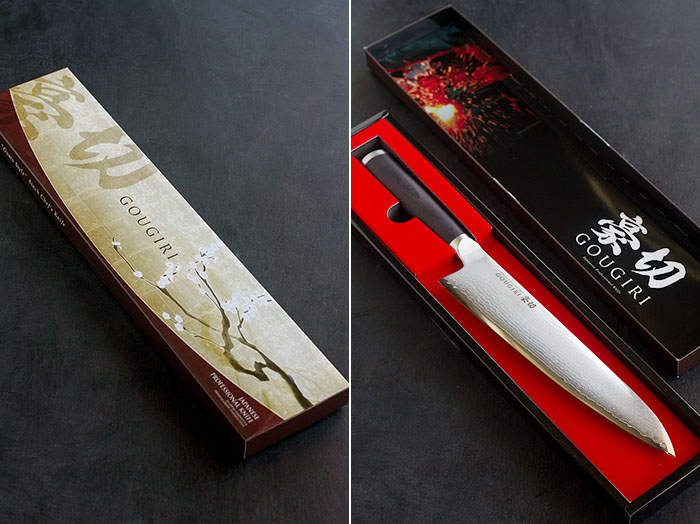 All of those elements play a big part in making this an amazing knife.  I've had the knife for a few weeks now and have been running it through the paces with a large variety of vegetables, fruits, etc.  I may be a bit biased, but can I just say how amazing a true Japanese knife is?  The craftmanship used in Japan to make a knife is extraordinary.  Though it's no wonder, considering the history of knife making in Japan.  In the thirteenth century, Motoshige, a master swordsmith, moved to the small city of Seki in the middle of Japan because it had the ideal natural resources available for tempering steel.  By the middle of the fourteenth century, just one hundred years later, Seki was home to more than 300 swordsmiths and Seki quickly become known for producing superior quality swords.  As history progressed and the history of the samurai came to a close, swordsmiths became blacksmiths and began forging tools for everyday life.  Seki is still known for producing superior quality items, which now includes kitchen knives.  The Gougiri comes from that history of highest quality craftmanship and Japanese forging techniques.  The 33-layer Damascus steel blade is very strong, durable, and holds an extremely sharp cutting edge.  The knife is very well balanced, making the cutting motion more natural and making it comfortable to use over an extended period of time.  Plus, it's a gorgeous knife, which is the icing on the cake!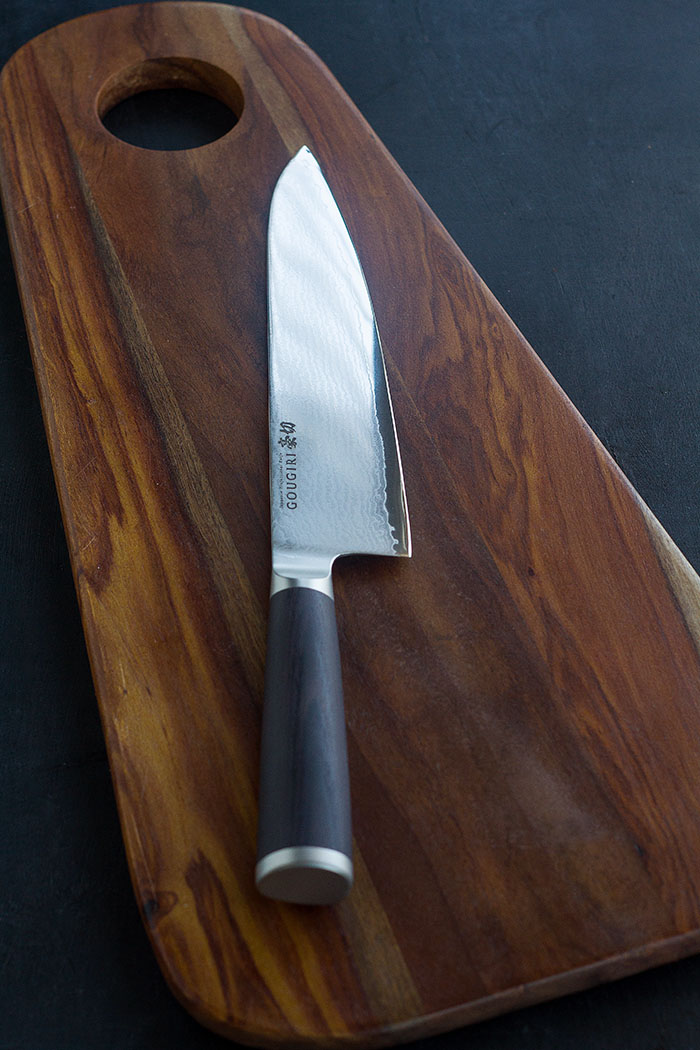 One of the items I always cut when trying out a new knife is a tomato.  People often turn to a serrated knife when tackling tomatoes, because the points help cut through the slick skin.  A good chef's knife, however, is even better, because it will slice cleanly through the skin, and cut perfect slices without any tearing.  When I gave this knife the tomato test I expected it perform well, considering its specs, but it actually went above and beyond, slicing through the tomato like it was a cube of soft butter.  I went on to make quick work of slicing and dicing everything else I could find.  So basically, I'm in love and the object of my affections is Gougiri.  It's the knife that I reach for first now.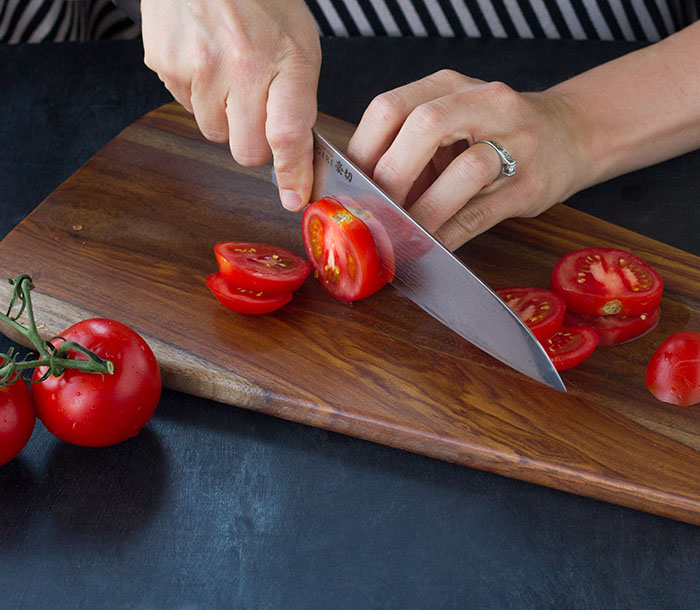 Last week I whipped up a batch of pico de gallo using some of the roasted Hatch chilies I had purchased.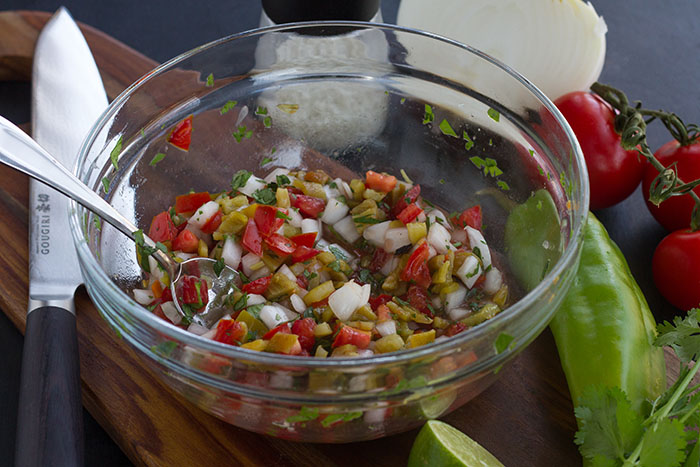 A good knife is essential for making pico de gallo since you are chopping tomatoes, onions, cilantro, and chilies.  Chopping onions is so much more pleasant with a good sharp knife, since you will do less damage to the cell walls, and thus release less of that tear-inducing gas.  Roasted Hatch chilies are also a bit trickier to chop up than a normal chili, since the roasting process softens them and makes them a bit more slippery.  A good knife takes care of that, as well as doing the delicate work of cutting out the membranes without cutting out good chili flesh along with them.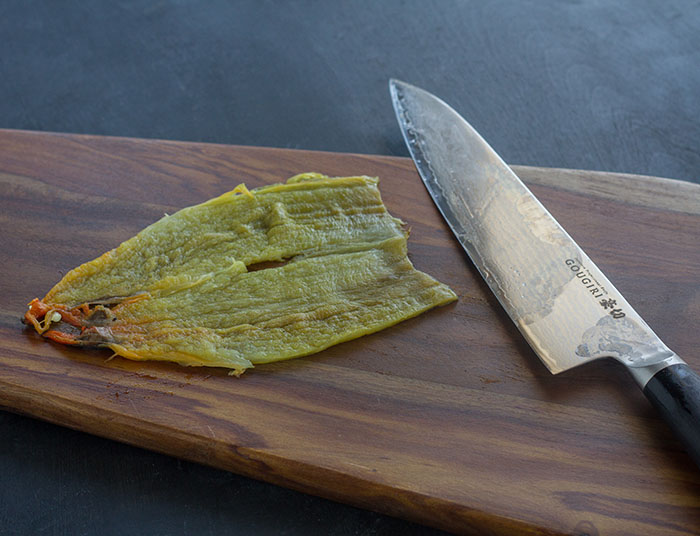 If you are looking to up your cooking game, my advice is to invest in a good chef's knife, and you can't go wrong with the Gougiri.  A good quality chef's knife is a bit of an investment, but you will use it for everything, and if you treat it right, you will have it in your kitchen for a long time.  You can read more about the Gougiri on the Ryu Knives website or check them out on Instagram!  Once you've got a good knife, treat yourself to a batch of Roasted Hatch Chili Pico de Gallo and some tortilla chips.  Better yet, make a batch before you get your knife and then make another batch after you get your knife and experience the difference!  Happy slicing and chopping my friends!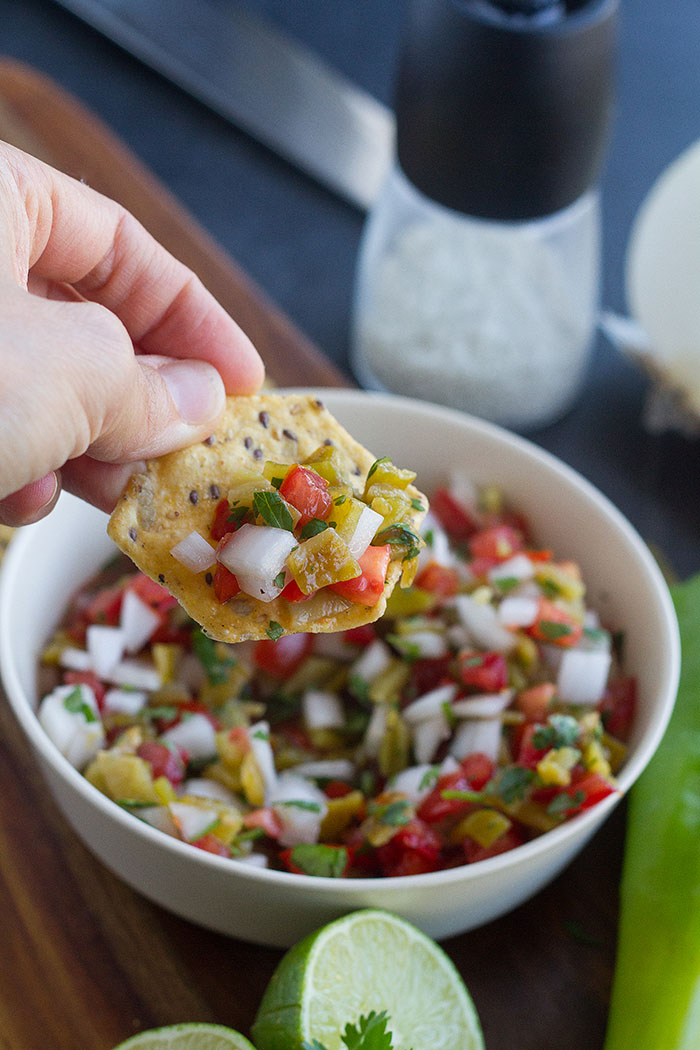 Print This Recipe
Roasted Hatch Chile Pico de Gallo
Makes 2 cups
Ingredients:
1 cup finely chopped, seeded tomatoes
3 roasted medium-heat Hatch chilies*, seeded and finely chopped
1/4 white onion, finely chopped
1/4 cup finely chopped cilantro
Juice of 1 lime
Fine grain sea salt, to taste
Directions:
1. Combine all of the ingredients in a bowl and season to taste with salt. Add additional lime juice as desired.
2. Let the pico de gallo sit for 5 to 10 minutes to allow the flavors to develop before eating.
*Notes: Taste your chilies before using them, as they're not always as spicy as they're labeled…or they're more so, and then use accordingly!
——————-
*Disclosure: RYU Knives sent me a Gougiri knife to try out.  I was not otherwise compensated for this post, nor was I required to write about the knife after receiving it.  All opinions and experiences are my own.