* Don't miss out on the current LFM giveaway! Enter to win a copy of the cookbook No Whine with Dinner!
"The best of all gifts around any Christmas tree:  the presence of a happy family all wrapped up in each other." ~Burton Hillis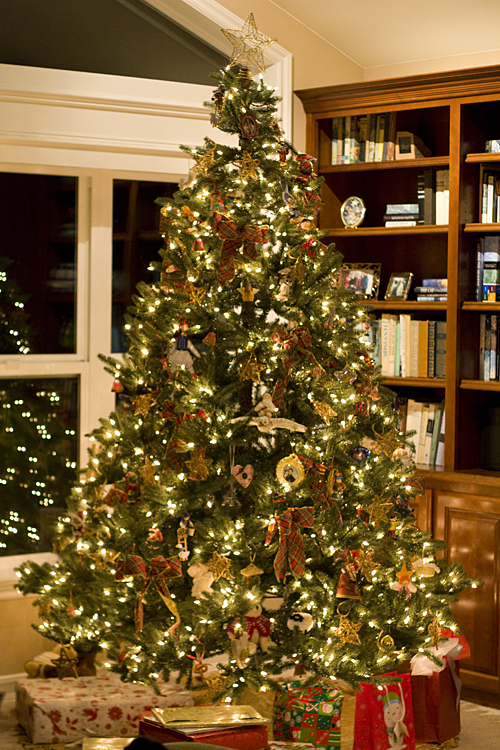 It has been an interesting week.  On Sunday, Bug threw up all over the place in the middle of church.  By Monday afternoon she was doing a lot better, but still running a low fever.  On Tuesday I thought we were out of the woods.  I got the girls up in the morning and was carrying Squirrel downstairs when she proceeded to throw up all over me.  The positive side was that it was literally all over me and not the carpet.  On Monday morning Mr. Fuji's car wouldn't start, so after jump starting it with my car, he drove it in to get a new battery.  Then when we were looking at the tires on my car to make sure they were okay for our drive to Salt Lake City to visit family for Christmas, we realized that a couple of them were looking pretty bad.  So we went and got 2 new tires.  On Tuesday Mr. Fuji realized we hadn't gotten the mail in a couple of days.  Our community has the big super mail boxes, and so our mail box is down the street and around the corner from our house.  When he went to get the mail, there wasn't any.  We knew something was up, because we never go a day without at least getting some junk mail.  Mr. Fuji called the post office and someone informed him that our mailboxes had all been broken into Monday night and everything was stolen.  They also informed us that they would not be resuming postal service until our association fixed the mailboxes.  Of course, when Mr. Fuji called the association, they had no idea that the boxes had even been broken into.  On top of all that, Southern California has been getting record breaking amounts of rain, causing flooding, accidents, and general unpleasant conditions.
Tuesday night as I was starting to pack everything up for our trip, I realized that I still needed to make fruit cake to take with us.  It's a tradition I started a couple of years ago after the death of Mr. Fuji's grandma, who used to be the one to make it every year.  I was tired and grouchy, but there was no way that I was going to show up without fruit cake!  So I pulled out the pans and fruit and got to work.  When I finished the batter I knew something wasn't right, but I was so tired that I could hardly think straight.  I figured at that point that the fruit cake wasn't going to turn out, but I had nothing to  lose by baking the loaves anyways.  So into the oven they went.  When they were finally done a little after midnight, I pulled them out of the oven to cool and fell into bed exhausted.  In the morning when I wrapped the loaves in tinfoil, I looked at my recipe again and realized what I had done.  In my bleary eyed state I had read the cup measurement as the weight measurement, adding 2 pounds of raisins and 2 pounds of candied fruit, instead of 1 pound of each.  It's no wonder things didn't look right—I had added two whole pounds of extra fruit to the batter.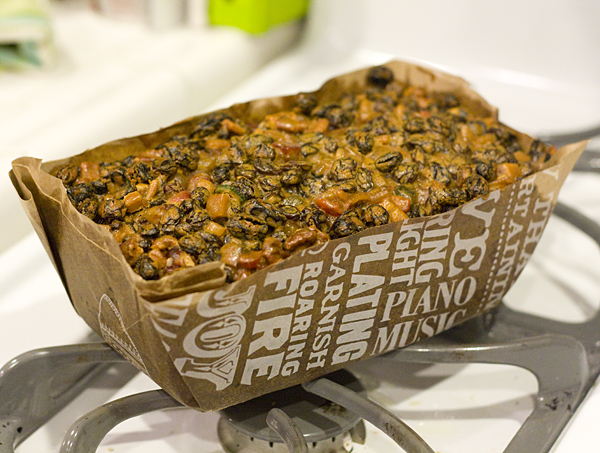 At that point I sat down on the kitchen floor, frustrated, tired, and feeling like I was about to cry.  After sick kids, car repairs, stolen mail, and bad weather, the fruitcake felt like the last straw.  Then I took another look at the two loaves of fruitcake and I started to laugh.  They looked so funny, and my mistake was such a big and brainless one (I mean really, two pounds?), that all of the sudden I saw the humor in the situation, and laughed until my sides hurt.  This fruitcake really did seem indestructible—like the fruitcakes that are the subject of many jokes. ("Fruitcakes make ideal gifts because the Postal Service has been unable to find a way to damage them." — Dave Barry)  Just one of those loaves weighed at least 3 pounds.  After that, I pulled myself together, and somehow we got everything loaded into the car and out the door.  We escaped rainy California and arrived all in one piece at my MIL's house last night.
This afternoon as I was remaking the fruitcake, I thought back over the frustrations of the past few days, and then looked over at Squirrel, who was playing contentedly with some toys, and I decided that I was grateful for fruitcake.  My fruitcake disaster broke through my clouds of frustration, helping me to laugh and reminding me about what is most important—my family.  No matter what has happened, we still have each other, and nothing is better than that.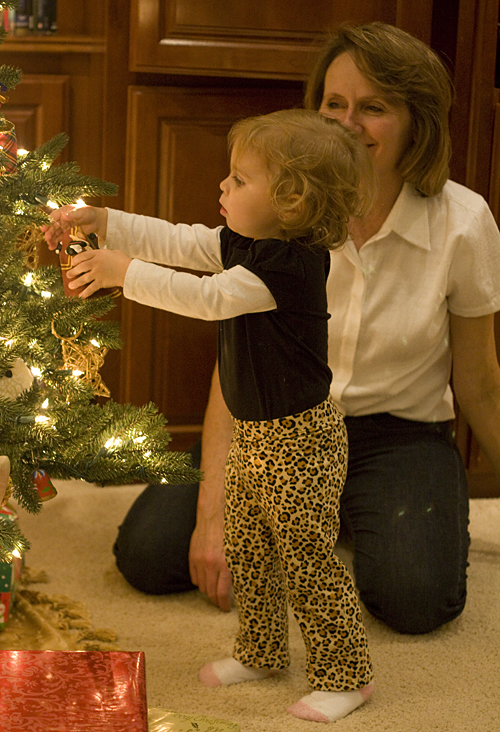 May your holidays be filled with those that are most important to you.  Oh, and a bit of advice? Don't make fruitcake when you're tired!
Merry Christmas from the Fujis!