More about Rachael of La Fuji Mama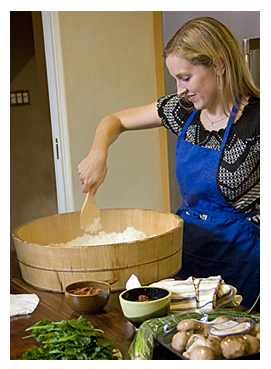 Have you heard the phrase, "Variety is the spice of life"? Well, I fully believe that! I have a BA in French and, while completing my undergraduate degree, studied in Paris. Then I married Mr. Fuji and we immediately moved to, where else? Japan, of course! We returned to the US long enough for me to graduate from law school, and then we moved back to Japan in connection with Mr. Fuji's job. The first Fujiling, Squirrel, was born in Tokyo. In the summer of 2008, Mr. Fuji was transferred to Southern California, and the second Fujiling, Bug, was born at the beginning of 2009. My life has definitely been a wonderful eclectic mix of people, places, and experiences, all of which have influenced and changed me (and my palate). One constant in my life has been my love for food. My parents taught me at a young age that I had to at least taste everything before I passed judgment. This was wise counsel, as I have yet to meet a food I don't like! Yep, I'm definitely enjoying the spice of life.
The development of my palate started at a very young age and has been greatly influenced by my heritage. My maternal grandmother is a German immigrant, so I grew up being exposed to sauerkraut, wurst, spaetzle, marzipan, and many other wonderful German flavors. My paternal grandmother has a reputation as a phenomenal cook in her community, and she passed down many of her recipes to my mother, who in turn cooked them for our family when I was growing up. My parents themselves love food and trying new things. My father developed a habit of exposing me to new and strange dishes from a young age. Whether it was feeding me hot peppers as a toddler or grilling a rattlesnake, my dad made sure that eating was never boring.
Places I have lived and visited have also played a huge role in what I like to eat and cook. I grew up in Southern California where there is a wide array of ethnic foods to choose from. Mexican cuisine was especially prevalent and is still something that I particularly love today. As mentioned above, during college I lived and studied in Paris, France, and I spent at least one evening a week with my host mom helping her to cook the family meals. Not only did she teach me a lot about French cuisine, but I learned a bit about Moroccan cuisine as well, as she was half Moroccan/half French. When Mr. Fuji and I lived in Memphis, Tennessee, I fell in love with Southern cooking, especially Memphis-style barbeque. Mr. Fuji and I have also lived in Japan twice, where I developed a passion for Japanese cuisine, cooked with Japanese friends, and even sampled Japanese hospital food when my oldest daughter was born in Tokyo in December of 2006 (for the record—it is much better than the hospital food I've had in the US). In addition to the wide variety of places I have lived, I have travelled to many countries around the world—Hungary, Slovenia, Italy, Cambodia, Malaysia, and China to name a few. Each time I visit a new place, I also discover new foods, new palate-pleasers, and new cooking styles.
Posts about my "food history":