I'm going to let you in on a little secret—the best
Nestle Toll House
chocolate chip cookie recipe is
not
the one that they put on every package of chocolate chips
.  The
Toll House recipe
gets its name from the Toll House Restaurant—a real toll house in Whitman, Massachusetts built in 1709 where a toll was charged for the use of the highway between Boston and New Bedford, and stage coach passengers would stop for a meal while the stage coach horses were changed.  In 1937, Ruth Graves Wakefield, the woman who ran the Toll House Restaurant, was making a batch of "Butter Drop Do" cookies (a favorite recipe that dated back to colonial times), and realized that she was out of baker's chocolate.  So Ruth grabbed a bar of Nestle Semi-Sweet Chocolate, chopped it into small pieces, and stirred the pieces into the dough, thinking that the chocolate would melt and spread throughout the cookies.  To her surprise, the pieces held their shape. (Don't you wish there was a blog post about that find!)  The cookies were a fantastic mistake, because they quickly became popular at the restaurant, and her recipe was eventually published in newspapers in the New England area, and eventually on the wrapper of the Nestle Semi-Sweet Chocolate Bar.  The popularity of the recipe eventually led to the development of chocolate chips—making it easier for consumers to make the beloved Toll House cookies.
Fast forward to the present.  Last week a tweet on Twitter from @nestlefoodie (Chris Garboski, the Head of Nestle HQ test kitchen) caught my eye: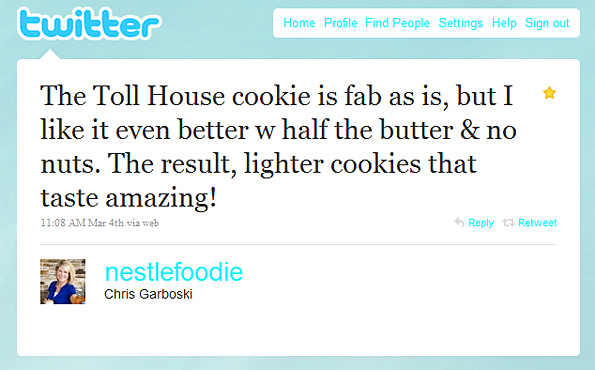 I decided that it would be fun to make a batch of cookies using the original recipe and a batch using Chris's method and then compare them side-by-side.  For fun, I also decided to throw in a third batch using some ingredients inspired by a conversation this past weekend with Carrie of Deliciously Organic about using healthier ingredients.

Here are the results—three different cookies all based on the original Toll House recipe.  For all of the cookies, I used a small cookie dough scoop so that I could also have an accurate idea of how the differences in ingredients affected the outcome of the cookies.  Cookie #1 on the left was made using the original Toll House recipe.  Cookie #2 in the middle was made using Chris's changes: no nuts, and 1/2 the butter called for in the recipe (1/2 cup instead of 1 cup).  Cookie #3 on the right was made using no nuts, 1/2 the butter, substituting whole wheat pastry flour for 1/2 of the all-purpose flour, and substituting sucanat (dehydrated sugar cane juice) for the granulated sugar and the brown sugar.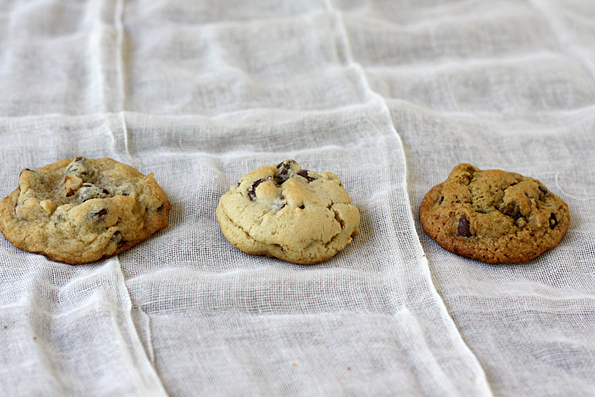 Cookie #1 spread the most out of the three (due to more butter).  Cookie #2 spread the least, and was chewier in consistency.  Cookie #3 spread slightly more than Cookie #2, was slightly less chewy than Cookie #2 (but still chewier than Cookie #1), was darker in color, and had a stronger molasses flavor to it.  All three cookies were delicious, but when all three were tasted consecutively by different people, there was a clear winner: #2.  While #3 was good, we all decided that the stronger molasses flavor wasn't what we were looking for in a cookie.  Cookie #3 has potential, it just needs a bit more tweaking!  Everyone like the chewier consistency of #2 and the lack of nuts—we're all about giving the spotlight to the chocolate.  Even Squirrel liked #2 better—she said it was "the pretty cookie."
So now the secret is out—the best Nestle Toll House cookie recipe is not the one on the package—it's @nestlefoodie's Toll House cookie recipe.  Sorry Ms. Wakefield, but you've been one upped!  This delicious chewier chocolate chip cookie is better than the original, even though it's lower in calories and fat.  Despite the decrease in butter, there is no decrease in flavor!  Note that I have decreased the cooking time to 8 to 10 minutes (the original recipe calls for 9 to 11 minutes), because I found these cooked quicker.  Make sure when you take the cookies out of the oven that you only leave them on the baking sheets to cool for 2 minutes.  If you leave them on the sheets for longer, they will become more difficult to remove!

Print This Recipe
@nestlefoodie's Toll House Chocolate Chip Cookies
Recipe from Chris Garboski, adapted from the Original Nestle Toll House Chocolate Chip Cookie Recipe

Makes 60 cookies
2 1/4 cups all-purpose flour
1 teaspoon baking soda
1 teaspoon salt
1/2 cup (1 stick) butter, softened
3/4 cup granulated sugar
3/4 cup packed brown sugar
1 teaspoon vanilla extract
2 large eggs
2 cups (12-ounce package) Nestle Toll House Semi-Sweet Chocolate Chips
1. Preheat the oven to 375 degrees Fahrenheit.
2. In a small bowl, combine the flour, baking soda, and salt.  In a separate large mixer bowl, beat together the butter, granulated sugar, brown sugar, and vanilla extract until the dough is creamy.  Add the eggs, one at a time, beating the dough well after each addition.  Gradually beat in the flour mixture.  Stir in the chocolate chips.  Scoop out rounded tablespoons of dough and place 2 inches apart on ungreased baking sheets.
3. Bake for 8 to 10 minutes, or until golden brown.  Cool on the baking sheets for 2 minutes and then remove the cookies to wire racks to cool completely.