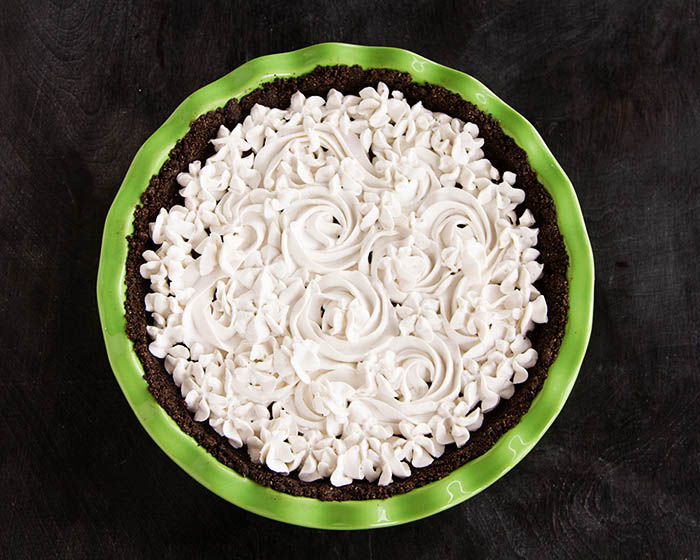 If you had told me 6 months ago that a chocolate dessert that was free of gluten, dairy, and refined sugars could be as decadent as its gluten, dairy, and refined sugar full counterpart, I would have politely nodded and totally not have believed you.  But in the past few months I have taken my preconceived notions and stomped on them quite thoroughly.  I gave you a peek at this process with my recipe for Chocolate Pots de Crème, but what I didn't tell you was that before I had perfected that recipe, I had perfected a version of my favorite chocolate pie crust first.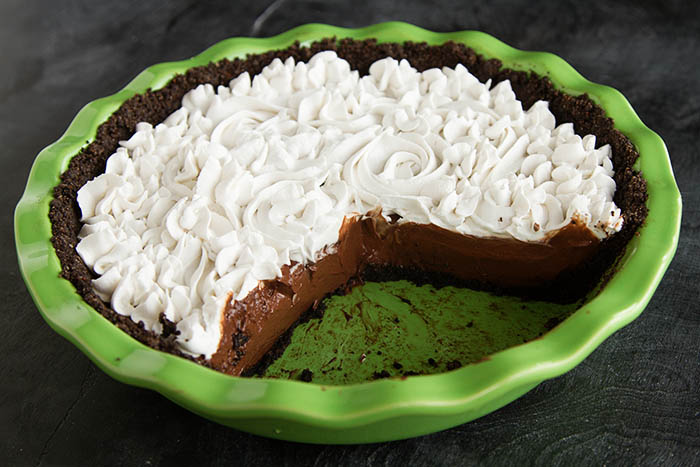 I've been sitting on that recipe, because I intended to convert the chocolate pots de crème recipe into a chocolate silk pie filling.  Done!  And now I am finally sharing it with you!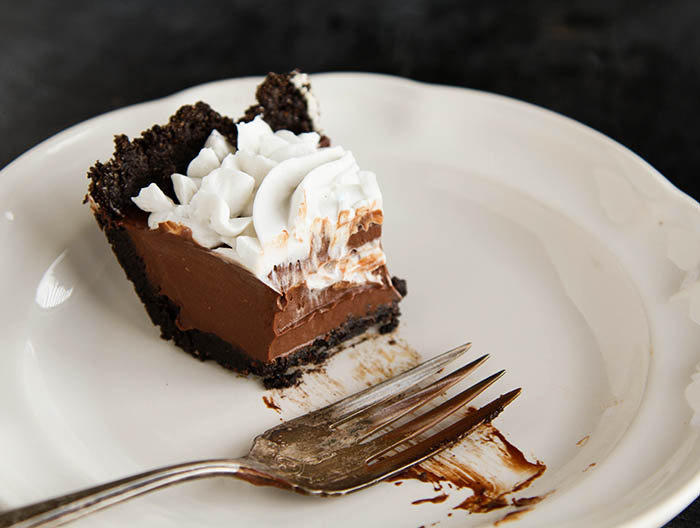 Just as the chocolate pots de crème recipe, this pie is very simple to make, though the outcome is beautiful and the taste is decadent.  Any chocolate lover, whether they follow a special diet or not, will love this pie.  This pie would be a beautiful addition to any Easter dinner or other springtime celebration!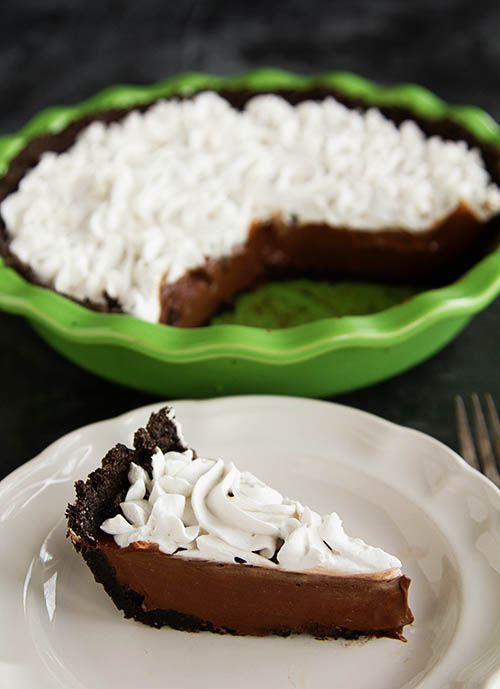 [/donotprint]

Print This Recipe
Paleo Chocolate Silk Pie
Makes one 9-inch pie
For the chocolate almond crust:
1 2/3 cup blanched almond flour
1/3 cup cocoa powder
1/3 cup coconut palm sugar
1 large egg
1 tablespoon coconut oil
For the chocolate silk pie filling:
3 large eggs
1/2 cup raw honey
1 1/2 teaspoons vanilla extract
1 teaspoon almond extract
6 ounces unsweetened chocolate, chopped
1 1/2 teaspoons Crio Bru (optional)*
1 1/4 cups unsweetened coconut milk
For the coconut whipped cream:
1 (13-ounce) can coconut milk (I prefer the Thai Kitchen brand)
1 tablespoon raw honey
1 teaspoon vanilla extract
——————————————————————————–
1. Make the chocolate almond crust: Preheat the oven to 325 degrees Fahrenheit.
2. Whisk the almond flour, cocoa powder, and coconut palm sugar together in a medium bowl. Add the egg and coconut oil to the bowl and beat together, using a mixer until a moist, crumbly mixture forms.
3. Press the dough into a 9-inch pie plate. Bake in the preheated oven for 10 minutes, then let the pie crust cool completely before making the chocolate silk filling.
4. Make the chocolate silk filling: When the chocolate almond crust has cooled completely, place the eggs, honey, vanilla and almond extracts in a blender, followed by the chocolate and Crio Bru. Blend until smooth.
5. Heat the coconut milk in a small saucepan over medium-high heat, until it starts to simmer. (Take care not to let it boil.)
6. With the blender running on low speed, pour the hot coconut milk over the ingredients inside and blend until the mixture is smooth and completely incorporated.
7. Pour the chocolate mixture into the cooled chocolate almond crust and refrigerate for at least 8 hours.
8. Make the coconut whipped cream: Place the can of coconut milk in the refrigerator at least 24 hours before you plan on making the whipped cream, so that the cream will separate and firm up. Chill a glass or metal bowl in the freezer 20 minutes before making the whipped cream.
9. Remove the lid from the can of coconut milk and gently scoop out the coconut cream, putting it in the chilled bowl. Using a mixer, whip the coconut cream until it is light and fluffy and peaks form, then mix in the honey and vanilla extract. The whipped coconut cream can be used right away, or stored in the refrigerator for up to 24 hours.
10. Top the chilled pie with coconut whipped cream and serve.
*Recipe Notes: Crio Bru is ground roasted cacao beans. I find that it adds a bit more depth of flavor to chocolate desserts, but the pie will still be delicious without it!  You can forego the coconut whipped cream and top your pie with fresh raspberries instead, which is equally delicious.  The pie crust is a delicious gluten-free substitute for any no-bake bake pie!