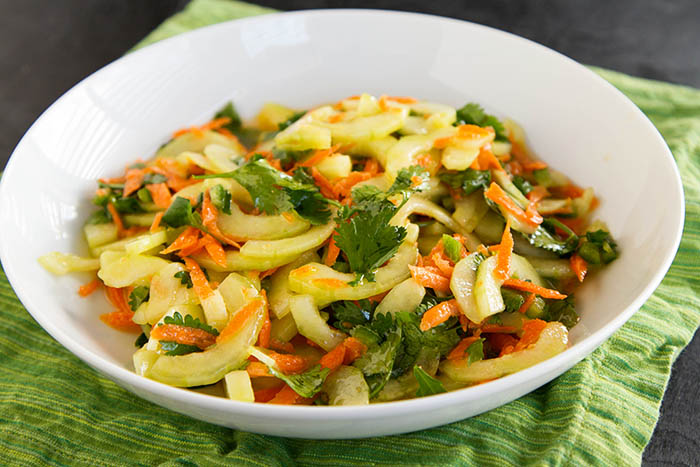 "Ufurahie chakula chako!" (the Swahili equivalent of "Bon appétit") is what you would hear if you happened to be lucky enough to pull up a seat at the dinner table in Miriam Kinunda's home.  Miriam, born and raised in Tanzania, a country located in the eastern part of Africa, is a blogger and owner of the spice brand, Taste of Tanzania.  She has added the title of author to her list of credentials, with her recently published cookbook, Taste of Tanzania: Modern Swahili Recipes for the West."  I had the chance to chat with Miriam on the phone a few weeks ago about her book.  Tanzania is a very social society, which was immediately apparent in my conversation with Miriam.  I quickly felt like we were old friends—she is delightful, as is her book.
Miriam has always liked to cook, and while visiting her aunt as child, would love helping her aunt cook.  She explained that her aunt's rule was that everyone had to cook, whether you were a boy or a girl.  Miriam relished these times in the kitchen, especially because her father didn't want her doing the cooking, as he feared that she would get used to the kitchen and feel that was her place, and he wanted more for her future.  Miriam secretly longed to become a chef, though at the time it was because of the western foods she had tasted and was enchanted by.  She laughed as she recounted the fact that her father registered her to go college to study business in Canada without her knowing.  Miriam did go to Canada and it was in Canada where she realized how good the food of her own native culture truly was.  So far away from home, in a country so unlike the one she was accustomed to, she began to crave the flavors of her childhood, so she would call home and ask her mom how to cook certain things.
Miriam went on to marry a Canadian and they entertained a lot.  She found herself surrounded by people interested in other cultures who would ask for the recipes to the Tanzanian dishes she cooked for them when they came to her home.  She finally started a website so she could have a place to direct people when they asked for recipes.  The requests continued to pour in and Miriam realized that there wasn't a book that covered the food of her culture, so she decided to write one.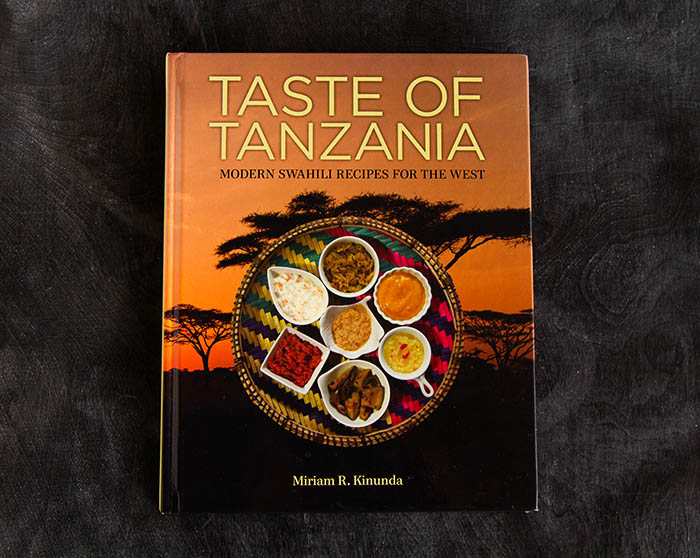 Taste of Tanzania gives a beautiful snapshot of the country's cuisine—Tanzanian recipes represent a mix of different cultures from around the world, because of the long history of foreign traders coming to the Tanzanian coast and the influences that came from being conquered by Imperial Germany in the late nineteenth century and then becoming a British colony after World War I, until they gained their independence in 1961.  This book is an inroduction for someone who is new to Swahili food.  In Tanzania it is tradition to expect a visitor at any time, and so people always have something ready in the kitchen to share with visitors.  I asked Miriam what people usually share, and she said it's usually ugali, a staple dish in Tanzania that is similar to Italian polenta,  or a dishes like Mchicha Wa Nyanya (amaranth with tomatoes), Mchuzi Wa Nyama Ya N'Gome (beef stew), or Kachumbari (a salad made with tomatoes, cucumbers, cabbage, and onions), the recipes of which are all in Miriam's book.
As I cooked my way through the book, one of the recipes which really took me by surprise was the recipe for Kachumbari Ya Matango, or Cucumber Salad.  I made the recipe on a whim, not expecting more than what it appeared to be—a simple salad made with sliced cucumbers, carrots, hot chilies, and cilantro.  My cousin was staying with us when I made the salad and I'll never forget the look of utter surprise on her face when she took her first bite, likely mirroring the same look on my face.  This salad, simply put, is amazing.  It is more than the sum of its parts, bursting with surprising flavors.  I've made the salad several times a week ever since.  When I told Miriam how much I loved the salad she laughed and said that her dad ate this salad in addition to a bowl of oatmeal every morning for breakfast.  I am not surprised.  It's that good.
So go order yourself a copy of Miriam's beautiful book and delve into the vibrant flavors of her native Tanzania.  Although it's not as good as a seat at her table, it's pretty darn close!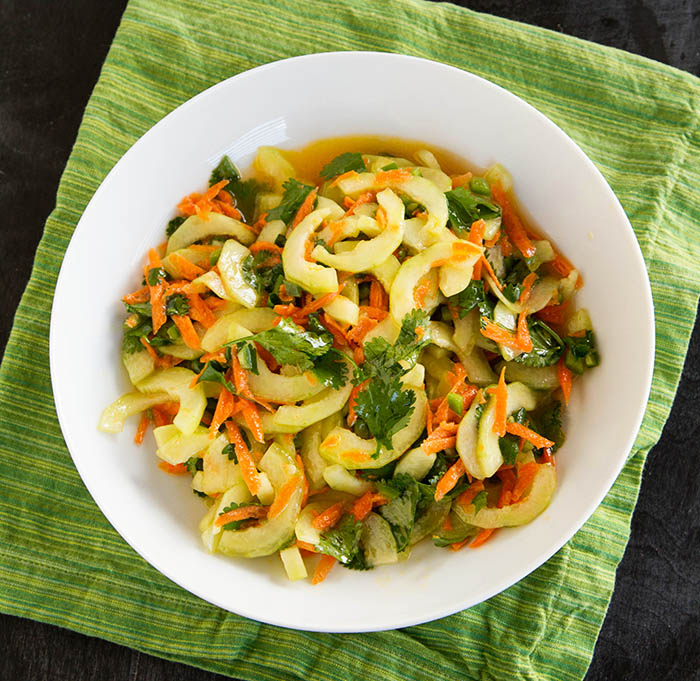 Print This Recipe
Tanzanian Cucumber Salad (Kachumbari Ya Matango)
Recipe from Taste of Tanzania by Miriam Rose Kinunda (reprinted with permission from author)
Makes 4 small servings (or 2 large servings)
1 large cucumber
1 small carrot
1 serrano pepper*
1/4 cup chopped cilantro
1/2 teaspoon salt
1 to 2 tablespoons olive oil
1 tablespoons freshly squeezed lemon juice
1. Peel the cucumber, cut off the ends, and cut in half lengthwise. Use a grapefruit spoon, or regular spoon, to scrape out the seeds, then slice the cucumbers very thin (into moon shapes).
2. Peel, then grate the carrot, or cut into small thin slices.
3. Cut the end off the serrano pepper, cut the pepper in half lengthwise, and remove the seeds. (Be careful not to touch your face, or any other body parts for that matter, after doing this.) Cut the halves into long thin strips, then cut the strips into tiny pieces.
4. Mix all of the ingredients together in a bowl. Cover the bowl with a piece of plastic wrap or a dish towel and let it stand at room temperature for at least 30 minutes (or up to 60 minutes) before serving.
*Recipe Notes: If you want to give your salad a bit more zippy spice, use a habanero pepper in place of the serrano pepper.
*Disclosure: I was provided a review copy of the book, Taste of Tanzania, at no cost. I was not otherwise compensated for this post. All opinions and experiences are my own.