If you don't have a ton of time to cook, or to try out new recipes, it's always good to have a set of recipes than you know by heart and everybody loves.  Pesto, in my opinion, is one of those recipes.  It is one of those magical concoctions that comes together in minutes, but has the complex flavors that make it seem more complicated than it is.  It can also be adapted to different ingredients so that it doesn't always have to be made into the same meal.  It's delicious on pasta, both cold and hot, but it's also equally amazing as a sauce for homemade pizza or in place of mayonnaise on a sandwich.  Plus, if you planted basil in your summer garden, chances are good that you might have some to spare and this is an amazing way to use it up!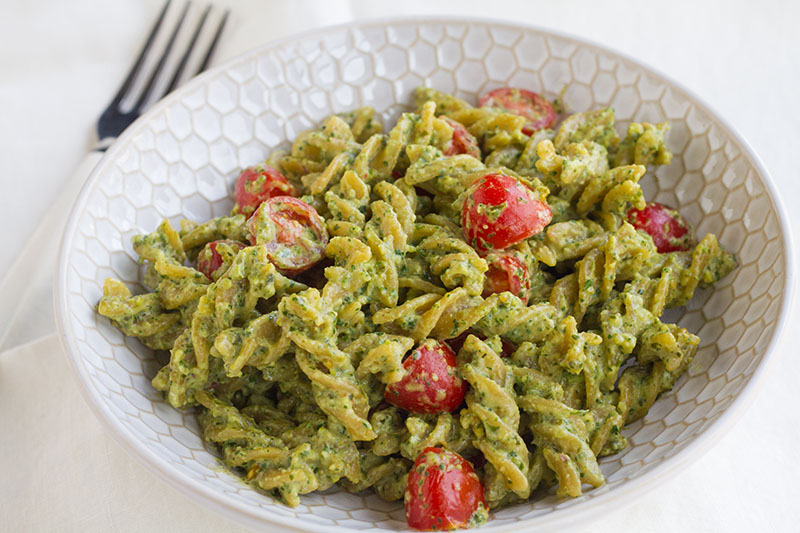 First off, let me just put it out there that this is not a traditional pesto recipe.  Traditional pesto is a sauce that comes from Genoa, Italy and includes basil, garlic, pine nuts, salt, Parmigiano-Reggiano, and pecorino sardo.  I used a combination of pistachios and pine nuts for this version.  I love the different flavors that they add.  I added a bit of turmeric, just because I'm in the habit of adding turmeric to everything these days for it's anti-inflammatory properties, but you can leave it out.  I also added a bit of olive oil, but this is also optional.  Traditional pesto recipes usually use quite a bit more, but I have found that I love it just as much with less.  You can leave it out completely, in fact, but I find that a little bit helps the sauce to come together a bit better and be a bit creamier.  In place of cheese I used nutritional yeast.  This pesto is still cheesy, nutty and full of basil flavor with notes of garlic.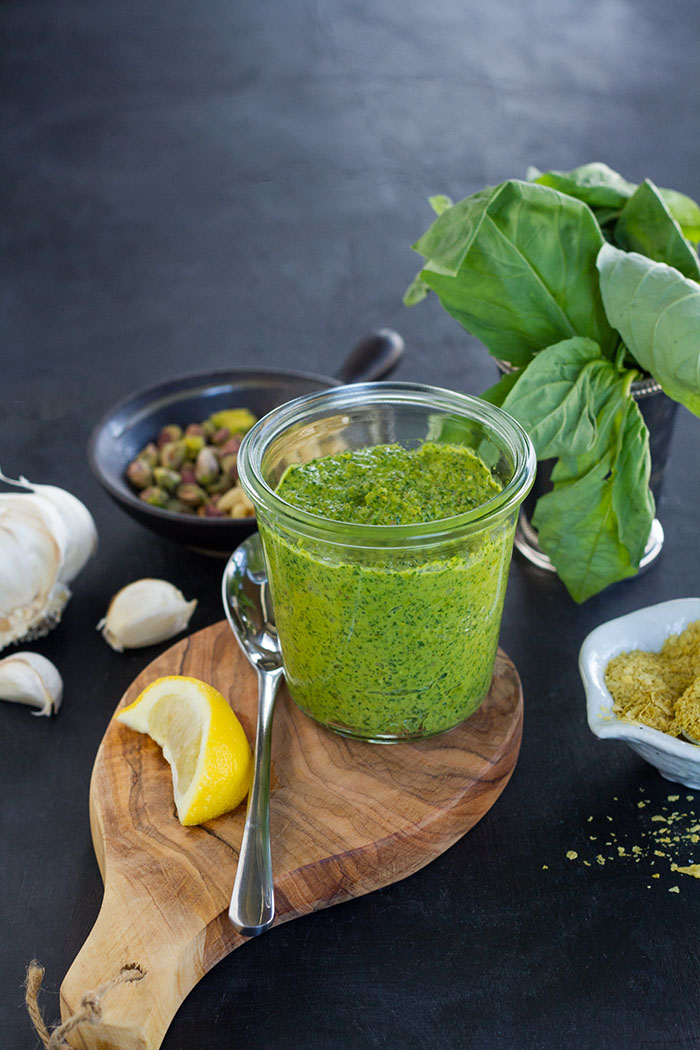 Print This Recipe
Pistachio Pine Nut Pesto
Makes approximately 1 cup
Ingredients:
2 cups lightly packed fresh basil leaves
1/4 cup raw unsalted pistachios
1/4 cup pine nuts
1/4 cup nutritional yeast
2 cloves of garlic
1/4 teaspoon ground turmeric (optional)
1/4 teaspoon fine grain sea salt
1 tablespoon extra virgin olive oil (optional)
1 tablespoon fresh squeezed lemon juice
2 tablespoons water, plus additional as needed
Directions:
Combine all the ingredients in a food processor and pulse until it becomes a thick creamy paste. Add additional water, 1 to 2 tablespoons at a time, to thin the pesto to your desired consistency.