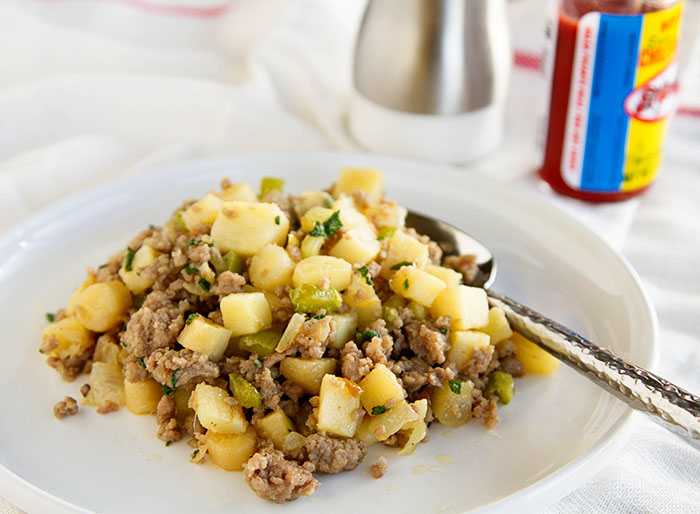 I love dishes that combine lots of little bits of everything.  I get this love from my dad, whose style of cooking is to go into the kitchen and grab whatever he can find to create something to eat, whether it's a sandwich, a salad, or what he calls "potage."  I recently received a "Fall Harvest Prep Kit" in the mail from Cutco, so that I could participate in their Fall Harvest food blogger event, just about the same time that I was craving a hash, another dish that combines lots of little bits of everything (usually chopped meat, potatoes, seasonings, and sometimes other veggies) and requires lots of chopping.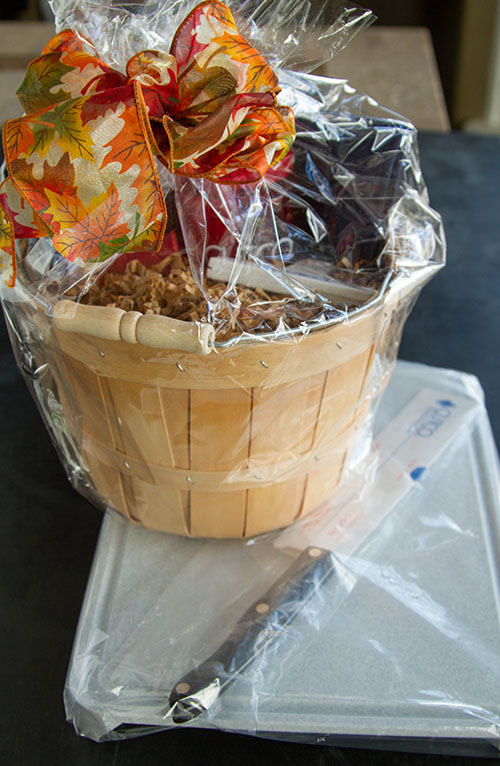 So in the spirit of celebrating the Fall Harvest I decided to whip up a hash that included flavors that I love during this time of year.  Plus, making a hash is a great way to hone some of your knife skills, since everything needs to be cut down to the same size so that it will all cook evenly!  This hash uses parsnips instead of potatoes, which I love because they combine the sweetness of carrots with the earthy starchiness of potatoes.  Parsnips can be a pain in the neck to cut if you don't have a sharp knife, by the way, because the core can be tough!  This is one of the reasons why I love my Cutco Petite Chef knife, which I've owned for several years, because not only is it extremely sharp, but it also has an ergonomic handle, so your hand won't get tired as quickly on big chopping jobs.  Perfect for chopping up lots of parsnips to make hash!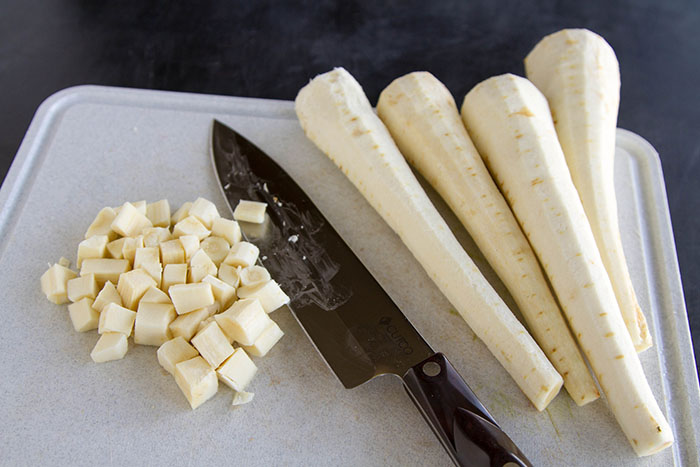 I also added some amazing ground pork sausage from my friends at 5280 Meats in Colorado, which I picked up driving through town after a family reunion in August (more to come on them soon!), then some onion, celery, garlic, and fresh ginger.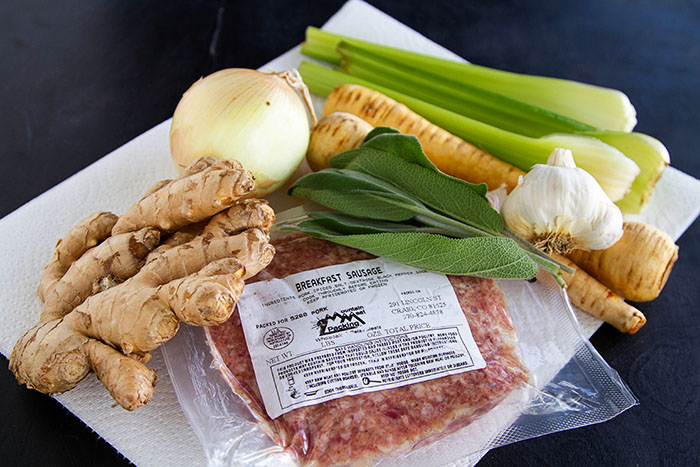 I fried everything up in my wok and then finished it off with a bunch of fresh minced sage, which just sings of Autumn for me.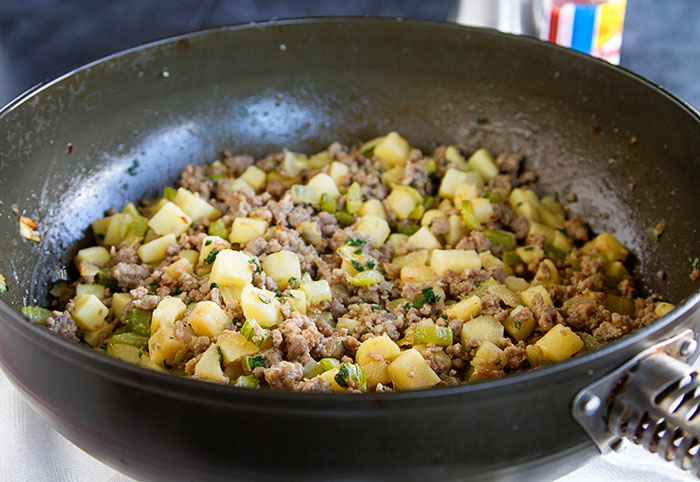 The finished hash is great as is, but it's also fantastic served with a fried egg on top with a bit of hot sauce.  Depending on how you serve it, it could be made for breakfast, lunch or dinner!   Two items in the prep kit that I received, a Cutco 7-5/8-inch Petite Chef Knife and a Medium Poly Prep cutting board, are actually items I already own and love, so I am going to give them to one of you!  Giveaway details are after the recipe!  What is your favorite fall dish that requires lots of chopping?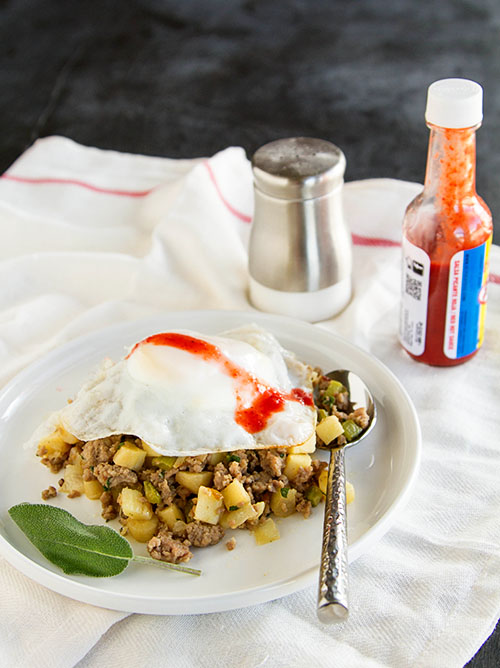 Print This Recipe
Pork and Parsnip Hash
Makes 4 to 6 servings
1 1/2 pounds parsnips (approximately 6 medium parsnips), peeled and cut into 1/2-inch square pieces
1 tablespoon fine grain sea salt
1 tablespoon virgin coconut oil
1 tablespoon extra virgin olive oil
1 medium onion, cut into 1/2-inch pieces
3 stalks celery, roughly cut into 1/2-inch pieces
1 pound ground pork breakfast sausage
2 cloves garlic, finely chopped
1-inch piece fresh ginger, peeled and grated
2 tablespoons finely chopped fresh sage
1. Put the parsnips in a large saucepan with enough cool water to cover them by at least 1 inch, then add the kosher salt. Bring the water to a boil, then reduce the heat to maintain a rapid simmer, and cook until the parsnips are tender all the way through, approximately 5 to 8 minutes. Drain the parsnips well in a colander and let them sit.
2. Heat the coconut oil and olive oil in a wok over medium-high heat. When the oil is hot, add the onion and celery and stir-fry, stirring frequently, until the vegetables are soft and the onions are well browned, approximately 8 minutes. Then push the vegetables to one side of the wok and add the pork to the center of the pan. Break the meat into pieces (I like to use a bamboo spatula), stirring occasionally to make sure that the pork is browning evenly. Continue breaking the meat into smaller pieces and cooking it until it has evenly browned and is not longer pink. (You can break open a few of the larger pieces to make sure that it has browned all the way through.)
3. Add the garlic and ginger to the wok and mix everything together. Continue stir-frying until the garlic and ginger are fragrant, then add the drained parsnips to the wok and toss everything together. Cook the hash for another 4 minutes, alternatively folding the mixture over onto itself and mashing it together with a spatula, and letting it sit for periods of about 30 seconds in the pan to brown. Add the finely chopped sage and toss it with the hash and briefly stir-fry everything for an additional minute, then serve.
===================================================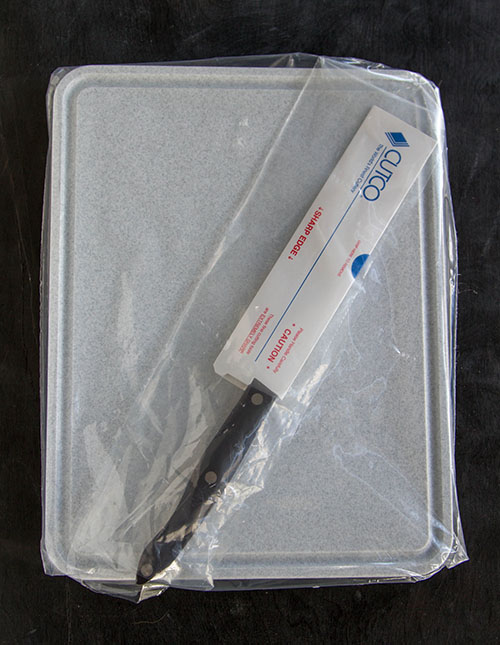 Cutco Fall Harvest Giveaway
One (1) lucky reader will receive a Cutco 7-5/8″ Petite Chef Knife and a Medium Poly Cutting Board ($150 value).  This giveaway is open to all of my U.S. readers. Enter below and then get chopping!
———————————————-
*Disclosure: I received a basket of items from Cutco, including the Petite Chef Knife and cutting board which I am using for this giveaway.  I received no other compensation for this post.  All opinions and experiences are my own.