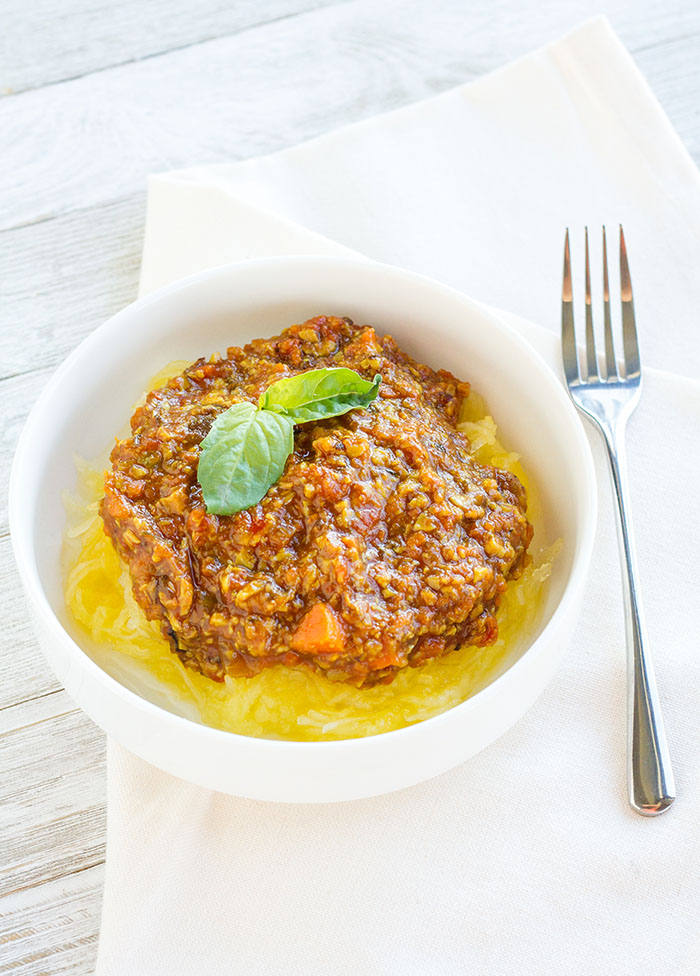 I am in looooooove with my Instant Pot (an electric pressure and so much more!).  My mom gave me one for Christmas last year and I've been a bit obsessed ever since.  I feel like I was late to the Instant Pot party, but if you don't have one yet, you should rectify that problem.  I posted about it on Instagram recently, and @gildedwhimsy commented, "I have an Instant Pot too! Last time I used it I felt like I was cheating on my crock pot #theotherlover."  I laughed because it's all too true.  My slow cooker has been used all of two times since Christmas, while my Instant Pot gets all the love and attention.  It's been especially useful lately while I've been trying to avoid using my stove and oven to reduce cleaning time for house showings.  I have black appliances (which I hate, by the way) which are a nightmare to clean.  They always look dirty!  Last week I used my Instant Pot to make a thick mushroom ragu to serve over spaghetti squash.  (I cooked the spaghetti squash in the microwave.)  I wasn't making it for the blog, but then it really hit the spot and a few of you asked for the recipe…so I grabbed some of the leftovers and took a few pictures and here we are!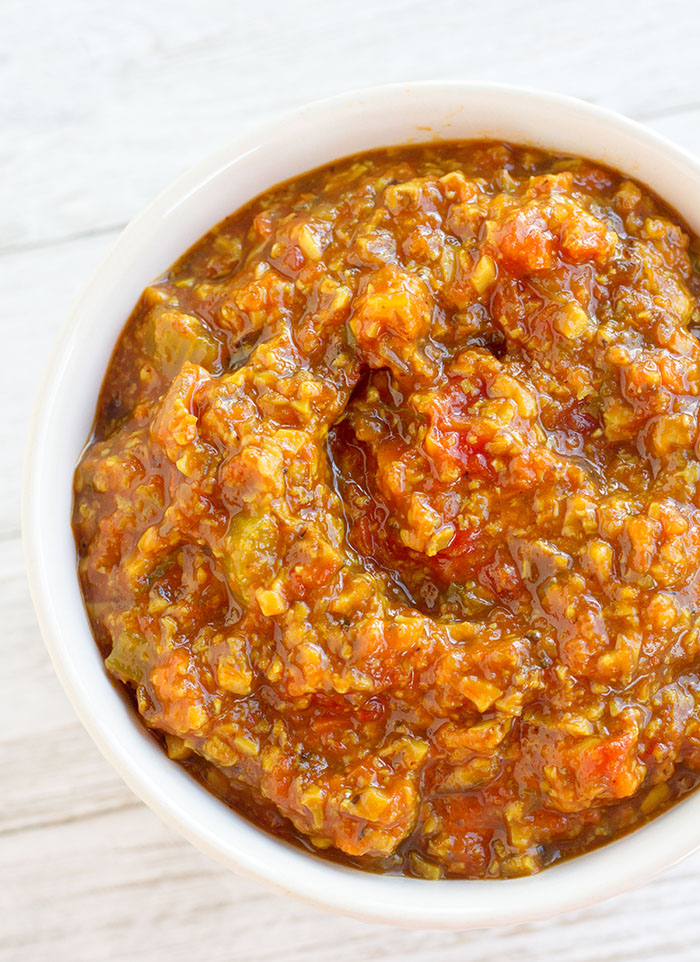 I used a combination of fresh shiitake mushrooms and white mushrooms, but you can use any mushrooms you like.  Portobello mushrooms would be delicious as well!  I've been trying to use more ingredients that have health targeted benefits, so I included fresh ginger, turmeric, and kelp root powder, on top of the rest of the fresh ingredients, which truth be told, all have health benefits!  I have been working for FINE CO., a Japanese company which has a line of superfoods, since this past March, and get to try out all of their new products.  Kelp Root Powder is one of their newest products and is quickly becoming one of my favorites.  I have been using it in place of salt in some of my cooking, which works wonderfully.  Plus, it adds iodine, potassium, magnesium, calcium and iron, and many other minerals and other trace elements.  Anyways, didn't want it to throw you when you saw kelp root powder in the ingredients list and thought, "What the heck is that?"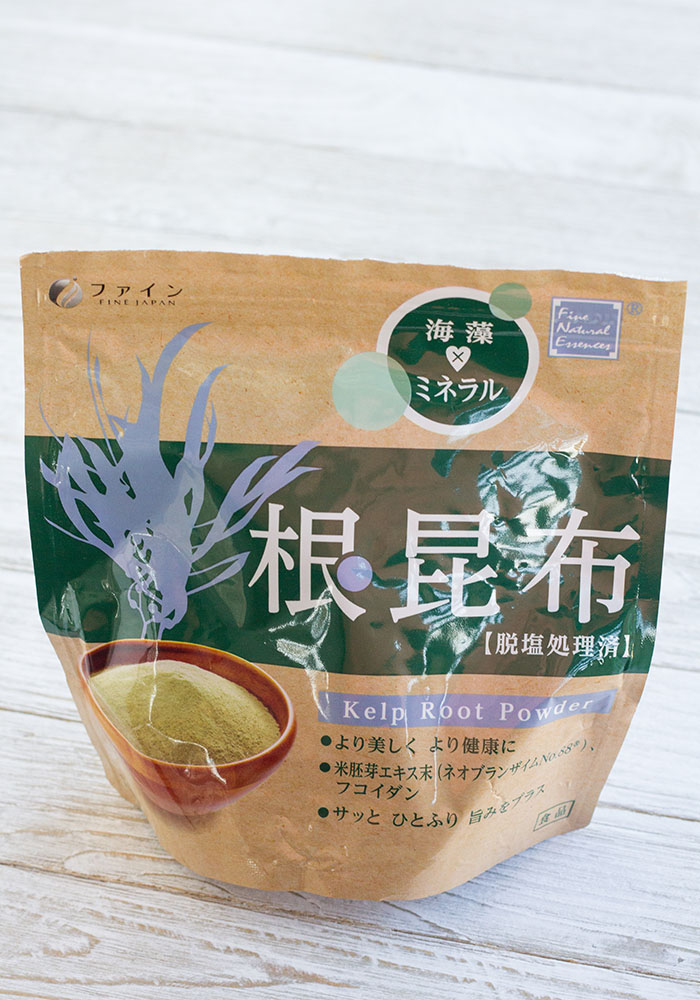 This recipe requires a fare amount of chopping, between the mushrooms, onion, carrot, celery, and garlic, so make sure you leave yourself some time to get that done.  (I used my new Misen Chef's Knife for the job.  Earlier this year I contributed to their Kickstarter campaign and just received my knife….squeeeee!)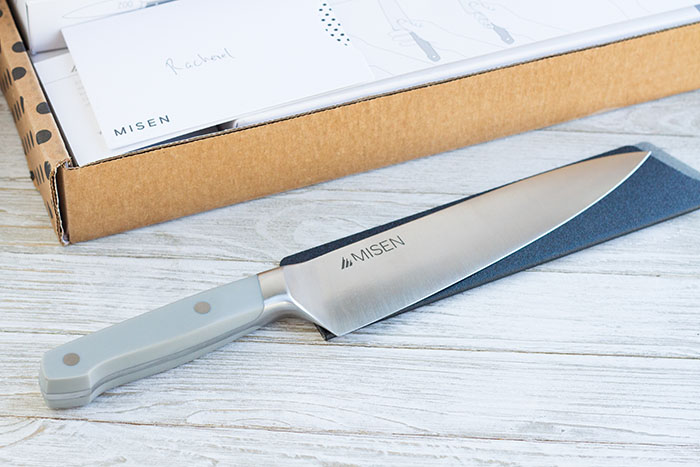 After the chopping is done, the rest of it goes pretty quickly.  So here you go, a thick and meaty (thank you mushrooms!) sauce that is delicious eaten with pasta or spaghetti squash!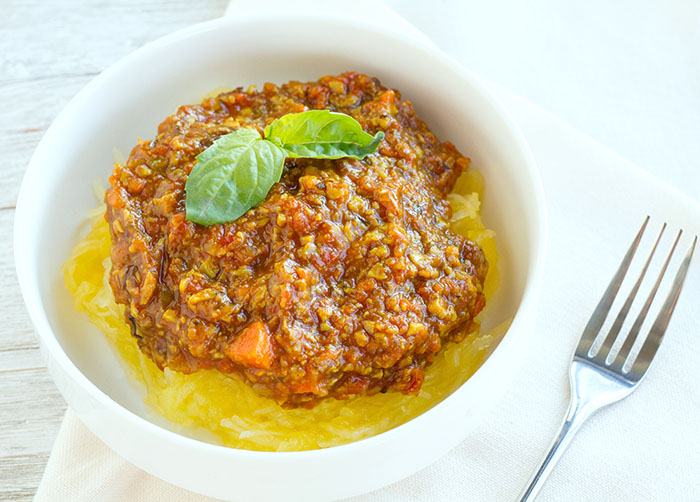 Print This Recipe
Pressure Cooker Mushroom Ragu
Makes 4 servings
Ingredients:
1 1/4 cups vegetable stock, plus additional stock, as needed
8 ounces fresh shiitake mushrooms, finely minced
4 ounces white mushrooms, finely minced
1/2 cup chopped red onion
1/2 cup chopped carrot
1/2 cup chopped celery
6 cloves garlic, finely minced
1 tablespoon freshly grated ginger
1 (28-ounce) can diced tomatoes in tomato juice
1 tablespoon FINE SUPERFOOD Kelp Root Powder (or fine grain sea salt)
1 1/2 teaspoons ground turmeric
1/4 teaspoon dried oregano
Large pinch crushed red pepper flakes
1/4 cup finely chopped fresh basil
Directions:
1. Heat the Instant Pot on saute, then add 1/4 cup of the vegetable broth. When it comes to a simmer, add the mushrooms, onion, carrot, celery, garlic, and ginger and saute until soft, about 5 minutes.
2. Add the tomatoes, remaining 1 cup of vegetable stock, kelp root powder, ground turmeric, dried oregano, and crushed red pepper flakes and stir to combine.
3. Lock on the lid.  Set the Instant Pot to Manual/High Pressure for 10 minutes.  Quick release the pressure, then remove the lid carefully, tilting it away from you.
4. Switch the Instant Pot to saute on the low setting and let the sauce simmer for 5 minutes to allow it to reduce slightly. Turn off the Instant Pot then use an immersion blender to puree some of the sauce, still leaving some texture. You could also puree some of it in a blender and then return it to the pot and stir it to incorporate it. Finally, stir in the fresh basil. Serve over pasta or roasted spaghetti squash.