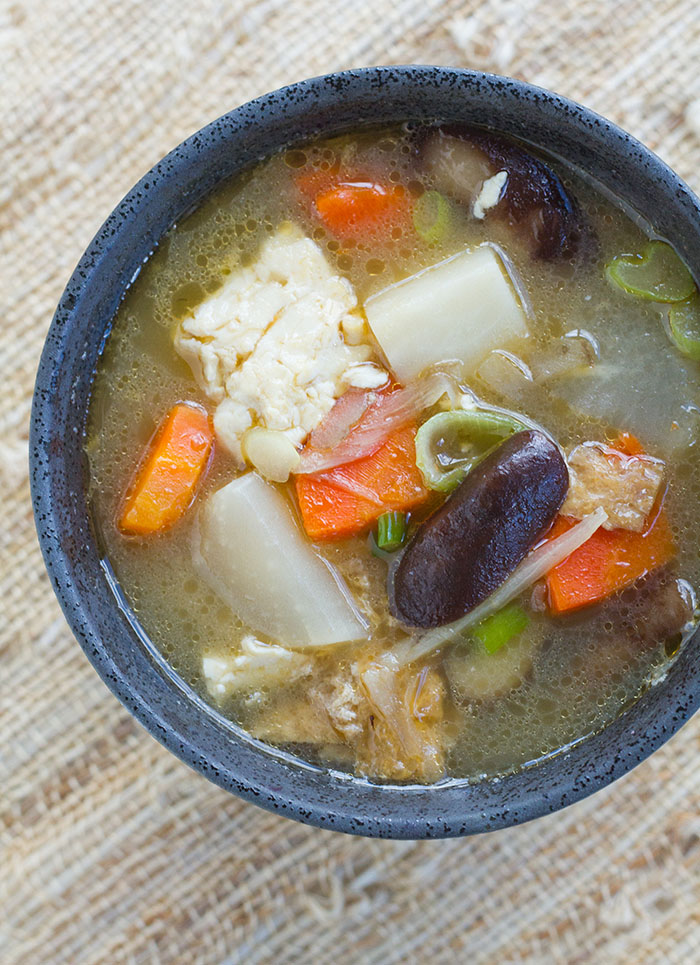 Life has felt a bit overwhelming lately. To say that I've put a few things on my plate would be a gross understatement. But of course, Mr. Fuji and I are gluttons for punishment and made a very quick decision to put our house on the market . . . which happened last week while we were in southern California for a family reunion. I mean, who doesn't want to keep a ridiculously, impeccably clean home all while trying to accomplish two hundred trillion other things? This is one of those times in life that calls for comfort food. I think that some of the best comfort foods are fall dishes, and it happens to be fall. Pretty convenient, eh? One of my favorites is kenchinjiru, a Japanese vegetable soup that is part of shojin-ryori (cuisine of Japanese Buddhist temple monks) and is filled with a cornucopia of veggies. It is filling, but doesn't sit heavily in your tummy. (And pssst! It's good for you too!) Kenchinjiru traditionally is vegan, but I've seen many recipes that use a fish-based dashi or even add chicken to the soup.
My favorite kenchinjiru is made by my sweet friend Noriko, so when we visited her family this past April I put in a special request for her to make a batch, then I stood next to her as she prepared it and took copious notes. She calls it "Lazy Mama's Kenchinjiru" because normally when you make kenchinjiru you first prepare dashi (Japanese stock) that you then use as the liquid base of the soup, but she usually includes ingredients (or even a dashi sachet!) in the pot and just adds water, making the dashi at the same time as she makes the soup. I don't call that lazy, I call it smart.
The soup is simple to make, though it does take quite a bit of prep work, cutting up all the vegetables, and parboiling the taro to remove its' sliminess, so Noriko's shortcut is a welcomed one. But look on the bright side: it's a great way to practice your Japanese knife skills (or knife skills in general)! For example, the daikon and carrots are cut ichogiri (quarter round slices),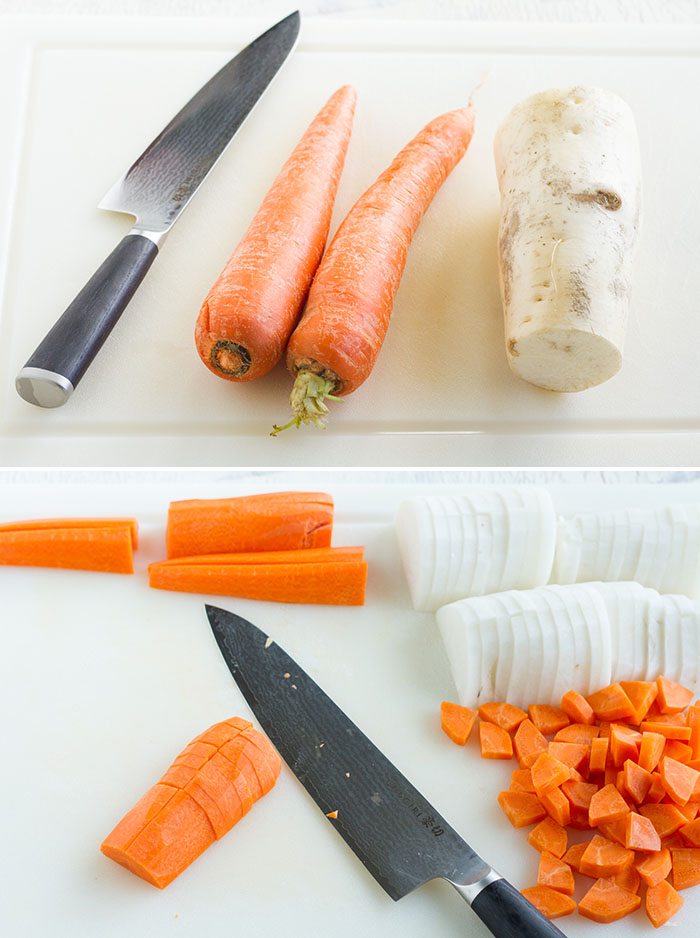 and the burdock root is cut sasagaki (shaved into thin pieces).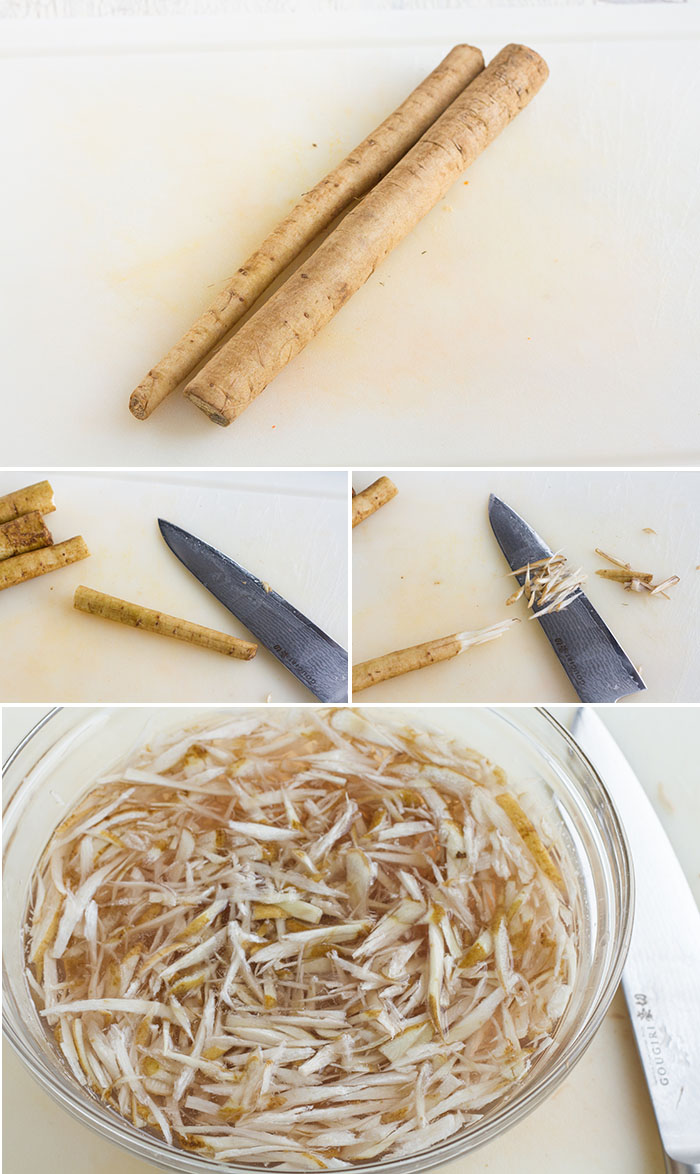 It also gives you the chance to familiarize yourself with some Japanese ingredients that may be less familiar or completely foreign to you, like taro (called satoimo in Japanese),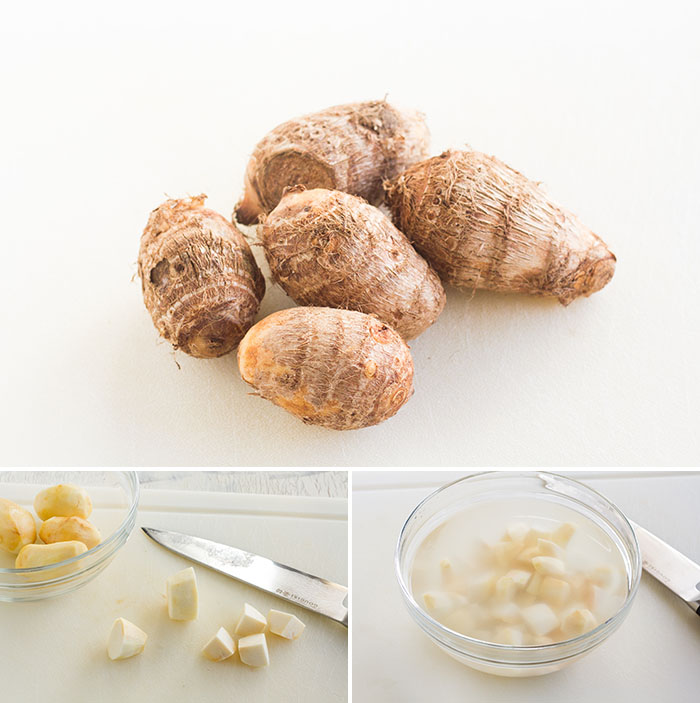 konnyaku (a jelly-like product made from a potato called the konnyaku potato),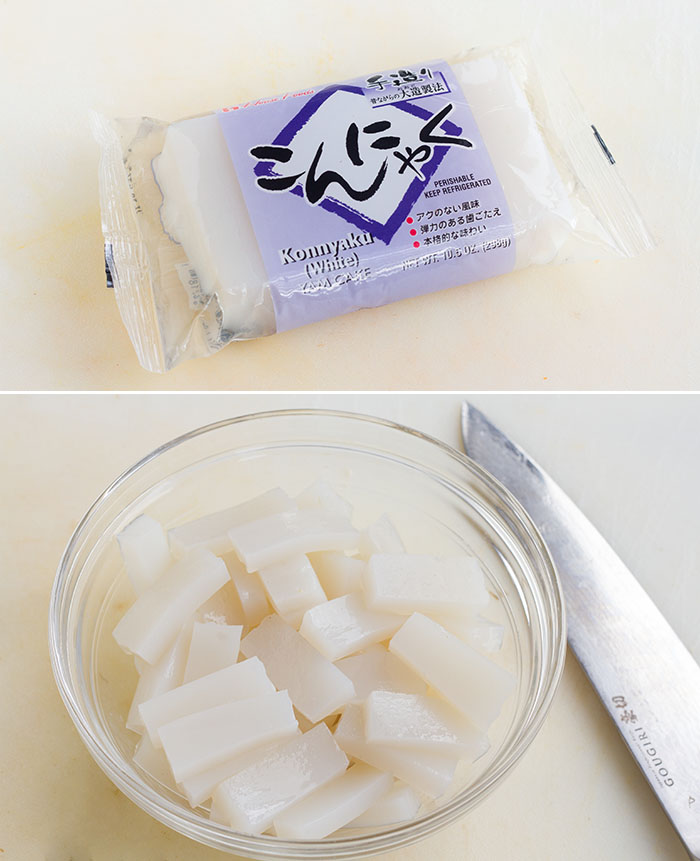 aburaage (thinly sliced, deep-fried tofu that has been seasoned),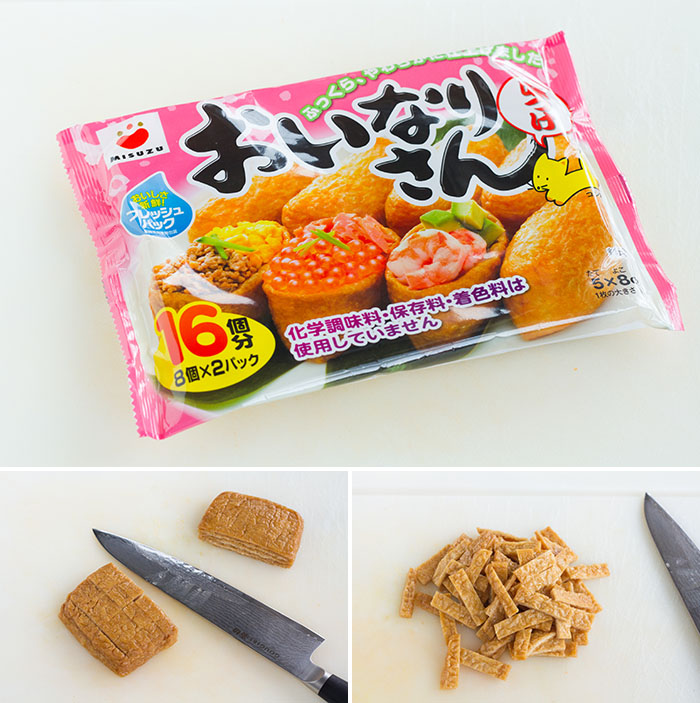 and kombu (thick dried kelp).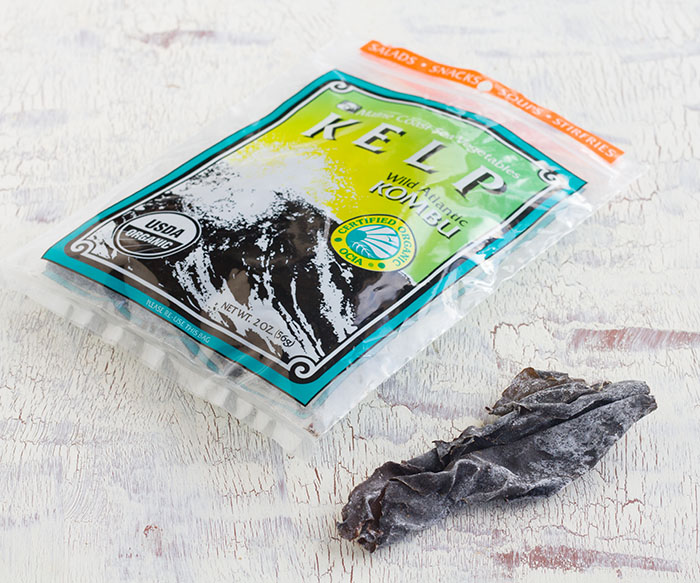 It's also fun because you get to tear a block of tofu into chunks with your hands. (That's fun for me at least!)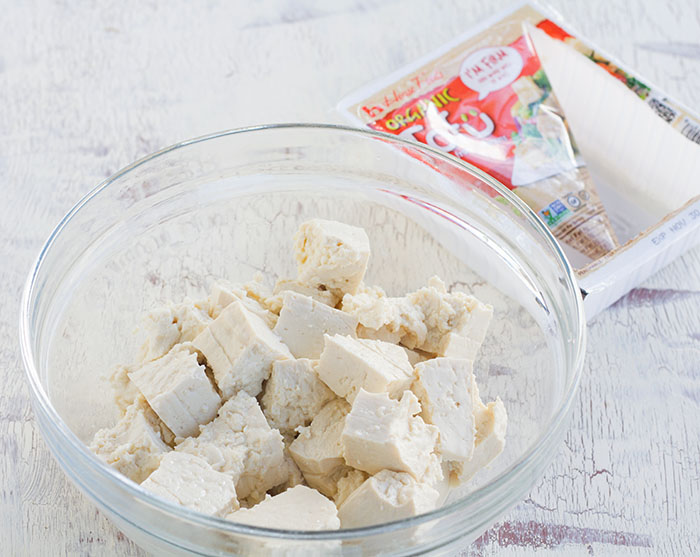 The rest of the work is a bit of stir-frying and simmering.  One of the things that I love about this soup (besides the fact that it's delicious) is that it makes fantastic leftovers.  If anything, I may even like it better on the second day, after the flavors have had a bit more of a chance to develop.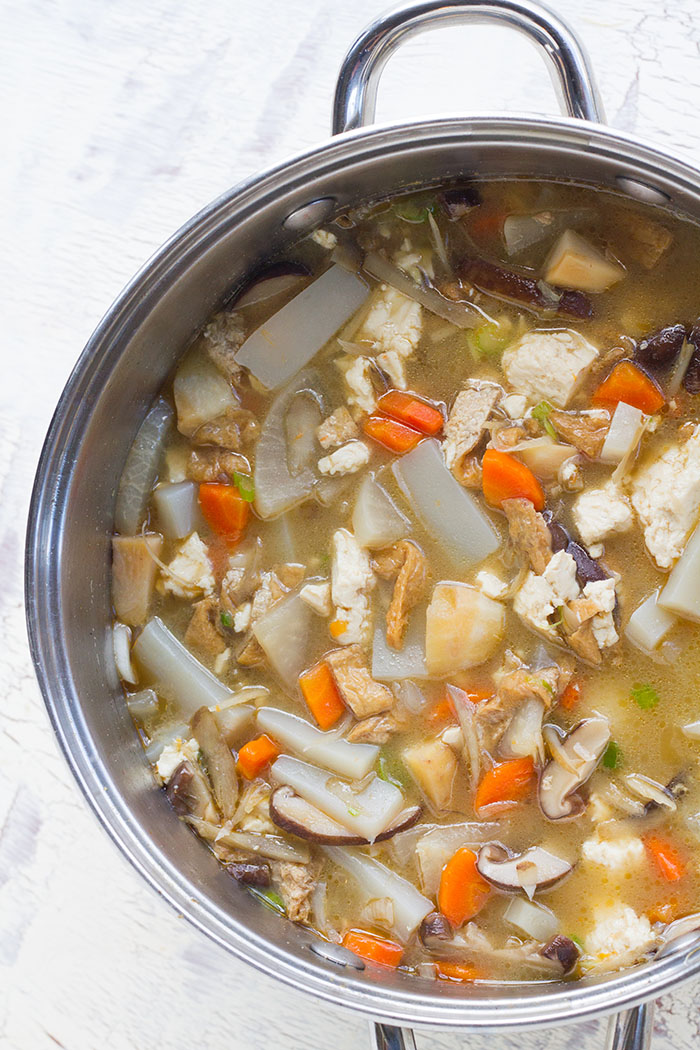 I hope you'll give it try!  Some of the ingredients you will need to purchase at an Asian grocery store.  If you don't have one nearby, you can substitute other vegetables, or just leave that particular item out.  Can't find taro?  Substitute white potatoes.  Kombu really is a necessary ingredient, however, since it provides a key element of the flavor base.  Noriko's little boy suggests adding cooked soba or udon noodles to your kenchinjiru, because he thinks it's even better.  You don't have to keep it vegan if you don't want to.  Feel free to add what you love!  I'm hoping our house sells soon so that I can whip up a pot in celebration!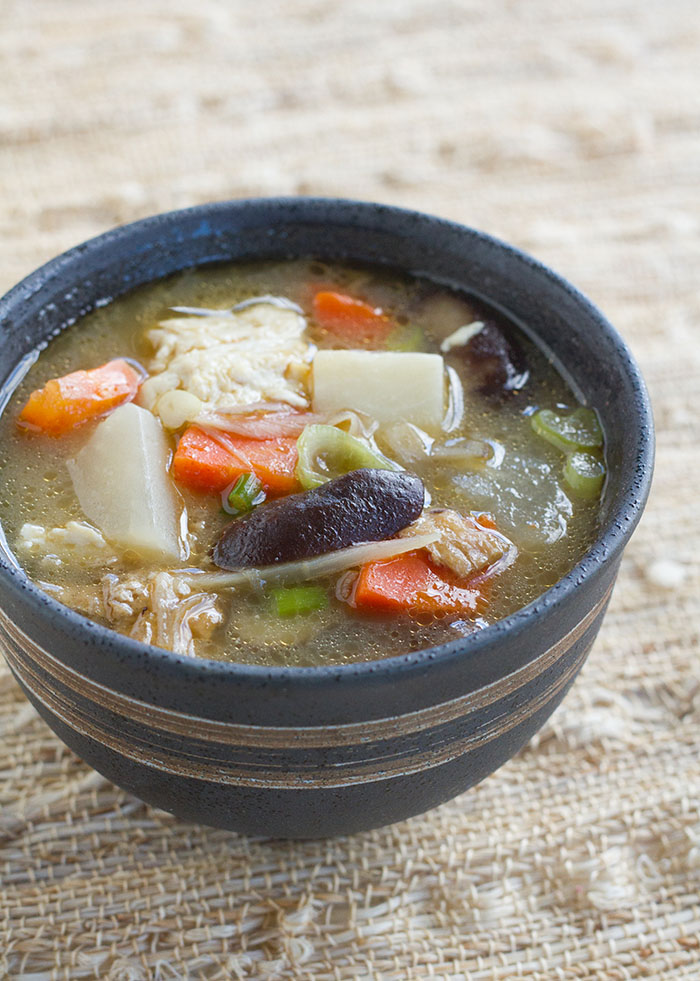 Print This Recipe
Lazy Mama's Kenchinjiru
Makes 8 to 10 servings
Ingredients:
5 to 6 taro (satoimo), peeled
1/2 large daikon, peeled
1 1/2 carrots, peeled
1 burdock root, about 12 inches long (gobo)
1 (10.5-ounce, 298 grams) block konnyaku, cut into small strips
9 ounces/250 grams fresh shiitake mushrooms, stems removed and caps thinly sliced
2 aburaage, chopped
1 tablespoon toasted sesame oil
1 piece (about 6 inches x 6 inches) kombu
1 to 2 dashi sachets (optional)
1 (14-ounce/400 gram block) firm tofu, drained
3 green onions, thinly sliced (or 1 negi, if available)
1 tablespoon soy sauce
1 to 4 teaspoons fine grain sea salt
Additional toasted sesame oil and shichimi togarashi (Japanese seven spice), to garnish
Directions:
1. Prepare the taro: Slice the taro into 1/2-inch slices, then cut the slices into quarters. Soak the pieces in a bowl of cold water for 30 minutes to remove some of the sliminess. After 30 minutes, drain the water and put the slices in a small saucepan, cover them with water, then bring the water to a boil over medium-high heat. Once the water comes to a boil, let the taro cook for approximately 5 minutes. Drain the taro and rinse several times in cool water to remove any leftover sliminess. Set aside.
2. Prepare the daikon and carrots: Cut the daikon and carrots into quarters lengthwise. Put two halves together, cut side down on a cutting board, then cut crosswise into 1/4-inch thin slices. You will be cutting two pieces at the same time using this method.
3. Prepare the burdock root: Fill a large bowl with cold water, then set it aside. Lightly scrub the surface of the burdock root with a vegetable brush under cold running water. Cut off both ends, then cut it in half. Make shallow, vertical cuts down the length of the root. Hold the end of one of pieces of root on a cutting board, to stabilize it, then use a sharp knife with your other hand to thinly shave strips of root at the other end (the blade should be almost horizontal to the root, so that it cuts thin strips), rotating as you go (like sharpening a pencil or whittling a stick). Place the shavings as you go in the bowl of cold water. When you have prepared all of the burdock root, set the bowl aside.
4. Prepare the soup: Heat the sesame oil in a large pot over medium-high heat. When it starts to shimmer, add the daikon, carrots, burdock root, konnyaku, shiitake mushrooms, and aburaage to the pot and stir-fry. When the vegetables start to glisten, add enough water to cover them, about 8 cups, though you can vary this amount based on how thick or soupy you would like your stoup to be. Add the kombu (or dashi sachet, if you have one!) to the pot and use cooking chopsticks, or a wooden spoon, to push it below the surface of the water.
5. Bring the soup to a simmer, skimming off any scum that collects on the surface as it cooks. When the vegetables are very tender, add the taro and continue cooking until they are tender.
6. Tear the tofu into large chunks and add them to the soup, along with the thinly sliced green onions. When the tofu has heated through, stir in the soy sauce and 1 teaspoon of the fine grain sea salt. Taste the broth then add additional salt if needed. At this point the soup can be cooled, covered, and stored in the refrigerator for several days, or it can be eaten immediately. When you are ready to serve it, reheat it (if needed) and serve it garnished with a few drops of toasted sesame oil and a light sprinkling of shichimi togarashi (if using).