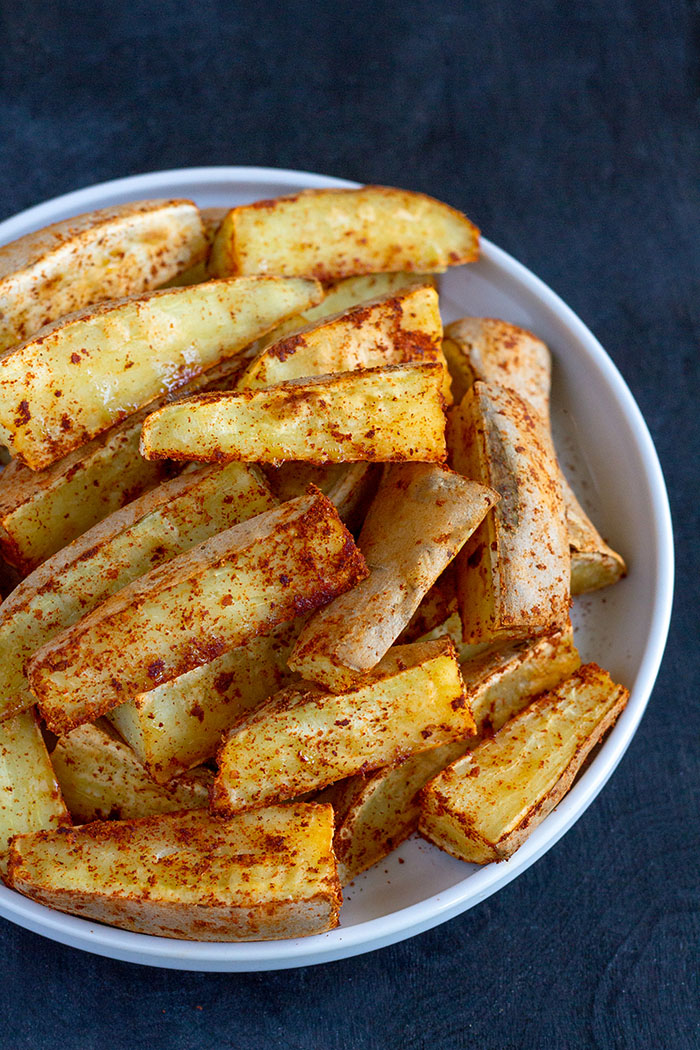 Why didn't the mother potato want her daughter to marry the famous newscaster?  Because he was a commentator.  Bahahahahahaha!  Ok, sorry, I've got kids, remember?  I currently live in the land of corny jokes!  But in all honestly, I don't think that "common-taters" exist.  I love all taters.  But sweet potaters do take the tater game up a level…at least in my book!  One of my favorite ways to eat sweet potatoes is in roasted wedge form.  White sweet potatoes and Japanese sweet potatoes are my favorite for wedges, but I'll take any kind!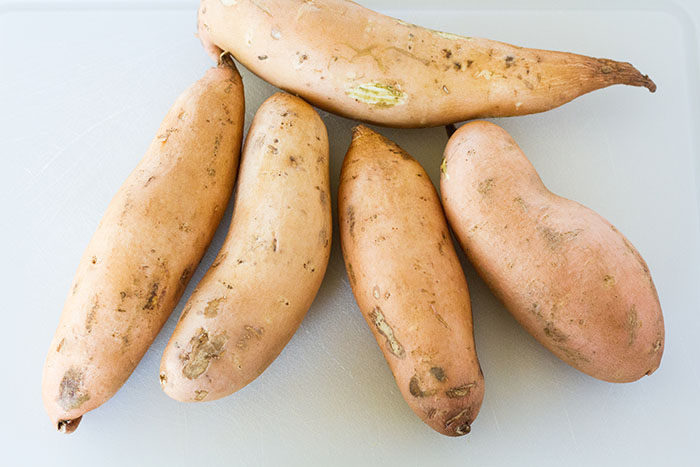 Wash your sweet potatoes and cut them into wedges.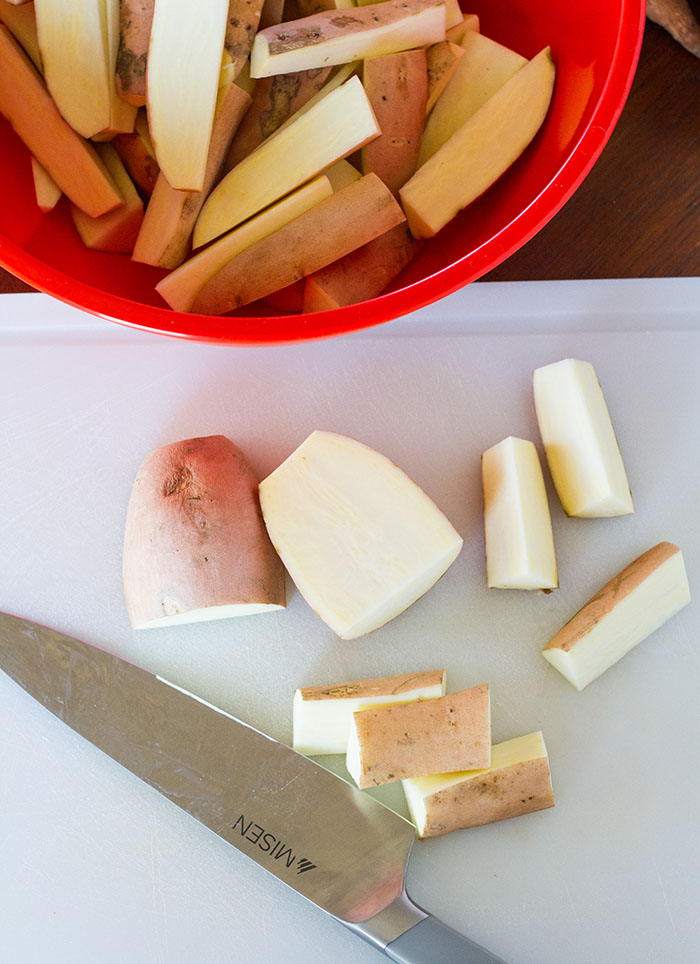 For seasoning I start with a base of sea salt and smoked paprika.  I was never a big paprika fan until I went vegan (I just hit my 2-year veganniversary!), and then I discovered smoked paprika.  Since I didn't love paprika, I didn't notice that smoked paprika even existed.  But now I go through a jar of it rather quickly.  It adds a wonderful, natural smoky flavor to food that I have fallen in love with.  Ok, so back to sweet potato seasoning.  You can add other seasonings to this base, depending on your mood.  Sometimes I like to add garlic.  Sometimes I like to add dried natto kinase (which is on the potatoes pictured in this post, it's freeze-dried natto, Japanese fermented soybeans).  Sometimes I like to throw in some date sugar (sweet and salty is a beautiful thing!).  Whatever seasonings you end up with, you toss the sweet potato wedges in them in a bowl, then lay the wedges out on a baking sheet lined with parchment paper (or a silicone baking mat if you have one) and roast them in a preheated oven, flipping them once, about halfway through.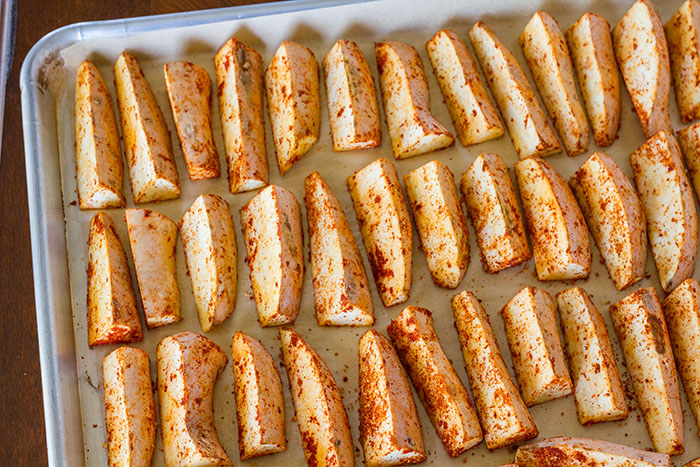 The end result is wedges that are creamy on the inside and perfect for eating with a burger, adding to a bowl, eating with ketchup and mustard, or however you want to enjoy them!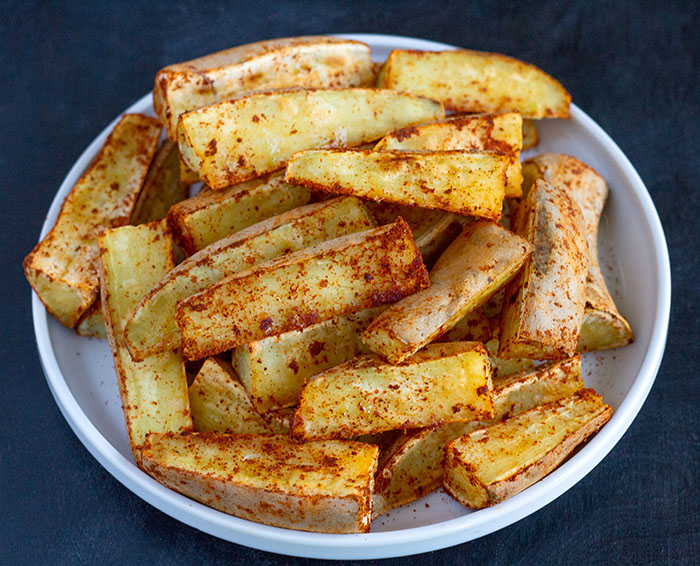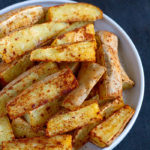 Roasted Sweet Potato Wedges
These roasted sweet potato wedges are creamy on the inside and oh-so-addictive. Plus, they are guilt-free, with no added fat.
Ingredients
2 1/2

pounds

white sweet potatoes (or whichever type you prefer!)

1

tablespoon

fine grain sea salt

2

teaspoons

smoked paprika
Instructions
Preheat the oven to 425 degrees Fahrenheit. Line a rimmed baking sheet with parchment paper.

Cut the sweet potatoes into wedges and put them in a large bowl.

Sprinkle the sea salt and smoke paprika over the sweet potato wedges in the bowl and toss to coat them as evenly as possible.

Spread the sweet potato wedges on the prepared baking sheet. Put them in the preheated oven to cook for 18 minutes, then flip the wedges over and return them to the oven to cook for an additional 17 minutes. Remove the roasted sweet potato wedges from the oven and let them cool slightly before serving.