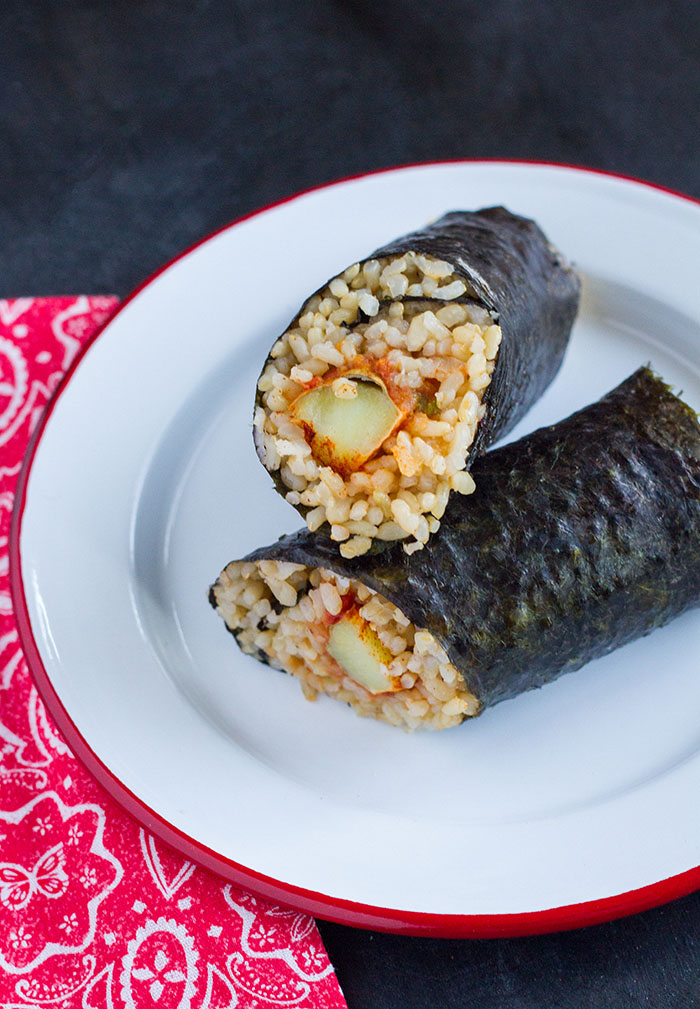 Have you had a sushi burrito (sushirrito) before?  I've been seen them pop up on menus more and more over the past few years.  I love them.  I think they're fun!  An on-the-go sushi roll makes sense.  The other day I decided to whip one up, but was out of rice vinegar, so couldn't make the sushi rice.  No problem!  I just made one with plain rice.  However, in doing this I couldn't call it a sushi burrito anymore.  I think that people think of fish when they think of sushi, but what makes sushi is the special seasoned vinegar that it is tossed with (made with rice vinegar, sugar, salt, and occasionally kombu and sake).  Without that seasoned vinegar in the rice, it 'ain't sushi!  Basically what I made was an onigiri burrito…onigirrito?  But if you want to make a legit sushirrito, all you need to do is toss your rice with some sushi-su (seasoned vinegar).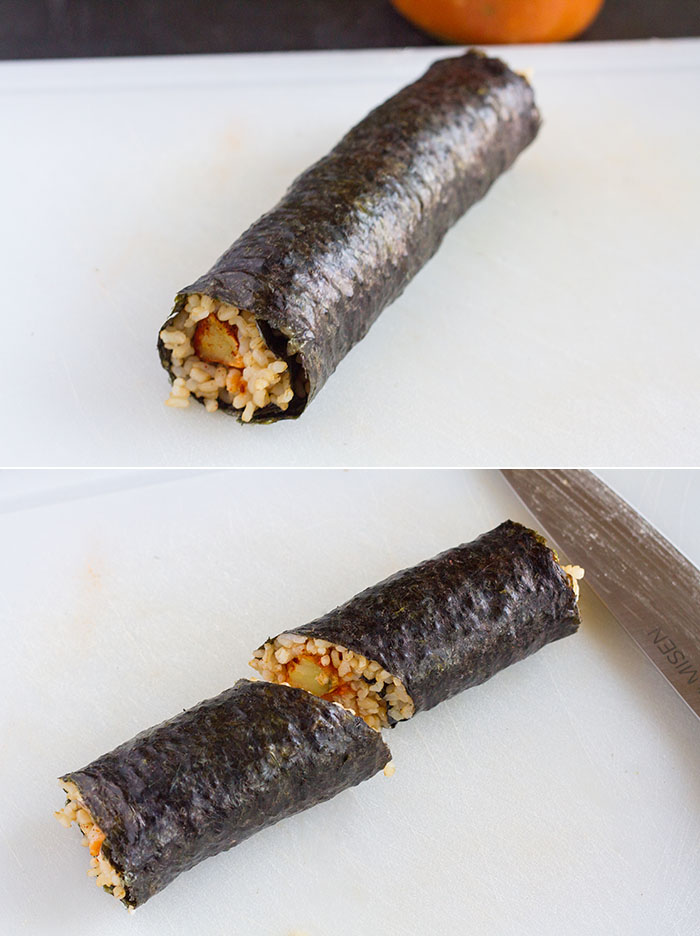 Making it is just like making a sushi roll, but a bit easier since your technique doesn't need to be as solid.  With a sushi roll you need it to keep it's structural integrity when you cut it into pieces.  With an onigirrito, you don't have to cut it at all if you don't want to, or you can cut it in half.  So much easier.  But spreading rice over the nori, then adding your fillings, is basically the same concept.  When I made mine I added some of my leftover Roasted Sweet Potato Wedges and some my Harvest Salsa.  I ate it with some extra salsa for dipping.  This was simple, but you could put anything in them!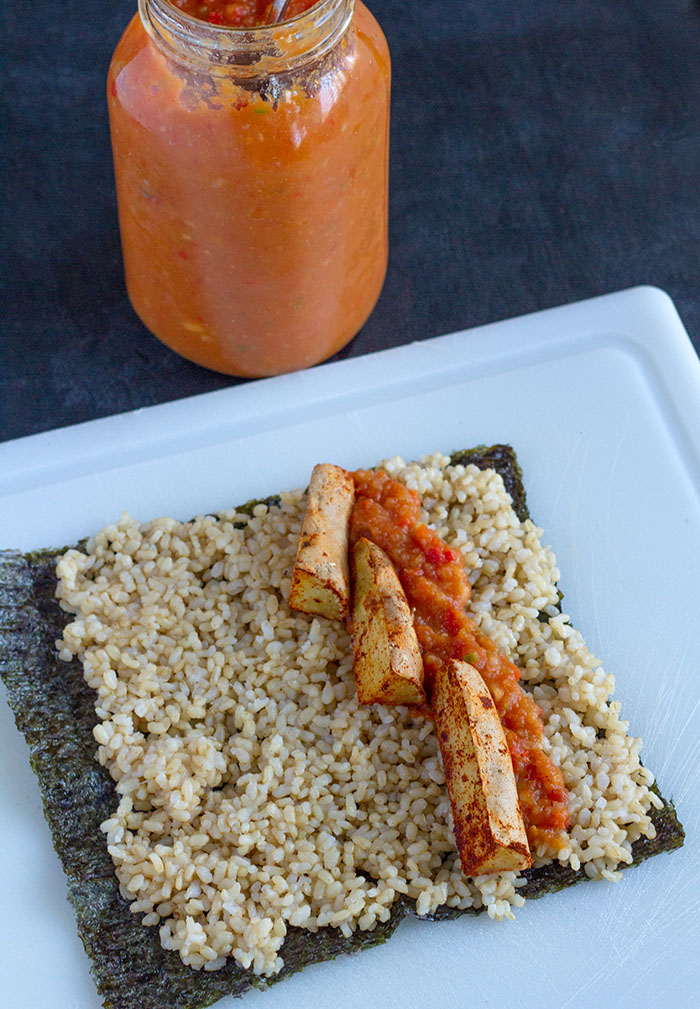 I packed a few onigirritos into bentos.  For this bento I added slices of Asian pear and a quick trail mix that I put together of roasted cashews and almonds, dried goji berries, and dark chocolate discs.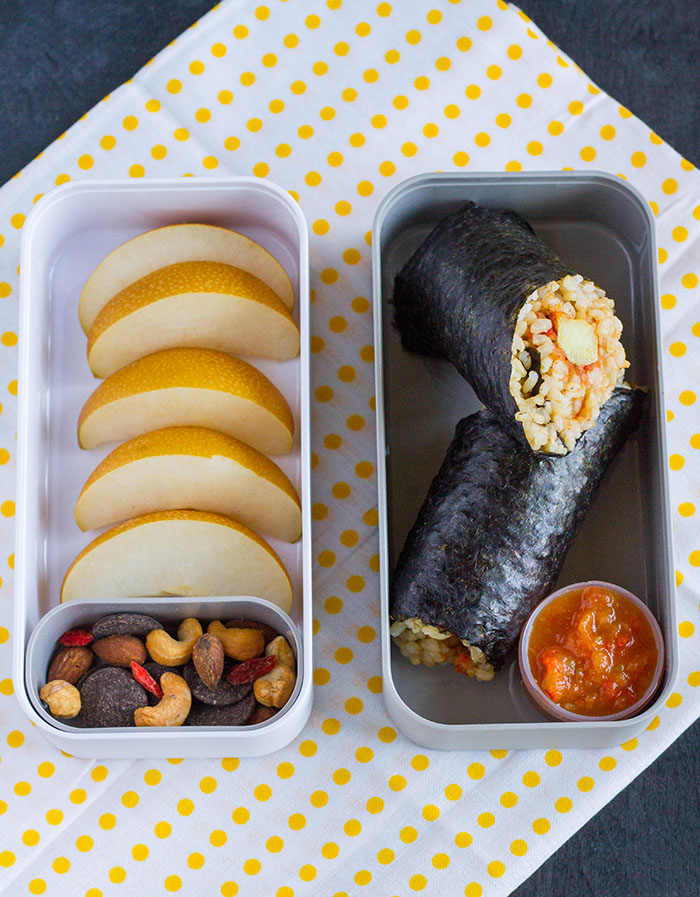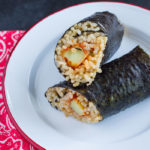 Roasted Sweet Potato Onigiri Burrito
This onigiri burrito is like a sushi burrito, but using plain rice instead of vinegared rice used in making sushi. It's a fun way to shake things up!
Ingredients
1

cup

cooked Japanese short-grain rice (still warm)

You can use white or brown rice. I used brown rice for this burrito.

1

pinch

fine grain sea salt

1

sheet

nori

3-4

Roasted Sweet Potato Wedges

2

tablespoons

Harvest Salsa, plus more for dipping
Instructions
Toss the warm rice with a pinch of fine grain sea salt.

Place the sheet of nori, smooth, shiny side facing down, on a clean cutting board, or a sushi rolling mat. (It's easier to roll it if you have a sushi rolling mat, but it still can be done without one!)

Spread the rice evenly over the nori, leaving about 1 inch of nori at the end opposite from you, so that you can seal your burrito. Spread the salsa in a line across the sushi, about three inches away from the edge closest to you. Lay the Roasted Sweet Potato Wedges on top of the salsa.

To roll your burrito: Place your thumbs under the rolling mat and lift the nearest edge of the mat with your thumbs and index fingers. Hold the fillings in place with the rest of your fingers. Use the mat to fold the edge of the nori over the fillings. Pull back the edge of the bamboo rolling mat (so that you do not roll it into the sushi) and continue to roll tightly until the whole burrito is complete. The 1-inch of exposed nori at the far end will seal the roll.

Now place the bamboo mat over the roll, holding the mat securely, and gently place even pressure along the roll to firm up the roll and square off the edges slightly. Remove the burrito from the bamboo rolling mat. Cut the roll in half, using a sharp knife moistened with a bit of water. Be careful not to push down too hard with the knife, which will cause the pieces to be misshapen and will push rice out of the sides. A gentle sawing motion is best! Serve with extra Harvest Salsa for dipping.

dajk;fj