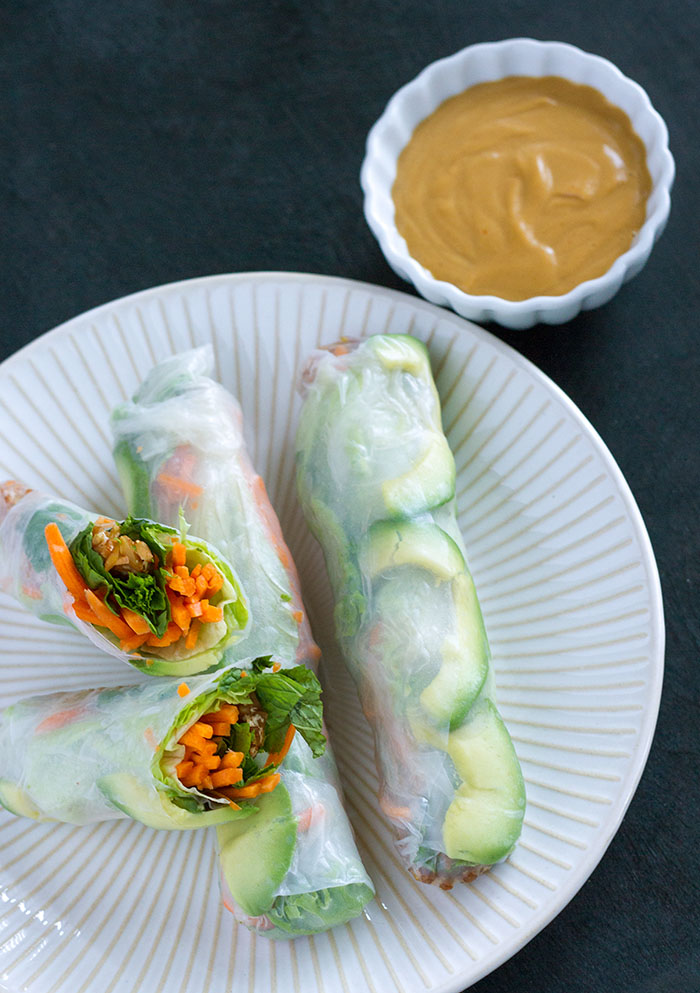 Happy February Fuji friends!  I've got a cookbook that I've been meaning to share for months.  It has been mean of me to keep it from you, because it's a good one!  Farm to Table Asian Secrets: Vegan & Vegetarian Full-Flavored Recipes for Every Season by Patricia Tanumihardja.  I've tried a ton of recipes from the book and every single one of them has been delicious.  This comes as no surprise to me, as the author is one of my favorites.  Patricia Tanumihardja contributes to a variety of publications, including Sunset and Saveur, writes the Pickles and Tea food blog in collaboration with the Smithsonian Asian Pacific American Center, and is the author of The Asian Grandmothers Cookbook, a favorite of mine.  Reading her work makes you feel like you are sitting at the counter in her kitchen with her.  It's warm and friendly, yet you will come away having learned something new.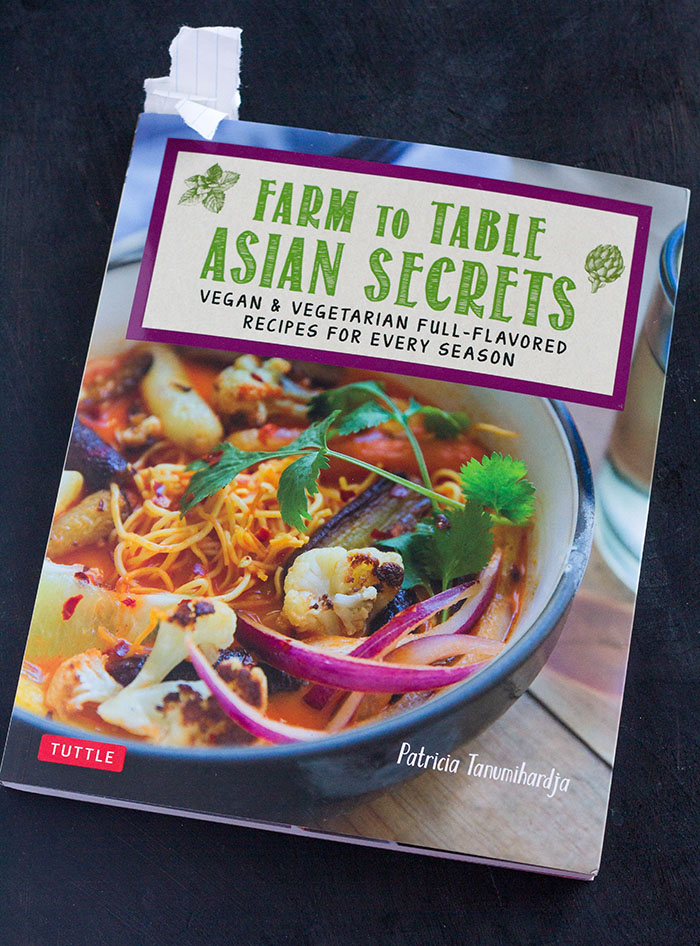 Patricia's new book is no exception. Farm to Table Asian Secrets contains 94 recipes that celebrate Asian favorites from a vegan and vegetarian perspective.  One of the reasons I love the different cuisines of Asia is that they know how to cook vegetables.  Patricia teaches many of these secrets in this book.  The book is separated into seasons and the vegetables that are in season in that season.  There is also a chapter filled with basic recipes which cover everything from sauces to making rice or your own vegan "fish" sauce.  You will struggle to pick which recipe to try first.  Should it be "Everyday" Pad Thai or Vietnamese Noodle Salad Bowls?  Eggplant with Red Pepper-Tomato Sauce or Crispy Noodles with Savory Vegetables?  Curried Vegetable Turnovers or Warming Vegetable Pho?  Out of everything I have made, one of the recipes keeps popping up again and again in my kitchen: Easy Peanut Sauce.  I love peanut sauce, and a really good peanut sauce is extra special.  This peanut sauce? Extra special.  It is dead easy to make (everything is thrown into a food processor or blender and blitzed until smooth and creamy) and the flavor delivers on many levels.  We have eaten it as a dip for fresh vegetables, thinned with water as a salad dressing, as a spread on sandwiches and wraps, and as a dipping sauce with fresh spring rolls.
I'm a sucker for fresh spring rolls.  I love stuffing them with fresh vegetables and herbs and some sort of protein.  My current favorite is tempeh bacon.  (My current favorite recipe is from Healthy Happy Life.)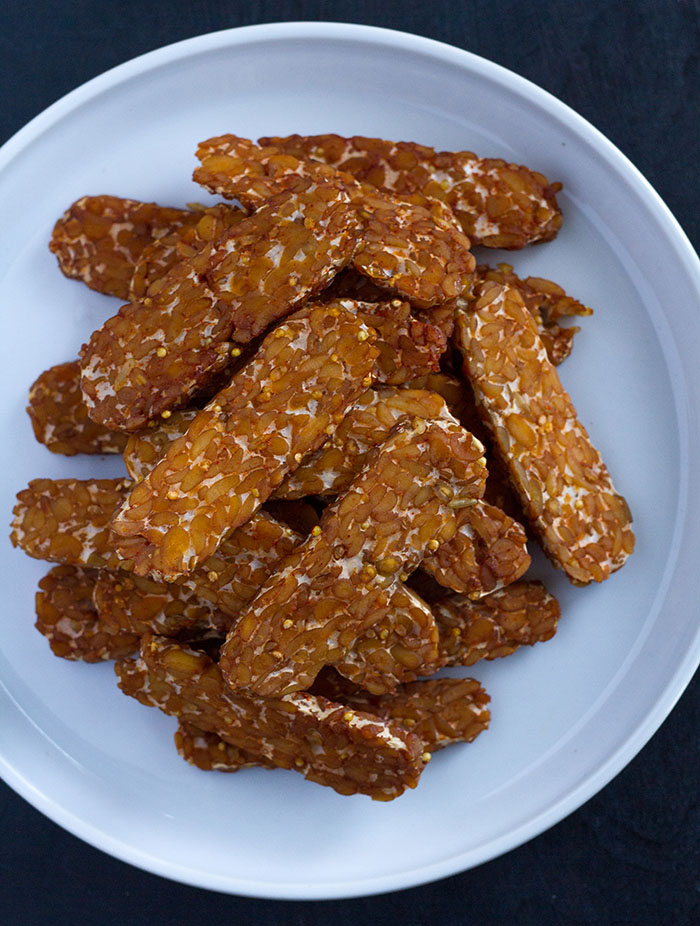 But no matter what I stuff my rolls with, they aren't as good if I don't have a good dipping sauce!  Enter Patricia's Easy Peanut Sauce.  I could stuff my rolls with iceberg lettuce and they would be amazing with this peanut sauce.  Seriously.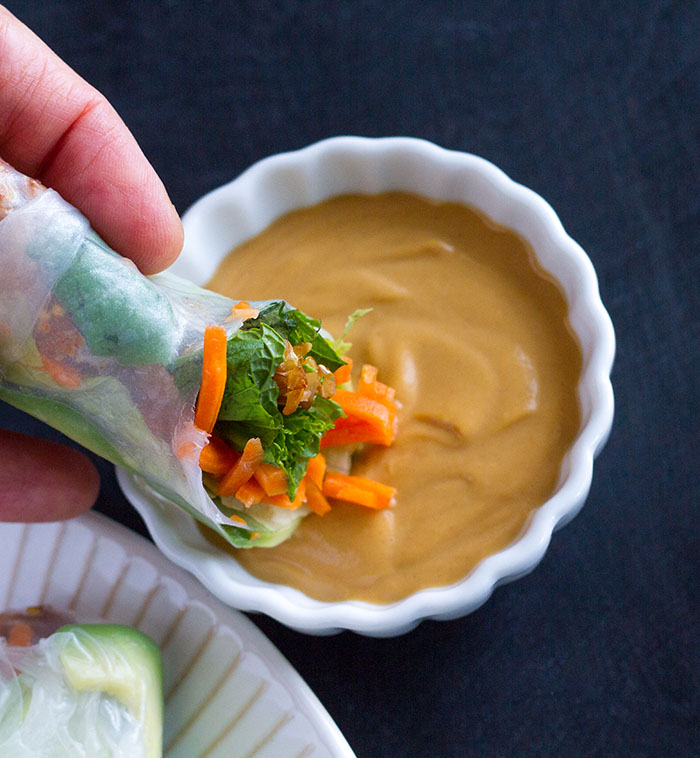 Go cut some vegetables, whip up some peanut sauce, and sit down and order this book.  Hey, Valentine's Day is coming up soon…consider it a Valentine's Day gift to yourself!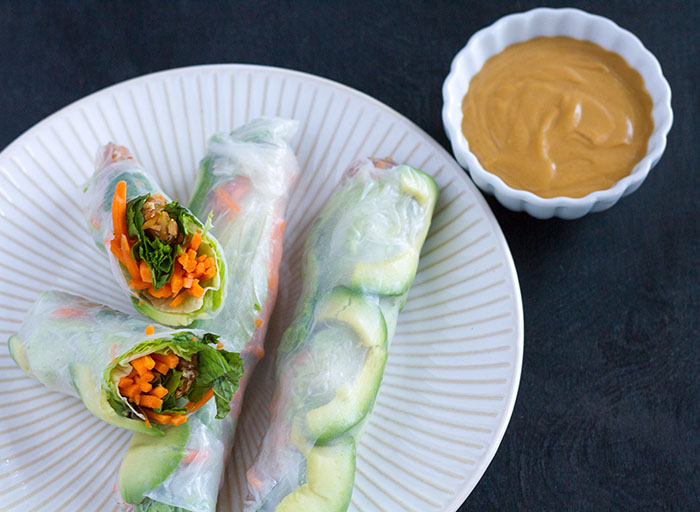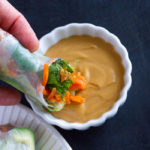 Easy Peanut Sauce
Makes 1 cup. "Peanut sauce must be the most popular Southeast Asian sauce making the rounds in U.S. restaurants. It goes with everything from grilled meats to tofu to vegetables, and this version is easy to make at home. You can also substitute coconut milk for up to half the water to make a thicker, richer sauce." - Patricia Tanumihardja You can also substitute cashew butter for peanut butter. It's DELICIOUS!!
Ingredients
1/2

cup

smooth unsweetened peanut butter (or cashew butter!)

2

cloves

garlic, peeled

2

tablespoons

fresh lime juice (from 1 large lime)

1

teaspoon

fine sea salt

1

tablespoon

coconut palm sugar or 2 teaspoons dark brown sugar

1

fresh long red chili like Fresno, chopped and stemmed, seeded as desired, or 1 teaspoon sambal oelek (to taste)

1 to 2

Thai chilies (optional)

1/2

cup

warm water
Instructions
In a blender or food processor, blitz the peanut butter, garlic, lime juice, salt, sugar, chilies and water until the mixture is smooth. Transfer the sauce to a bowl and set aside. The sauce may be made up to 2 days in advance if kept covered and chilled.
Recipe Notes
*If you don't have a blender or food processor, mix the peanut butter with hot water until a smooth paste is formed.  Add the remaining ingredients (run the garlic through a press) and mix well.
*Disclosure: I received a copy of this cookbook to review at no cost.  I received no other compensation.  All experiences and opinions are my own.