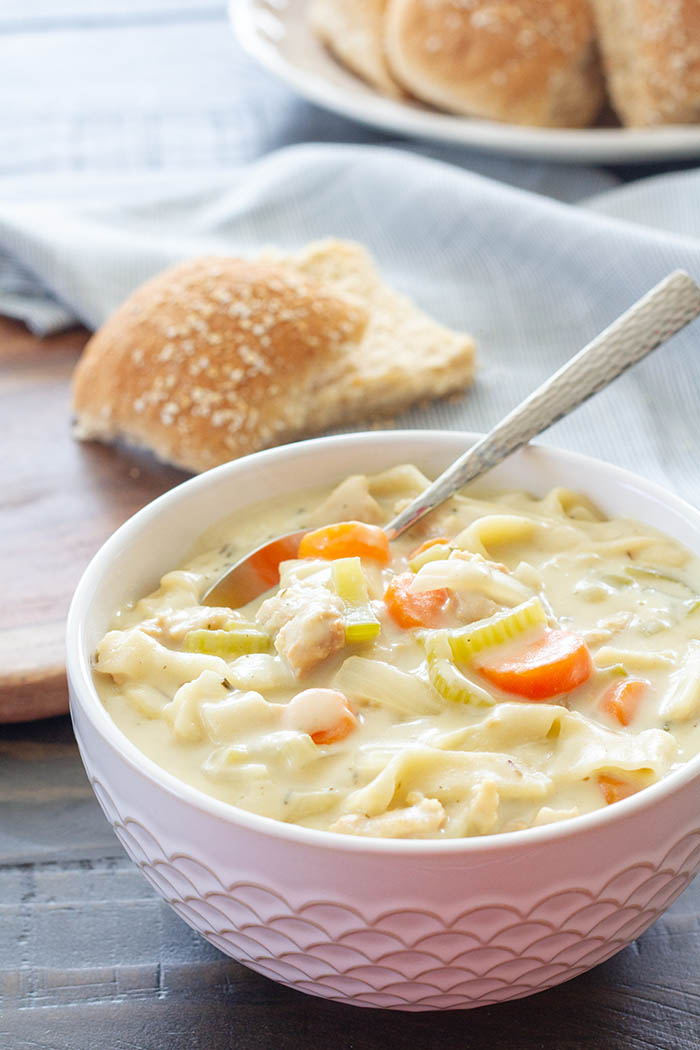 Chicken noodle soup has been an important part of Mr. Fuji and my collective family history since we were little.  About a year after I began eating a plant-based diet, Mr. Fuji started throwing out little hints that he would love it if I veganized our chicken noodle soup recipe.  I let some ideas bounce around inside my skull and then last year, starting with his birthday in March, I began working on making that a reality.  It's finally where I want it and I'm ready to share it with you!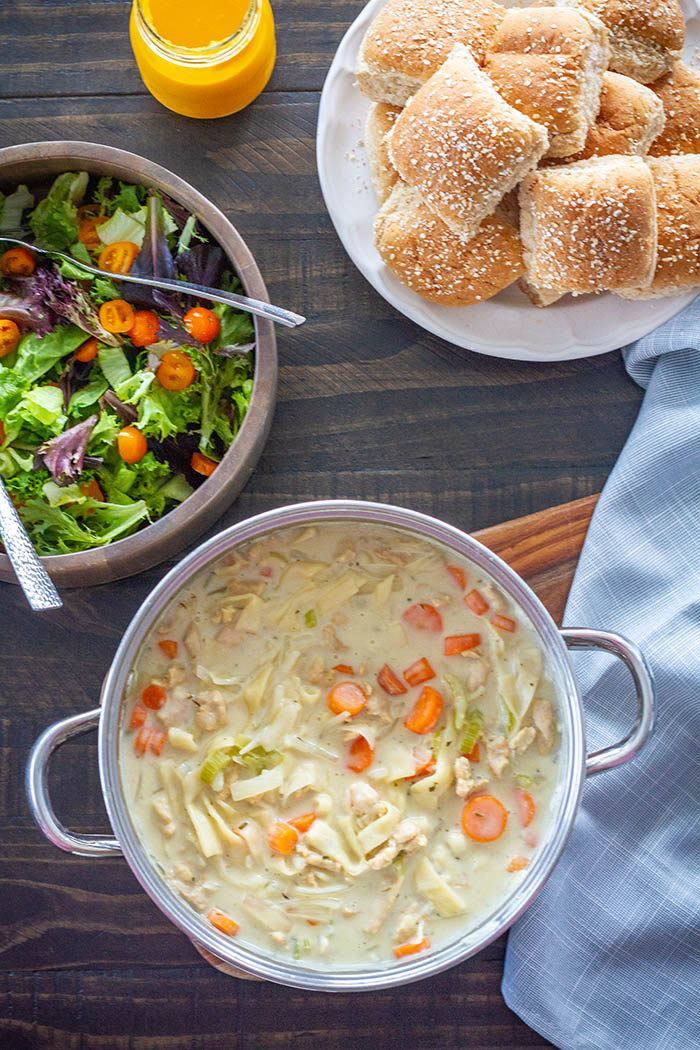 It is a thick and creamy soup filled with vegetables, soy curl "chicken", and handmade noodles.  It tastes like the real deal and hits all those comfort food notes, just like its chicken-filled predecessor did.  It's not hard to make, and can be even easier if you buy noodles at the store.  The noodles aren't hard to make either, they just take a bit more time.  But they're worth the effort!!!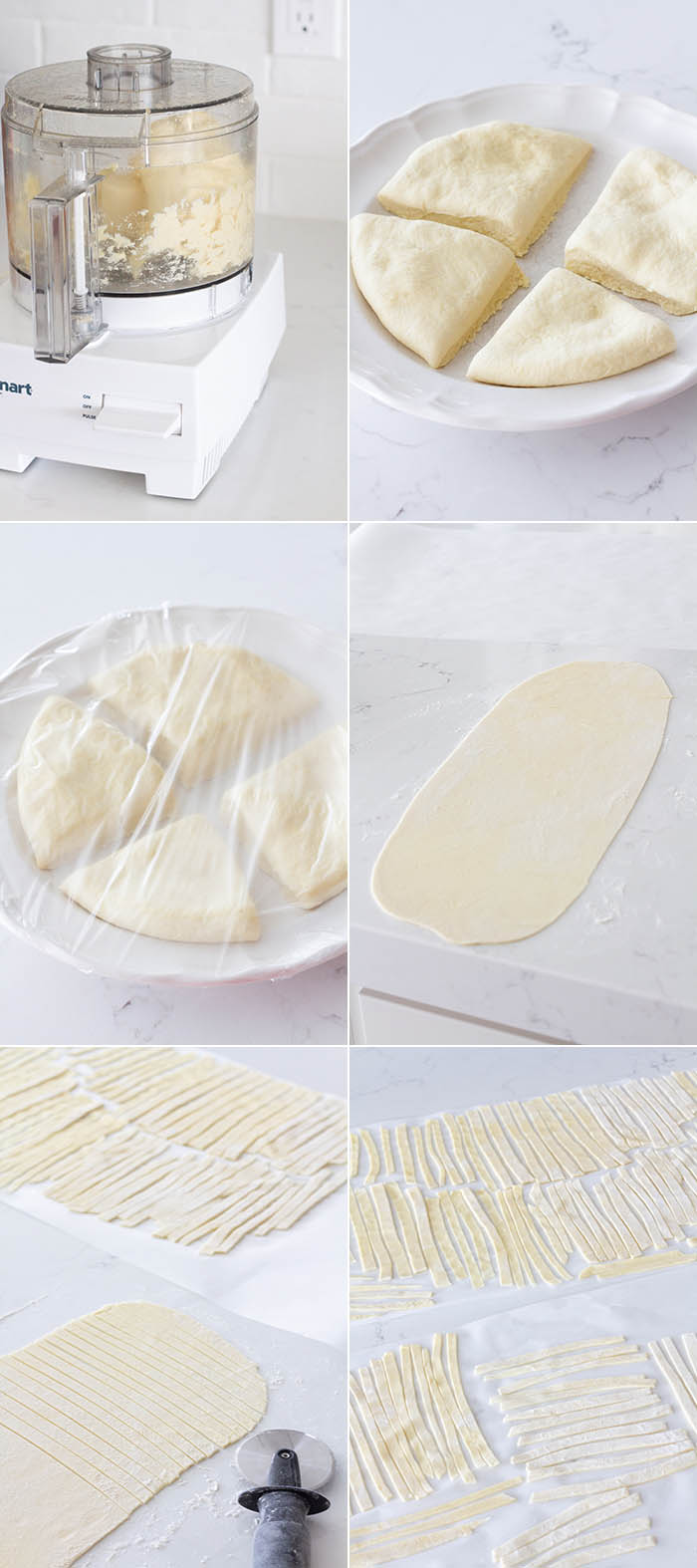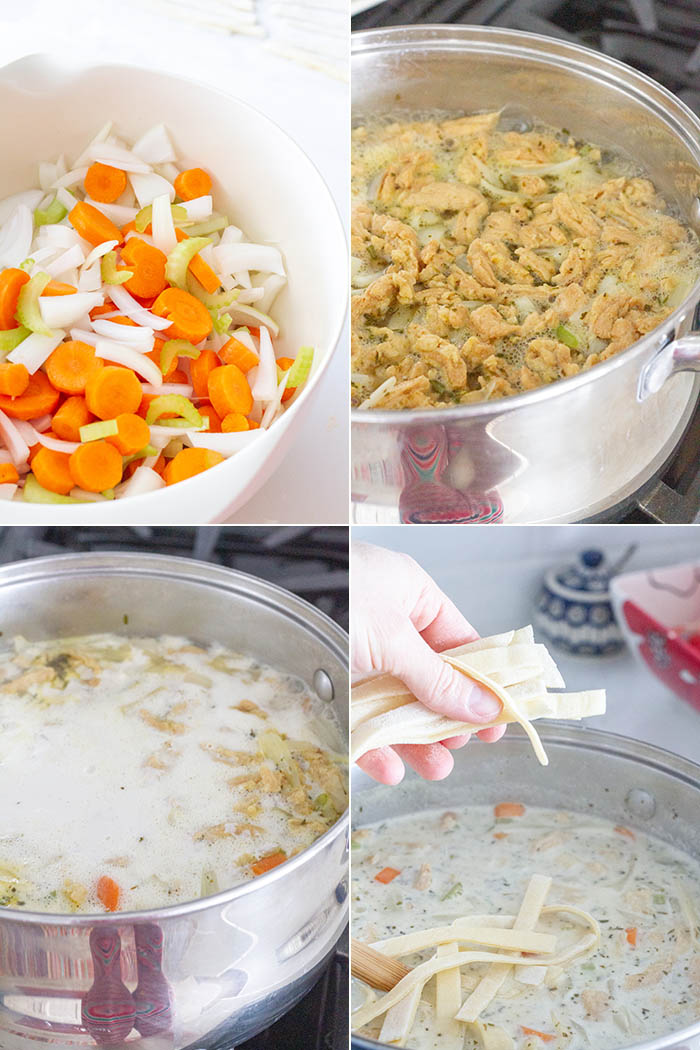 I hope you love this soup as much as we do—have a bowl of plant-based comfort for the soul, it will do you good.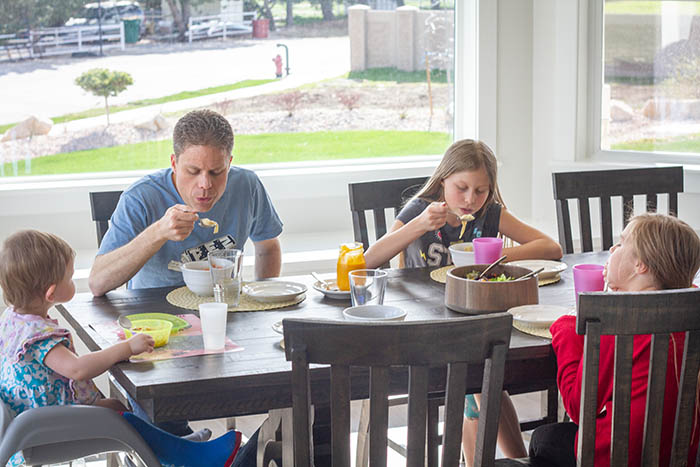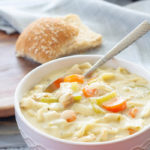 Vegan Fuji "Chicken" Noodle Soup
A veganized version of our family's recipe for chicken noodle soup. Soy curl "chicken" and vegetables in a thick creamy broth with homemade noodles. It doesn't get much better than that!!
Ingredients
For the noodles:
1 1/2

cups

semolina flour

3/4

cup

all-purpose flour, plus more for sprinkling

3/4

cup

hot water
For the "chicken" soup:
8

cups

water

10

teaspoons

Better Than Bouillon No Chicken Base

1

teaspoon

fresh rosemary, finely chopped (dried is also okay)

1

teaspoon

dried sage

1

teaspoon

dried thyme

6 to 8

large carrots, peeled and sliced into 1/2-inch thick coins

2

yellow onions, chopped

2

stalks

celery, sliced 1/4-inch thick

2

cups

soy curls (broken into pieces 1/2 -- 1 inch in length)
Instructions
Make the noodles:
Put the semolina flour and all-purpose flour in a food processor. Put the lid on the food processor, turn it on, and slowly pour the hot water through the spout. The mixture will first look like cornmeal, then the dough will start to form little balls, then bigger balls, which, after a couple of minutes, will finally form one big ball. After the big ball forms, continue processing for another 30 seconds (this kneads the dough), then turn the food processor off.


Remove the dough from the food processor. It will be warm and pliable. Flatten it out into a ½-inch-thick disk, then cut it into quarters. Cover the dough with a dry towel and let it rest for 10 to 15 minutes.


Sprinkle some all-purpose flour onto a clean, dry work surface and put one of the four pieces of dough on it, keeping the other 3 pieces covered until you are ready to roll them out. Using a rolling pin, roll it out to be about 1/8-inch thick. Cut the noodles into thin strips (I use a pizza cutter to do this, but you could also use a sharp knife), dust them with a bit of extra all-purpose flour. Repeat this process with the remaining 3 pieces of dough.


From here, you can cook your pasta right away or dry it for later. To dry the noodles, spread them out to dry (I use baking sheets), or hang them on a pasta drying rack. Flip the noodles over several times during drying, if you aren't using a drying rack, so that they dry evenly.

Make the cashew cream:
Put the raw cashews in a medium-size bowl and pour boiling water over them (enough to cover them by about an inch). Set the cashews aside to soak for about an hour. When the soup is almost done, drain the cashews in a fine-mesh sieve, then put them in a blender with the 3/4 cup of warm water and blend until smooth and creamy.

Make the "chicken" soup:
Put the Better Than Bouillon No Chicken Base into a large pot and slowly whisk in the 8 cups of water. Stir in the rosemary, sage, and thyme.


Bring to a boil over medium heat, then add the carrots, onions, and celery and let simmer. 10 minutes into the cooking time, stir in the soy curls and continue cooking until the vegetables are soft, but still firm.


While the vegetables are cooking, bring a pot of salted water to a boil. When boiling, add the noodles and cook until they are al dente, then drain and set aside. Cooking time will depend on how thick the noodles are and how long they dried.


Once the vegetables in the soup are tender, add the cashew cream, stirring to combine. Add the cooked noodles to the soup, or add the noodles to individual bowls of soup.

Recipe Notes
*Leftover soup is delicious, but the noodles will soak up extra liquid. When you reheat, just add water. To make this soup gluten-free, substitute your favorite gluten-free noodles or omit the noodles completely for a hearty "chicken" and veggie soup.
*If you don't have access to Better Than Bouillon, you can use any plant-based bouillon equivalent, or substitute vegetable broth for the 8 cups of water in the recipe.  If you do this, I would add additional salt to taste so that the flavors still pop!
fdhiao;