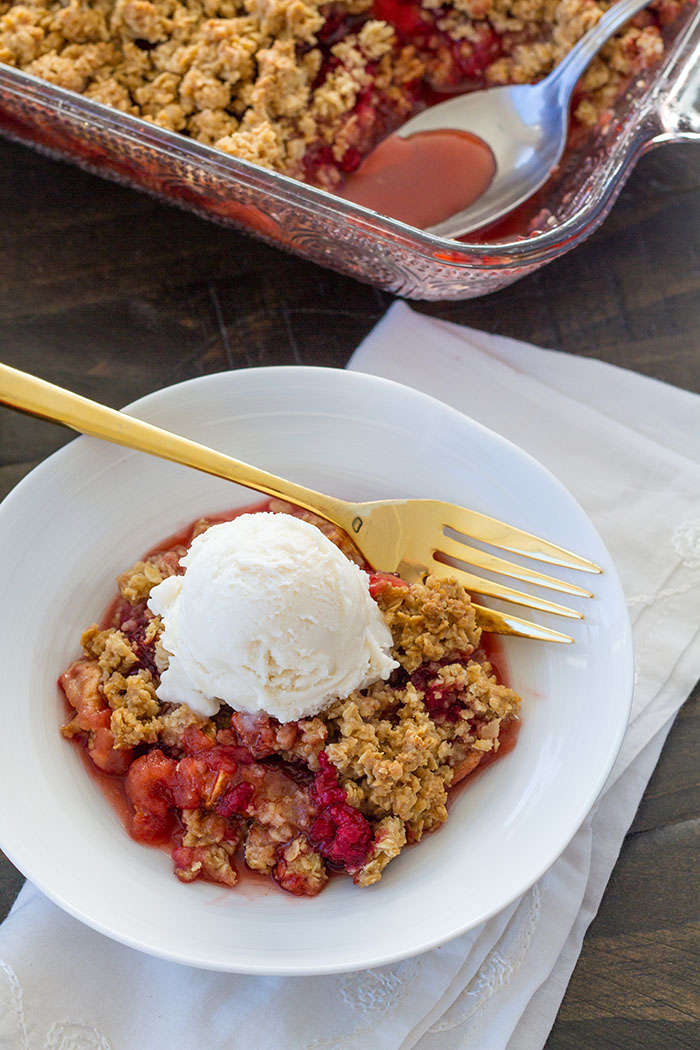 One of the reasons that I love fall is that it is apple season and I love apples.  I've been wishing for a bite of a Japanese apple (a little over a year ago I was in Japan experiencing the famous apples of the Aomori region), so decided that a good apple dessert would have to do instead.  I don't think that I've met an apple dessert that I didn't love, so choosing what to make was difficult, but I decided on an apple crisp.  My mother-in-law had gone apple picking and brought us back some amazing McIntosh apples, which are perfect for desserts, so I used those to make the filling and decided on an oat-y crumble topping. 
The crisp was delicious, so a week later I decided to use the rest of the apples to make another one when we had family coming over for dessert.  The day before I was going to make the crisp some friends brought by a bucket of raspberries from their garden, and when I was making the crisp, I decided to add a layer of raspberries.  The result?  Pure heaven.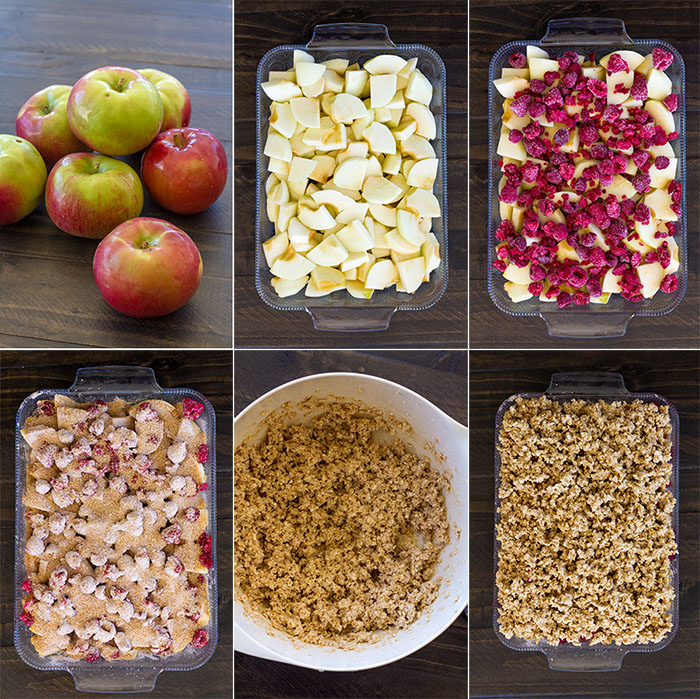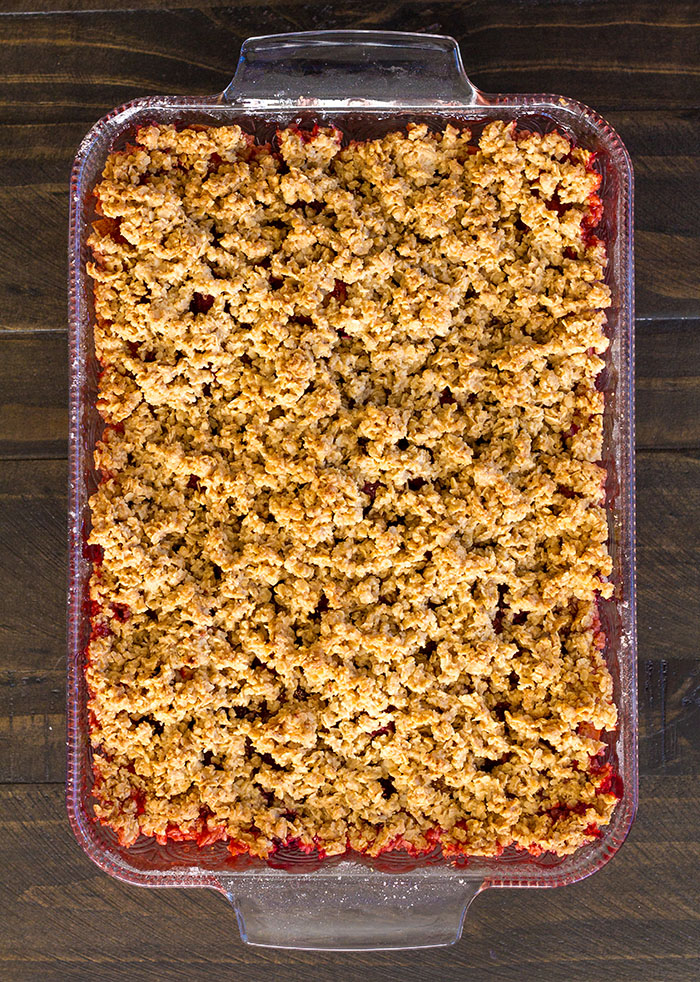 So much so that I decided that I needed to make the crisp again so that I could make sure that all of my measurements were correct so that I could share the recipe with you!  The raspberries add a whole new layer of flavor to this crisp with their slightly sour sweet tang and give the filling a beautiful pinky-red hue.  One of the benefits of making a crisp is it's not as time consuming as making a fruit pie, since you don't have to worry about making a crust!  If you don't have McIntosh apples, no worries!  Just use your favorite apple pie apples, or combination of apples, instead.  No fresh raspberries? No problem! I've tested this recipe now with frozen raspberries as well and it works beautifully.  This crisp would also make a great addition to any holiday table!  Apple craving filled.  But my craving to be back on Japanese soil?  Still gotta figure out how I'm going to fill that craving.  Mr. Fuji?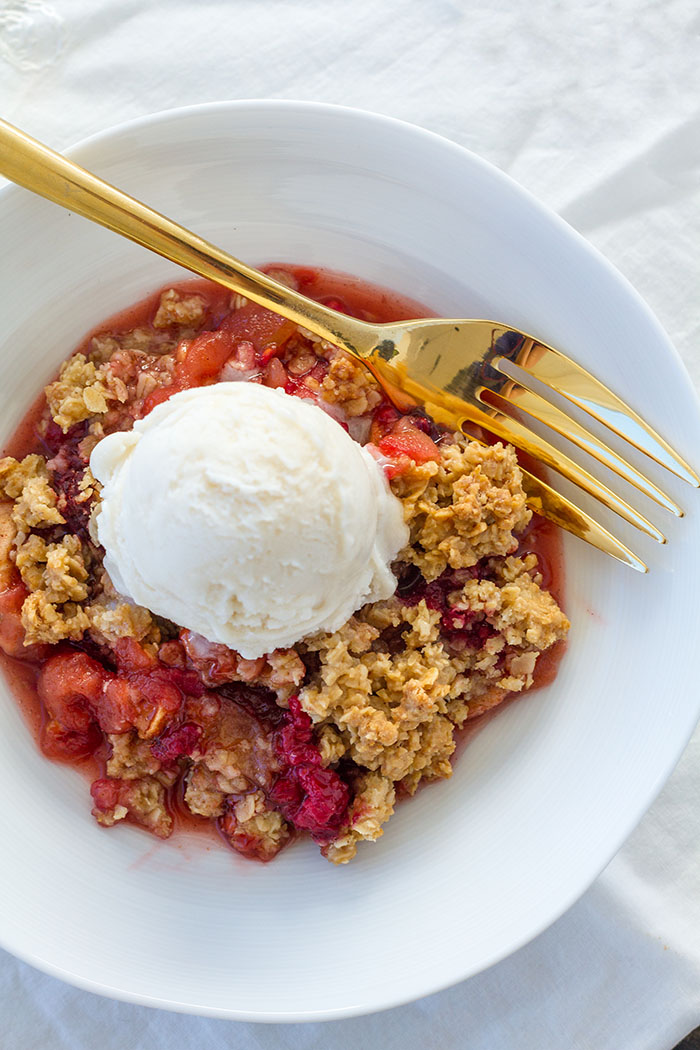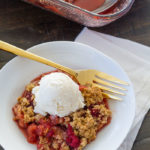 Apple Raspberry Crisp
This crisp is made with a combination of McIntosh apples and raspberries and topped with an oat crumble. The raspberries make everything extra delicious! Don't have McIntosh apples? Just substitute your favorite apple pie apples. Don't have fresh raspberries? Frozen ones work just as well!
Ingredients
For the Apple Raspberry Crisp Filling
2

pounds 13 ounces

McIntosh apples, peeled, cored and sliced

10

ounces

raspberries (fresh or frozen)

1

cup

turbinado sugar

2

tablespoons

cornstarch

1 1/2

teaspoons

ground cinnamon
For the Apple Raspberry Crisp Topping
2

cups

quick oats

1/2

cup

oat flour

2

tablespoons

turbinado sugar

1/2

teaspoon

fine grain sea salt

1/2

cup

coconut oil at room temperature

1/4

cup

maple syrup
Instructions
Make the Apple Raspberry Crisp Filling
Preheat the oven to 350 degrees Fahrenheit.

Place the sliced apples in a 9x13-inch baking dish. Sprinkle the raspberries over the top of the apples.

Whisk together the turbinado sugar, cornstarch, and ground cinnamon in a bowl, then sprinkle the mixture evenly over the apples and raspberries.
Make the Apple Raspberry Crisp Topping
Mix the quick oats, oat flour, turbinado sugar, and sea salt together in a mixing bowl. Add the coconut oil and maple syrup, then use an electric mixer to blend everythig together into a clumpy mixture.

Sprinkle the topping over the fruit in the baking dish.
Bake the Apple Raspberry Crisp
Bake the apple raspberry crisp in the preheated 350 degree Fahrenheit oven for about 45 minutes, until the filling is bubbling and the topping is starting to brown. Remove the crisp from the oven and let it cool for 10 to 20 minutes before serving. Serve it topped with a scoop of vanilla ice cream for an extra treat!