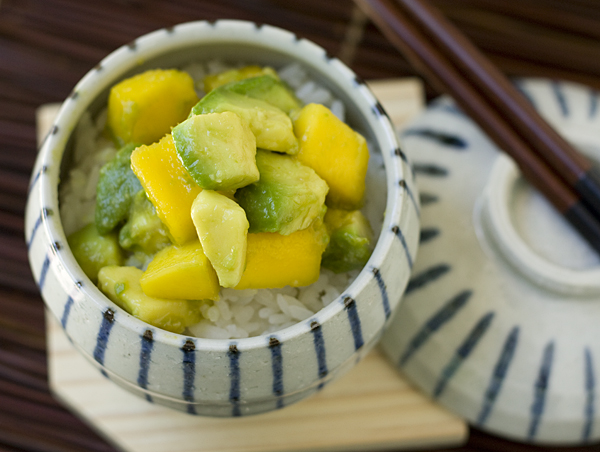 One of my favorite breakfast treats (or any time of the day to be truthful) is maguro-don, or tuna rice bowl.  A simple bowl of steaming rice topped with chunks of raw tuna and sliced scallions.  Sometimes there might be some toasted sesame seeds or shredded seaweed on top.  Other times the tuna might be seared briefly or marinated in a vinegar and mirin mixture.  No matter the style, I've always found maguro-don to be total comfort food.  The California Avocado Commission was one of the sponsors present at Camp Blogaway.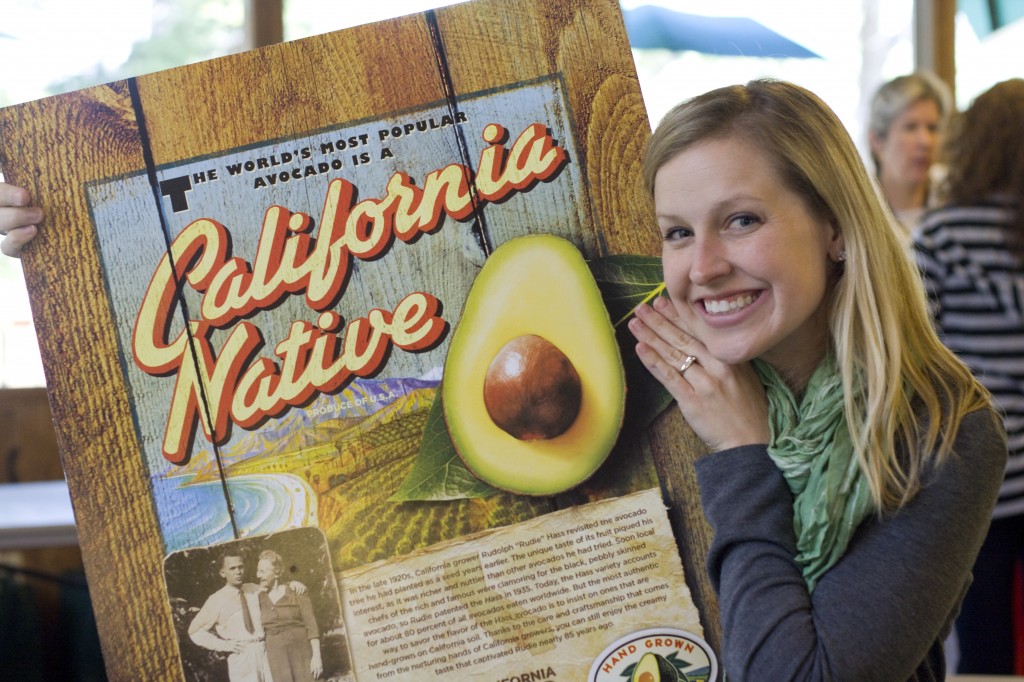 As they were talking to us about the process of growing and harvesting avocados in California, I got to thinking about how the California roll was born.  Various sources credit a chef living in Los Angeles, named Ichiro Mashita, for the invention sometime in the late 1960s or early 1970s.  It came about when he tried substituting avocado for toro (fatty tuna) in sushi because he realized its creamy fatty texture and taste was very similar to that of toro.  I then started thinking about tuna, which I love, which then made me think of maguro-don, one of my favorite Japanese dishes that uses tuna.  Then a thought occurred to me—what if I applied the same concept that Chef Mashita used for coming up with the California roll, to maguro-don?  Okay yes, not totally original I'm sure, but I was dying to get home and try it!  Luckily the California Avocado Commission had put bowls full of ripe California avocados on our tables the last day of camp and told us to help ourselves.  Don't mind if I do, thank you very much!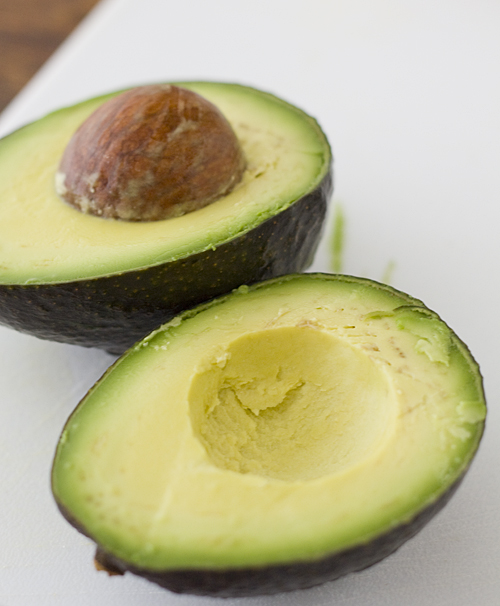 Monday morning I pulled out one of those ripe avocados and decided to pair it with a ripe mango that happened to be beckoning me from the kitchen counter and made myself a bowl of comfort food for breakfast.  For the dressing I used some traditional ingredients as well as some lemon honey crème from Honey Ridge Farms that I got in my swag bag at Camp Blogaway for sweetness and for a bit more citrus zing.

You'll be hearing more about Honey Ridge Farms soon, but I couldn't resist using the crème in this recipe because it is divine.  Although nothing will ever be as good as the real thing, my avo-don was darn good!  Whenever I make a vegetarian version of a Japanese dish, I always think of my friend Stephanie who's a vegetarian and loves Japan like I do.  So Stephanie, this one's for you!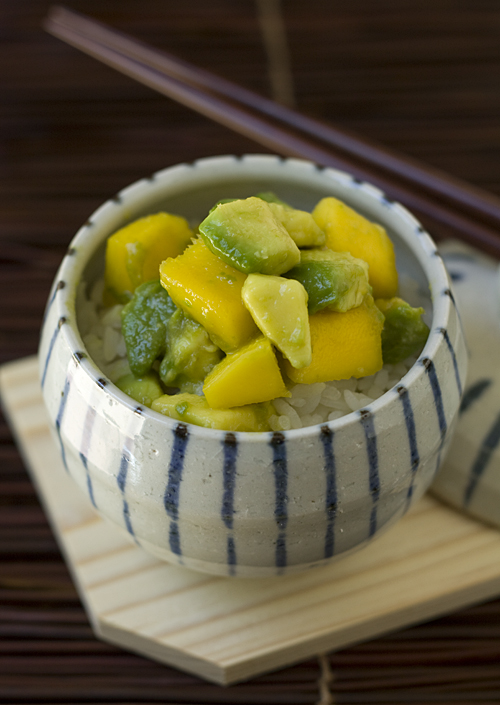 Print This Recipe
Avo-don (Avocado Mango Donburi)
Makes 2 servings
For the sauce:
2 tablespoons freshly squeezed lime juice
1 1/2 teaspoons Honey Ridge Lemon Honey Crème (or substitute lemon curd)
1 teaspoon soy sauce
1 tablespoon warm water
1 teaspoon finely grated lime zest
1 teaspoon fresh grated ginger
1 ripe avocado (about 8 ounces), chopped
1 ripe mango (about 12 ounces), chopped
2 cups steamed Japanese rice
1. Whisk together all of the sauce ingredients in a medium-size bowl. Add the chopped avocado and mango and toss to coat in the sauce.
2. Separate the rice into two bowls and top with the avocado mango mixture. Serve immediately.