*Have you entered my Zojirushi giveaway?  Zojirushi just added a 2nd rice cooker to the giveaway, so now there are TWO chances to win!!  Go enter!
————————————————————————————————————————————————–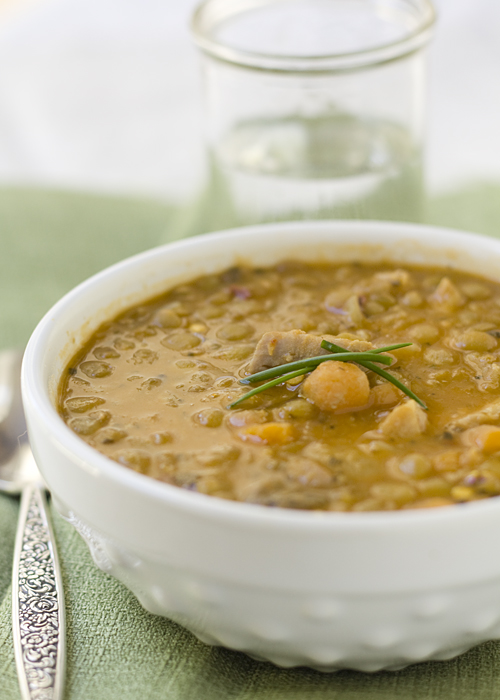 A little insight into the weirdness that is Fuji Mama: I start to crave soup when the weather heats up.  The deeper into summer we get, the more I want soup.  I have no idea why, I just know it's a weird fact about myself that I've been able to embrace and indulge once I started cooking for myself.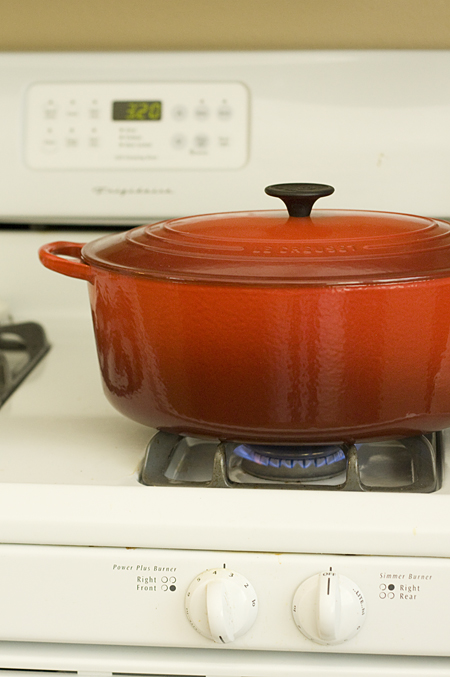 Mr. Fuji has just learned to roll with my strange little quirks, and rarely bats an eye anymore.  Now that the weather is increasingly more summery, those familiar soup cravings have been creeping in.  Last week I had a package of pork chops that I needed to use, but didn't feel like making any of the usual things that come to mind when pork chops are concerned.  So what did I do? I made soup, of course!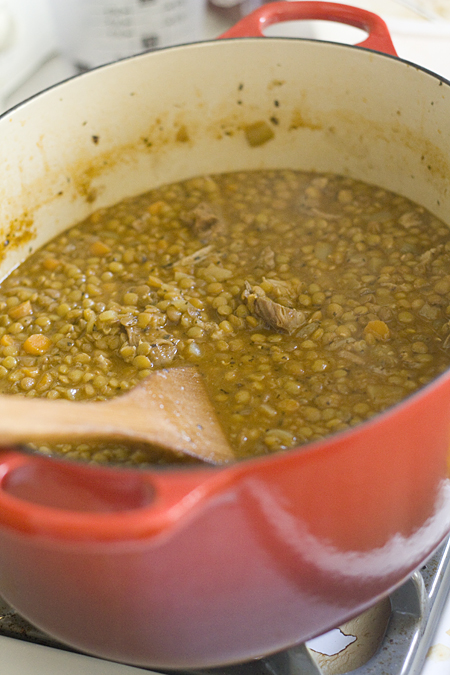 I made a simple pork chop and lentil soup, and to their credit, my family ate it up without complaint.  So if you're weird like me and you like soup during warm weather, pull out your soup pot and make a batch!  If not, then just file this one away for fall.  I'll understand.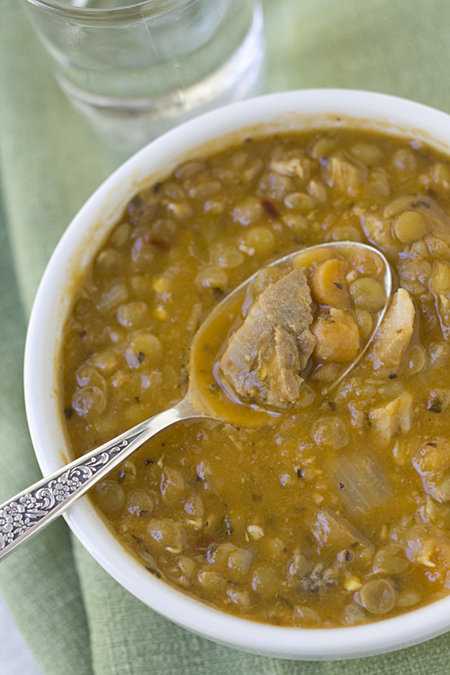 Print This Recipe
Pork and Lentil Soup
Makes about 6 servings
1 tablespoon olive oil
1/2 yellow onion, chopped
3 cloves garlic, minced
1 1/2 teaspoons finely grated fresh ginger
1 1/2 teaspoons dried crushed basil leaves
1 teaspoon kosher salt
1/2 teaspoon freshly ground black pepper
1/2 teaspoon ground cumin
1 medium carrot, chopped
1 pound bone-in pork chops
3 cups chicken broth
8 ounces brown lentils, rinsed and drained
2 tablespoons tomato paste
2 tablespoons freshly squeezed lime juice
1 teaspoon red chili flakes
1. Heat the oil in a large stock pot over medium heat. Add the onions, garlic, ginger, basil, salt, black pepper, and cumin and saute until the onions have softened.
2. Stir in the carrots and saute for 5 minutes. Using a spatula, push the mixture to the edges of the pot. Add the pork chops and brown them on each side.
3. Add the broth, lentils and tomato paste and stir to combine.
4. Cover and simmer for 50 minutes.
5. Remove the pork chops from the pot.  Using two forks, pull the meat from the bones.  Discard the bones.  Lightly shred the meat and return it to the soup.
6. Add the lime juice and chili flakes and stir into the soup, then remove the pot from the heat. Serve hot.