*
Disclosure: This post is in partnership with Acorn Influence to support Sprouts Farmers Market Box Top Giveaway!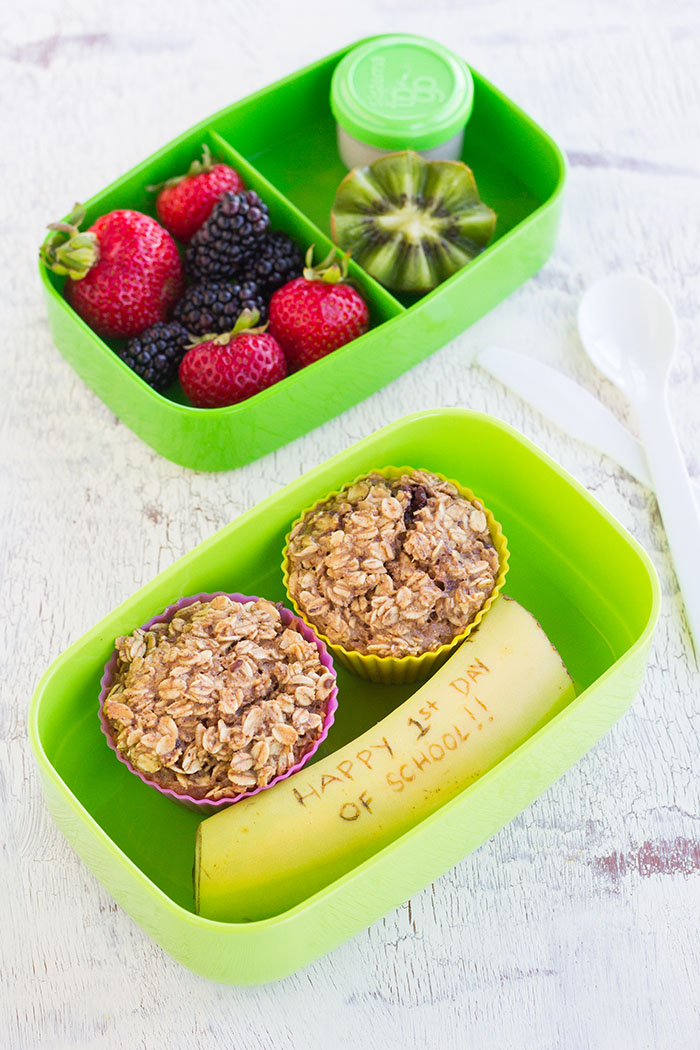 Happy New School Year! Tonight is Back-to-School Night at our school and the first day of school is next Tuesday (August 16th). I know that the New Year for most of the world starts on January 1st, but at this stage in my life, I live my life according to the school calendar. My kids' lives (and thus my life) are measured in school years.  The first day of school starts off a new year with new goals, new grades, new teachers, new schedules, new activities, new clothes (the old ones always seemed to be riddled with holes and covered in dry erase marker), new backpacks, and new school supplies.  The first day of school comes with excitement about what the upcoming year will bring and a renewed source of energy.  In addition to purchasing school supplies and other needed items, part of what I do in the weeks leading up to that first day back to school is to make a new lunch plan.  (I've actually been sharing how I do that over on Instagram if you want to follow along, using the hashtag #backtoschoolbentotips!)  I make sure I have everything I need to pack their lunches and write out a bento menu plan for the first couple of weeks so that I have one less thing to worry about.
Another thing I do during the summer (and really all year) is to collect Box Tops.  I knew that school got some money from collecting Box Tops, but it wasn't until this last year when I was at a meeting where they reported how much money the school had received from different fundraisers that I realized just how much.  The sum was significant!  So I have committed myself to becoming a better "Box Topper" for our school.  Just to make the start of the school year even better, Sprouts Farmers Market has a Box Top Giveaway where four schools will each win 25,000 eBox Tops!  Make sure you head on over and enter, because your school may just be one of the winners!  (See the giveaway details are after the recipe!)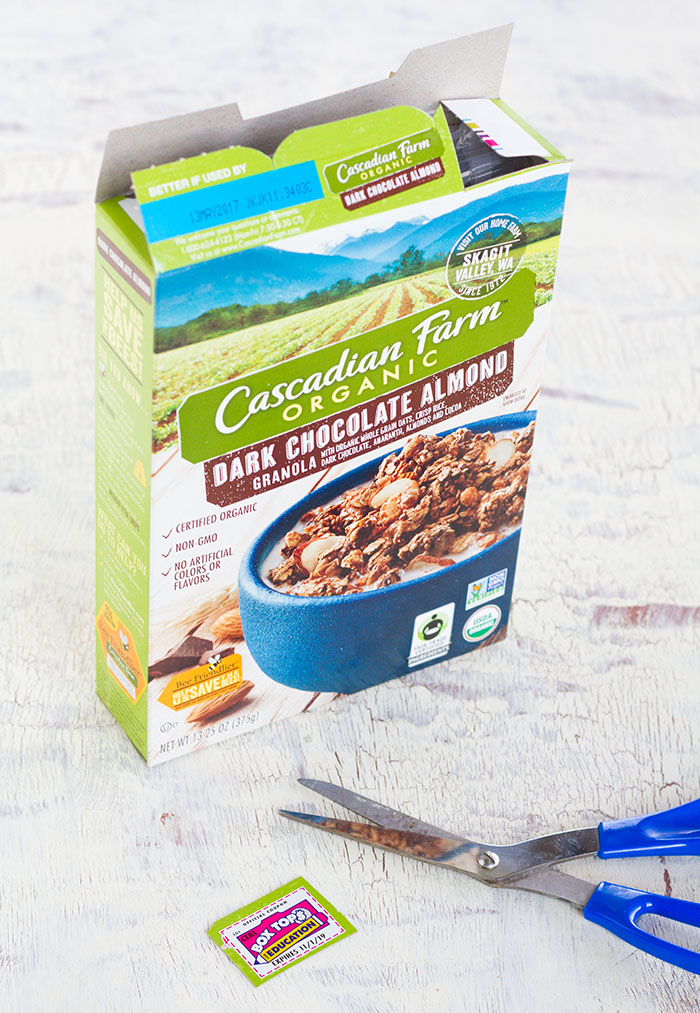 Today I am taking care of one bento box item for my bento menu plan, in addition to collecting Box Tops for my kids to take to school, with some Baked Granola Oatmeal Cups.  I'm a big fan of having breakfast for lunch or dinner, and so are my kids.  During our most recent trip to our local Sprouts, I grabbed a box of Cascadian Farms Organic Dark Chocolate Almond Granola (one of many Box Top products at Sprouts!) to make some baked oatmeal cups.  My kids love oatmeal, but hot oatmeal doesn't exactly pack well in a bento.  Baked oatmeal cups, on the other hand, do!  Adding granola to the oatmeal cups adds a bit of texture as well as flavor, and the Dark Chocolate Almond Granola from Cascadian Farms is perfect because it's got just enough chocolate to make the oatmeal cups even tastier, but not enough to turn them into a dessert.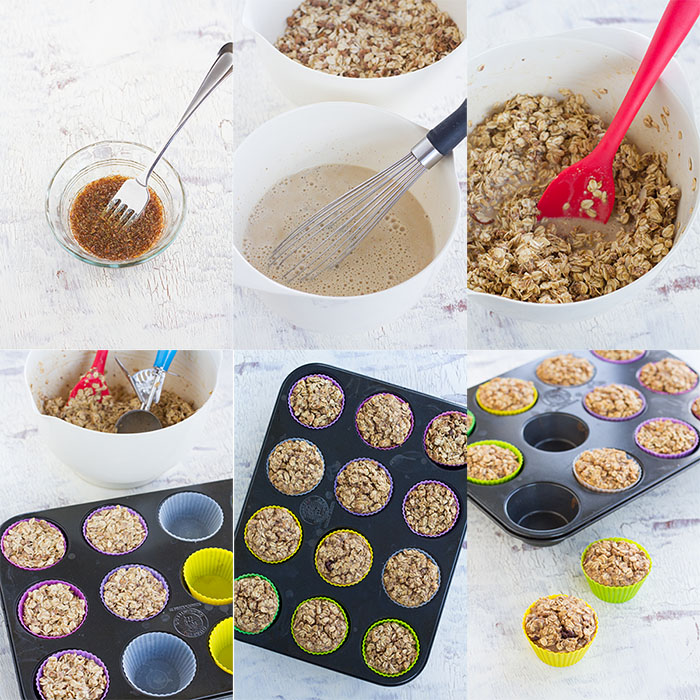 I don't add any sweetener to my kids' oatmeal in the morning, so these oatmeal cups aren't super sweet.  My kids like splitting them open and spreading some yogurt on them, or dipping pieces into some yogurt.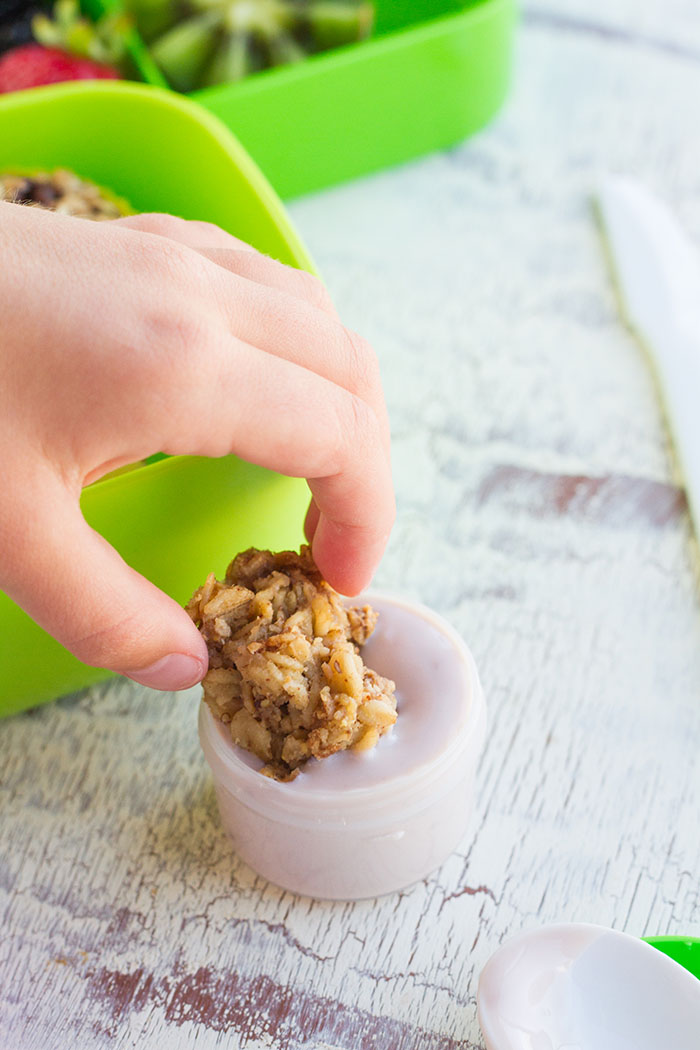 Pack one or two of these into a bento box with some yogurt (or no-sugar added jam!) and some fresh fruit for the perfect breakfast-for-lunch bento.  Happy New School Year everyone!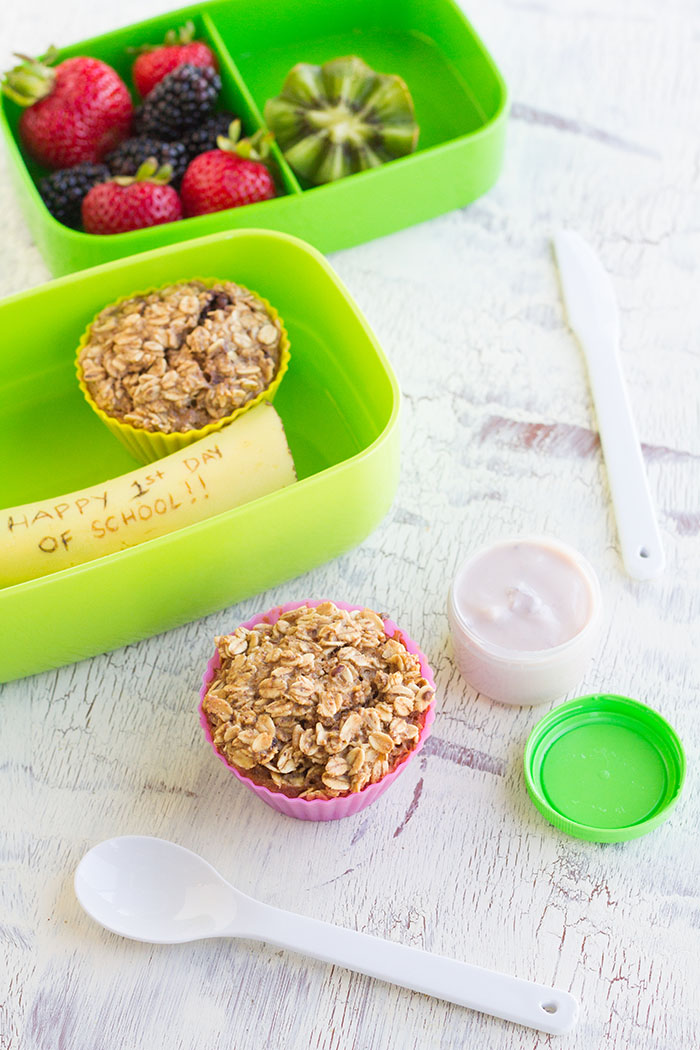 Print This Recipe
Baked Granola Oatmeal Cups
Makes 12
Ingredients:
3 tablespoons maple syrup
1 tablespoon ground flax seed
3 cups old fashioned rolled oats
1 cup Cascadian Farms Organic Dark Chocolate Almond Granola (or granola of your choice)
1 teaspoon baking powder
3/4 teaspoon fine grain sea salt
3 tablespoons almond butter
2 cups unsweetened soymilk (almond or coconut milk would also be great!)
1 teaspoon vanilla extract
Directions:
1. Preheat the oven to 375 degrees Fahrenheit. Place silicone baking cups in a muffin tin.
2. Mix the maple syrup and ground flax seed together in a small bowl. Let the mixture sit for 15 minutes.
3. Mix the rolled oats, granola, baking powder, and salt together in a large mixing bowl.
4. Mix the almond butter, soymilk, maple syrup mixture, and vanilla extract together in a smaller mixing bowl.
5. Add the wet ingredients to the dry ingredients and stir well to combine.
6. Using an ice cream scoop, fill each silicone baking cup, pressing the mixture down firmly into each cup. Make sure to stir the mixture well between filling each cup, as the oats will not have soaked up all of the liquid yet and will want to separate.
7. Bake the oatmeal cups for 30 minutes in the preheated oven until the tops are slightly golden. Remove them from the oven to a cooling rack and let them cool completely.
*Recipe Notes: If you are packing one of these cups in a lunchbox, make sure it has cooled completely beforehand. Extra moisture (such as steam from cooling food) can cause bacterial growth. These can also be made ahead of time! Let them cool completely then pack them in an airtight container and store them in the freezer for up to one month. When you are ready to pack one, pull it out of the freezer the night before and place it in the refrigerator to thaw overnight, then pack the cup in the bento the next day and reheat in the microwave for 30 seconds before eating.
————————————
Sprouts Farmers Market Box Tops Giveaway
You can enter the Box Tops Giveaway here.
NO PURCHASE NECESSARY. Begins 12:00 A.M. PST on July 27, 2016, and ends at 11:59 P.M. PST on August 17, 2016. Open to 50 US and DC residents (except FL & NY residents), 18 years of age or older who are members of BoxTops4Education.com and have designated a school to support at time of entry. Membership to BoxTops4Education.com is free and available at www.boxtops4education.com. Void in NY, FL and where prohibited. Subject to Official Sweepstakes Rules at www.btfe.com/SproutsBoxTopsGiveaway. Sponsored by General Mills Sales, Inc.
———————————-
*Disclosure: I was compensated for my time spent developing this recipe and writing this post in partnership with Sprouts and General Mills. All experiences and opinions are my own.