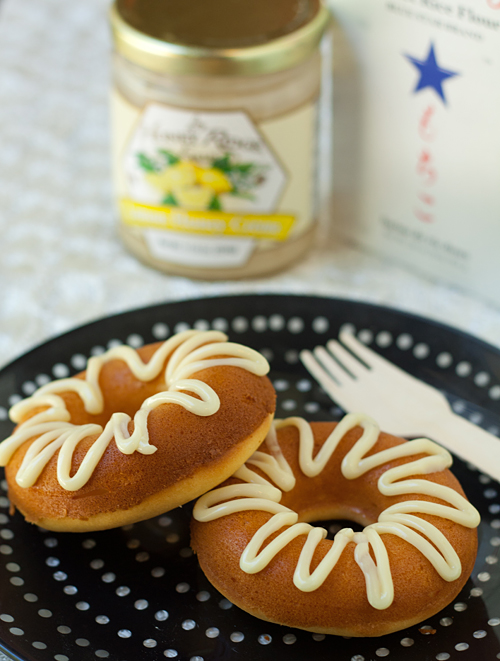 Honey Bees are the unsung heroes of the food world, pollinating a third of the world's food sources.  Without them, we would be up a creek without a paddle.  Unfortunately, this possibility is all too real.  The world honey bee population is in crisis, suffering from a situation called Colony Collapse Disorder (CCD), a drastic loss in bee population numbers.  Over the last few years beekeepers in the agriculture industry have reported losses as high as 70%.  Not good, to say the least.  Not only do we need honey bees to perpetuate the pollination process, but their honey making skills would be a great loss because of the numerous benefits of honey.  Luckily there are groups, like The Foundation for the Preservation of Honey Bees, companies, and beekeepers that are dedicated to finding a solution and keeping the bee population as healthy as possible.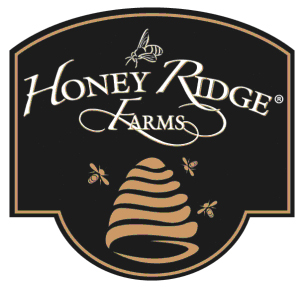 Honey Ridge Farms, a company of commercial beekeepers, donates a portion of its profits to help fund this research.  Not only are they dedicated to the health of honey bees, but they produce some of my favorite honey products as well.  I mentioned them a couple of weeks ago in my Avocado Mango Donburi, because I came home from Camp Blogaway with a small jar of their Lemon Honey Crème in my swag bag.  Although Honey Ridge Farms was founded in 2004 by Leeanne Goetz, beekeeping has been in her family for a lot longer.
Leeanne's great-great grandfather and great-grandfather were among the earliest commercial beekeepers on the East Coast, and now her oldest son is the fifth-generation to carry on the beekeeping legacy.  Now the company produces a variety of honeys, whipped honey crèmes, honey glazes, grill sauces, and balsamic-style and spice-herb-infused honey vinegars.  I'm a big fan of their honeys and honey crèmes, so I dreamed up a fun baked donut recipe to showcase their Lemon Honey Crème in.  Baking helps make these donuts a healthier treat and cuts down on clean-up.  (No hot oil to worry about!)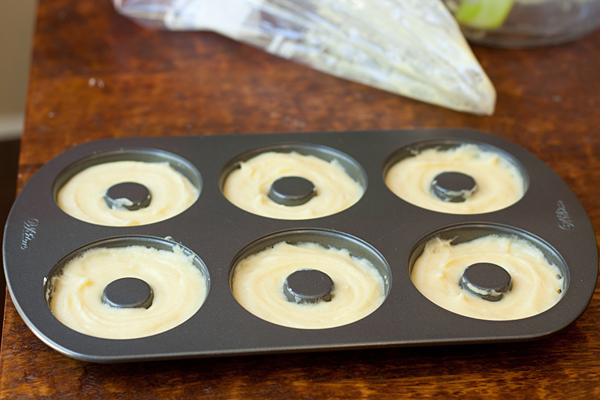 I use a donut pan when baking donuts so that they still have their rounded edges and they bake evenly (baking donuts on a cookie sheet gives them a flat side).  These donuts are made using mochiko (sweet rice flour) instead of wheat flour, which results in a soft, moist, and slightly chewy donut.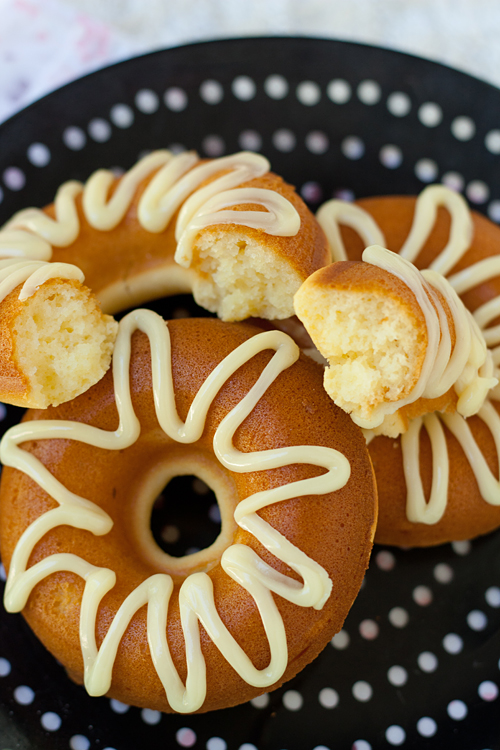 This has become a popular style of donut in Japan, and I'm thinking it's a style that would be a hit here in the US as well!  I used the Lemon Honey Crème as a sweetener and to add a hint of citrus flavor.  I drizzled half of the finished donuts with melted white chocolate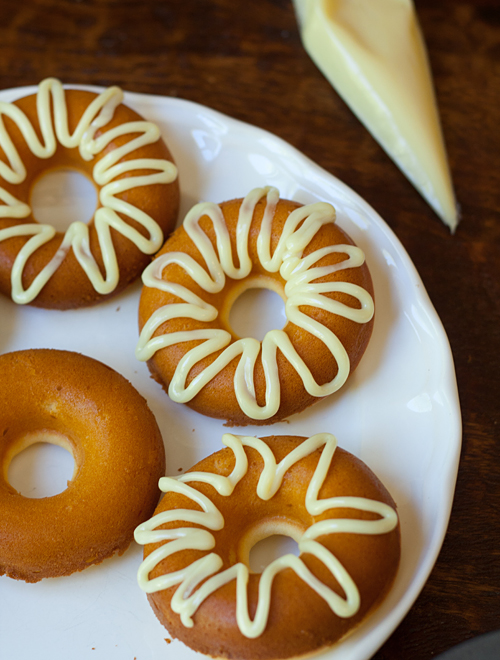 and dusted the other half with confectioner's sugar.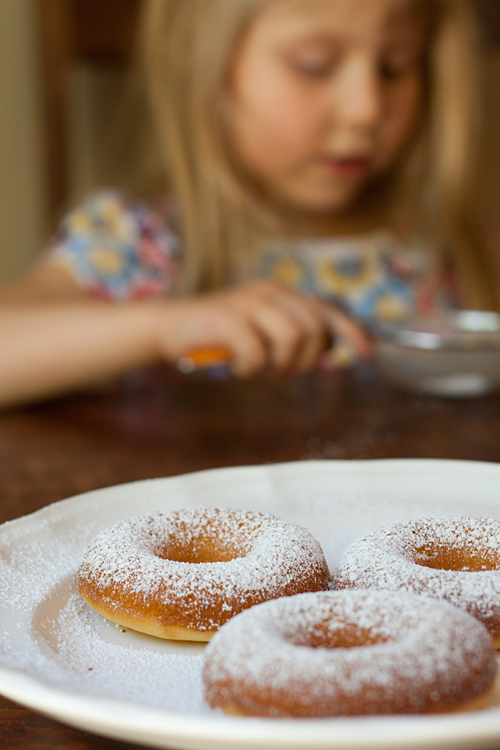 I also discovered that they were especially delicious eaten with a bit of the Lemon Honey Crème on the side.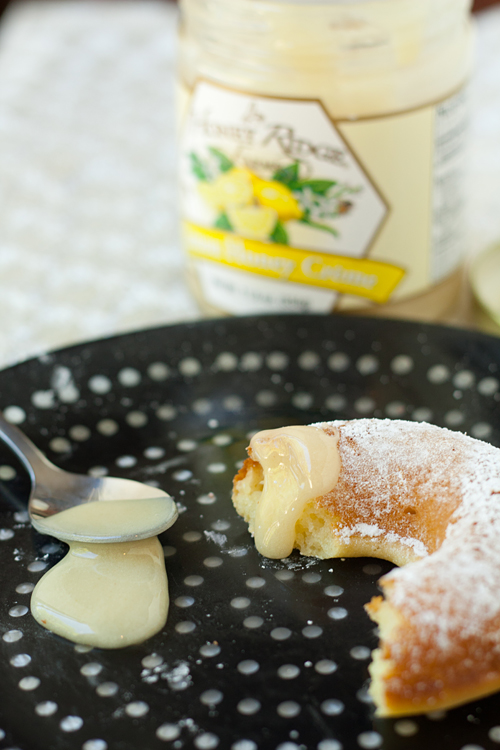 If you're looking for a lighter treat and you love donuts, you'll love these donuts!  These donuts are easily made gluten-free—another plus!  You can purchase Honey Ridge Farm products online, or a variety of stores.  If you can't wait until you have a jar of Lemon Honey Crème on hand, you can substitute regular honey in this recipe and maybe add a bit of lemon zest to the batter.  And if you want to know how you can help the world honey bee problem, PBS has a great article that will get you started.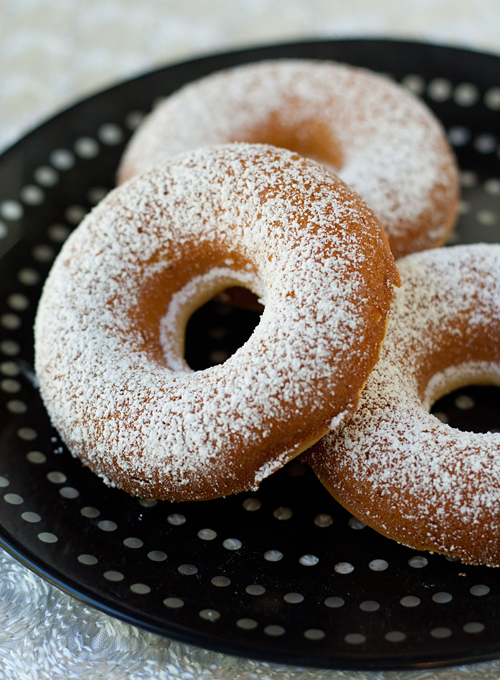 Print This Recipe
Baked Lemon Honey Crème Mochi Mochi Donuts
Makes 12 donuts
2 large eggs, beaten
1/4 cup lemon honey creme
2 tablespoons granulated sugar
2/3 cup milk
1 1/3 cup mochiko (sweet rice flour)
2 teaspoons baking powder
3 tablespoons butter, melted and cooled
Powdered sugar or melted white chocolate for topping
1. Preheat the oven to 350 degrees Fahrenheit.
2. Whisk together the beaten eggs, honey, sugar, and milk until well mixed. Then whisk in the mochiko and baking powder until combined. Finally, whisk in the butter. Pour the batter into a donut baking pan (12 donuts).
3. Bake the donuts for 20 minutes. Remove from the oven and let cool slightly. Gently run a butter knife around the edges of each donut to loosen them in the pan, then turn them out onto a cooling rack. Top the donuts as desired. Donuts can be served warm or cool.
========================================================
*Disclosure: I was sent some Honey Ridge Farms products to try, but my thoughts and opinions are my own.