*This post is brought to you in partnership with Outstanding Foods.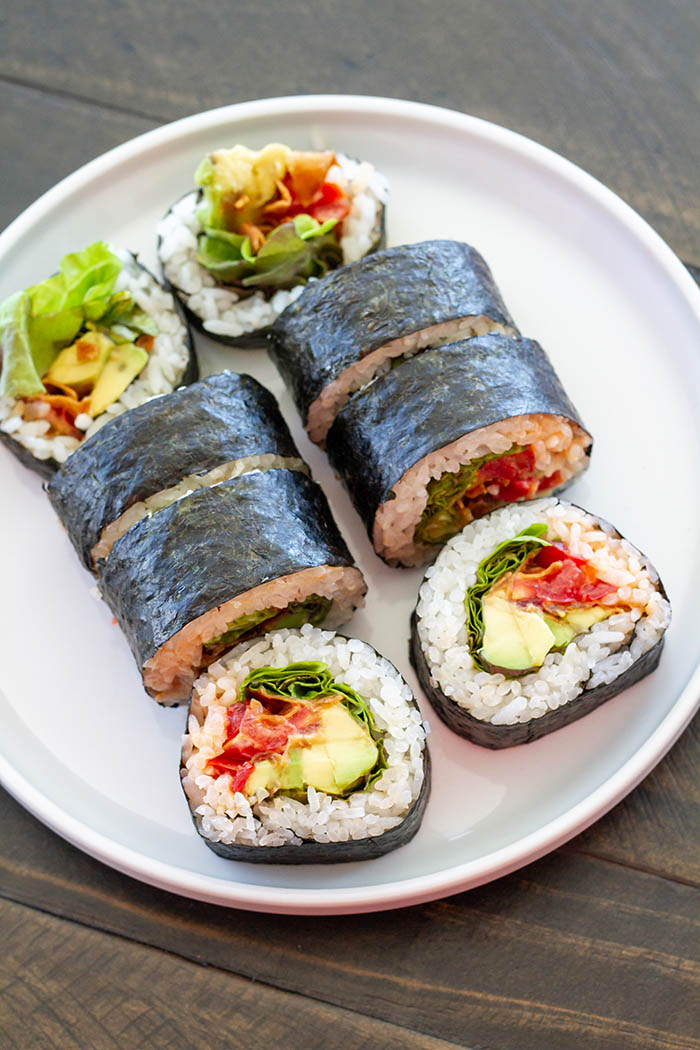 I never get sick of combining the flavors of bacon (plant-based of course), lettuce, tomato, and avocado.  It just doesn't get old!  I received a box filled with bags of the different flavors of PigOut Pigless Bacon Chips recently and after we devoured more than we probably should have in one sitting because they were so delicious, I started to think about what to make with them.  PigOut Chips are 100% plant-based and made from mushrooms (mind blown), but you wouldn't guess it because when you pop one in your mouth your tastebuds/brain tell you "bacon chips"!  Outstanding Foods (the company that makes them) suggests using these chips wherever you might normally use bacon–BLTs, Cobb Salads, Mac & Cheese, etc.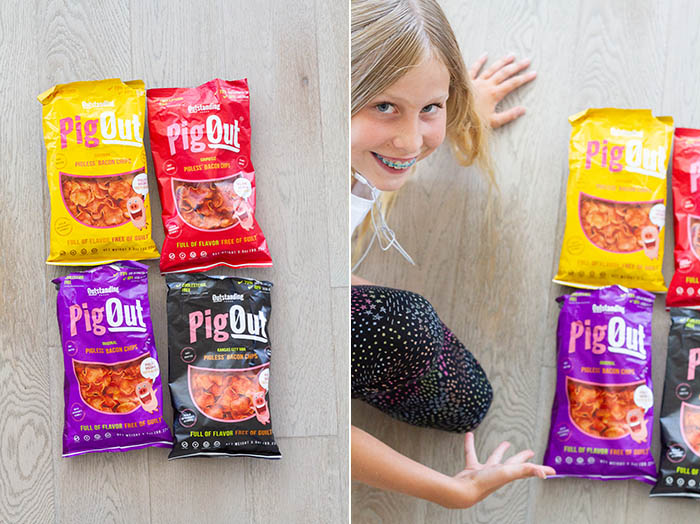 You know me—I tend to sway towards Asian flavors, so I decided to make a BLTA kimbap.  (Why eat a BLT when you could add avocado and have a BLTA? Everything is better with avocado.  Just sayin'.)  Kimbap is like a Korean sushi roll, but with different flavors.  I mixed my steamed rice with some fine grain sea salt (my favorite is Real Salt) and sesame oil.  Then I whipped up a spicy mayonnaise which I then mixed with some chopped, seeded Campari tomatoes.  Making kimbap is just like making sushi.  You spread the rice over a sheet of nori seaweed, then add your fillings and roll it up.  It might take some practice, but who cares if they aren't perfect?  They will still taste delicious!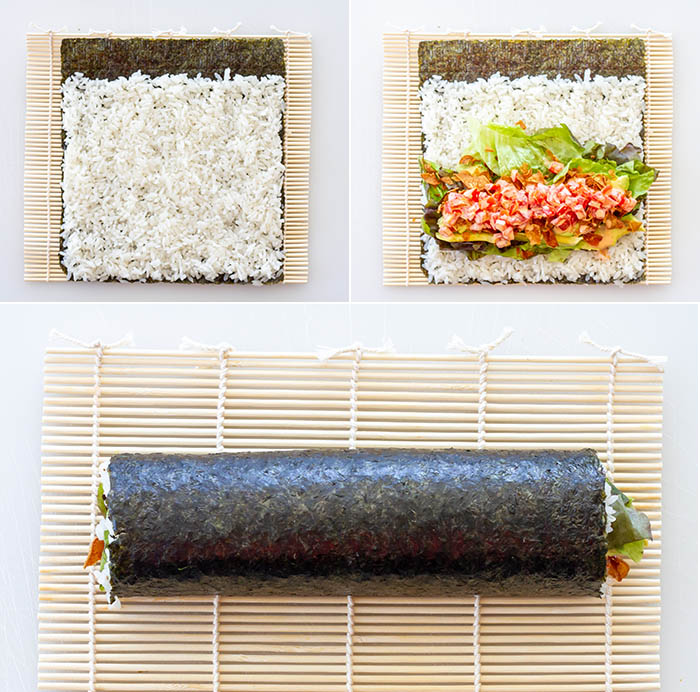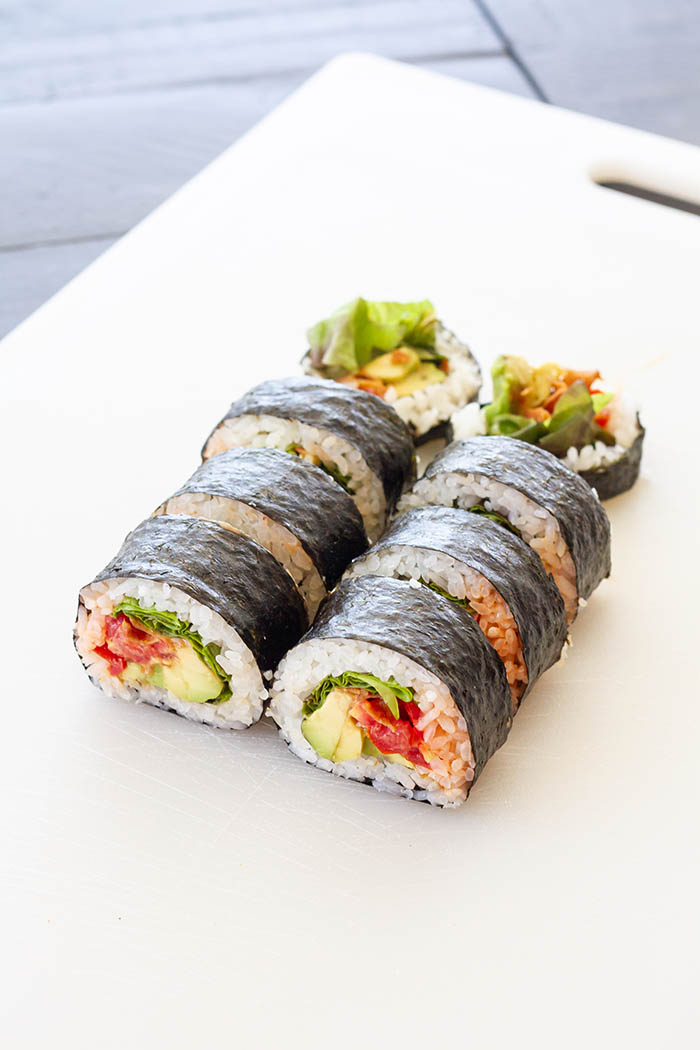 Kimbap is delicious packed in a bento.  For a younger child just pack a few slices.  Kimbap can be very filling!  The PigOut Chips totally knocked the bacon part of the BLTA equation out of the park.  We are hooked.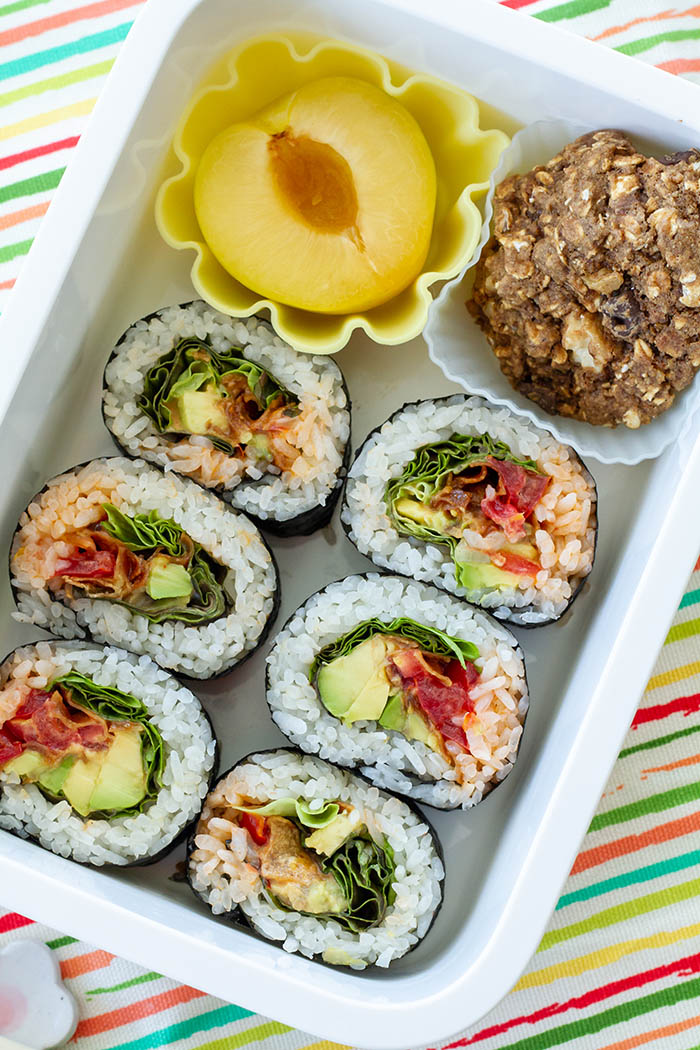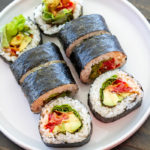 BLTA Kimbap
Kimbap is like a sushi roll, but with slightly different flavors. This kimbap features "bacon" in the form of PigOut chips (see Recipe Notes for substitutions), red leaf lettuce, tomatoes, and avocado for a classic BLTA combination.
Ingredients
1 1/2

tablespoons

mayonnaise

1/2 -- 2

teaspoons

sriracha

3

campari tomatoes, seeds removed and finely chopped

2

cups

cooked short grain rice (still hot)

1 1/2

teaspoons

sesame oil

1 1/2

teaspoons

fine grain sea salt

2

sheets

nori seaweed (the type used for sushi making)

4

red leaf lettuce leaves, torn into large pieces

1/4

cup

PigOut Chips, original flavor

1/2

avocado, thinly sliced
Instructions
In a small bowl, mix the mayonnaise and 1/2 teaspoon of sriracha together. Add more of the sriracha for a stronger, spicier flavor. Add the chopped tomatoes to the sauce and toss to combine.

In a separate bowl, gently toss the hot rice with the fine grain sea salt and sesame oil.

Place a sheet of nori, smooth, shiny side facing down, on a clean cutting board or a sushi rolling mat. (It's easier to roll it if you have a sushi rolling mat, but it still can be done without one!) Fill a small bowl with warm water to keep next to your work surface.

Dip your fingers in the water, then use them to spread about 1 cup of the rice evenly over the nori, leaving about 1 inch of nori at the end opposite from you, so that you can seal your roll. Continue dipping your fingers in the water as needed, to prevent the rice from sticking to them.


Lay half of the lettuce in a row about an inch away from the edge closest to you. Repeat with half of the PigOut Chips, avocado, and tomato mixture.

To roll your kimbap: Place your thumbs under the rolling mat and lift the nearest edge of the mat with your thumbs and index fingers. (If you aren't using a rolling mat, place your thumbs under the nori.) Hold the fillings in place with the rest of your fingers. Use the mat to fold the edge of the nori over the fillings. Pull back the edge of the bamboo rolling mat (so that you do not roll it into the sushi) and continue to roll tightly until the whole roll is complete. The 1-inch of exposed nori at the far end will seal the roll. You can also wet your finger and lightly moisten the far end so that it seals easier. Set the roll aside and repeat with the remaining ingredients.


When both rolls are made, cut the first roll into 6 pieces using a sharp knife. Wipe the knife clean on a damp kitchen towel after each cut. Repeat with the second roll.
*Disclosure: I received product from Outstanding Foods, at no cost to myself, to sample. I received no other compensation for my work in developing this recipe, the photography, and writing of this post. All thoughts and experiences are my own.