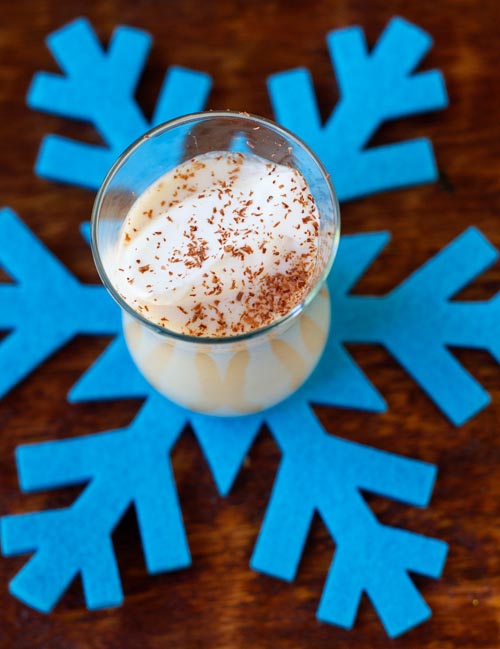 It seems that there are two types of people when it comes to egg nog—those who love it and those who despise it.  I fall solidly into the former.  I have loved egg nog ever since I was a little girl.  I remember my best friend and I drinking glasses of it during the holiday season, our upper lips sporting thick layers of the drink that we would have to lick off.  (Oh darn!)  When we were roommates our freshman year of college, I remember we made sure to have a carton of egg nog in our fridge.  There are traditions that are just too sacred to leave behind!  A few days ago my love of egg nog and my addiction to chocolate crossed paths and the result was so good that I'm afraid of what this might mean for my hips during the coming month.

Over the summer we visited my in-laws in Draper, Utah.  We were there for an annual celebration called Draper Days where the town holds a parade, fireworks, games, and all kinds of other fun activities for those in town.  There is also a little fair with vendors selling everything from food to jewelry and patio furniture.  One of the vendors, a company called Crio Brü, was selling iced hot chocolate and chocolate covered cacao beans.
To say that the booth caught my eye would be an understatement.  I learned that Crio Brü also sold bags of roasted cocoa bean grounds that were for brewing, like coffee, into a dark antioxidant and mineral rich drink.  Can you see where this is going?  Yep, not only am I a chocoholic, but I'm a Crio Brü-aholic (thus the shoutout in my 2011 Holiday Gift Guide).  I love steeping my grounds for a long time, so my bru is dark and rich.  Then I add a bit of honey and milk and slowly sip my way to theobromine bliss.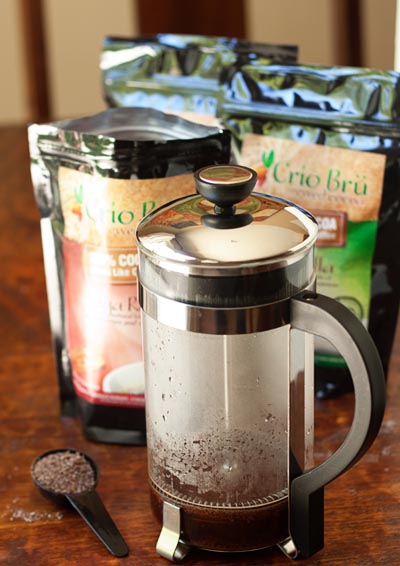 Fast forward to the present.  Last week I was at the grocery store and passed the refrigerated dairy section.  The cartons of egg nog caught my eye, and I found myself having a hard time not heeding their siren call.  As I was finishing up my shopping, I got to thinking about making my favorite egg nog recipe, and then had the thought that I should use some brewed Crio Brü to replace some of the milk in my egg nog, to give a rich chocolatey finish to my favorite holiday drink.  It worked . . . big time.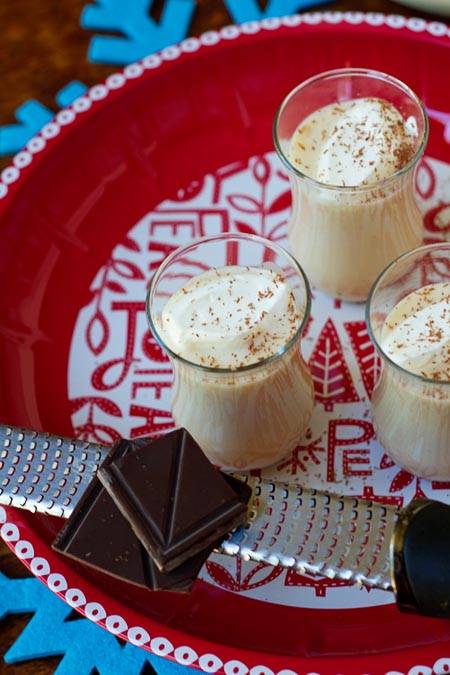 This recipe isn't as "egg noggy" as some recipes, because the eggs aren't raw (I want to make this kid safe!), but it is still creamy and rich.  I topped the egg nog with dollops of unsweetened whipped cream and a sprinkling of shaved dark chocolate.  Now I'm wondering, since I've added all these great antioxidants and minerals to my egg nog, does that make it healthy? Yeah, I know, I wish.  Now drink up!  I don't want to be the only one with expanding hips during this holiday season!

Print This Recipe
Chocolate Egg Nog
8 to 10 servings
Recipe Notes: If you don't have Crio Brü, you can substitute unsweetened chilled hot chocolate or more milk.  But if you want the best flavor, using the Crio Brü is a must!  If you stand it, make the egg nog a day ahead of when you want to serve it.  The flavors are even better once the egg nog has been in the refrigerator for 24 hours!
5 large egg yolks
3/4 cup granulated sugar
3 1/2 cups milk
2 cups heavy cream
6 to 8 ounces brewed Crio Brü
1 ounce dark chocolate, finely grated, for garnish
1. Prepare an ice-water bath and set aside.  Beat the egg yolks and sugar together with an electric mixer on medium-high speed until the mixture is very thick and pale yellow, about 3 to 5 minutes.  Transfer the mixture to a heavy 3-quart saucepan.  Slowly whisk in 2 cups of the milk, until well incorporated.
2. Cook the mixture over low heat, stirring constantly, until it is thick enough to coat the back of a wooden spoon.  Remove from the heat and immediately stir in 1 cup of the heavy cream.  Pour the mixture through a fine-mesh sieve into a medium-size bowl, and set the bowl in the ice bath until the mixture is chilled, stirring occasionally.
3. Stir in the remaining 1 1/2 cups milk and the 6 to 8 ounces of brewed Crio Bru (or whatever additional liquid you are adding).  Transfer the egg nog to a pitcher and chill until ready to serve.
4. Whip the remaining 1 cup of heavy cream until soft peaks form.  Serve the egg nog with a dollop of whipped cream and garnish with a pinch of grated chocolate.