N
is for ninja—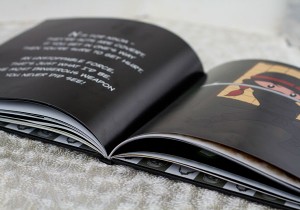 Their acts are covert.
If you get in one's way
then you're sure to get hurt.
An unstoppable force,
that's just what I'd be.
The most dangerous weapon
you never did see!
I'd like to introduce you to one of my favorite people.  She's a cute little redhead with a wild imagination and her name is Lucy.  Lucy is the creation of my friends Deborah and Mike Collins, and the first book about her adventures was just published last week, The ABC's of Halloween: As Imagined By Lucy (I mentioned it in my 2011 Holiday Gift Guide).  In honor of Lucy's debut in the world of literature, I thought I would come up with a holiday treat that she would love, as well as give away a signed copy of the book (giveaway details are at the bottom of the post, after the recipe)!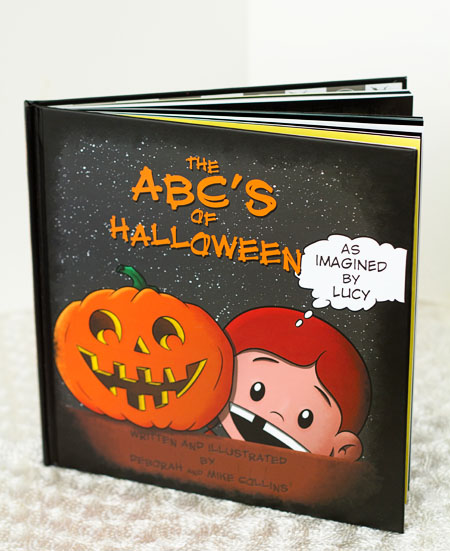 In the book, Lucy is trying to decide what costume to wear for Halloween.  She uses each letter of the alphabet to think of a new costume and asks you, the reader, to help her choose.  My personal favorite is her ninja costume, which inspired a recipe for chocolate peppermint sable cookies—chocolate cookies that are crisp and crumbly, with a hint of peppermint.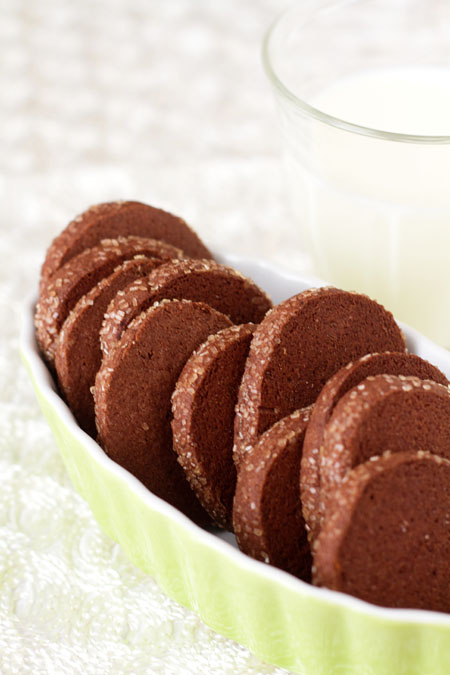 The perfect cookie for dunking in a glass of cold milk or chocolate egg nog.  These cookies are also perfect for rolling out and cutting into shapes with cookie cutters.  In fact, they look a lot like gingerbread when treated this way, which is why I've started calling them "ninjabread" cookies—they appear to be gingerbread, but are ready to unleash their chocolate pepperminty goodness on unsuspecting tastebuds.
Plus, if you've got ninja cookie cutters like I do, ninjabread takes on new meaning . . . .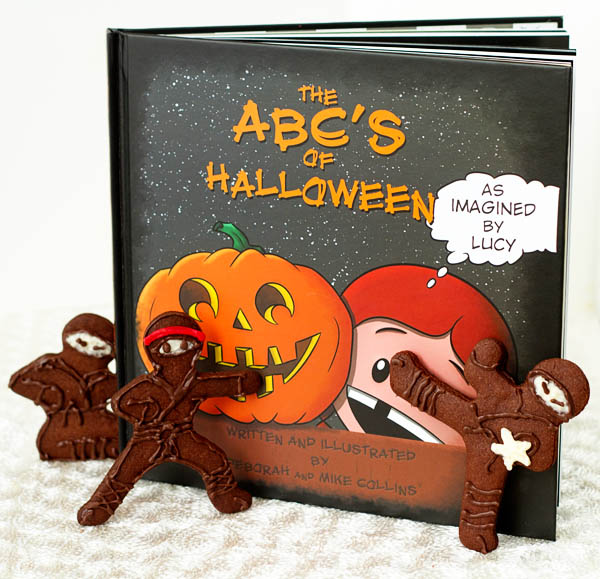 So Lucy, these cookies are for you.  Tell your mom to make them so you can set out a plate of them for Santa Claus.  And if you decide to eat a few while you're waiting for him to arrive, I'm sure he won't mind.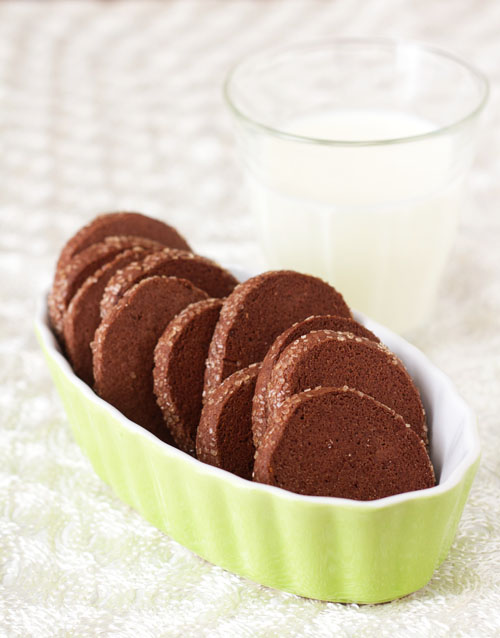 Print This Recipe
Chocolate Peppermint Sable Cookies (aka, Ninjabread Cookies)
Recipe Notes: This cookie dough is also good for rolling out and cutting into shapes with cookie cutters. After making the dough, chill the dough for about 30 minutes in the refrigerator, then roll out into thin sheets with a rolling pin between two pieces of parchment paper and cut into shapes using cookie cutters. The dough can be made and frozen for up to 2 weeks. Store baked cookies in an airtight container for up to 5 days. Baked cookies can be wrapped in plastic wrap, then aluminum foil and frozen for up to 2 weeks.
Makes about 4 dozen
2 1/4 cups all-purpose flour
1/2 cup unsweetened cocoa powder
1/4 cup cornstarch
1/2 teaspoon salt
1 1/4 cup granulated sugar
1/2 cup butter, at room temperature
1/3 cup milk
1/2 teaspoon pure vanilla extract
1 teaspoon peppermint extract
1/2 cup turbinado sugar
1. Whisk together the flour, cocoa powder, cornstarch, and salt in a small bowl.
2. In a large bowl, cream together the butter and sugar. With the mixer on low speed, add in the milk and extracts. Then gradually add in the flour mixture until well incorporated.
3. Shape the dough into 2 logs, then roll the logs in the turbinado sugar, pressing lightly to embed the sugar in the surface of the logs. Wrap in plastic wrap and freeze for about 1 hour, until the dough is very firm.
4. Preheat the oven to 376 degrees Fahrenheit.
5. Slice the logs into thin rounds, not more than 1/4-inch thick, and place on parchment lined baking sheets 1/2-inch apart. Bake for 8 to 12 minutes, until cookies are firm at the edges (cooking time will depend on the thickness of your cookies). Remove from the oven and let cool on the pans, about 5 minutes. Transfer cookies to a rack to cool completely. Serve.
The ABC's of Halloween Book Giveaway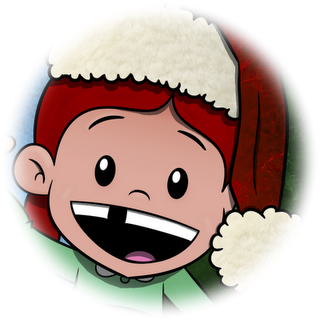 This giveaway is now closed!  The winner has been contacted and will be posted shortly!
One lucky LFM reader will win a copy of The ABC's of Halloween, written and illustrated by the dynamic duo, Deborah and Mike Collins.  One awesome bonus? The book is signed by both the author and illustrator (it's a perk to know them personally)!
The contest is open until Wednesday, December 14th, at 8pm PST/11pm EST.  The contest is all LFM readers.  One winner will be drawn using a random number generator.  The winner has 48 hours to claim their prize, or an alternate winner will be drawn.  And hey, if you don't win, that doesn't mean you can't order a copy of the book for yourself, or that favorite kiddo in your life!  Tiki Machine ships internationally!
To enter:
1. Leave a comment below.
Bonus entries:
2. Follow @TikiMachine on Twitter. Leave a separate comment on this post telling me you follow them on Twitter.
3. Tweet about this giveaway, then come back and leave a separate comment on this post telling me you did so.  To make it easy, just copy and paste this tweet: Enter to win @TikiMachine new Lucy book from @fujimama http://su.pr/17bkHd