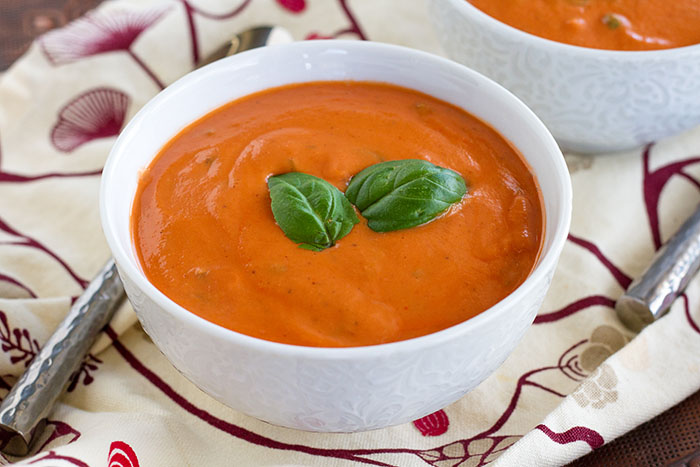 Squirrel and Bug are both huge tomato addicts.  I also adore tomatoes, but when I was pregnant with them I craved them like nothing else.  I've always wondered if the copious amounts of tomatoes I consumed during pregnancy had any influence on their love of the fruit.  Their love of tomatoes also translates into a love of tomato soup.  I teamed up with a group of bloggers to provide a collection of low carb/low sugar recipes that use a blender to go along with a huge giveaway (featuring BLENDTEC!), and I immediately thought of making a tomato soup for my dish.  (The other blogger recipes and giveaway details can be found after the recipe!)  But I wanted to make a super thick, rich, and creamy tomato soup that was also dairy free.
I decided to start by making a cashew cream, which couldn't be easier.  Plus it's super convenient because if you keep a bunch of raw cashews in the freezer, you can whip up a batch of this cream with almost zero work!  All you have to do is soak the raw cashews in some boiling water, then drain them and put them into a blender with some fresh water and blend until smooth!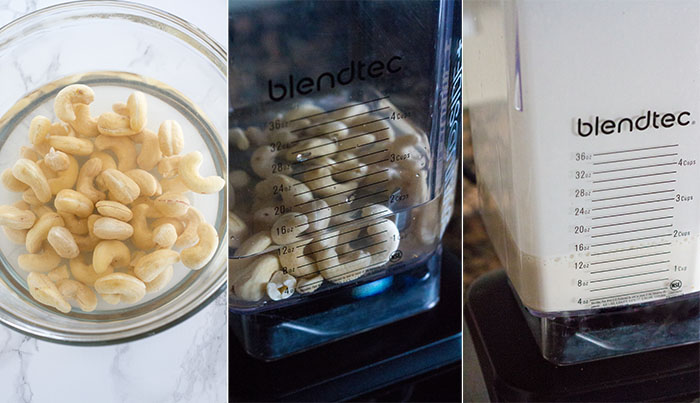 At this point you can just add the rest of the ingredients (except for the basil!) to the blender and blend until you have a smooth puree.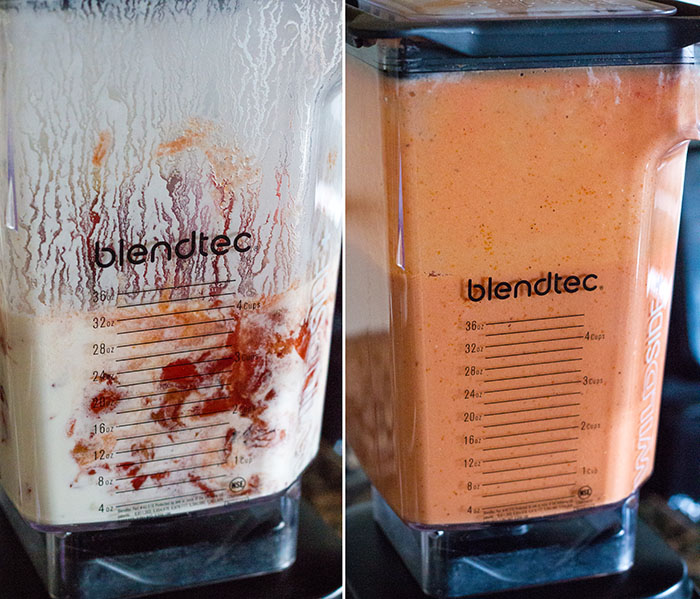 Then transfer the soup to a pot with some roughly chopped basil and heat it until it's steaming!  I like to garnish it with some additional fresh basil, to add color.  This soup is nice and thick and creamy, but if you want it thinner, just add some vegetable broth to the blender.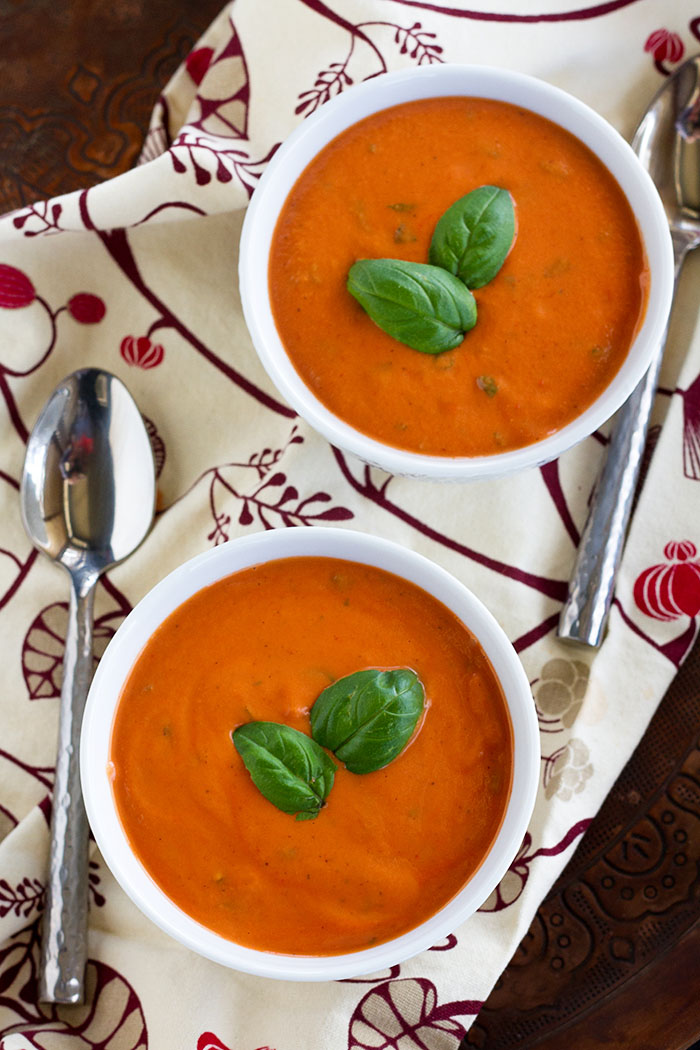 Print This Recipe
Creamy Tomato Basil Soup
——
Makes about 6 servings
Ingredients:
1/2 cup raw cashews
1 cup boiling water
1 cup warm water
2 (15-ounce) cans diced fire roasted tomatoes
1 tablespoon tomato paste
2 cloves garlic
1/2 small shallot
1 bunch fresh basil, roughly chopped
Salt and pepper
Garnish: 1/4 cup fresh basil, cut into chiffonade (thinly sliced into ribbons)
Directions:
1. Put the raw cashews in a medium-size glass bowl and pour one cup of boiling water over them. Cover them with a dishtowel and let them soak for 30 minutes to 1 hour.
2. Drain the cashews, then put them in a blender with one cup of warm water and blend until smooth and creamy.
3. Add the cans of fire roasted tomatoes, the tomato paste, shallot, and garlic cloves to the blender and blend everything together until pureed.
4. Transfer the soup to a medium saucepan, add the roughly chopped basil and heat the soup over medium heat until steaming, but don't let the soup boil (it ruins the fresh flavor!).
5. Taste the soup and add salt and pepper to taste, then pour the soup into bowls and garnish with the basil that you cut into chiffonade.  Serve immediately
——————————————————————-
Low Carb/Low Sugar Giveaway featuring BLENDTEC!
Be sure to check out each of these fantastic recipes that you can make in your blender from the following bloggers!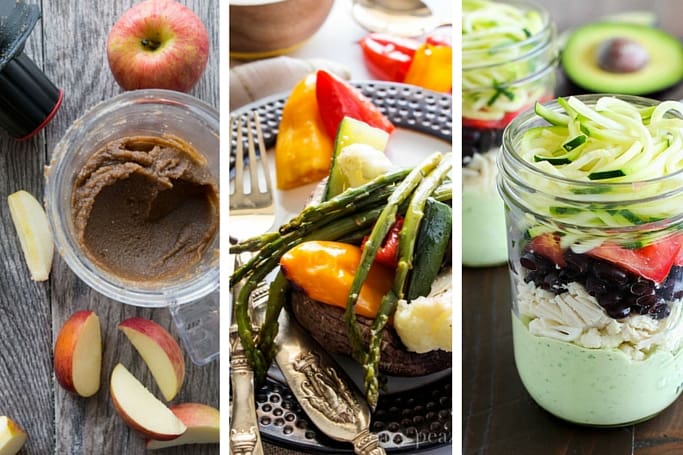 Maple Pecan Butter / Tried and Tasty
Roasted Veggie Stuffed Portabella Mushrooms with Blender Tomato Basil Cheese Sauce / Eazy Peazy Mealz
Southwest Zucchini Noodle Mason Jar Salad w/Avocado Dressing / Yummy Healthy Easy
Cauliflower Hummus / Dessert Now Dinner Later
Roasted Red Pepper Zoodle Casserole / Food Faith Fitness
2 Ingredient Strawberry Mint Sorbet / Rachel Cooks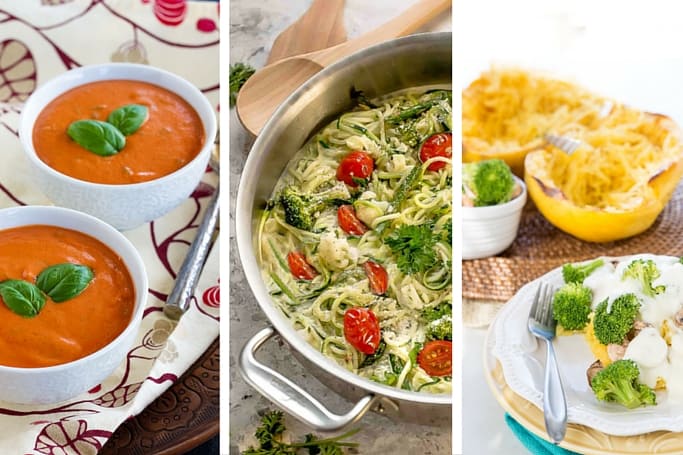 Creamy Tomato Basil Soup (Dairy-free!) / La Fuji Mama
Cauliflower Alfredo Zoodles with Asparagus & Tomatoes / Life Made Sweeter
Vegan Spaghetti Squash Alfredo / Happy Food Healthy Life
a Rafflecopter giveaway