March 3rd (next week!), is Hinamatsuri in Japan, which literally translates to mean "Doll Festival," but is often to referred to as Girl's Day.  It's the day when families pray for and celebrate the happiness and prosperity of their girls.  Special dolls are displayed in the best room of the house and special foods are eaten.  Here are our "Hina-ningyo" (special dolls for Hinamatsuri which are replicas of an ancient emperor and empress and their royal court).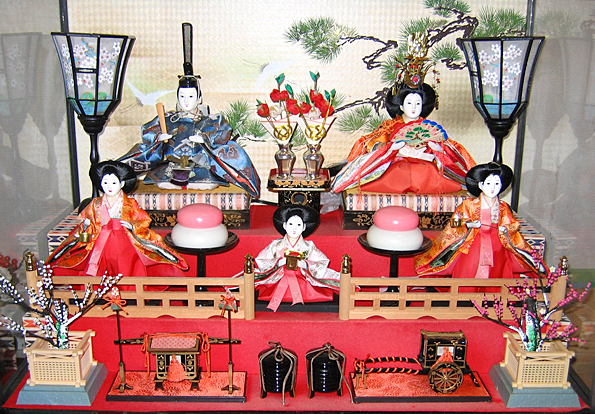 I have adopted the holiday and turned it into a day to do something fun with my girls.  I thought it might be fun to spend this week "celebrating" Hinamatsuri with you.
One of the dishes traditionally eaten for Hinamatsuri is Hamaguri Ushio-jiru (Clear Clam Soup)—a soup made with a clear broth and clams.  I am a big fan of this particular soup.  It is very easy to make and only takes a few minutes.  The finished product is light and flavorful.  Squirrel is a huge fan of the clams.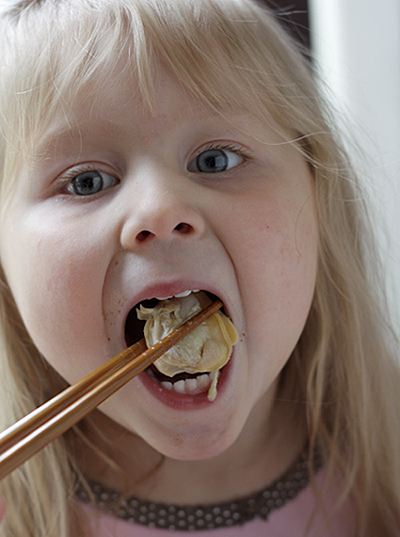 The only real prep work that needs to be done is the soaking of the clams for several hours in salted water to help them expel sand and dirt (gritty clams are NOT yummy).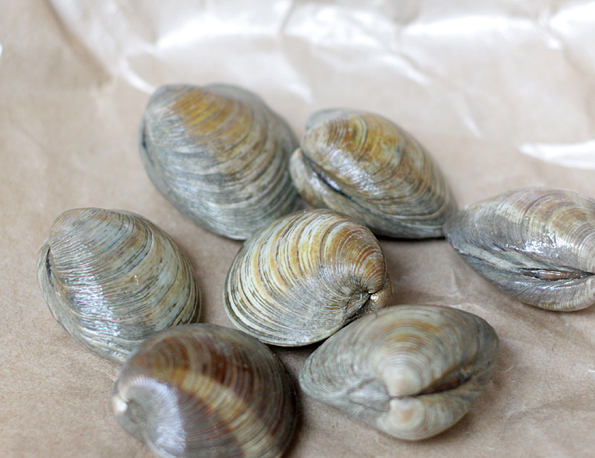 One key to delicious broth is to skim off the skum that collects on the surface of the water as soon all of the clams have opened (trust me…skum is also NOT yummy).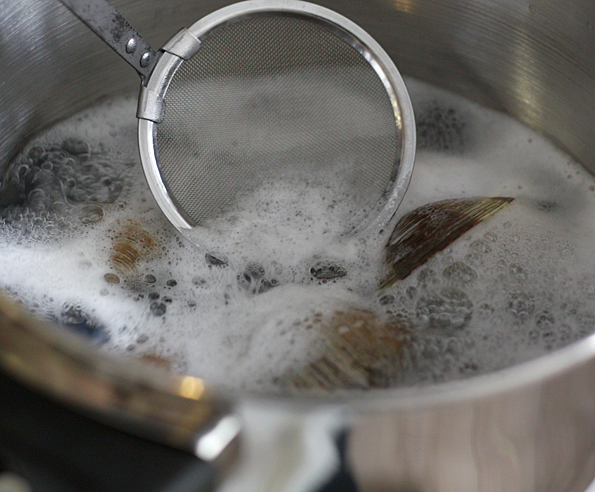 Choose very fresh clams with perfect shells.  If any of your clam shells are open, discard them pronto, they are NOT good!  The broth gets its flavor from the clams and a small piece of kombu, but isn't "fishy" at all (unless you're using less than fresh clams).  A small bit of lemon zest adds a wonderful citrus zing.  I add a sprig of cilantro or parsley to each bowl (mitsuba would be more traditional, but it is hard to find around here), to add a bit more flavor and color.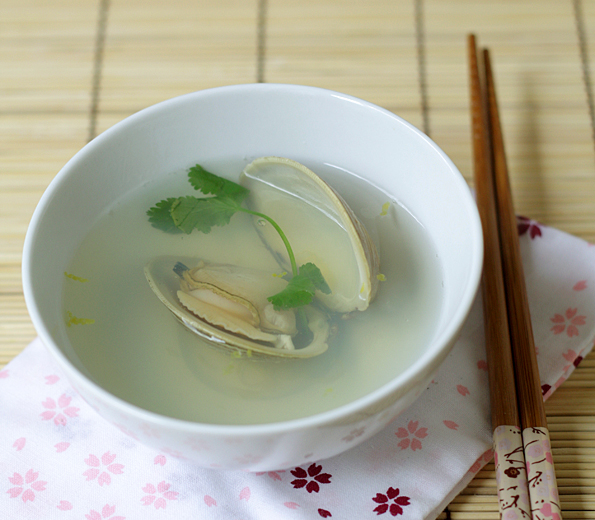 Print This Recipe
Hamaguri Ushio-jiru (Clear Clam Soup)
Makes 4 servings
8 small (or 4 large) clams
4-inch square of kombu
3 1/4 cups cold water
3/4 teapoons salt
mitsuba, parsley, or cilantro to garnish
lemon zest, finely grated to garnish
1. To prepare the clams: Put the clams in a large bowl and cover them with heavily salted water.  Let them sit in a cool, dark place, for 2 to 5 hours.  this helps them expel any sand or dirt that might be trapped in them.  When the clams have finished soaking, gently scrub the shells clean under cold running water.
2. To make the soup: Put the clams, kombu, and cold water in medium-sized pot.  Place the pot over medium-high heat.  Just before the water begins to boil, remove the kelp.  Boil the water until all the clams have opened, then season the broth with the salt and skim the scum off the surface of the water.  Remove the clams, then pour the broth through a fine mesh strainer (or 2-layers of cheese cloth) into another pot/container.
3. To serve: Arrange 2 clams, a sprig of mitsuba/parsley/cilantro, and a pinch of lemon zest in each bowl.  Ladle hot broth into each bowl and serve.
** If you'd like to read a bit more about Hinamatsuri, you can read this post about one of our celebrations of it while we were living in Japan.