** This week we're getting ready for
Hinamatsuri
(Japanese Girl's Day, March 3rd) next week!
Another traditional menu item eaten for Hinamatsuri is Chirashi Sushi ("Scattered Sushi").  I shared my friend Noriko's recipe for Chirashi Sushi at the beginning of this month that is killer delicious.  As an alternative, I thought that I'd share a quick recipe for chirashi sushi if you can't find some of the ingredients used in Noriko's recipe, or you are shorter on time.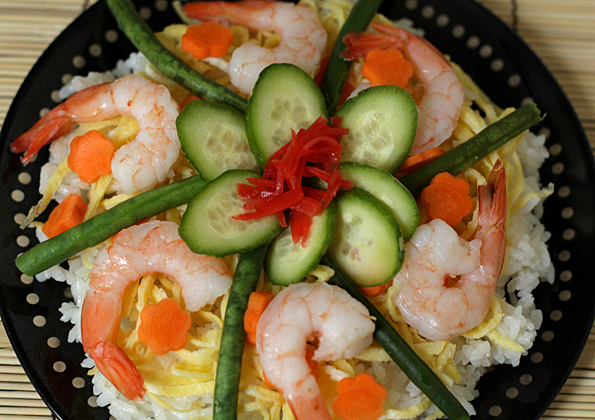 This recipe involves making sushi rice and then arranging different ingredients on top.  One of the things I love about chirashi sushi is the chance it gives you to get creative in your presentation—it can be a real kid pleaser!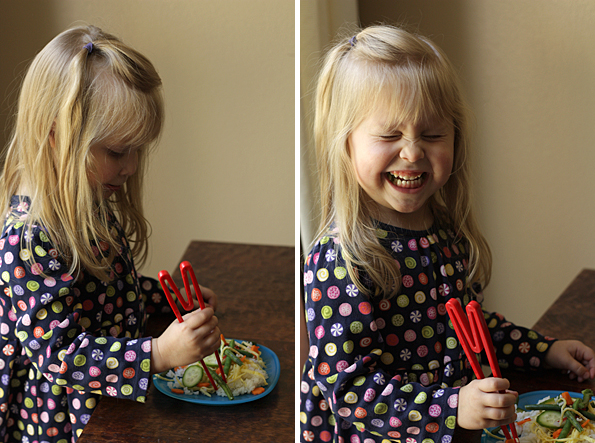 Making this chirashi sushi consists of three steps: 1) making seasoned rice vinegar; 2) making sushi rice with the seasoned rice vinegar; 3) assembling the chirashi sushi.  See? EASY!  As far as toppings go, you can use whatever suits your fancy.  This time around I made mine by spreading my sushi rice on a platter so that it was about 2/3-inch thick.  Then I sprinkled kinshi tamago (shredded egg crêpes) evenly over the top.
Then I arranged blanched green beans, thinly sliced cucumbers, thinly sliced carrots cut into little flowers, cooked shrimp tossed in a bit of the leftover seasoned vinegar, and a bit of beni shoga (pickled ginger cut into thin strips).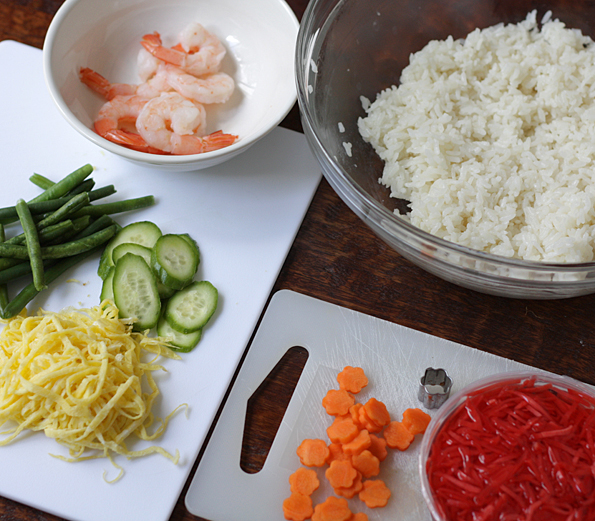 If you want to make carrot flowers, you can use my tutorial on how to carve a carrot blossom, or you can just use a tiny flower shaped cutter (I used a tiny Wilton fondant cutter) to cut the slices of carrot.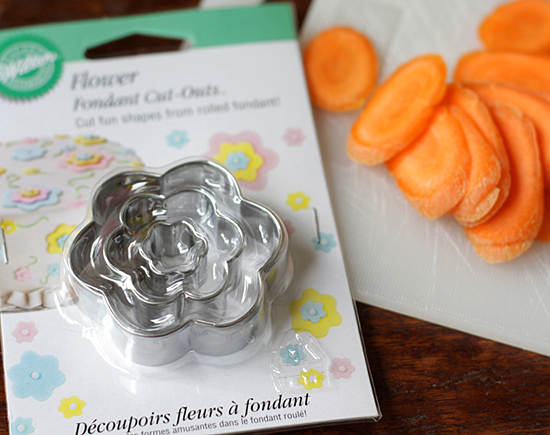 The finished dish is bright and colorful and delicious too.  Use toppings that you and your family love and it will be a hit!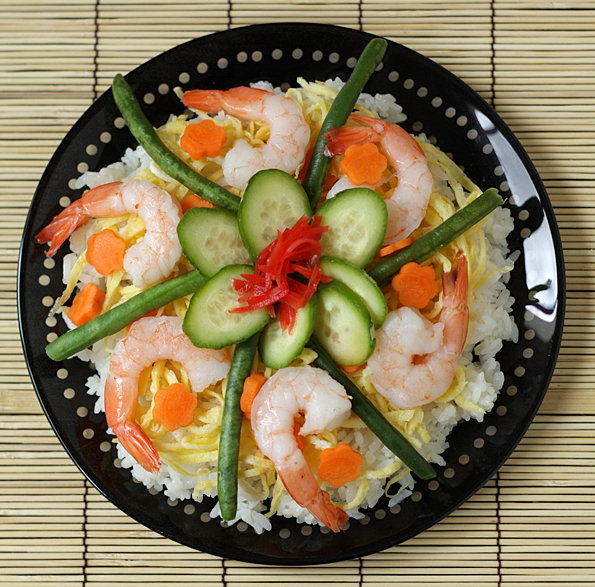 Print This Recipe
FM's Quick & Easy Chirashi Sushi
Makes 3 – 5 servings
2 cups warm, freshly prepared steamed Japanese rice
3 tablespoons rice wine vinegar
2 tablespoons sugar
1 teaspoon salt
Kinshi tamago (shredded egg crêpes) or sweetened scrambled eggs
Assorted toppings: Cooked shrimp, green beans/snow peas, thinly sliced carrots, thinly sliced cucumber, nori (dried seaweed) cut into strips, beni shoga (pickled ginger cut into thin strips), ikura (salmon roe), etc.
1. Make the seasoned vinegar for the rice: Combine the vinegar, sugar, and salt in a small saucepan.  Place the saucepan over medium-high heat and warm, stirring, until the sugar and salt have dissolved.
2. Make the sushi rice: Put the warm rice in a wide shallow bowl (not metal because it will affect the taste).  Drizzle in about a tablespoon of the seasoned vinegar, and gently fold it into the rice.  Steadily add the remaining seasoned vinegar a few drops at a time.  Towards the end, taste the rice occasionally, and stop when you reach a flavor that you like.  Cover the rice with plastic wrap until you are ready to use it (sushi rice keeps at a cool room temperature for up to 12 hours–do not refrigerate or freeze it as this will make it tough and crusty).
3. Assemble the chirashi sushi: Spread the sushi rice on a plate so that it is about 2/3-inch thick.  Sprinkle kinshi tamago (or scrambled eggs) evenly over the top.  Arrange the rest of the toppings randomly or in a pattern.  Serve.