** This week we're getting ready for Hinamatsuri (Japanese Girl's Day, March 3rd) next week!
Earlier this month I read a post on Serious Eats about making homemade conversation hearts for Valentine's Day.  I immediately thought of adapting the recipe for Hinamatsuri, and used it to make flower shaped candies that are perfect for tying up in little goody bags to give for Hinamatsuri.  I also made gift tags that you can download and print on cardstock paper and tie onto goody bags.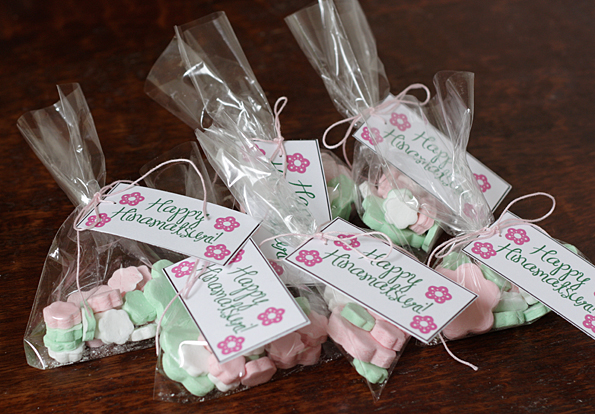 These candies are not a traditional Hinamatsuri food, but they are made using traditional Hinamatsuri colors and are a fun way to tell your favorite girls that you love them.  Pale pink symbolizes peach blossoms, white symbolizes snow, and green symbolizes grass. This mirrors the seasonal change from winter (snow) to spring (grass) and the arrival of peach blossoms.
The dough only uses four ingredients, plus whatever food coloring and flavoring you decide to add.  Just make sure you plan ahead, because the candies take between 24 to 48 hours to dry (depending on how thick you roll your dough).  First you mix up the dough in your mixer.  It makes a very stiff sticky dough.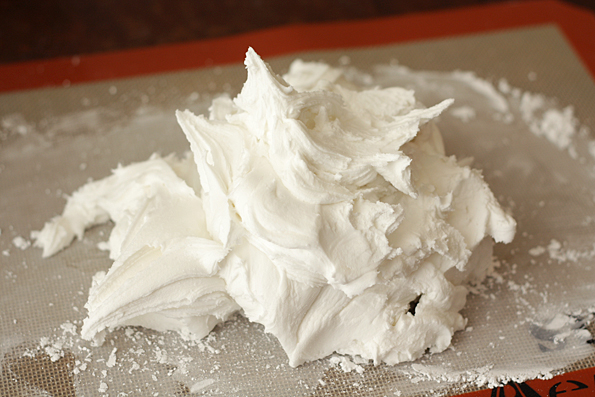 You then scrape this dough out onto a work surface (I used a silicone baking mat for easy cleanup, but still got powdered sugar EVERYWHERE) and knead it, sprinkling it with confectioners' sugar as you go, until the dough is smooth and no longer sticky—like modeling clay.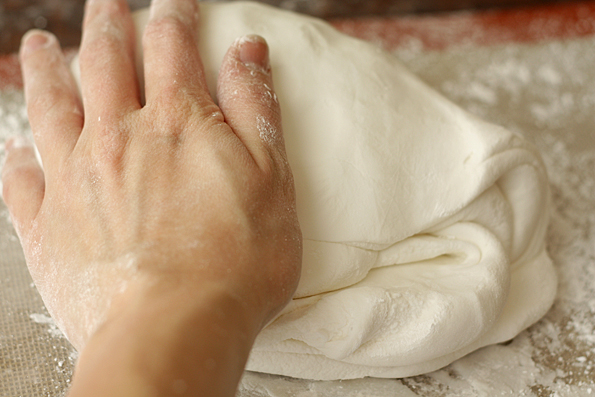 Then you divide the dough into 3 equal portions, and wrap up 2 of the portions in plastic wrap (the dough dries out quickly).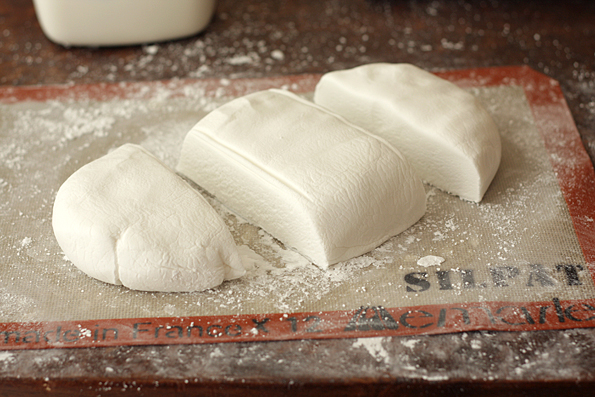 Then shape one portion into a disk, and add a drop of red/pink food coloring and a drop of flavoring in the center (I used a combination of orange extract and almond extract), and begin to fold the disc over on itself, kneading the dough until the color has been evenly distributed throughout the dough and you no longer see any streaks of color in it.
Wrap up the ball in plastic wrap and repeat the process, making one of the other balls a light green, and leaving one white.  You will not need to add any food coloring to the ball of dough that you are leaving white.  Then you roll out a small portion of your dough (I used about 1/2 of a color at a time so that the dough wouldn't dry out too quickly) on a surface dusted with confectioners' sugar until it is about 1/3-inch thick.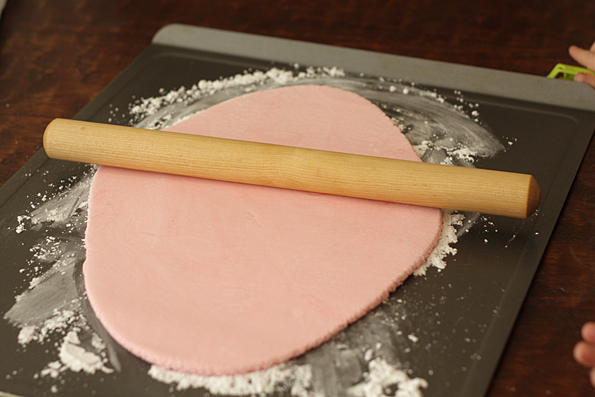 Then use small flower shaped cutters (I used those Wilton fondant cutters I mentioned in the Chirashi Sushi post) to cut flowers out of the dough.  Transfer the cut flowers to a baking sheet lined with parchment paper.  You can keep re-rolling scraps as you go to make more flowers.
Continue until you have used up all of your dough.  The cutting step is a wonderful way to get your little ones involved in the process.  Squirrel loved pressing the cutters into the dough (although many of her flowers had to be re-rolled after she tried to pick them up herself because they got a bit squished).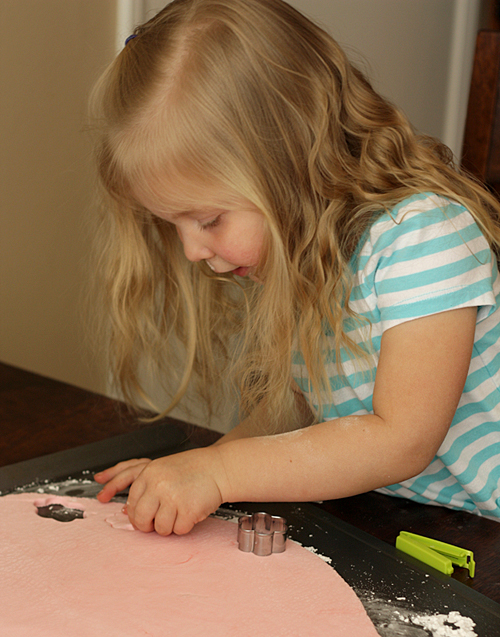 Let your candy pieces air-dry for a minimum of 24 hours.  Depending on how thick you roll your dough, they may need more time to dry.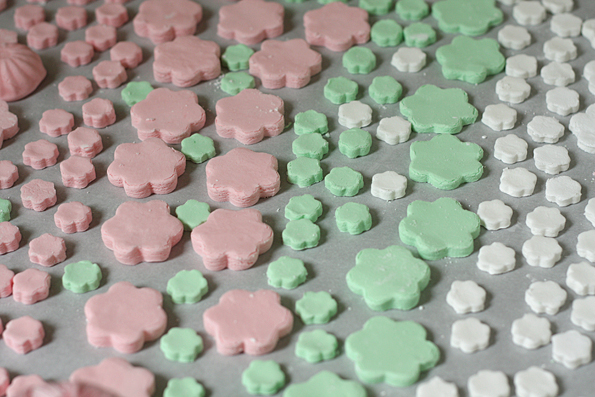 When they have dried put them into small cellophane bags (I used bags that were 4 inches x 6 inches in size).  Print off a sheet of gift tags on cardstock paper and cut them out.  Punch a hole in one end, thread a piece of yarn, string, or ribbon through the hole, and then use it to tie your bags shut.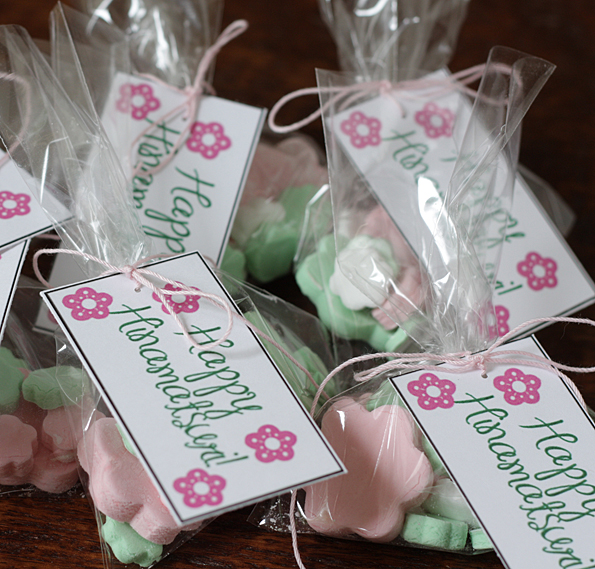 For the recipe, see this post on SeriousEats.com.
Download the Hinamatsuri Gift Tags