This month's Daring Bakers' challenge was almost the challenge that wasn't.  The February 2010 Daring Bakers' challenge was hosted by Aparna of
My Diverse Kitchen
and Deeba of
Passionate About Baking
.  They chose Tiramisu as the challenge for the month.  Their challenge recipe is based on recipes from The Washington Post, Cordon Bleu at Home and Baking Obsession.  Tiramisu, the famous Italian dessert, made by layering savoiardi (aka, ladyfinger biscuits) dipped in coffee and a decadent creamy mixture made of all kinds of good things like mascarpone cheese, eggs, and sugar.  The dessert is topped off with a dusting of cocoa powder.  Our requirements for this challenge were to make our own savoiardi, mascarpone cheese, zabaglione, and pastry cream using the recipes provided to us by our hosts.   The mascarpone cheese, zabaglione, and pastry cream were then all used to make that creamy mixture that was then layered with the savoiardi.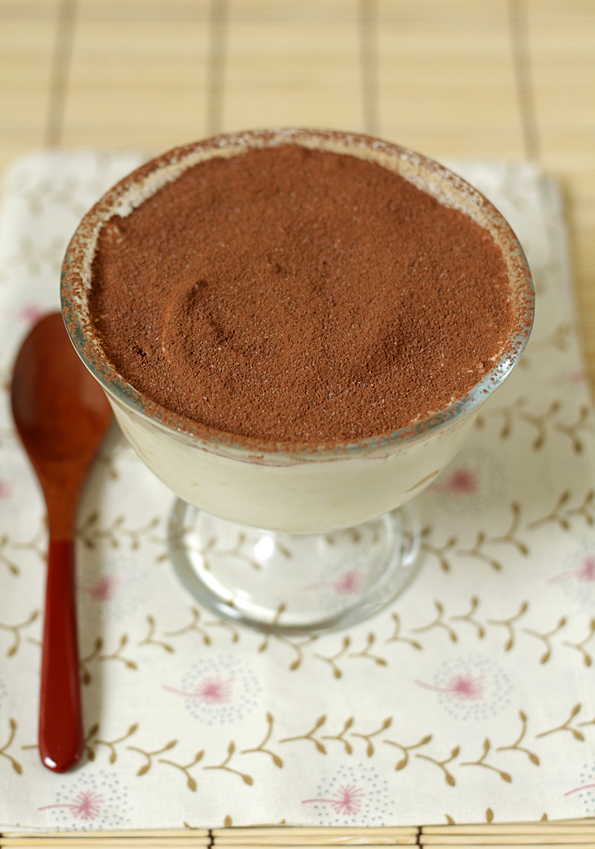 Although the challenge had 4 different required elements, none of the elements is particularly difficult to make.  So why did I say that this was the challenge that almost wasn't?  Because I almost got beat by a carton of whipping cream, a honey bear, and a three-year-old.  Almost.
I was planning on serving the tiramisu for dessert this past Wednesday night.  We were having dinner company and I wanted something delicious.  The recipe for the mascarpone cheese calls for whipping cream—specifically pasteurized whipping cream (not ultra-pasteurized).  After going to FOUR DIFFERENT STORES and only finding cartons of ultra-pasteurized whipping cream, I was about to throw in the towel.  But I'm stubborn, so I ended up throwing a carton of that ultra-pasteurized whipping cream in my shopping cart.  I thought, "Hey, even if my cheese doesn't turn out AT ALL, then at least I can say I tried."  That was Saturday night.
Fast forward a couple of days and I was in my kitchen making the savoiardi.  Bug was down for her morning nap and Squirrel was playing happily in the corner, piling toys under a little table like she was storing nuts for the winter.  She and I were talking as I worked.  She was telling me about her toys and what they were doing.  As I worked I became aware that although she was answering my questions, she was becoming increasingly less talkative.  This is not normal.  I quietly stopped what I was doing and tip toed over to her corner, catching her in mid-squeeze.  She had a bottle of honey in her hands and she was using it to "decorate" her toys.  You know the bottle I'm talking about, right?  Plastic and shaped like a bear?  Cute, right?  NOT.  I swear that honey bear had a grin of devilish delight on its little plastic face as it acted as Squirrel's accomplice.  I spent the next TWO HOURS cleaning honey off of hands, hair, toys, and carpet.  I won't be sorry if I don't see another drop of honey for the next two years.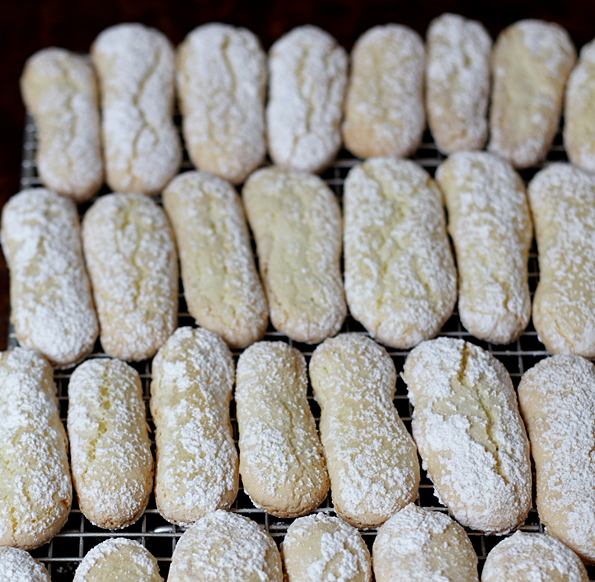 Despite pasteurized whipping cream being an extremely elusive creature, my mascarpone cheese turned out perfectly.  So perfectly in fact that I would have been content to eat it all with a spoon and forget the challenge altogether.  Despite losing precious time due to the honey incident I somehow finished all of the other elements, assembled my tiramisu, and got it into the fridge to sit for the required 24-hour waiting period.  I still have no idea how I finished it all.  Wednesday night when we finally got to dig into it, I dusted the top with cocoa powder, and passed out dessert plates with generous portions.  I savored my first bite, happy with the knowledge that whipping cream and a three-year-old armed with a honey bear had not managed to beat me this time.  The tiramisu was a good reward.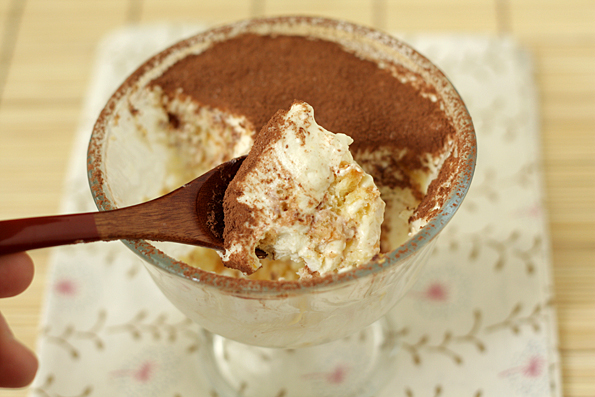 I made an orange coconut tiramisu, instead of the traditional coffee flavors.  Instead of using wine or coffee to make the zabaglione, I used coconut milk.  Then when I mixed the cream mixture together I also folded in 1/2 cup of shredded coconut.  Instead of dipping the savoiardi in coffee, I dipped them in warmed orange juice.  The orange juice complimented the lemon zest in the zabaglione and vanilla pastry cream nicely, and the subtle coconut flavors were delicious.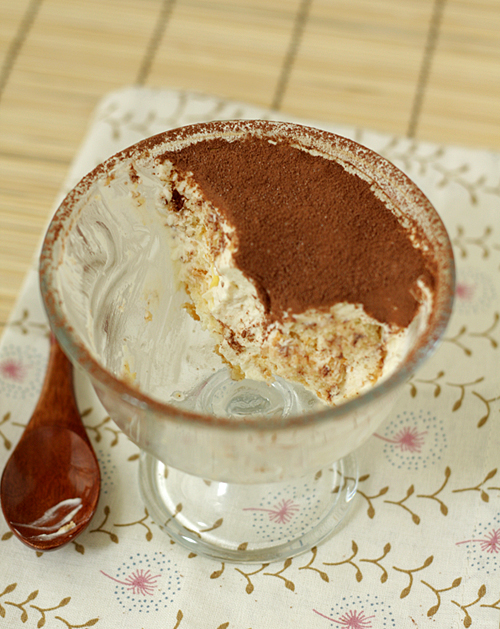 Print This Recipe
Orange Coconut Tiramisu
Adapted from Carminantonio's Tiramisu from The Washington Post, July 11 2007
Makes 8 servings
For the zabaglione:
2 large egg yolks
3 tablespoons granulated sugar
1/4 cup coconut milk
1/4 teaspoon vanilla extract
1/2 teaspoon finely grated lemon zest
For the vanilla pastry cream:
1/4 cup granulated sugar
1 tablespoon all-purpose flour
1/2 teaspoon finely grated lemon zest
1/2 teaspoon vanilla extract
1 large egg yolk
3/4 cup whole milk
To assemble the tiramisu:
1/3 cup mascarpone cheese
1/2 cup sweetened shredded coconut
2 cups orange juice, warmed
36 savoiardi/ ladyfinger biscuits (you may use less)
2 tablespoons  unsweetened cocoa powder
1. Make the zabaglione: Heat water in a double boiler. If you don't have a double boiler, place a pot with about an inch of water in it on the stove. Place a heat-proof bowl in the pot making sure the bottom does not touch the water.  In a large mixing bowl (or stainless steel mixing bowl), mix together the egg yolks, sugar, coconut milk, vanilla extract and lemon zest. Whisk together until the yolks are fully blended and the mixture looks smooth.  Transfer the mixture to the top of a double boiler or place your bowl over the pan/ pot with simmering water. Cook the egg mixture over low heat, stirring constantly, for about 8 minutes or until it resembles thick custard. It may bubble a bit as it reaches that consistency.  Let the zabaglione cool to room temperature and then transfer it to a bowl. Cover and refrigerate it for at least 4 hours or overnight, until it is thoroughly chilled.
2. Make the pastry cream: Mix together the sugar, flour, lemon zest and vanilla extract in a medium heavy-bottomed saucepan. Add the egg yolk and half the milk and whisk until smooth.
Now place the saucepan over low heat and cook, stirring constantly to prevent the mixture from curdling.  Add the remaining milk a little at a time, still stirring constantly. After about 12 minutes the mixture will be thick, free of lumps and beginning to bubble. (If you have a few lumps, don't worry. You can push the cream through a fine-mesh strainer.)  Transfer the pastry cream to a bowl and cool to room temperature. Cover with plastic film and refrigerate at least 4 hours or overnight, until thoroughly chilled.
3. Make the whipped cream: Combine the cream, sugar and vanilla extract in a mixing bowl. Beat with an electric hand mixer or immersion blender until the mixture holds stiff peaks. Set aside.
4. To assemble the tiramisu: Have ready a rectangular serving dish (about 8″ by 8″ should do) or one of your choice.  Put the warmed orange juice in a shallow dish.  In a large bowl, beat the mascarpone cheese with a spoon to break down the lumps and make it smooth. This will make it easier to fold. Add the prepared and chilled zabaglione and pastry cream, blending until just combined. Gently fold in the whipped cream and the shredded coconut. Set this cream mixture aside.
5. Working quickly, dip 12 of the ladyfingers in the orange juice, about 1 second per side. They should be moist but not soggy. Immediately transfer each ladyfinger to the platter, placing them side by side in a single row. You may break a lady finger into two, if necessary, to ensure the base of your dish is completely covered.  Spoon one-third of the cream mixture on top of the ladyfingers, then use a rubber spatula or spreading knife to cover the top evenly, all the way to the edges.  Repeat to create 2 more layers, using 12 ladyfingers and the cream mixture for each layer. Clean any spilled cream mixture; cover carefully with plastic wrap and refrigerate the tiramisu overnight.
6. To serve, carefully remove the plastic wrap and sprinkle the tiramisu with cocoa powder using a fine-mesh strainer or decorate as you please. Cut into individual portions and serve.