So now we've
talked about miso soup
and we've
learned to make dashi
.  As I said in my last post, making miso soup consists of 3 steps:
1) Making dashi.
2) Cooking the vegetables, fish, and other ingredients in the dashi.
3) Adding the miso just before serving.
Today we're going to focus on steps 2 and 3—we are ready to make some miso-shiru (miso soup)!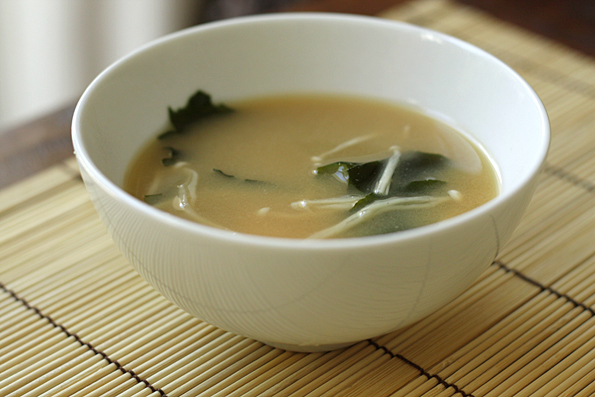 To make miso soup, fresh veggies/mushrooms are simmered until tender in dashi.  If you are adding ingredients like wakame (my favorite!), they are added right before the veggies finish cooking.  Then the miso is added, and the soup is reheated and served!  It is so quick and easy.  Depending on what you add to your miso soup, it can be ready within 5 minutes of when you start making it!  It might take a bit longer, but this will just be due to adding something that takes a bit longer to cook through.  Vegetables are usually sliced/diced fine so that they will cook quickly.  The reason that the miso is added at the end is that it only requires a very short cooking time.  You should never bring the soup to a boil or cook it for a long period of time after the miso has been added because it ruins the flavor of the miso and the texture will become gritty.  After miso soup sits for a few minutes, the miso separates from the dashi.  This is totally normal!  Just stir it with your chopsticks and it will mix together again.
How to add the miso to the dashi (to avoid miso lumps):
– Place the miso for your soup in a small cup/bowl.  Remove about 1/2 cup of your hot dashi from the pot and add it a little at a time to the miso, mixing it until it is thoroughly mixed.  Then add the mixture back into the soup.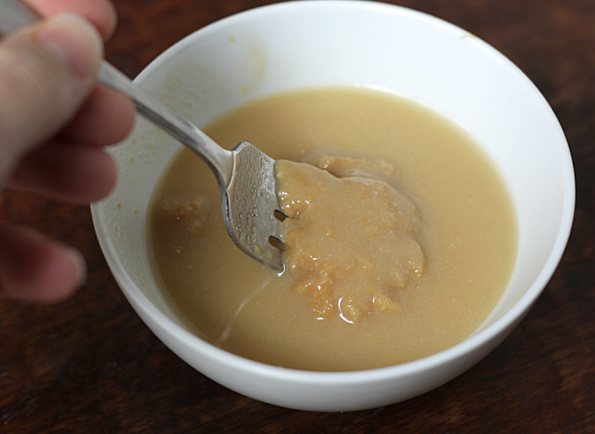 – Another method is to place your miso in a small sieve/strainer and partially immerse the sieve in the dashi and press the miso through the sieve with the back of a spoon.  In Japan they often use special strainers specially designed for this purpose called miso-koshi.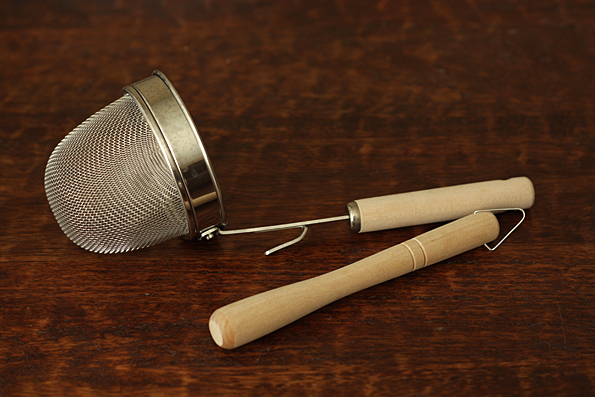 Rule of thumb: For each cup of dashi, use about 1 tablespoon of miso (use 2 or 3 tablespoons if using a sweet miso).  Of course you can add more or less depending on your own tastes!
Now let's talk a bit about the miso itself.  I've had a few questions surrounding the labeling of miso and I hope that this will help!
Miso Basics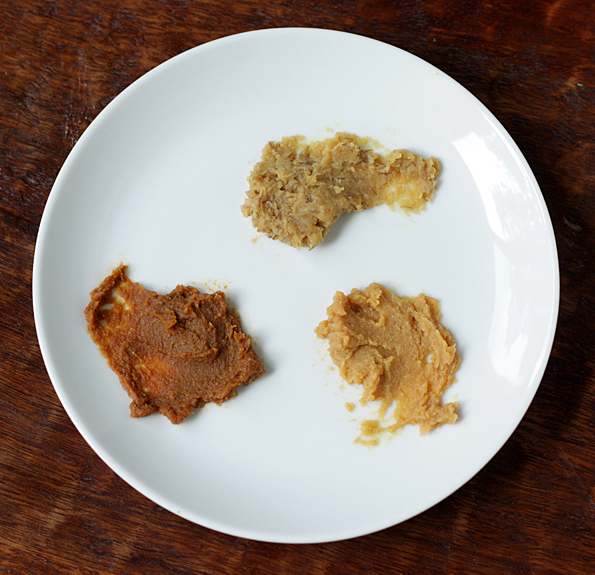 There are hundreds of different types of miso due to miso being  made with different combinations of grains and beans, or soybeans only, and different lengths of fermentation time.  When reading a recipe that calls for miso, it can be very confusing.  Many recipes call for either dark or light miso, but some recipes will get more specific, calling for aka miso, shiro miso, genmai miso, kome miso, mugi miso, etc.   Ultimately, if a recipe is asking for a specific type of miso it is because it has a certain outcome in mind.  Here are some basic pieces of information to keep in mind (this is only the tip of the miso iceberg, but it is enough to get you making miso soup!):
Although miso is often classified as either light or dark, there are many shades in between.
If a recipe calls for dark miso, you can use any kind of aka miso (aka means red and refers to red/brown colored miso).  Darker miso tends to be saltier and more robust in flavor.
If a recipe calls for light miso, you can use any kind of shiro miso (shiro means white and refers to pale yellow/creamy beige colored miso).  Lighter miso tends to be sweeter in flavor and lower in salt content.
You can use more than one kind of miso in a recipe (I like a combination of white and red miso).  Blending different kinds of miso is called awase miso.
Miso should be stored in a cool, dark place.    (I suggest storing it in the refrigerator.)  After a container of miso has been opened it will usually keep unspoiled in the refrigerator for 6 months or more.
You now know all the basics of making miso soup!  If you want to start with a miso soup that is familiar, you can make a bowl of tofu and wakame miso soup (the type of miso soup most often served in Japanese restaurants in the US).  If you want, you can dress it up a little bit by adding enoki mushrooms!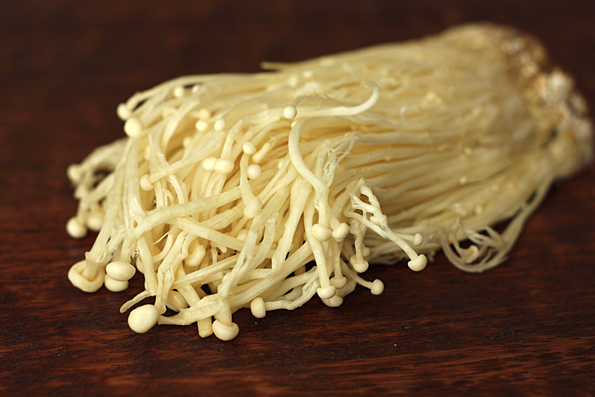 Ok, take a deep breath, this is easy!  You are just 5 minutes away from your favorite bowl of miso soup that will rival any restaurant's bowl of tofu and wakame soup!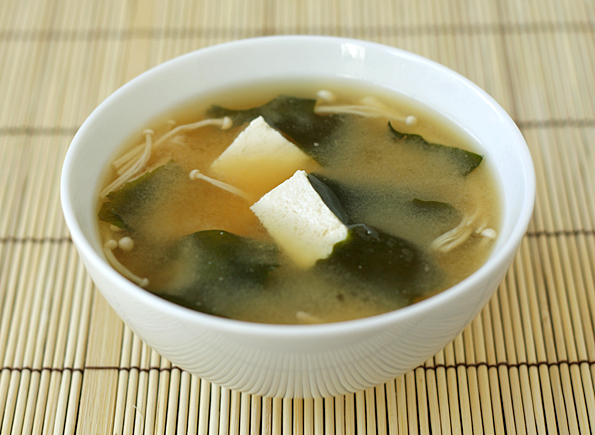 Print This Recipe
Tofu & Wakame Miso Soup
Makes 3 -4 servings
3 1/2 cups dashi
1 tablespoon dried wakame, soaked in water for 5 minutes then drained
1 package enoki mushrooms (about 3 ounces), trimmed (optional)
3 tablespoons miso (I use 2 tablespoons shiro miso and 1 tablespoon aka miso)
5 – 7 ounces firm tofu, cut into 3/8-inch cubes
1. Bring the dashi to a boil in a saucepan.  Add the wakame and mushrooms (if you are using them), and simmer for 1 minute.
2. Add the miso (using one of the methods detailed above) to the dashi, and then the tofu*, and reheat slightly (but do not boil).  Serve immediately.
* You can also divide the tofu between 3 or 4 bowls and then ladle the soup over the tofu when it is finished.
================================================================
Coming Next: A simple recipe for white fish miso soup + more ideas of what to include in your miso soup!